Gael Garcia Bernal on new film Neruda, Chilean cinema and Donald Trump's Mexico wall
The Mexican actor who rose to fame in 'Y tu Mamá También' stars in 'Neruda' as the Chief of the Investigations Police of Chile who is pursuing the poet and Communist Senator, Pablo Neruda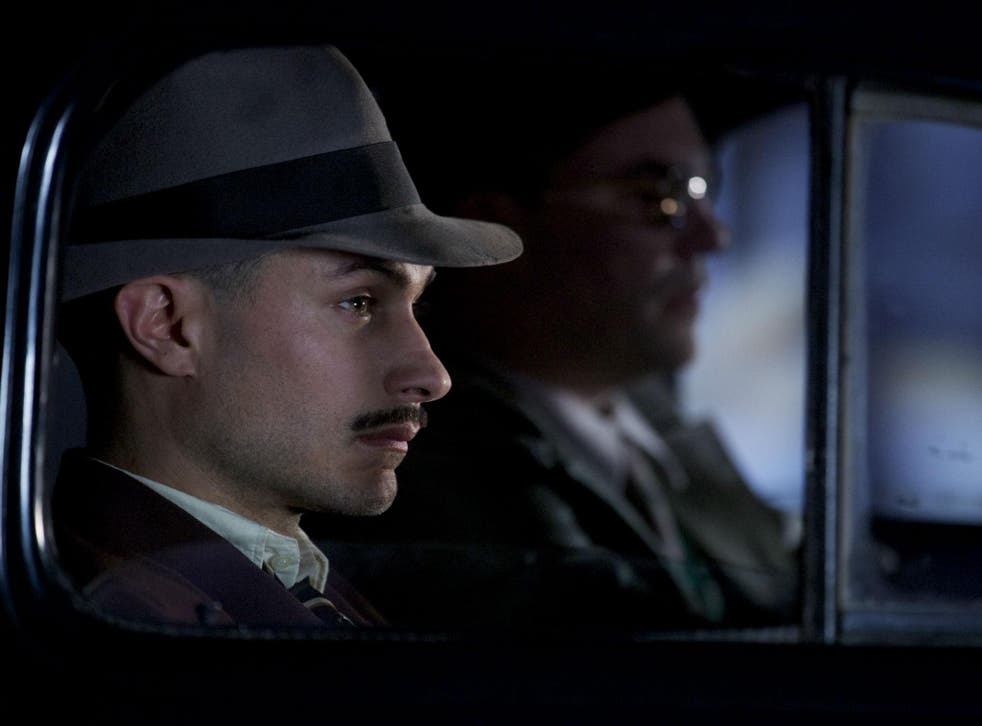 "I have love letters that I wrote that were influenced by the work of Pablo Neruda, and there was even one that included a verse from Neruda in it," says Gael Garcia Bernal. "Obviously they were very bad."
There are plenty of people who would be very happy to receive a bad love letter from Bernal, the Mexican actor who became the first breakout star of the millennium with his turns as the romantic Octavio in Amores Perros and the homoerotic frustrations of his Julio in Y Tu Mamá También.
In the intervening years he has matured as an actor, while losing none of his boyish charm. I almost do a double take when realising that next year he will turn 40. It seems impossible. Bernal retains so much youthful enthusiasm that at the end of the interview he can't help but take out his smart phone and show me a video of him playing football with Diego Maradona.
A couple of years ago at the Qumra event in Doha, we played on the same football team and Bernal was pretty handy in central midfield, his playing style reminded me of former Manchester United and Chelsea star Juan Ramón Verón (nicknamed The Little Witch).
And his performance in Neruda is certainly bewitching. In the film, set in 1948, Bernal play Óscar Peluchonneau, a policeman given the job of tracking Neruda after the popular poet and former Chilean Communist Party Senator has gone into hiding following the outlawing of communism.
"Óscar Peluchonneau existed – the name. He was the main person pursuing Neruda but we invented everything else," says Bernal. "We started to develop the character and build someone who was the counterpart, the diametric opposite of a poet. On one hand we have the free, ambiguous contradictory personality of the poet and on the other a policeman who is resentful and you can say he's a little bit of a fascist."
In his youth Bernal excelled at playing young carefree types. Even his Che Guevara in The Motorcycle Diaries was more interested in adventure than ideology. But behind the scenes, his more serious side became evident when he formed a production company, Canana Films, with his Y tu Mamá También co-star Diego Luna, co-directed short films for Amnesty International and started the Ambulante Documentary Film Festival.
The character of Peluchonneau could easily be one of the many figures that Neruda invented in his crime stories. But it's one of the goals of the film that we see Neruda as more than a romantic poet: he's also a wayward husband and father, and a political figure – but one that might just be a champagne socialist.
These aspects of Neruda held little interest for the wide-eyed Bernal when he was first introduced to the work of Neruda at school in Mexico: "Growing up in a Spanish-speaking country, you get taught about Neruda at school. There are so many great Latin American poets in the 20th century but Neruda is the defining figure. It's arguable, and maybe we can reach a consensus that he's the greatest poet of the 20th century."
Access unlimited streaming of movies and TV shows with Amazon Prime Video Sign up now for a 30-day free trial
Sign up
There is poetry in the movie, but mostly it's in the elliptical structure of the narrative and the beautiful shots of the Chilean landscape. The camera darts around, and the edits come thick and fast, mirroring the staccato beat of poems. It's a big risk, as Bernal states, "To do poetry in cinema is almost a death sentence."
But if anyone can pull it off, it's the brilliant Chilean director Pablo Larrain, who has made it his signature that the form of his films will mirror its content. When Bernal worked with director Larrain on the 2013 Oscar nominated No about the advertising campaign that led to the national plebiscite that, in 1988, ousted Chilean dictator General Pinochet, the film was filmed to look like it had been shot on videocassette recorders which were popular in the mid-eighties.
"In No there was another element as well in that it was about our childhood. We were playing our parents in the 80s and that was fun to do and invigorating," says Bernal.
Bernal's policeman character provides the voiceover in Neruda. At times he's an unreliable narrator, but that's mostly because he cannot quite get to grips with who Neruda is. Indeed, the movie gives snippets of information about the poet but often he is impenetrable. It's that distance that Bernal is fascinated by: "Just like any poem or like a song, we all have different interpretations. Poetry doesn't force you to agree on an interpretation, it allows you to fly. I think the film leaves you with that feeling that we can all have different interpretations and it's fine. Everything is possible."
It's arguable that Bernal's best recent work has been with Larrain. Chilean cinema is having a moment much in the same way that Mexico did at the turn of the century. As the directors and the actors of Nuevo Cine Mexicano started to work with American financial backing – including Bernal who stars in the popular Amazon TV series Mozart in the Jungle – there has been a vacuum left in Mexican film.
Bernal laments the fact that there are no new voices willing to revisit Mexico's political and cultural history in the same way that Larrain and Nostalgia for the Light director Patricio Guzman have done in Chile recently: "Yes, I wish we had someone like that in Mexico, with a fascination to use the past as a point of departure. Larrain's films are historic, but at the same time they are also completely invented."
Bernal is very literate. He cites poets and authors in conversation yet he also admits that, "I haven't read a novel in two years. I get bored with novels now." Instead he looks at non-fiction books preferring to read science, poetry, sociological and philosophical essays. "With novels right now I feel disappointed. Maybe I will take to it again one day and start to read Thomas Hardy."
At the recent Oscar ceremony, Bernal spoke out against the building of a wall on the border between Mexico and the US. He says of his homeland, "If Mexico was as bad as the news says, there would be no one living there now. All my family live there, I live there. It is dangerous in many ways and in many ways it's not. I'm walking around everywhere."
'Neruda' is released on 7 April
Register for free to continue reading
Registration is a free and easy way to support our truly independent journalism
By registering, you will also enjoy limited access to Premium articles, exclusive newsletters, commenting, and virtual events with our leading journalists
Already have an account? sign in
Register for free to continue reading
Registration is a free and easy way to support our truly independent journalism
By registering, you will also enjoy limited access to Premium articles, exclusive newsletters, commenting, and virtual events with our leading journalists
Already have an account? sign in
Join our new commenting forum
Join thought-provoking conversations, follow other Independent readers and see their replies