How Ghost Stories creators were inspired by dirty jokes, horror movies, and The Vagina Monologues
Andy Nyman and Jeremy Dyson first met when they were just teenagers. 36 years later, the pair have turned their hit stage show into exactly the sort of film they would have geeked out over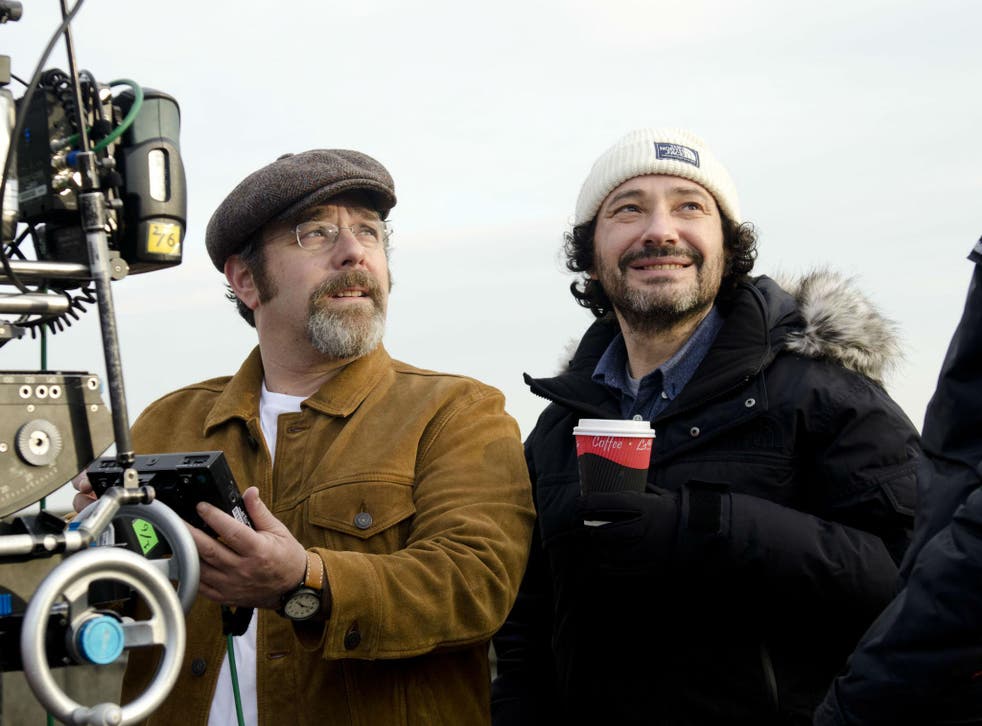 This ghost story begins in the weeks after the royal wedding at a Jewish summer camp in July 1981, when two 15-year-old boys bonded over a fascination with dirty jokes and horror movies.
"We were thrown together by fate," says Jeremy Dyson, who would go on to find fame as a member of the sketch comedy troupe The League of Gentlemen. "The thing that I remember about Andy is that he had rag mags... do they still have rag mags?"
Andy Nyman, an actor who frequently collaborates with Derren Brown, chips in: "I don't know if they still do, but I used to have a whole collection." For those who didn't grow up in the Eighties, rag mags were printed during university freshers' week, stuffed with rude jokes and cartoons.
Soon, the pair were also geeking out over their favourite horror films – not that they had seen many of them. "The only access to them was the books that you would get," says Dyson. "At Christmas you would get the Alan Frank omnibus of horror movies which was full of pictures and you could read about them."
The plus side of getting information from books and magazines such as Starburst rather than the actual film is that "your imagination kind of conjured it", Dyson recalls. And they've been playing with imaginations ever since – mostly to scare audiences senseless. Now, their play Ghost Stories – itself a homage to horror movies – is making it to the big screen, with the pair adapting and codirecting.
Back when they were still in their teens, Leeds-based Dyson would travel down to Leicester to hang out with his new buddy. Their synagogue was a video store. "It was a great time for watching horrors," recalls Dyson. "It was the dawn of VHS and for the first time ever you were able to rent films and watch them at home. Nowadays it's hard to understand how revolutionary that was. At that point, Andy didn't even have a video cassette recorder so would have to rent a player as well as the videos."
It's a joy to see these two together, ending each other's sentences and playfully reminiscing. Their camaraderie is apparent when Nyman talks about some of their early jobs. Dyson, when he first started in the world of improvisational comedy, had a side job working as a children's entertainer under the moniker "Uncle Jeremy". Nyman laughs as he recalls his business card read "Relax, let Uncle Jeremy do the worrying for you" – "which is hilarious when you know how neurotic he is".
As they forged their own successful paths in television, stage and film, and started families, they remained friends – even if sometimes they would go six months without speaking, before another spurt of intense conversations. "We always said it would be fun to work together but the harsh reality is who is going to pay for that," says Nyman. "Where are you carving out the time to do that when you have to pay for your mortgage?"
In 2008, 27 years after they first met, the opportunity to collaborate finally presented itself. Nyman was walking through London's West End and went past a theatre housing a production of The Woman in Black. He wondered why there were not more plays dealing with horror.
Access unlimited streaming of movies and TV shows with Amazon Prime Video Sign up now for a 30-day free trial
Sign up
"I'd also seen The Vagina Monologues around that time," recalls Nyman. "I'd watched this thing, slightly bewildered that this play with three women reading on a set that only had three stalls had become a worldwide phenomenon. I phoned Jeremy and said: I have this idea to do a play that is The Vagina Monologues with ghost stories."
And so it was that Dyson and Nyman conjured up the phenomenal stage success of Ghost Stories. The play premiered at the Liverpool Playhouse in February 2010 before transferring to the Lyric Theatre in Hammersmith where it broke house box-office records. The play transferred to the West End where it played for a year at the Duke of York's theatre and then again for a successful revival in 2014 at the Arts Theatre. It has since taken on a life of its own, being performed across the globe.
"The original production of the play was quite immersive," recalls Nyman. "Everything around the play had a real element of fairground when you walked into the theatre. It was like going into a haunted house."
The play, which I saw a couple of times, also relied on magic tricks and an incredible set. Much of the fun of it came from seeing horror tropes familiar on movie screens being recreated on stage.
The main narrative device is that Dr Goodman, a professor of parapsychology, is delivering a lecture on ghosts. He has recorded interviews with three different people – a night watchman, a student, and a businessman – who claim to have witnessed the supernatural at work.
Nyman played Dr Goodman, although he says that this was a decision that was made for him, rather than by him. "I was adamant that I wasn't going to be in it," chirps Nyman.
"It was Sean Holmes, the director of the stage play, who pointed out how perfect Andy would be in that role," says Dyson.
The many fans of the theatre production are going to be in for a huge surprise, because although Nyman still appears, the film – which also stars Martin Freeman – is a very different beast. Both aged 51, and after 36 years of friendship, the friends are pulling yet another rabbit out of the bag.
"The play and the film feel completely different to each other," admits Nyman. "It surprised me and isn't what I imagined would happen. There is a sadness that is drenched through the film, while the play had a chutzpah about it. They feel like different genres, but somehow part of the same family."
"It's partly to do with the literal nature of cinema, where you have to fix and show things, whereas in the theatre you are suggesting things and the audience are creating things in their imagination," adds Dyson. "You have to take all kinds of decisions, basic things like where are we, what is this world and what does it look like? That immediately sends you on a different path."
The action is set in Yorkshire, and one of the big changes is that the characters no longer break the fourth wall. The codirectors admit this is the last thing that they let go of when editing – they had to shoot additional pickups to make it a straight narrative.
Even so, the medium change shouldn't alter the true core of the project. "Beyond the CGI and technical changes, the film has really always been the same," says Nyman. "It's simply about telling a story."
"It's all a magic trick," adds Dyson, tying together the play and the film. "That is the brilliant thing about cinema, even the most serious Ken Loach drama – it's all based on a magic trick, which is that you shoot the same action several times from several different angles, but in the end you pretend it's all one thing."
'Ghost Stories' is out 6 April
Register for free to continue reading
Registration is a free and easy way to support our truly independent journalism
By registering, you will also enjoy limited access to Premium articles, exclusive newsletters, commenting, and virtual events with our leading journalists
Already have an account? sign in
Register for free to continue reading
Registration is a free and easy way to support our truly independent journalism
By registering, you will also enjoy limited access to Premium articles, exclusive newsletters, commenting, and virtual events with our leading journalists
Already have an account? sign in
Join our new commenting forum
Join thought-provoking conversations, follow other Independent readers and see their replies