Golden Globes 2020 predictions: Who will win, who should win, and who didn't get a look-in?
As the most surreal of all the awards shows approaches, Adam White trawls through the nominees and makes his forecast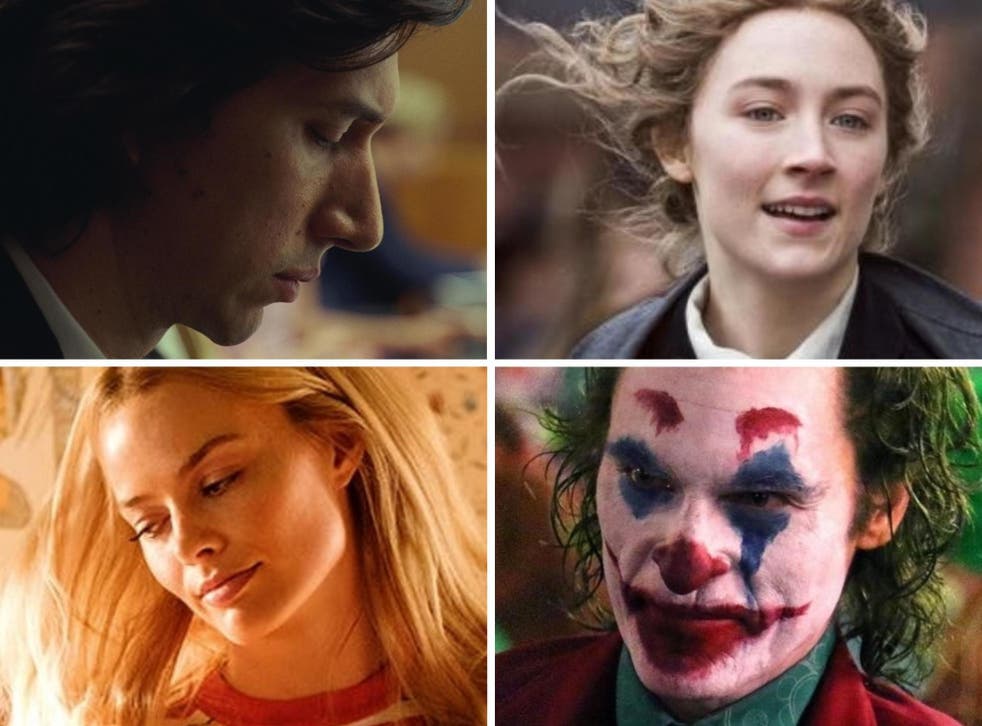 The most notoriously surreal of all the awards shows, the Golden Globes are annually determined by just 93 non-American journalists based in Los Angeles – but are considered to be important precursors to the Oscars regardless.
That Sunday night's ceremony is even more male than usual, the likes of Little Women, The Farewell and Hustlers mere after-thoughts in terms of nominations, is a crushing disappointment. Likewise that many of the women-led movies which dominate the Actress categories weren't able to break through into the show's two Best Picture categories.
But within the Globes' inherent absurdity is a boozy, "sure, why the hell not?" charm that has made them arguably a lot more fun than the contrastingly stuffy Academy Awards. This year, presided over by perennial exhaustion machine Ricky Gervais, won't be much different.
It's also a strikingly unpredictable year, with no single film emerging as a front-runner, and instead a number of popular movies gently orbiting around one another. Marriage Story, Joker, 1917, Once Upon a Time in Hollywood and The Irishman all seem like dominant presences, but it also wouldn't be enormously surprising if the likes of Rocketman or The Two Popes cruise to shock victory, either.
Here are our predictions for who will win, who should win and who should have got a look-in, for all the major categories.
19 films to look out for in 2020

Show all 19
Best Film (Drama)
Will win 1917
Should win Marriage Story
Shoulda got a look-in Little Women
If the Hollywood Foreign Press Association love anything, it's a British wartime drama, and particularly one with a sliver of technological prowess. So Sam Mendes's one-shot Second World War epic will likely take home the biggest prize of the night. It really ought to be Marriage Story, though, with its bittersweet melancholy, universally brilliant ensemble cast and impressive mastery of tone.
Best Film (Musical or Comedy)
Will win Once Upon a Time in Hollywood
Should win Once Upon a Time in Hollywood
Shoulda got a look-in Booksmart
Don't be surprised if Rocketman pulls out a last-minute shock victory here – Elton John and Taron Egerton have been regulars on the awards campaign circuit over the last six months. But it would be something of a travesty if Quentin Tarantino's magical ode to Sixties Hollywood doesn't win, particularly when a Tarantino movie has never won a Best Film prize at the Globes.
Best Director
Will win Martin Scorsese, The Irishman
Should win Bong Joon-ho, Parasite
Shoulda got a look-in Greta Gerwig, Little Women
A stacked category of visionaries and Todd Phillips seems likely to result in a Scorsese victory – a win that you couldn't truly object to, but a resolutely safe scenario all the same. Bong Joon-ho warrants it most of all, however, not only for a career of staggering experimentation, but for a film that envelopes themes of class warfare and poverty in a commercial and darkly funny package.
Best Actor (Drama)
Will win Joaquin Phoenix, Joker
Should win Antonio Banderas, Pain & Glory
Shoulda got a look-in Adam Sandler, Uncut Gems
The category wherein the annual case of the crazies that afflict the Golden Globes will most likely occur, Best Actor in a Drama Film pits five stars against one another who could all realistically take home the award in any other year. A maddening Joaquin Phoenix victory seems most likely, though, even if everyone else here is doing far more interesting work – particularly Pain & Glory's soulful and sobering Antonio Banderas.
Access unlimited streaming of movies and TV shows with Amazon Prime Video Sign up now for a 30-day free trial
Sign up
Best Actor (Comedy or Musical)
Will win Taron Egerton, Rocketman
Should win Eddie Murphy, Dolemite Is My Name
Shoulda got a look-in Matthew McConaughey, The Beach Bum
Eddie Murphy is sheer pleasure in Dolemite Is My Name, delivering an elevated and raucous performance that encapsulates the actor and comedian's burning charisma. But you can't help but feel that, particularly after Bohemian Rhapsody swept last year, the Golden Globes might be head over heels in love with Rocketman. It'd be a shame, though.
Best Actress (Drama)
Will win Scarlett Johansson, Marriage Story
Should win Saoirse Ronan, Little Women
Shoulda got a look-in Lupita Nyong'o, Us
The Golden Globes is the only major awards body in which Scarlett Johansson flourished in the mid-Noughties, receiving nods for four different movies over the course of three years. So she's liked by the Hollywood Foreign Press, and they may want to finally award her. Ronan, however, should be the category's winner, particularly when her full and captivating performance is Little Women's only major player here.
Best Actress (Comedy or Musical)
Will win Ana de Armas, Knives Out
Should win Awkwafina, The Farewell
Shoulda got a look-in Charlize Theron, Long Shot
Unusually, this is the most intriguing category of the night, because none of its five nominees feel like they have much heat behind them. That Renee Zellweger is in the Drama category rather than this one, despite Judy's various musical numbers, must have been personally enraging, but as a result, it's almost anyone's game. It would be nice to see Awkwafina take home the trophy – not only for her wonderful work in The Farewell, but because she'll most probably be the only person of colour with an award in her hand come the end of the night.
Best Supporting Actor
Will win Joe Pesci, The Irishman
Should win Brad Pitt, Once Upon a Time in Hollywood
Shoulda got a look-in Willem Dafoe, The Lighthouse
Joe Pesci's potential reign in this category throughout awards season still feels like something of a confidence trick – he is great in The Irishman, but also doesn't get a staggering amount to do. In a category filled with career-best work by Tom Hanks and Brad Pitt, in particular, a Globe win for Pesci would feel like a waste, and more to do with his prolonged absence from cinema than his work itself.
Best Supporting Actress
Will win Laura Dern, Marriage Story
Should win Jennifer Lopez, Hustlers
Shoulda got a look-in Florence Pugh, Little Women
Dern is marvellous in Marriage Story, but it's also the kind of work she has perfected again and again in a number of projects in recent years – most notably Big Little Lies, for which she previously won a Golden Globe in 2018. Lopez, however, is a revelation. In Hustlers, she steals scenes, embodies strength, grit and remarkable skill on stage, and reminds us all that she has long been one of Hollywood's most unsung workhorses.
Join our new commenting forum
Join thought-provoking conversations, follow other Independent readers and see their replies