comment
The Golden Globes couldn't escape the weird, sad vibe of mid-pandemic life
Last night's awards ceremony made the best of a bad situation, writes Louis Chilton, but the Covid-defying Globes event struggled to create a sense of occasion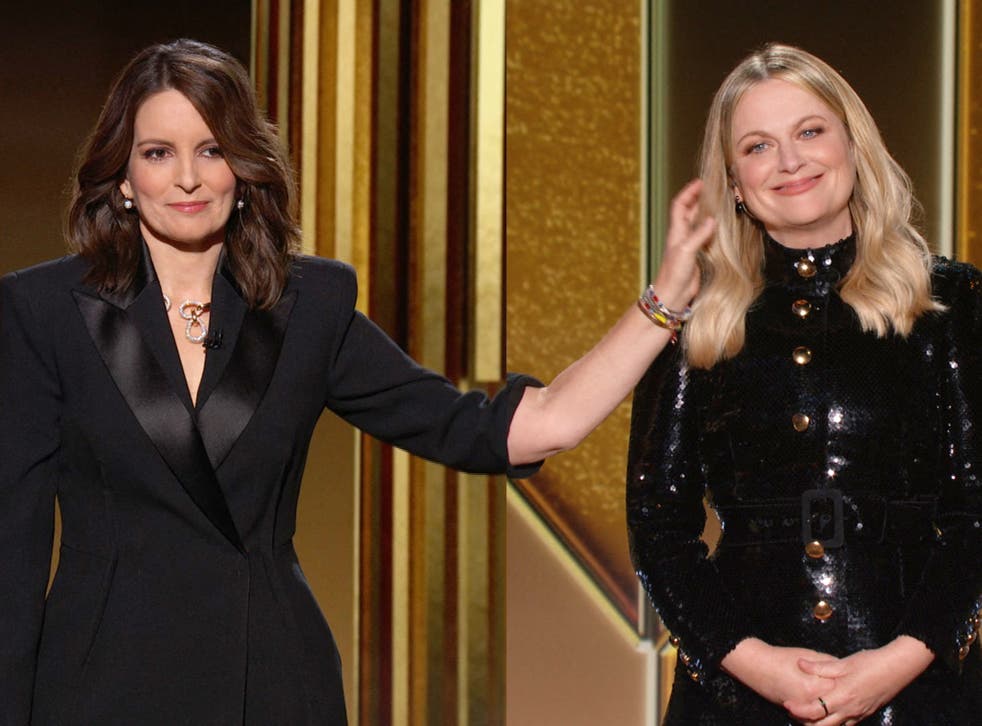 Leer en Español
The Golden Globes were caught between two worlds. Much like the ceremony's hosts – Tina Fey on one coastline, compering the show from New York's 30 Rock building, and Amy Poehler on the other, co-presenting from Los Angeles – the event was a marriage of two distant ideas. On the one hand, we had that old showbiz adage, the show must go on. Yes, the world may be hobbled by a deadly pandemic, but it's Hollywood, Goddammit. On the other, there was reality: the knowledge that the show must be radically reimagined. The veneer of normality could only cover so much – there was no red carpet, no packed crowd full of A-list celebrities. The glamour and momentousness of the night were gone, lost somewhere in the long, dark shadow of Covid.
Though awards ceremonies are often just a platform to indulge the barest narcissism of the film and TV industry, they can, at their best, be pure catharsis. Bong Joon Ho's Oscar wins last year for Parasite were euphoric, capturing the thrill and joy of well-earned recognition, as was Moonlight's Best Picture shock in 2017. There ought to have been a similar electricity last night, when Chloe Zhao was awarded the best director trophy for Nomadland. Zhao – an independent filmmaker whose previous feature, The Rider (2017), was critically adored but snubbed from mainstream awards ceremonies – is a worthy and popular winner, and her victory was momentous: she is the first woman to win in the category since Barbra Streisand in 1983. But as she gave her gracious and heartfelt acceptance speech, it was hard not to be struck by the evening's limitations. Zhao spoke from her kitchen, holding a mug. All the pomp and ostentation was gone from the moment, but so too much of its power.
The same can be said for the speech given by Taylor Simone Ledward, who accepted the award for Best Actor in a Drama on behalf of her late husband, Chadwick Boseman. You can be sure Boseman's win would've been the most cheered of the night – a chance to reverently celebrate the final crowning achievement of a tragically short but monumental career. The powerful sentiments of Ledward's tearful speech were not diminished by the video call format, but the staging obviously was – this was a moment that deserved an awed crowd in front of her, and rapturous applause. Video calls –once the pie-in-the-sky fantasy of sci-fi films like 2001: A Space Odyssey – have become a bland, everyday fact of our mid-pandemic lives. We see our friends, co-workers and loved ones routinely framed by the pixely rectangle of our laptop screens; there is simply no mystique or majesty to it.
Some nominees had more of a crowd than Zhao or Ledward. Kate Hudson, nominated for her role in Sia's much-maligned musical Music, was teased by some on social media for gathering her whole family around her, but it's fair enough to try and inject some sense of community into the occasion. One actor who successfully managed this was Olivia Colman, whose effusive reaction to Emma Corrin's acting win for The Crown (beating Colman herself) also did the rounds on Twitter. Colman's warmth and trademark unpretentiousness transcended the digital divide that stifled so much of the evening's flow. Others didn't fare so well: Jodie Comer's still image (in lieu of a video appearance) made her seem amusingly like a stone-faced malcontent after Corrin's win was announced.
In some ways, not all, the coronavirus pandemic has had a real levelling effect: no one is exempt. The Golden Globes were a reminder of this – however hard everyone might try to pretend, Hollywood is no closer to being "back to normal" than the rest of us. It's always suggested that the Globes are a useful barometer for the Academy Awards, and this is as true as ever in 2021. But this time, it's not about frontrunners, or "momentum", or even the awards themselves. After last night, the Academy will realise it's got a tough task on its hands convincing people that what they're watching really matters at all.
Register for free to continue reading
Registration is a free and easy way to support our truly independent journalism
By registering, you will also enjoy limited access to Premium articles, exclusive newsletters, commenting, and virtual events with our leading journalists
Already have an account? sign in
Register for free to continue reading
Registration is a free and easy way to support our truly independent journalism
By registering, you will also enjoy limited access to Premium articles, exclusive newsletters, commenting, and virtual events with our leading journalists
Already have an account? sign in
Join our new commenting forum
Join thought-provoking conversations, follow other Independent readers and see their replies