Women were overlooked at the Golden Globes – but they made their voices heard
Ricky Gervais might have made an off-colour remark about gender diversity in his final hosting year, but it was women who had the last laugh, writes Alexandra Pollard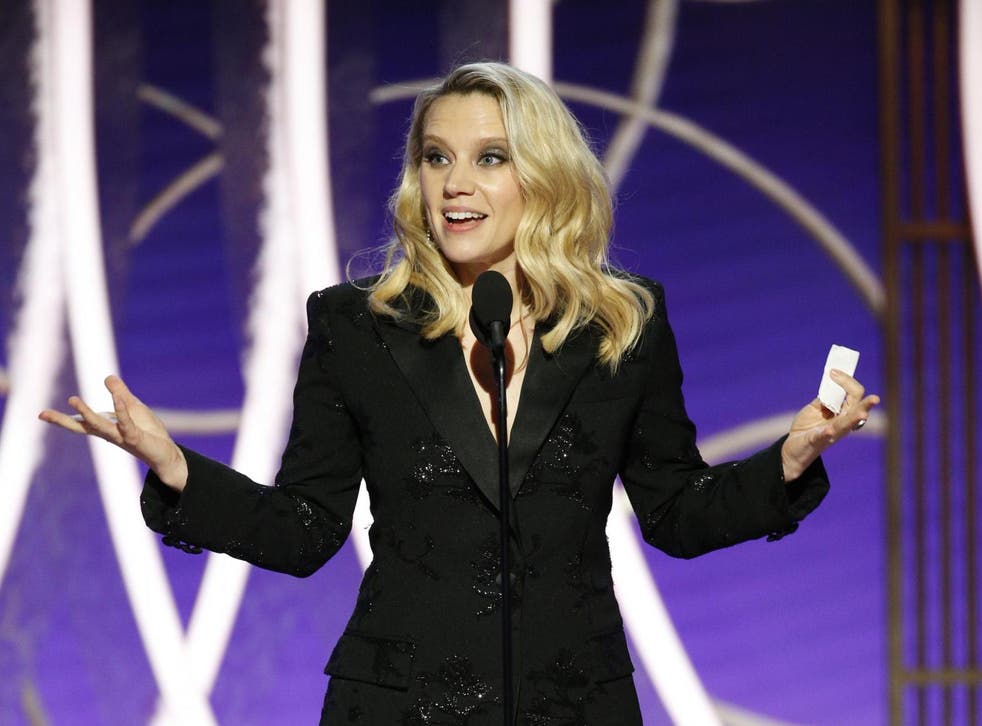 Women dominated last night's Golden Globes. Not by winning awards – in fact, they were overlooked in almost all of the non-gendered categories – but by making their voices heard whenever they got the chance. There is nothing wrong with Rocketman star Taron Egerton's speech including a list of 432 names and the words "especially my marketing team", of course – but when it follows Michelle Williams's passionate defence of a woman's right to choose, it feels somewhat insubstantial.
Williams, who won Best Performance by an Actress in a Limited Series for her lead role in Fosse/Verdon, expressed gratitude for having lived a life of her "own making", adding that she wouldn't have been able to do so "without employing a woman's right to choose. To choose when to have my children and with whom".
She concluded by urging women to vote, and to do so in their own self-interest. "It's what men have been doing for years," she said, "which is why the world looks so much like them. But don't forget, we are the largest voting body in this country. Let's make it look more like us." (It's worth pointing out, in the interest of fairness, that a bafflingly large percentage of white women voted for Donald Trump – but it was a valid sentiment nonetheless.)
The world certainly looked very male when it came to the Golden Globes winners – and indeed, the nominees. The biggest awards of the night – the two Best Picture categories – went to Sam Mendes's unflinching First World War film 1917 and Quentin Tarantino's provocative comedy-drama Once Upon a Time in Hollywood. They were nominated, almost exclusively, alongside other male-directed, male-centric films: The Irishman, Joker, The Two Popes, Rocketman, Dolemite Is My Name… Those films weren't exactly undeserving, but put together, they represent the glaring omission of female art from the upper echelons of society and culture.
Two years after Natalie Portman's mic-drop moment, when she pointedly introduced "the all-male nominees" for Best Director, the Hollywood Foreign Press Association has done it again: no woman was recognised in either the director or the screenplay categories. This would be egregious in any year, but that it has happened when Greta Gerwig's Little Women exists is unforgivable. The film is as daring and inventive as any great epic, but light on its feet, too. With actors talking over one another as the camera weaves between them, it is like a perfectly choreographed dance. Not for nothing did Gerwig say that it was as hard to make as The Revenant.
"In a way it's sort of vital for something like this to happen," said Saoirse Ronan, who was rightly nominated for Best Actress for her role as Jo March in the film, "because it reminds us of how far we still need to go". Its producer, Amy Pascal, blamed the "unconscious bias" of male critics and voters.
One look at the list of nominees and it's hard to disagree. Where are the directors of Portrait of a Lady on Fire, Queen & Slim, A Beautiful Day in the Neighbourhood, The Farewell, Atlantics or Hustlers? It is fantastic that Awkwafina won Best Actress for her role in The Farewell – making history as the first Asian woman to do so – but the film's writer and director, Lulu Wang, wasn't acknowledged at all.
The evening's host, Ricky Gervais, who spent most of the evening swigging beer and expressing his contempt for the Globes, made a puzzling joke about the lack of gender diversity. "I've had a word with the Hollywood Foreign Press, and they've guaranteed that it'll never happen again," he said. "They've agreed to go back to the way things were a few years ago, when they didn't even hire female directors, and that will solve the problem. You're welcome."
Gervais also pleaded with the stars not to use their win "as a platform to make a political speech". "You're in no position to lecture the public about anything, you know nothing about the real world," he said, apparently having appointed himself man of the people.
Access unlimited streaming of movies and TV shows with Amazon Prime Video Sign up now for a 30-day free trial
Sign up
Thank goodness Patricia Arquette didn't listen. I would rather hear her speech a thousand times over than hear Gervais make another diversity joke. "I'm so grateful to be here and celebrate this, but also I know tonight, January 5, 2020, we're not going to look back on this night... in the history books, we will see a country on the brink of war, a president tweeting out a threat of 52 bombs, including cultural sites. Young people risking their lives travelling across the world. People not knowing if bombs are going to drop on their kids' heads and the continent of Australia on fire. So while I love my kids so much, I beg of us all to give them a better world."
Elsewhere, Bombshell star Kate McKinnon introduced Ellen DeGeneres – who won the Carol Burnett Award for outstanding contributions to television – and thanked her for paving the way for queer women. DeGeneres came out as gay more than 20 years ago, as did her sitcom alter-ego, Ellen. (The show was cancelled as a result, and Laura Dern, who also played a lesbian in that episode, didn't work for a year afterwards. It didn't affect either of them in the long run: last night, Dern won the Best Supporting Actress award for Noah Baumbach's wonderful divorce drama Marriage Story.)
"In 1997," said McKinnon, "when Ellen's sitcom was in the height of its popularity, I was in my mother's basement lifting weights in front of the mirror and thinking, 'Am I gay?' And I was. And I still am. But that's a very scary thing to suddenly know about yourself. It's sort of like doing 23andMe, and discovering that you have alien DNA. And the only thing that made it less scary was seeing Ellen on TV."
14 of the best ever feminist moments at the Golden Globes

Show all 14
She continued: "She risked her entire life and her entire career in order to tell the truth, and she suffered greatly for it. Of course, attitudes change, but only because brave people like Ellen jump into the fire to make them change. And if I hadn't seen her on TV, I would have thought, 'I could never be on TV. They don't let LGBTQ people on TV.' And more than that, I would have gone on thinking that I was an alien and that I maybe didn't even have a right to be here. So thank you, Ellen, for giving me a shot. A shot at a good life."
McKinnon also thanked DeGeneres for giving her "a roadmap for a way to be funny that is grounded in an expression of joy". Maybe she could lend that map to Gervais. In fact, maybe the HFPA should just recruit McKinnon to host next year. And maybe they could nominate some more women while they're at it.
Join our new commenting forum
Join thought-provoking conversations, follow other Independent readers and see their replies