Gone Girl: This film adaptation starring Ben Affleck is bound to make a killing
David Fincher's hotly anticipated serial-murder adaptation is tantalising fans months before its release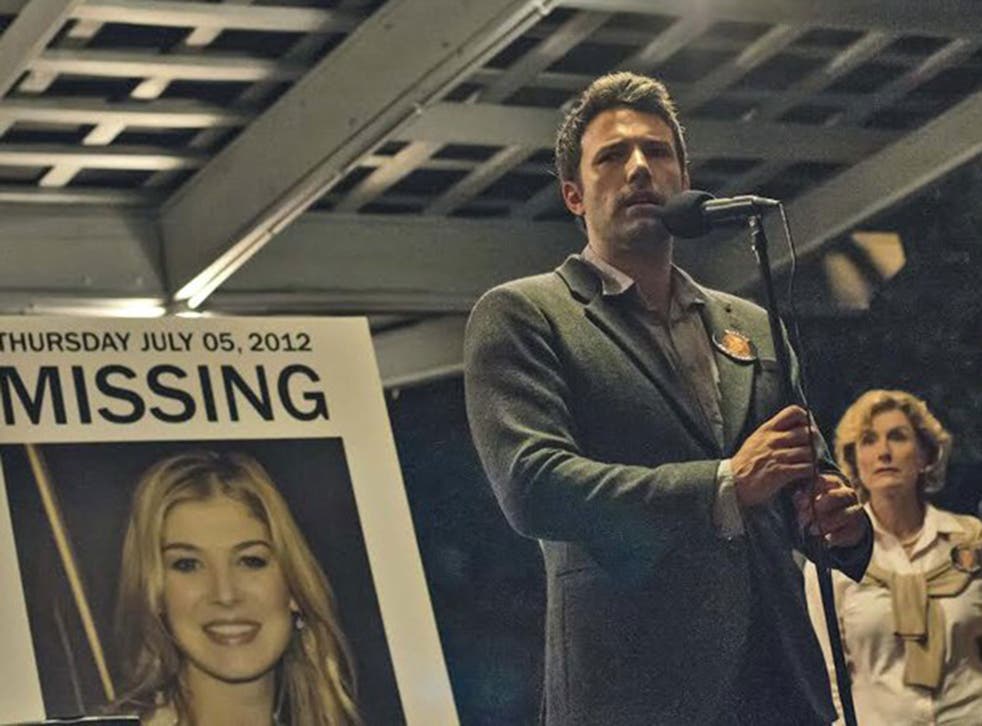 'You're probably the most hated man in America right now. Did you kill your wife?" – the question put to a despondent-looking Ben Affleck at the beginning of the second trailer for David Fincher's Gone Girl.
The film is an adaptation of Gillian Flynn's bestselling novel, and Affleck plays Nick Dunne, the husband of Amy Dunne (Rosamund Pike), whose mysterious disappearance is at the centre of the story.
The two-and-half-minute clip plays out to an eerie voice-over from Amy (fans of the book will know this is taken from her diary). It shows the married pair struggle in their relationship before her disappearance – something with which Nick insists he has nothing to do.
But he is deceitful, a liar, and ultimately considered suspicious by the authorities. Ominously, the trailer ends with an image of what appears to Amy's dead body, suspended in water, the words "this man may kill me" ringing out.
The source material is a good fit for Fincher. His back catalogue includes Se7en (1995), in which two detectives investigate a serial killer inspired by the seven deadly sins, Zodiac (2007), the story of the Zodiac serial killer, who terrorised San Francisco in the late 1960s and 1970s, and his most recent big screen effort, 2011's The Girl with the Dragon Tattoo, a hard-edged mystery which, you guessed it, centres around a serial killer.
Fincher is also familiar with directing films that have been adapted from literature – both Zodiac and Dragon Tattoo are book adaptations, as are Fight Club (1997) and The Social Network (2010). For Gone Girl, Flynn has adapted the book for screen herself.
In fact, one of the key things we know about the film came from Flynn herself. Earlier this year she caused panic among the novel's fans by saying, in her adaptation, she'd changed the ending "drastically".
Later she clarified her comments, saying the novel and screenplay would inevitably be different because that's what happens when a story moves from page to screen.
Gone Girl movie: Who's playing who

Show all 9
She added the "mood, tone and spirit" of the book would remain intact. It's an interesting development, especially considering Fincher admitted after making Dragon Tattoo he may have been too beholden to the source material. Flynn says she has been very involved in the making of Gone Girl, going some way to dispelling the idea that Fincher is not a collaborative film-maker.
Access unlimited streaming of movies and TV shows with Amazon Prime Video Sign up now for a 30-day free trial
Sign up
This impression is perhaps born from the now-infamous clashes on his directorial debut, Alien 3 (1992), which he made at the mere age of 27. During that shoot he fought the studio so hard he got fired three times. The result was a film that neither he nor the studio wanted. Fincher is known for being arrogant and time and again refuses to do what's expected.
But many with whom he has worked speak well of him. In his commentary on the DVD release of Zodiac his awareness for the collaborative process is immediately obvious. Fincher selflessly reflects on the many hands that made Zodiac such a stunning film. And the result may not have lit up the box office, but is arguably his best work.
The cast he has assembled for Gone Girl is an eclectic mix. Ben Affleck's casting in the lead role may raise eyebrows – some believe the future Batman would do well to concentrate on his directing work. Meanwhile Rosamund Pike came up trumps over the likes of Charlize Theron, Natalie Portman, Emily Blunt and Olivia Wilde for the role of Amy.
The big controversy is the casting of Tyler Perry as Nick Dunne's sleazy lawyer Tanner Bolt. Perry is known mainly as a comedy writer and performer (his most famous creation is drag-queen Madea), and there is talk of him being a potentially major distraction. The same could also be said of Neil Patrick Harris, best known as Barney Stinson in US sitcom How I Met Your Mother, who is playing Amy's creepy ex-boyfriend Desi Collings.
However Fincher has a knack of getting great performances out of his actors – just look at his work with Brad Pitt in Se7en, Fight Club and The Curious Case of Benjamin Button (2008). Nine Inch Nails' Trent Reznor will once again provide Fincher with a musical score (Reznor won the Academy Award for Best Original Score for The Social Network). He has described Gone Girl as "nasty", adding, "it's a much darker film than I was expecting".
The film's marketing campaign will take off in the coming months. Just over a week ago new posters were unveiled. On each poster are the words "Happy Anniversary" – referencing the fact Amy goes missing on her and Nick's fifth wedding anniversary. Under those is pictured an evidence bag, containing, on different posters, a burnt wedding photo, a scalpel, women's underwear and a page from Amy's diary. Gone Girl is all about solving a mystery – and these bags offer the evidence needed to solve it.
A website – Find Amazing Amy – also exists. It comes complete with a news ticker, gives you the current temperature of Missouri (where the story takes place), and even lists stock prices. If you stay long enough, clips from the trailer pop up on screen. Most intriguingly, a phone number is provided. Calling the number does work and leads to a recording of someone reading the opening pages of Flynn's book in a chilling, monotone voice.
A defining feature of David Fincher's work is an obsession with data and information – it is information, more than any character, that drives the narrative of his films forward – and the result is the creation of cold but brilliant worlds. From what we know of Gone Girl – from the novel and the marketing of the film – this trend is set to continue. It's a fascinating prospect.
Gone Girl will be released on 3 October
Register for free to continue reading
Registration is a free and easy way to support our truly independent journalism
By registering, you will also enjoy limited access to Premium articles, exclusive newsletters, commenting, and virtual events with our leading journalists
Already have an account? sign in
Register for free to continue reading
Registration is a free and easy way to support our truly independent journalism
By registering, you will also enjoy limited access to Premium articles, exclusive newsletters, commenting, and virtual events with our leading journalists
Already have an account? sign in
Join our new commenting forum
Join thought-provoking conversations, follow other Independent readers and see their replies