Hailee Steinfeld interview: 'The Coen Brothers never made me feel like I could ask enough questions'
The actress who was nominated for an Oscar in 2011 for her performance in 'True Grit', is now starring with Woody Harrelson in the coming-of-age comedy, 'The Edge of Seventeen'
Kaleem Aftab
Wednesday 30 November 2016 12:07 Comments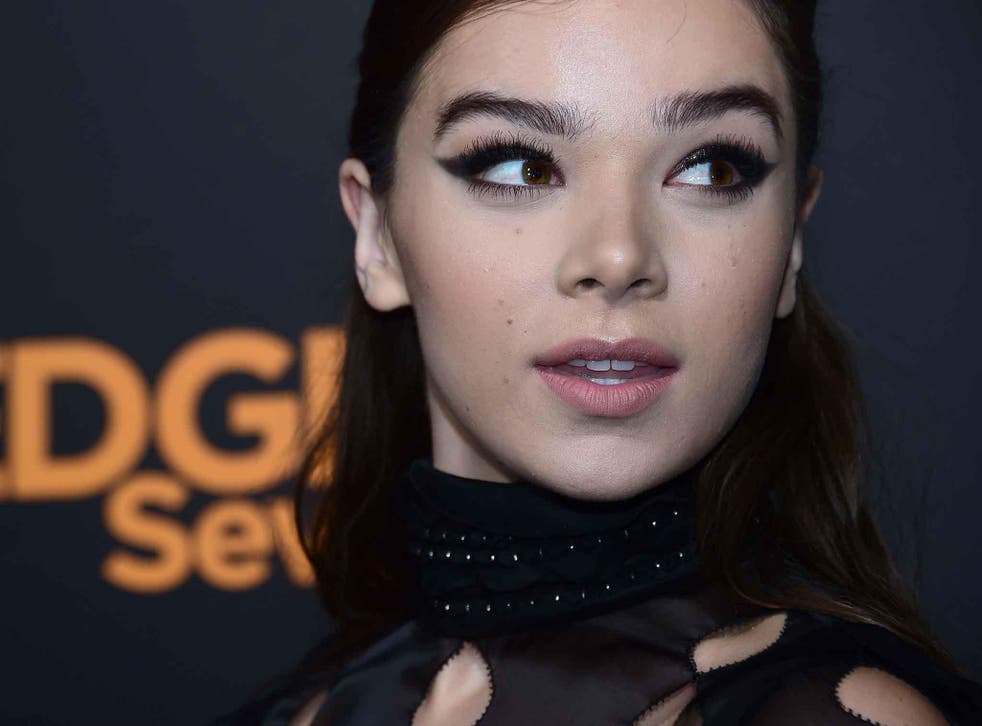 Hailee Steinfeld was just 14 when she was nominated for a best supporting actress Oscar in 2011, joining a select list of teenage nominees that includes Jodie Foster, Saoirse Ronan, and Anna Paquin. Steinfeld's performance as Mattie Ross, the narrator who seeks revenge for the murder of her father in the Coen brothers' 2010 remake of 1969 western True Grit, ensured that the teenager was put under the spotlight at an age when most youths are worrying about exams.
"Looking back on that, I really feel like I'm so much more aware of what that meant now, then I could have done then," she says. Five years on, with several films that have come and gone, she realises just how remarkable an achievement being nominated for awards is. "It was really an unforgettable experience. To be recognised for your work in any way, shape or form, that is a true honour."
The consequences of that remarkable success continue to reverberate. When Steinfeld was approached to play high school student Nadine in Kelly Fremon Craig's coming-of-age film The Edge of Seventeen – which is in cinemas now – it raised the question of how an Oscar-nominated actress could relate to the travails of a self-centred, high-school student.
"One thing that I love so much about this character is that for a while, I got the feeling that people felt like I'd skipped out on this period in my life that I play in the movie," says Steinfeld. "I really didn't. I had a very different experience as a teenager than most."
Around the time that she made True Grit she started home schooling. But what she did remember of being in school helped her relate to her character in The Edge of Seventeen – Nadine, a girl with few friends, who seeks counsel from a sarcastic teacher (Woody Harrelson) more than she interacts with her peers. "I was very awkward," recalls Steinfeld. "I had a tough time in school, trying to find my way and figure out who I was and how I was supposed to fit in."
One of the first times she says she was able to easily fit in was working with the Coen brothers on the set of True Grit: "One thing I remember is that they never made me feel like I could ask enough questions. I remember feeling in school that if you raised your hand too many times that the kids in class all start looking at you, so you couldn't raise a hand again without being laughed at. The fear of learning is something that was not even of question when it came to being on this set."
She has spoken about being on the wrong end of prank calls and being bullied at school. But such experiences are a distant memory as Steinfeld is now part of the ultimate in-crowd. She rolls with musician Taylor Swift. Steinfeld is one of the gang of celebrities that make up the so-called "Swift Squad". She was endorsed with an appearance in Swift's music video for the single "Bad Blood", which has clocked nearly a billion views on YouTube, playing a character called The Trinity, alongside Lena Dunham, Gigi Hadid, Ellie Goulding and Cara Delevingne
Steinfeld has clearly been taking notes from her friend Swift as her own musical career has also taken off. Her debut song, "Love Myself", has itself had 153 million hits as she runs a music career parallel to acting. "Music has always been a big part of my life, and it's always been part of my plan. I started at the same time that I got into acting. The acting just started first and took up all my time. So the music was a side project until the opportunity presented itself that made sense to me, which was Pitch Perfect 2."
In Pitch Perfect 2, she plays freshman Emily Junk who dreams of following in her mother's footsteps and joining the Barden Bellas. It's a character she'll soon be reprising as the a cappella-centric franchise is about to see another sequel go into production, although she's staying quiet on what happens to her character. "I hope there are not too many changes," says Steinfeld. "She has kind of found her way a little bit more than when we last saw her. Her feet are wet this time and I think she is walking into a world that she has a better grip on."
Access unlimited streaming of movies and TV shows with Amazon Prime Video Sign up now for a 30-day free trial
Sign up
The other major work on the horizon is an album: "I've been co-writing a lot of the album that I've been working on – my album, which has been a really amazing experience and cool process, unlike anything I've ever done." Her dream is to have songs that wouldn't look out of place on Views by Drake.
If The Edge of Seventeen is anything to go by, the content of the songs will be a lot more mature than her previous efforts. This is the film that sees 19-year-old Steinfeld take on more adult themes with a realistic, occasionally dark edge. Nadine goes on several dates, one of which is an awkward encounter in a car with a guy she fantasises over at school. It's soon apparent that they are after different things. It's a hard scene to watch, as it lays bare the conflicted emotions of Nadine, a character searching for experiences that she doesn't seem ready for.
"That scene is so raw and emotional," says Steinfeld. "I feel like situations like that, end up that way, more than we wish it would. And that sort of concept alone is frustrating and emotional and confusing. We spent a couple of days on that scene, which in some ways is great and in others not, because that is the kind of thing that you want to get in and out and be done with... that part was difficult to film." Yet it's also the moment that the actor shows she's ready to build on her Oscar-nominated turn.
The film also deals with that modern problem of sending text messages without thinking. It's not something that happens to Steinfeld often as she admits that she's one of those people who procrastinate over every word, and look at every nuance before sending a text. "I would rather that if it be in writing then it be put the right way and it not be misread in anyway," she says. "So I guess spending the time and making sure it comes off the way I want it to come off is where I'm spending all my thought."
It's also noticeable in her conversation style. Where she answers questions with as many caveats as she can manage, to ensure that there is no doubt about her response. She's similarly detailed in her approach to characters: "That is definitely something that requires time and patience and attention and over-analysing, I guess, in some way."
Whether that over-analysing will allow her to buck the trend and be successful as both an actress and singer, we are about to find out.
Register for free to continue reading
Registration is a free and easy way to support our truly independent journalism
By registering, you will also enjoy limited access to Premium articles, exclusive newsletters, commenting, and virtual events with our leading journalists
Already have an account? sign in
Join our new commenting forum
Join thought-provoking conversations, follow other Independent readers and see their replies