Heath Ledger - a prophetic tragedy
When he died, Heath Ledger was preparing to direct a film about a chess prodigy. The writer Allan Shiach talks to rob sharp about the project's similarities to the actor's own unhappy situation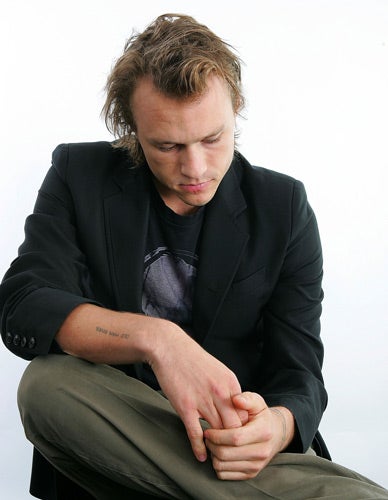 The Soho office walls belonging to the screenwriter Allan Shiach, who writes under the name Allan Scott, are a photographic patchwork quilt. In one picture, he is rubbing shoulders with Donald Sutherland. In another, he is locked into a cosy clinch with Jeremy Irons. A third sees him mid-speech, in black tie, revelling in the chortles of two Pythons.
But recently, Shiach – whose writing credits include the 1973 adapted screenplay for Don't Look Now – has had little to grin about. Until last month he was working with the late Heath Ledger on a film adaptation of Walter Tevis's 1983 novel The Queen's Gambit, about a chess prodigy's chequered history. The Australian actor was pencilled in to direct and star alongside the Oscar-nominated actress Ellen Page.
But, since Ledger's death from an accidental drugs overdose on 22 January, the movie has gained a freakish poignancy. In the screenplay, the principal character wrestles with addiction to prescription drugs. At one point she even lies prostrate on a bed, surrounded by alcohol and pills. And the movie's depiction of an orphan's ascent from obscurity to become a world chess champion mirrors one of Ledger's talents: according to Shiach he was a chess champion of a high world ranking, within reach of becoming a grandmaster.
Of Ledger's death, the screenwriter simply says: "Everyone knows Heath was a user of prescription drugs; and that he had addiction issues when he was a young man. On a personal level I am incredibly sad. One is always sad to lose someone as a friend. But, what is more, the movie business lost a real talent. I think he would have been an extraordinary director." So what were the circumstances behind the pair's ill-fated collaboration?
Shiach, 67, first read the novel of The Queen's Gambit in 1990, but had reservations. He says: "Although I thought it was wonderful, the book was more about the central character Beth's internal journey. That is hard to dramatise. The novel was more about chess than characters. I realised that if I were to take the project forward I would need to find the right balance between these two elements."
Buoyed by confidence that he could bring a visual richness to the novel's introspection, Shiach acquired the rights to The Queen's Gambit in 1992. Years passed. He says: "I wrote the draft of the screenplay myself. Then [The Coal Miner's Daughter director] Michael Apted became involved. When he moved on to other projects, [Last Tango in Paris director] Bernardo Bertolucci wanted to do it. We worked on it for a year. But again things fell by the wayside."
The Queen's Gambit languished at the bottom of a store-cupboard for almost a decade. But then, just as he had begun to give up hope, Shiach's phone rang. "A year ago I had calls from three people who wanted to direct it," drawls Shiach. "And of the three of them I found Heath was the one I wanted to work with. He was passionate about it; he was an intense, interested young man and I was drawn to him immediately. We spoke and spoke about the project over the phone, and then eventually got round to meeting up over it towards the end of last year." Before long, the creative process was in full flow. With the backing of an ascending star of Ledger's calibre, for the first time the script seemed commercially viable.
"We spent a lot of time over the last three months working on his vision," continues Shiach. "I did draft after draft and he gave his input and we met several times in New York and here, where he was spending a lot of his time. We had got to the stage where we had sent the script to Ellen. Heath was full of ideas for the other cast, mainly from his list of acting friends. We were planning to make a movie at the end of 2008."
The pair had discussed music – Shiach had sent Ledger a 1950s compilation featuring classics such as Rosemary Clooney's "This Ole House", about which, he says, Ledger expressed enthusiasm. Now, Shiach's inbox contains hundreds of emails from Ledger, containing thoughts, often sent late at night. The pair had decided to use Pino Donaggio's haunting piano music from the opening scenes of Don't Look Now to mark the sequence where Beth leaves a trailer park to live in an orphanage.
Access unlimited streaming of movies and TV shows with Amazon Prime Video
Sign up now for a 30-day free trial
Sign up
Access unlimited streaming of movies and TV shows with Amazon Prime Video
Sign up now for a 30-day free trial
Sign up
The product of this creative partnership, the 109-page script, is vastly nuanced and enjoyable. It is a Beautiful Mind-style tale of frustrated, lonely genius, and how that intelligence deals with the world. But of this, one page stands out. It is a scene in which Beth has a crisis of confidence leading up to a major tournament. She retreats, alone, to her family house. This section reads: "There is noise coming from everywhere in the house. Her suitcase lies open on the bed, clothes spilling everywhere. There are at least a dozen bottles of tranquilliser pills lying in the suitcase, stuffed into every corner, each with Mexican labels. She opens one of these – grabs a bottle of liquor – and drinks direct from the bottle to swallow two pills." It would have been a script with which Ledger would have been intimately connected at the time of his death.
Now the writer has meetings scheduled with Ledger's business partners in LA – employees of production company The Masses, largely a collective of directors and artists – to take the project forward. Shiach is also planning – once the circumstances surrounding Ledger's demise have settled – to find a new director.
The Masses' Sarah Cline said of The Queen's Gambit: "Immediately this book sparked something within us and tapped into our sensibility; it is a great actor's piece, a formidable director's canvas, and a story that strongly champions the resilience of the human spirit. It's smart, powerful, and moving."
Shiach, however, is understandably more reserved. He concludes: "As in everything you write, if you're lucky one in five screenplays gets made. With this, it's just a question of waiting for the right opportunity and getting the right director. I thought Heath was that. Although it's a very commercial subject it will be seen as an art-house movie. So you need to bring in strong actors and make a beautiful film in order to have a hope of having a break-out success."
This will come if the strength of the writing is anything to go by. But all this depends on the team behind it being fully able to lay the ghosts surrounding The Queen's Gambit to rest.
Allan Shiach will be in conversation with Nicolas Roeg at the University of Aberdeen (01224 273874) on 29 April
Join our commenting forum
Join thought-provoking conversations, follow other Independent readers and see their replies