The saturday interview
Henry Golding: 'If you're not wholly British, sometimes you feel scared'
The Crazy Rich Asians star talks to Alexandra Pollard about his new film 'Last Christmas', Brexit, chauvinistic humour and how he felt about being a half-white man in an Asian role
Saturday 16 November 2019 09:09 Comments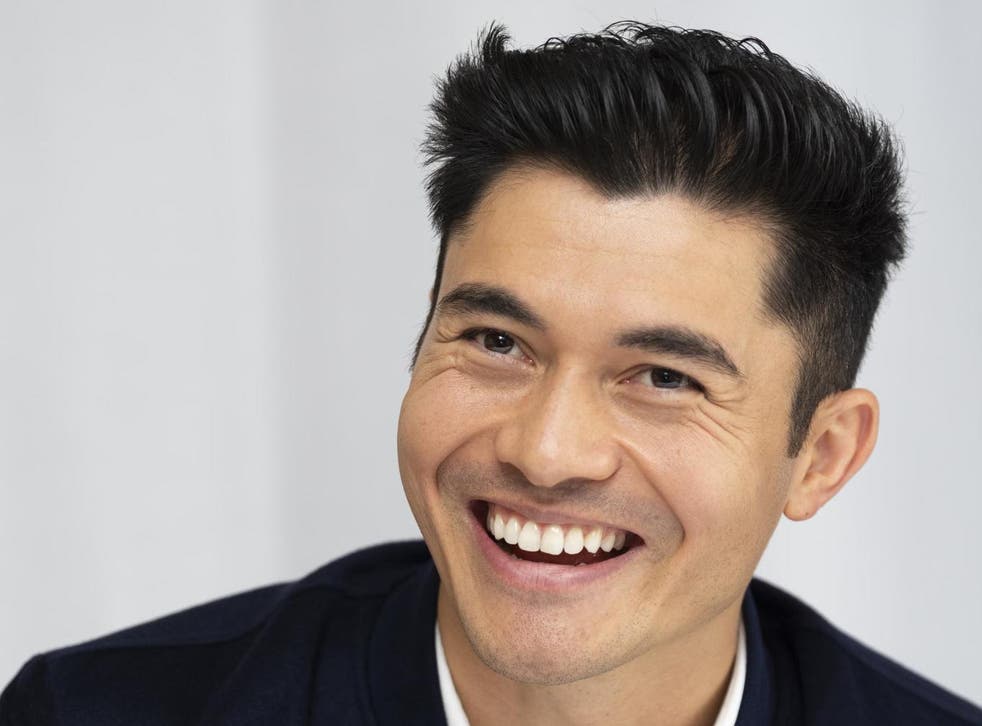 Henry Golding can quote, verbatim, the dreadful reviews of his new film. "It's as bad as finding a lump of coal in your stocking," he recites, in an accent that fuses cut-glass English vowels with the lax consonants of an American, "or one firmly lodged in your rectum." He does a half-convincing laugh, and then wonders aloud about the Rolling Stone critic who wrote it. "He obviously thought extremely hard, in his little kitchen."
In fairness, Last Christmas is not as bad as finding coal in either of those places. Nor is it "idiotic" (The New York Post), "brutally unfunny" (BBC) or "so ludicrous it may actually make you want to punch a reindeer" (Entertainment Weekly). In fact, for all its clunky contrivances and jarring plot twists, I enjoyed it. But... it isn't great.
Given its pedigree, it's hard to understand why Last Christmas wasn't better. It was written, after all, by Bryony Kimmings and Emma Thompson (the latter of whom was the best thing about the beloved Christmas film Love Actually, and won an Oscar for her screenplay for 1995's Sense and Sensibility), inspired by the songs of musical genius George Michael and directed by comedy genius Paul Feig. And yet, the best defence even Golding can come up is that it's a "fun, happy-feeling Christmas movie" and "just an easy film to watch".
The 32-year-old plays Tom, a manic pixie dream boy who insists on twirling as he walks; who locks his phone in a cupboard so he can really, you know, be present; and who drops into the disastrous life of Emilia Clarke's Kate just when she needs him the most. And then he promptly disappears, leaving Kate – who drinks too much, alienates her friends, is half-arsing it at her job in an all-year-round Christmas shop, and keeps bombing West End auditions because, well, she's not very good – traipsing around looking for him. Tom, in other words, is a tiny bit irritating.
Or he would be, if Golding weren't so damn charming. Charm is kind of Golding's schtick. Dressed today in a pristine blue suit complete with burgundy pocket handkerchief, and draped gracefully over the armchair of a London hotel room, he is basically a walking stock-image for the word. He has the kind of steely eye contact that manages to be confident yet unthreatening, and when I arrive late – because my tube broke down – he tells me that my timing was, in fact, "perfect".
This is probably why he succeeds at everything he turns his hand to. Having spent his teenage years as a hairdresser in London, he made an impulsive decision to give presenting a go, moved to Kuala Lumpur, and immediately landed a gig hosting a travel show. When he'd had enough of that, he was cast in last year's phenomenally successful Crazy Rich Asians, despite having zero acting experience bar a Subway commercial. Sure, the men he plays aren't the most complex – in fact, they generally exist to aid the character development of the female leads – but it's quite refreshing to see the tables turned.
Feig, who directed Golding in both the criminally underrated A Simple Favour (in which the actor played second fiddle to his onscreen wife Blake Lively) and Last Christmas, has made a career out of giving funny, talented women the platform they deserve. "Male humour devolves, eventually, into homophobia, punching and name calling," he said in a recent interview. "I'd rather just have goofy fun." Does Golding agree? "Ummmm," he says. "I think it's changed, definitely, and Paul has been one of those guiding lights. There's vulgarity in male, chauvinistic humour, yeah, for sure, but it doesn't mean everyone's like that, you know? There's no right or wrong answer when it comes to that, it's really personal taste. Some people like slapstick and rude humour, and who are you to say that's wrong?"
"Nowadays," he continues, "I don't know if it's a negative or a positive, but it's become a lot harder to express a creativeness without offending a certain group of people. I think a lot of people have become more sensitive to humour and everyday stuff. Is it a bad thing? I'm not sure. Is it a good thing?" There's a long pause. "Yes, actually."
Have people become "more sensitive", though, or is it just that they finally have the freedom to speak up when something has hurt them? "Yeah, and I'm all for that," he says. "But then on the other side of the coin is... is..." He tuts, and rearranges himself into another Rolex advert pose. "It's such a tough one, isn't it? At the end of the day, if you're hurting somebody, that should give you reason to stop, right? But at the same time..." There's another long pause. "No," he announces. "There is no 'at the same time'."
Access unlimited streaming of movies and TV shows with Amazon Prime Video Sign up now for a 30-day free trial
Sign up
Let's talk about something less divisive. Brexit. Last Christmas is set in 2016, and Kate's mother (played by Thompson) – who fled her home country of former Yugoslavia during the violent ethnic conflicts in the Nineties – watches in horror as the result of the EU referendum is announced on TV. "I know how it starts," she says, in one of the film's genuinely affecting moments. "They point the finger. They say, 'These people, they are the reason your life is bad.' And people, they believe them."
The 20 best Christmas films - ranked

Show all 20
The subplot has had a mixed reception, but Golding stands by it. "People need to understand it's happening," he says. "Seeing it in a movie, some people are like, 'This is weird, why is this here?' But this is what happens every day. It's an ugly truth, isn't it? That sometimes if you're not wholly British, or you have some sort of bloodline that's from outside of the UK, sometimes you feel scared. You feel uncertain about the future."
Golding's was a peripatetic upbringing: born in East Malaysia to an English father and Malaysian mother, he moved to Surrey at the age of eight. There, as he told one interviewer, he found himself "a little embarrassed" of his Asian roots – though leaving school prompted a transition towards self-acceptance. How does he feel about what's happening here now? "The fate of Britain is an interesting one," he says. "It brings out the nasty in people sometimes. I'm at a stage where I'm thinking of having a family." Golding has been married to television presenter Liv Lo since 2016. "Because I was born outside of the UK, if I have a kid that's born in America, they're not going to be able to have a British citizenship. So, do we make the decision to come back to the UK and have a child here, to continue being a Brit, or do we go American? It's such a big topic, isn't it?"
He doesn't want to ignore his Asian heritage, either. In fact, he's said in the past that he feels "more Asian than anything" – though that didn't stop the minor backlash to his casting in Crazy Rich Asians. Some people felt aggrieved that the role of Nick had gone to a man who is half-white. In an article for The Independent, journalist Nick Chen described the decision as "egregious" and "semi-whitewashing". But Golding thinks this is "nitpicking".
Crazy Rich Asians - Trailer
"I don't know," he says, "there's a lot of self-loathing Asians, and all sorts of ethnic varieties, and I think that roots from not being represented. And that's not their fault. When something comes along like this, that means so much to them, and then they realise, 'Oh but he's half white', is it wrong for them to say that? Yeah, it goes back to the whole sensitivity thing. But are they right in some sense? Perhaps. There's no right or wrong answer."
"We live in a world of globalisation," he continues. "People aren't just made up of one race anymore. So when does that become normal? I don't think we're at that stage yet. We still have to explain where we're from or who we are. I'm glad it popped up though, I guess."
Ultimately, Golding is looking forward to a time when his ethnicity is of little interest to anyone. "I'm gonna concentrate on being the actor, rather than the representative of a particular race," he says. "I want to be able to blur that line and not have to think about it. Be proud of it still, but not have to justify why I am the way I am. I'm Asian as well as British. There's no need to over-explain it."
Last Christmas is in UK cinemas now
Register for free to continue reading
Registration is a free and easy way to support our truly independent journalism
By registering, you will also enjoy limited access to Premium articles, exclusive newsletters, commenting, and virtual events with our leading journalists
Already have an account? sign in
Join our new commenting forum
Join thought-provoking conversations, follow other Independent readers and see their replies