Holidate: 'Ryan Gosling' actor reveals story behind background shot tricking Netflix viewers
After identifying the actor behind the Christmas rom-com's most discussed scene, Jacob Stolworthy speaks to the man himself about how it came to be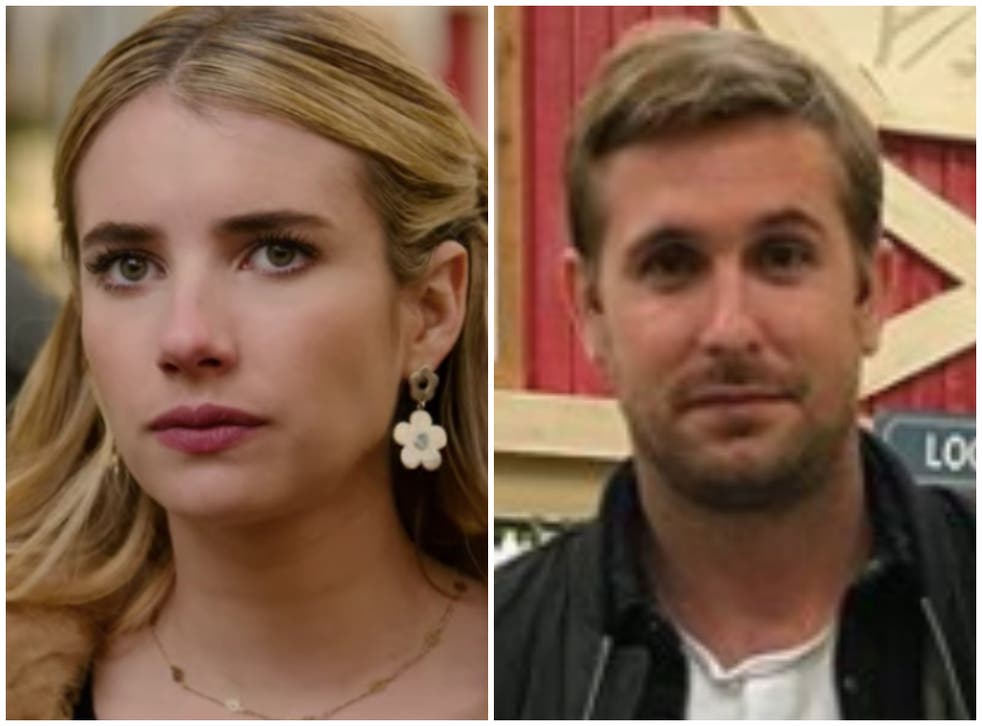 Leer en Español
If you've watched Netflix's new Christmas film Holidate, then you might have thought you spotted a surprise cameo in the background.
Shortly after the film's release on 28 October, many people were convinced they saw Ryan Gosling in the background of a scene featuring Luke Bracey and Emma Roberts' lead characters, Jackson and Sloane.
Adding fuel to the fire was the fact that Gosling himself is mentioned at the same moment it's believed he appears.
"I bet you money that if Ryan Gosling waltzed down this frozen food aisle and offered to take you on the ride of your life, you would still say no," Jackson tells an unconvinced Sloane, who responds: "You are so wrong – Ryan Gosling would never do his own shopping; he's way too cool for that."
It's here where the Hollywood star walks into shot – only it's not Gosling at all, but actor and stuntman Chad Zigmund.
Following The Independent's original article, we tracked down Zigmund to speak about how the "impromptu" moment came to happen.
How did your Holidate experience begin?
Believe it or not, I got it through Facebook. They posted a photo that had blurred out Luke Bracey's face, and said, "Hey, we need somebody who is six foot tall, has this hair colour and kinda looks like this guy." I submitted [an application] after my friend tagged me, and I got the job as his stand in.
How did the now famous background shot manifest?
Well, the Ryan Gosling jokes were already in the film, but at a production meeting, one of the directors brought up the idea. They said, "What if we have a Ryan Gosling lookalike in the background; that'd be kinda fun and quirky." Everybody jumped on it. They were going to put out a casting call, but then stopped and went, "Chad will probably do it." Rob Burgess [the first assistant director] came up to me, pulled me aside and went, "So, we came up with this idea and I told them you'd probably do it." He told me what it was and I said yeah – it sounded fun.
We shot it a few days later. The wardrobe people were like, "Wait, what are we doing?" They threw it all together. It was a blast. You never know what's going to happen on movies. When you get all these talented people together, the ideas start flying around. Who would have thought this idea that came up in the spur of the moment would have landed this coverage and these reactions?
Access unlimited streaming of movies and TV shows with Amazon Prime Video Sign up now for a 30-day free trial
Sign up
How does it feel to watch the moment back?
It's weird. When I see the picture of it, I'm like, "Yeah, that's me."
How has the response been?
It's definitely been a whirlwind. People have been reaching out going, "Is that you?" I've reconnected with a lot of people. I've been watching everyone debate, and it's hilarious. People were so convinced! I've just been laughing to myself. My wife said she read one comment which said, "Ryan Gosling's bone structure is better, sorry dude." That was pretty funny.
Did you anticipate this reaction when you were shooting it?
No, is the short answer. I had no idea. I thought it was funny. I loved the idea. When I was watching it, I was excited I'd made the cut. You never know how they're gonna put it together. I was blurry, but I thought some people might catch it. When I got home from work the next day, my wife went, "Chad, come here." She showed me your article, and I was pretty shocked. My friend introduced me to someone earlier today as "that Ryan Gosling guy". He was like, "Oh, you're that guy – I've seen articles about that." 
Have you always been compared to Ryan Gosling?
Yeah, since high school. When The Notebook came out, a girl said I looked like him, so I went home and googled him. I was like, "Wow, okay – that's nice." I get Chris Evans a lot too. Being fans of both of them, I take it as a huge compliment.
Were people confusing you for him on set too?
There were a tonne of extras on the shoot and they'd double take and go, "Wait, who's in this movie?" One day, one of the extras actually pulled one of the production assistants aside and asked if they could get a photo with me as if I'm somebody – I'm just a stand-in! I was like, "Why?" I had the picture, and now here we are.
Could you believe it when you realised the film had several Gosling references? It seems the two of you are quite linked.
When I read [the script], I found it funny. Everywhere I go, Ryan Gosling is there – before me, obviously. I'm totally cool with it. I've always thought I'd like to be Ryan Gosling's stand-in. That'd be alright.
How were you directed for the scene?
We did a few versions. They told me to go up to the freezer and make it look like I'm looking for something, and to just embody Ryan Gosling. I thought about the eyebrow thing he does. He's also quite light on his feet. I like that they kept it blurry 'cause it kept the mystery alive.
Did you have to watch loads of Gosling videos beforehand?
No, I love a lot of his movies. I really enjoy Crazy Stupid Love, and The Notebook is just a good love story, but Drive is one of my favourites. I've definitely seen quite a bit of him. I know his quirks and style, so it came pretty naturally. If I go see a movie, I'll see him do something and will be like, "This is weird – I do that too. Did I get that from him?"
What's next for you?
There's a role I'm working on in Kentucky. It's an indie film called On a Dark and Bloody Ground.
Holidate is available to stream on Netflix now
Join our new commenting forum
Join thought-provoking conversations, follow other Independent readers and see their replies