Hollywood's 80's film revival from all-female Ghostbusters to pensioner Indiana Jones
Eighties 'cult classics' including Top Gun, Beetlejuice and Blade Runner are all making a return to the big screen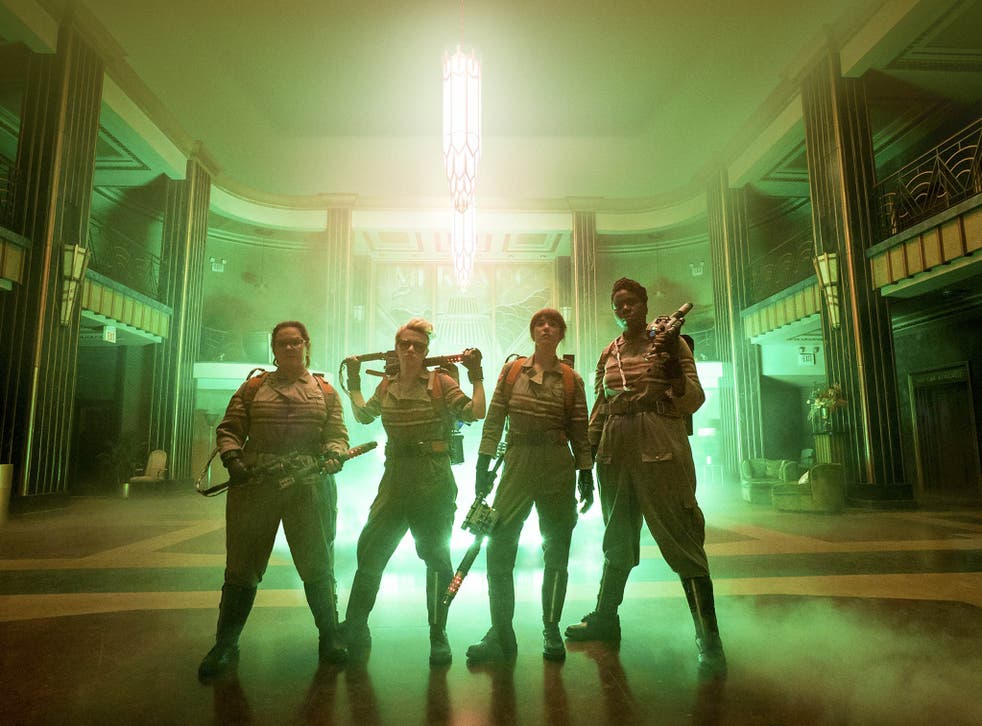 The female-led Ghostbusters movie is generating a lot of hype ahead of its UK cinema release on 15 July, just over 30 years on from the release of the original.
It joins an ever-growing list of 1980s remakes and sequels set to explode onto our screens, including new versions of Top Gun, Indiana Jones, Blade Runner, Escape from New York and Beetlejuice.
So why the sudden major craze for these reboots? Is it a genuine interest in 1980s nostalgia or simply US studios looking to monetise their back catalogues with great brand association?
The answer is probably a bit of both. The studios and other production companies revisiting 1980s movies have the advantage of targeting the teens and twentysomethings who might not have seen or even heard of the original movies, all the while knowing that the thirty-, forty- and fiftysomethings will remember the first ones with fondness and most likely return.
Which is not to say that news of a sacred childhood film getting a rework always goes down well. New Ghostbusters director Paul Feig has had to handle a torrent of harsh words and demands from die-hard fans of the original sci-fi comedy on Twitter.
This reached boiling point recently when the film's trailer was released online. Feig posted the words "fuck the haters" in response to criticisms of one of his lead characters; Patty Tolan (played by Leslie Jones), a New York City transport worker has been accused of being a racist stereotype.
"They can attack me all they like, although I'd prefer it if they didn't," says Feig. "But when they go directly to Melissa [McCarthy] or Leslie's Twitter accounts and say something horrible, I have a problem. They are hired guns, it's not their fault."
Films to watch in 2016

Show all 30
Feig and his co-writer Katie Dippold decided not to go down the sequel route that had been touted for a while, partly because Harold Ramis had died and Bill Murray had turned it down several times, but also because Feig was concerned about the conceit of them falling on hard times.
Instead, he decided to take the popular franchise in a different direction, using the funny women he'd worked with previously, including McCarthy and Kristen Wiig from his hugely successful comedy Bridesmaids. "We're not just doing a page-for-page remake," insists Feig. "The only similarity is that ghosts show up and the ghostbusters have to stop them."
Access unlimited streaming of movies and TV shows with Amazon Prime Video Sign up now for a 30-day free trial
Sign up
That said, there are, inevitably, references to the original, including cameos from some of the original cast members, most notably Murray, and the return of the Ecto-1 car, proton packs and Slimer the ghost. "There are certain things that we and the audience would be pretty bummed about if they weren't in it. A movie like this should be comfort food. My only goal is to entertain a wide audience," adds Feig.
Would that it were so simple. "There are some films so beloved and identifiable with a particular person or group of people, like Ghostbusters and Back to the Future, that it's difficult to go back there," says film analyst Robert Mitchell. "But the fact that Feig is doing an all-female ghostbusters is actually a clever stroke, because they're not trying to replace Bill Murray and co. Although it's also a good move to have them on board."
The same can be said of last year's National Lampoon Vacation remake, which saw Chevy Chase and Beverly D'Angelo reprise their roles as Clark and Ellen Griswold, but this time the story focused on their grown-up son, Rusty (Ed Helms), and his family.
The resulting film was a cross between a remake and a sequel that divided the critics. "It was important for the new movie to be able to stand on its own while still paying respects to its classic predecessor," insists director John Francis Daley.
Returning to original cast members doesn't always work though. "Occasionally, time has made them less sharp, or it's a bad cameo, which can blow up in your face," says Feig.
That is unlikely to be a problem for the return of Tom Cruise for the Top Gun sequel and Harrison Ford for Indiana Jones 5 (despite the fact he's in his seventies). Those films are almost guaranteed success because of their huge brand recognition.
Disney have confirmed that Steven Spielberg and Ford will return for the fifth instalment of the action-adventure franchise, and they'll be hoping it can do as well as their Star Wars reboot, which has taken more than £1.4bn worldwide.
Meanwhile, the Top Gun sequel was in the hands of director Tony Scott before his untimely death in 2012. The latest from producer Jerry Bruckheimer is that the sequel will be a modern aviation story, again starring Cruise, but this time as an old-school pilot who fights against drones.
There is a spate of other remakes and sequels of cult classics in the works, none of which were considered box-office smashes in the 1980s, but have since garnered huge followings, and could potentially be great successes.
Tim Burton's confirmed presence for Beetlejuice 2, with original cast members Winona Ryder and, especially, Oscar-winner Michael Keaton is a real coup. Likewise, having Ridley Scott's reliable vision as executive producer of the new version of Blade Runner adds cachet. "They can now say on the posters: 'from Ridley Scott…'," enthuses Mitchell.
Canadian Denis Villeneuve (Prisoners) has taken over the directing hot seat, while Harrison Ford is reprising his role as Rick Deckard, with Ryan Gosling co-starring. The movie will take place several decades after the 1982 original, which was set in a dystopian 2019 Los Angeles. Scott has already revealed that the opening shot will be based on the original opening that was scrapped from the 1982 sci-fi film.
Kickboxer: Vengeance, on the other hand, is perhaps a little more niche, but has received a lot of press because of pictures of Jean-Claude Van Damme looking in great shape for a 55-year-old. He is playing the mentor of his character, Kurt Sloane, from the original Kickboxer movie.
"We managed to persuade Jean-Claude to be involved and he's been amazing, adding his own touches to the script, and the way he moves in the film will blow the audience away," insists Dimitri Logothetis, the film's scriptwriter and co-producer, who was determined to match the original's authentic martial-arts look and feel.
Having a cast of fighters- and stuntmen-turned-actors certainly helped, including Ultimate Fighting Championship champion Georges St-Pierre, mixed-martial-arts fighter Gina Carano and World Wrestling Entertainment performer Dave Bautista. "We're selling the picture as the 'real-deal Expendables'," says Logothetis, who has also bought the remake rights to the 1980s films All of Me and The Best of Times.
The final word goes to Samuel L Jackson, star of Eighties remake RoboCop: "Remakes are done because there's an established audience, a potentially new audience, or there's been a technological development that will allow them to make the films better."
'Ghostbusters' is released on 15 July
Register for free to continue reading
Registration is a free and easy way to support our truly independent journalism
By registering, you will also enjoy limited access to Premium articles, exclusive newsletters, commenting, and virtual events with our leading journalists
Already have an account? sign in
Register for free to continue reading
Registration is a free and easy way to support our truly independent journalism
By registering, you will also enjoy limited access to Premium articles, exclusive newsletters, commenting, and virtual events with our leading journalists
Already have an account? sign in
Join our new commenting forum
Join thought-provoking conversations, follow other Independent readers and see their replies