Hugh Grant finds filming sex scenes a 'turn on' - what the actors really think
Grant is the exception rather than the rule when it comes to enjoying movie set romps
Jess Denham
Thursday 22 September 2016 08:27 Comments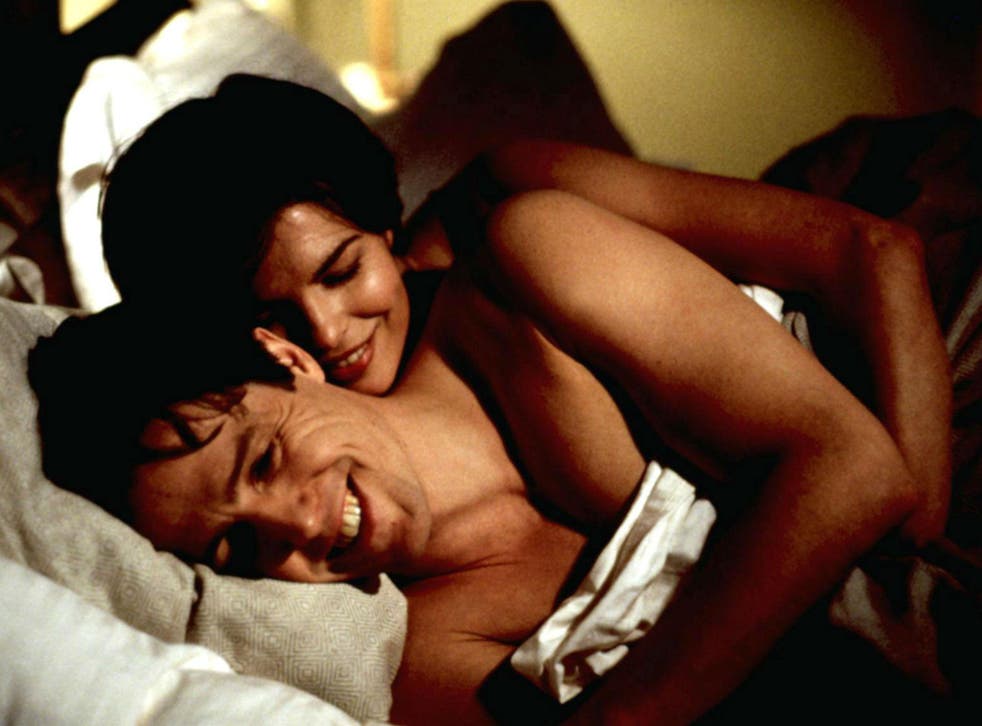 For most actors, filming raunchy sex scenes with almost strangers is one of the most dreaded parts of the job. Jennifer Lawrence turned to booze to get through her first one with Chris Pratt in Passengers, while Rosamund Pike confirmed that there was nothing arousing about "dry humping on a bed" with Neil Patrick Harris in Gone Girl. Liam Hemsworth finds them "uncomfortable", Jamie Dornan and Dakota Johnson both described their Fifty Shades of Grey romps as "pretty tedious" and Henry Cavill struggles to understand how "smacking your nuts against someone when nothing is going in" could be enjoyable.
But not Hugh Grant. Oh no, he of Four Weddings and a Funeral, Notting Hill and Bridget Jones's Diary fame finds bedroom scenes "quite a turn on". Even when they involve Bridget's "absolutely enormous panties", presumably.
"Love scenes are extremely difficult. You're always within a millimetre of sentimentality and yuck," he told W magazine. "But sex scenes are something else. The conventional response to sex scenes is that they're horrible and not sexy and it's all so unnatural. But I've always found filming sex scenes to be quite a turn-on. I like the experience of being in a sexual position when you're not supposed to be in one."
Grant has said before that he has "always enjoyed sex scenes" but what do his fellow actors have to say about the experience of getting their kit off in front of a roomful of cast and crew?
Kate Winslet
"You can literally be tangled in sheets and you turn to the other actor and say, 'What the f**k are we doing?' Dear Mum, at work today I had so-and-so's left nut sack pressed against my cheek. It's sort of unethical if you think about it in those terms."
Dakota Johnson
"Filming a sex scene is not a sensual or pleasurable environment. It's really hot - not in a steamy, sexual way. It's just sweaty and not very comfortable. On top of that, my hands and legs were tied, I was blindfolded and I was being hit with this bizarre tool [in Fifty Shades of Grey]. It was emotionally taxing."
Jake Gyllenhaal
"It's uncomfortable when you're naked on set, but I do feel like an old hand at it at this point. I've done some pretty crazy things already. My parents taught me to feel comfortable about my body. They told me there's a beauty in whatever you are. Also I feel it's very important to portray love and sex in the right way."
Mila Kunis
"It's hard to have a sex scene, period. It doesn't matter if it's a friend, a male, a female. You're with 100-something crew members, lighting you, repositioning you. There's no comfort whatsoever."
Iconic sex scenes

Show all 11

Natalie Dormer
"Anyone who says they're laid back about sex scenes is a fibber. It never gets any less…not traumatic, that's the wrong word…not embarrassing…it can be a bit awkward."
Liam Hemsworth
"It's always pretty awkward when you have to take your pants off in front of a crew and other actors. During the scene it's fine, you don't feel uncomfortable, but as soon as it's cut and you're standing around in your underwear, that's when it's weird and uncomfortable."
Charlotte Rampling
"Despite all that, 'Oh Charlotte Rampling, you've stripped off so much in your life' stuff, I've always thought that unless you're into group sex, you don't want to share those intimate moments with people watching."
Elizabeth Debicki
"They're strange things, sex scenes. They're inherently awkward to do and the best case scenario is that you get on well with the other person as Tom (Hiddleston, in The Night Manager) and I did. Afterwards, we parted ways and ten minutes later met at the tea trolley for a normal conversation. It was as if it never happened."
Lena Dunham
"I stopped wearing the nude patch after the first season of Girls. There's not one guy who works on that show who hasn't seen the inside of my vagina. You glue it over your vagina. It gets sweaty and always falls off. My male co-stars, at the end of the day, don't care."
Rosamund Pike
"You're alone with a man who's not your husband who also has a husband. He's in his underwear, you're in your underwear, and you're sort of dry humping on a bed."
Neil Patrick Harris
"We had to rehearse the [Gone Girl] sex scene, like every inch of it. 'Then you put your mouth on his dick here and then this number of thrusts and then you ejaculate'."
Anne Hathaway
"There is that revoltingly embarrassing moment when you have to take your clothes off in front of strangers. But as with all things in life, the second you stop making it about you and you make it about everyone else, it just gets, dare I say, fun."
Jamie Dornan
"Your dignity is intact as much as it's all tucked away in a little flesh-coloured bag. As a guy you put all your essentials in a little bag and you tie it up like a little bag of grapes and it's tucked away."
Samuel L Jackson
"You ask before you start, 'Where can I touch you? Where shouldn't I touch you?' Then you apologise for both reasons. 'I'm sorry if I get excited' and 'I'm sorry if I don't'. Because sometimes it just ain't happening!"
Henry Cavill
"It's only happened to me once," he said of getting an erection on set. "A girl had to be on top of me, she had spectacular breasts and I hadn't rearranged my stuff into a harmless position. She's basically rubbing herself all over me and, um, it got a bit hard."
Cavill "apologised profusely" afterwards ("It's not great when you're in a professional acting environment and somebody gets a b***r, is it?") and insists there is nothing "sexy" about raunchy scenes: "All you're doing is smacking your nuts against someone and nothing is going in."
Perhaps Hollywood film sets really are not quite so glamourous after all.
Register for free to continue reading
Registration is a free and easy way to support our truly independent journalism
By registering, you will also enjoy limited access to Premium articles, exclusive newsletters, commenting, and virtual events with our leading journalists
Already have an account? sign in
Join our new commenting forum
Join thought-provoking conversations, follow other Independent readers and see their replies