interview
I Am Greta director Nathan Grossman: 'We can't just pat people like Greta Thunberg on the head and then not listen'
The filmmaker's new documentary follows the world-famous climate activist as she goes from lonely protests to spearheading a millions-strong movement. He speaks to Alexandra Pollard about how he captured it all with such astonishing intimacy, and how he hopes the film will help her cause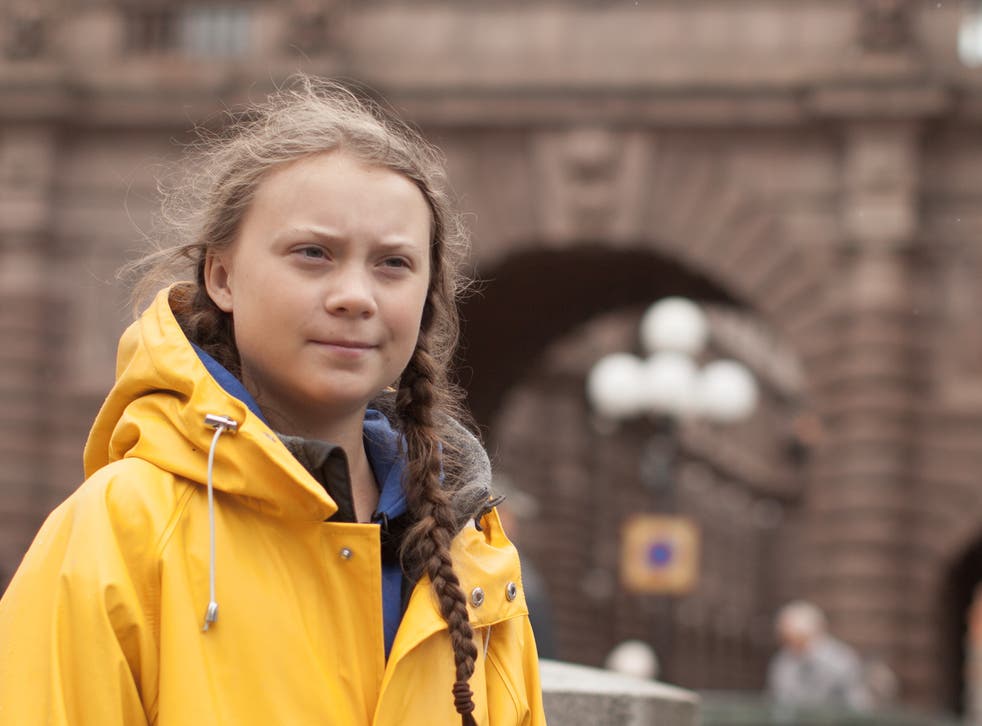 A tiny hooded figure sits alone on the cold ground outside the Swedish parliament. Next to her is a red flask and a sign reading "SKOLSTREJK FÖR KLIMATET" – school strike for climate – in plain black paint. An elderly woman approaches. "Why are you on strike? You must go to school," she scolds. Greta Thunberg looks the woman square in the eye. "Why would I need an education if there's no future?"
It is thanks to a mixture of foresight and serendipity that filmmaker Nathan Grossman was there to capture even the earliest days of the now world-famous Swedish climate activist's campaign. In his documentary I Am Greta, which arrives in UK cinemas this Friday, he films for a year as the 15-year-old goes from lonely protests to speaking in front of 30,000 people at the United Nations Climate Change Conference; from struggling to find a place to sit in her school cafeteria to being mobbed like a rock star. And he captures it all with an astonishing intimacy. In between the rousing speeches, strikes and rallies, we watch as Greta curls up on her bed in a strop while trying to nail the grammar of a speech; as she battles with her father over whether she has to eat ("I don't give a s*** if they're waiting," he tells her desperately, "you have to have some food"); as she cuddles her dogs and nuzzles her face into the neck of her horse; as she sobs that it's "too much for me" while sailing across the Atlantic to give testimony in New York; and as she meets with world leader after world leader, gradually becoming disillusioned as they pat her on the head and do nothing.  
Grossman "went as humbly as I could into this world", he tells me. He didn't have a crew – it was just him and a camera – and so became an unobtrusive fly on the wall, privy to the biggest and smallest moments of Greta's ascent. "It allowed me to just follow her wherever she went and not add any pressure," he says. "It's also easy if it's just me filming if she wants to stop. If something's difficult, it's just to one person that she has to say, 'Hi, can you stop shooting?' I even said to her, 'If you don't want to say something, do a sign or just pull my jacket or anything,' and actually she almost never did that. It was mostly me saying, 'Now it's enough.'"
The climate emergency is becoming more urgent. We are in what scientists call a climate feedback loop: temperatures are rising; seas are warming; ice is melting; and climate-related disasters are piling up, the only solution for which is to get rid of fossil fuels, fast. But climate activism has been around for decades. How did one teenager manage to galvanise a millions-strong movement and capture the world's attention? Why Greta? Why now? "It doesn't matter how much talent you have if the timing isn't right," says Grossman. "History, sadly, can tell us that. But what is unique with Greta is that she carries this enormous talent – which probably, to some extent, comes from her Asperger's diagnosis and her way of cutting through the greenwashing – of being able to make these huge, weird facts very easily understandable. Because that's how she sees the world; she compresses it that way."  
He also believes that the worsening effects of the climate crisis are making it harder to ignore. "Greta's generation, the generation that will be super impacted by this, have risen to an age where they can start to become more politically active," he says. "That's the breaking point. They reached this age where they felt, 'OK, we can't just be worried about this, now it's our time to raise our voices.'"
Thunberg is a hugely impressive person with a talent for persuasive speaking. But she is still human. I Am Greta shows the teenager struggling with her own rapidly rising fame, and fighting hard to avoid eclipsing her own cause. "They're here for you!" a reporter yells at a rally in which many are screaming her name. "No, they're here for themselves," she says calmly. "And for everyone." At the UN Climate Change Conference in Poland, she is constantly bombarded by people asking for selfies. "Soon it'll be Monday, and no one will know who you are," her dad reassures her. "That's nice," she says.
Did Grossman worry that his documentary would feed into the idea that Thunberg is more interesting than the climate emergency itself? "It's so funny, we have this activist who says she doesn't want to be in the spotlight and yet we're making a movie of her, and even having her name in the title," he admits. "I discussed it with her of course. It was fairly late in the process that we really understood that the film would be more about her than the movement, but I felt that she was very open with understanding that this could give another image of her that didn't just compress her down to a very angry activist, that could show that she's just a human being. Also, she understood that something like this could make a big difference for the climate movement." Thunberg received no payment for the film, nor did she have any say over its final cut.
Access unlimited streaming of movies and TV shows with Amazon Prime VideoSign up now for a 30-day free trial
Sign up
I Am Greta is galvanising and inspiring – but it is also deeply depressing. Some world leaders openly mock her efforts – Brazilian leader Jair Bolsonaro calls her a brat; US president Donald Trump says she has anger management issues – but more insidious are those who seem sympathetic to her cause but whose actions to mitigate the climate emergency are minimal at best. "Everyone says, 'It's so lovely that you're here, we promise to shape up,'" says Thunberg quietly, after yet another meeting with world leaders. "And then they don't."  
Grossman compares it to a bad relationship. "You're pointing out the problem over and over again and nothing is being done about it. Most people break up at that point, because it's so frustrating." He laughs. "But we can't break up with the idea that we need to address this issue. Greta continues to bang her head against this cement wall of politicians and this system that is so reluctant to do anything. They are very happy patting children's heads, but actually they love the status quo. It's one of the things we need to carry with us after the movie. We can't just pat our children on the head and say that it's good that they're active in an issue like this and then not listen and act on the words they're saying."
At one point in the film, Thunberg says that "once the climate crisis has got your attention, you can't look away". But that is exactly what many of us are doing. "In her world, when you see the climate crisis you can't look away, but in our world, when we see the climate crisis we look away as quickly as we can," says Grossman. "We don't want to look down that hole because it's super scary. But we need to not be so afraid of looking down that hole – because otherwise our grandchildren will have to. We need to have a little bit more Greta in us."
'I Am Greta' is released in cinemas on 16 October, with a special Q&A screening nationwide on 18 October
Join our new commenting forum
Join thought-provoking conversations, follow other Independent readers and see their replies