'I try to make everybody laugh': TJ Miller on The Emoji Movie and being hand-picked for Hollywood by Spielberg
The comedian defends the critical flop, and hints at what's to come in Steven Spielberg's VR gaming movie 'Ready Player One'
James Mottram
Tuesday 01 August 2017 12:08 Comments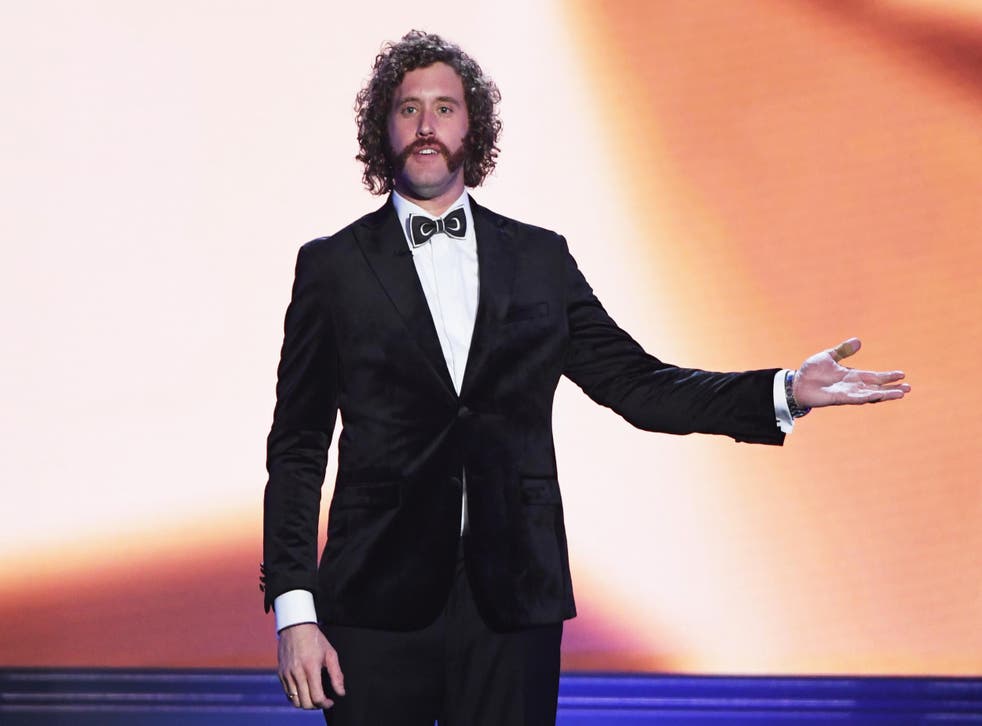 Like all the best comedians, TJ Miller can talk – and then some. "I do it for a living," he says, amid reams of chat that rarely allow me in edgeways. After stand-up shows, Funny or Die skits, podcasts and a role on HBO's Silicon Valley, Miller's comedy credentials have been growing at such a rate the slumbering giants of Hollywood have finally woken up to him.
A debut in monster movie Cloverfield – he's the guy holding the camera, prattling on – was just the start. Since then, from Transformers: Age of Extinction to Deadpool, the 36-year-old Miller's stock has shot up.
We meet at Cannes, where the curly-haired Miller has – quite literally – just parasailed into the festival wearing a yellow tuxedo to promote his latest film, CG-animation The Emoji Movie. Moments earlier, he was doing a phone interview wading up to his knees in the water.
"You can kind of feel that I don't care, that I don't really give a shit, that all of this is ridiculous," he says. "It can be either fun or you can take yourself too seriously. When they ask, 'Do you want to parasail in a yellow tuxedo into Cannes?', I said, 'Yeah, of course!'"
Not taking yourself too seriously is probably necessary when it comes to promoting The Emoji Movie – which opened last week in America to a truly abysmal set of reviews.
But Miller has never had qualms about work aimed squarely at younger audiences, having previously leant his voice to animations like Big Hero 6, How To Train Your Dragon and the TV series Gravity Falls. "I try and hit every single demographic, because I try to make everybody laugh, not just some people," he says. "Some people are like, 'Why would you do The Emoji Movie, dude, you're on Silicon Valley?' I'm like, 'No, I'm on both! I'm doing both!' The people that love Silicon Valley may not love The Emoji Movie but that's on them."
Set in a world called Textopolis – well, an app inside your phone – The Emoji Movie brings all those ubiquitous texting characters we all use to life. Patrick Stewart voices the Poo Emoji. James Corden is the enthusiastic Hi-5, who spends his life wanting to be favourited, and Miller is Gene, a multi-expressional character who decides he must become like his parents and be the "Meh" emoji. "It's funny, it's silly, it's very self-aware and everyone feels like they're in on the joke," says Miller.
Miller, who began his career touring with Chicago's famous Second City improvisational troupe, almost doubles up with laughter when asked how many times a day he looks at his phone. "That's embarrassing! Too many! I'm making the embarrassed emoji face right now. I look at my phone probably more than I don't look it… sometimes my wife (artist/poet Kate Gorney) and I will just sit in a car and Kate will be on her phone and I will be on my phone and if we want to talk, we just text each other."
The son of a clinical psychologist and an attorney, Miller grew up in Denver but didn't start performing comedy until he attended college in Washington DC – where he first met Gorney – joining a comedy troupe called receSs. Skits and shorts followed, alongside a stint studying circus arts and classical acting at the British Academy of Dramatic Arts in Oxford. Diversity is the key to his success – from releasing a comedy rap record (The Extended Play EP) to voicing a blue alien puppet that takes over a Japanese TV programme in Comedy Central's The Gorburger Show.
Access unlimited streaming of movies and TV shows with Amazon Prime Video Sign up now for a 30-day free trial
Sign up
Along the way, he's had films that some might wish to erase from their CV – not least playing a park ranger in live-action/CG-animation Yogi Bear movie. "That I feel was a defining time in my life," he says, tongue mildly in cheek. "The best talking bear comedy that's ever been made, at least in modern cinema, and if you say 'What about Ted?' I say, 'Fuck you!'" Despite the poor reviews, Yogi Bear still took over $200m (£151m) across the globe.
Miller's became more of a name with Deadpool – the X-rated superhero film that smashed industry expectations with a $783m (£591m) box office. "The reason I got involved was maybe we can broaden the genre, because it doesn't seem to be going away," he says. "Most things are from existing properties, or within the Marvel Universe or DC Comics. Not that I don't love The Dark Knight or think that Guardians of the Galaxy is really fun. But to me they're all a little milquetoast."
Set to reprise his role as bartender Weasel in the currently-shooting sequel, Miller believes Ryan Reynolds' Deadpool character is a necessary figure if Hollywood wants to keep making comic book movies. "He's almost the antidote to the poison that is those very milquetoast superhero genre films. I like Deadpool being present every couple of years to cleanse the palette and have you be able to go, 'Let's see what this next Avengers is all about.'"
Even more intriguing is his relationship with Steven Spielberg. "For some reason he just thinks I'm a real goof," laughs Miller, who stars in the director's virtual reality yarn Ready Player One, which just saw its mind-bending trailer debut at the San Diego ComicCon. Set inside a virtual game – where everything from Freddy Krueger to The Iron Giant make an appearance – Miller reports that Spielberg removed all nods to his own work because he's too modest. "He didn't want any references to Jaws."
Their relationship began thanks to Spielberg's company DreamWorks, which bought Ex-Criminals, a felons-on-the-run comedy co-written by Miller that is currently in development. Then Miller was cast alongside Jennifer Aniston in last year's comedy Office Christmas Party – which took over $114m (£86m) worldwide.
"That was almost like Spielberg was saying, 'This is your screen test to be a movie star.' Then after the footage starting coming in, like the Emperor of Hollywood, he said, 'You know what? Bring him to me!'"
Now they're BFFs – with Spielberg admitting the role of i-R0k, a player within the virtual game universe that dominates the film, was written with Miller in mind. "It won't be like anything you've ever seen before," says the actor, who reveals he's already seen snatches of it. "It looks like a video game like Call of Duty, but times five! Incredibly realistic but still very virtual reality game-like." It's the sort of revelation that leaves you with a big smiley face.
'The Emoji Movie' opens 4 August
Register for free to continue reading
Registration is a free and easy way to support our truly independent journalism
By registering, you will also enjoy limited access to Premium articles, exclusive newsletters, commenting, and virtual events with our leading journalists
Already have an account? sign in
Join our new commenting forum
Join thought-provoking conversations, follow other Independent readers and see their replies