In defence of the so-called Worst Movie Ever Made, Plan 9 From Outer Space
Originally called 'Grave Robbers From Out of Space' and featuring actors reading from scripts on their laps, fake trees and mics lurch into shot, it was a recipe for disaster in the golden age of B-movies. But on the 60th anniversary of its screening, is it really worthy of its title, asks David Barnett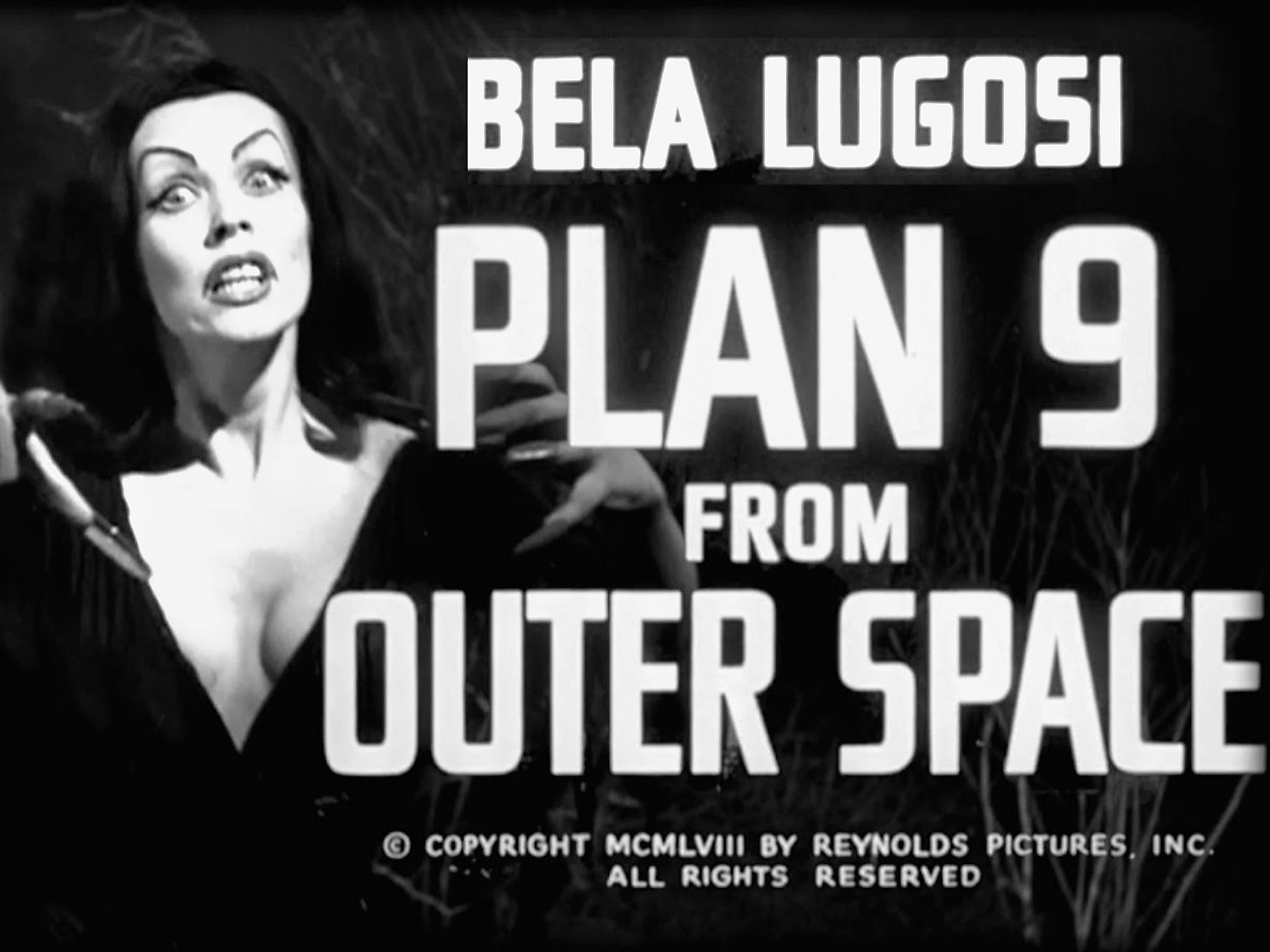 Sixty years ago a select audience filed into the Carlton Theatre in Los Angeles for a private screening of a new film. They might not have known it when they walked in, but it's a safe bet that some of them might have had an inkling when they came out that cinematic history, of a sort, had just occurred.
They had just borne witness to the worst movie ever made.
Of course, this was the 1950s, the golden age of B-movies. People were swimming in bad films: I Was A Teenage Werewolf, Attack of the Crab Monsters, The Beast With 1,000,000 Eyes, Creature With The Atom Brain.
But those elite few who emerged blinking from the Carlton Theatre in March 1957 had seen something that was a class apart. The film they saw was called Grave Robbers from Outer Space, but by the time it had gone on general release to the public, it had been re-titled with a name that has gone down in history: Plan 9 From Outer Space.
Why was it so bad?
Where to start? Well, it was billed as the last movie of Bela Lugosi, famous for his portrayal of Count Dracula in 1931. And Lugosi does indeed appear in the movie, though he knew nothing about it. He had died in 1956, before the movie was even conceived.
Even at a time of primitive cinematic techniques, Plan 9's on-screen special effects are hilarious. A UFO dangling in the sky has been variously said to be either a car hubcap or a paper plate. Actors read from scripts on their lap; sound microphones wobble in and out of shot. Fake trees and cemetery headstones wobble as the actors brush past them. Characters go into scenes when it's night time and leave five minutes later into daylight. Perhaps most deliciously, the footage used of Lugosi had been shot for an entirely different film, and when there proved to be not enough of it a replacement actor was brought in, who was taller and looked precisely nothing like him, which was got around by having him hide his face with a cloak for most of his scenes.
All of that could perhaps be put down to period charm were it not for the fact that the plot itself appears to be the product of insanity. There's a rough storyline hiding somewhere under the weight of the groaning sets and cobbled-together effects, but it's a real struggle for it to get out. Aliens have come to earth to set in motion their sinister Plan 9 (we never find out about Plans 1-8, and why they were deemed failures). The ninth plan involves raising the dead and sending a zombie army marching on the world's governments. Why? Because humanity is about to invent a substance called solaronite, so dangerous it could actually destroy the universe.
It doesn't sound so bad, put like that. But the film critics Harry and Michael Medved, in their 1980 book The Golden Turkey Awards, awarded it the accolade of Worst Movie Ever, and thus it has remained ever since. But, on the occasion of its 60th anniversary, we have to ask, is it really so bad?
"It does seem strange to me that it got singled out as the worst movie of all time," says Kim Newman, film critic and writer. "Harry Medved was quite a conservative critic, though. But Plan 9 was a low-budget movie, and was it really worse than other films of its vintage? I think I'm more fond of it than some modern movies, say the Sharknado films."
10 most pirated films of 2016
Show all 10
Plan 9 does have its fans, and the phrase "so bad it's good" might as well have been coined for it. It has duly entered the hallowed halls of being a cult movie. But its creator, the director Ed Wood, never set out to make a really bad film.
Access unlimited streaming of movies and TV shows with Amazon Prime Video
Sign up now for a 30-day free trial
Sign up
Access unlimited streaming of movies and TV shows with Amazon Prime Video
Sign up now for a 30-day free trial
Sign up
Wood, born in 1924, set himself up in Hollywood after the war, with a passion for film-making. You might be familiar with his story from Tim Burton's 1994 biopic Ed Wood, with Johnny Depp in the title role, detailing his aching need to break into the film world and his meeting and friendship with Bela Lugosi, who would kind of become Wood's muse.
Wood had made a number of low-budget movies before Plan 9, including Glen or Glenda?, a semi-documentary style exploitation movie about transvestitism, a schlocky crime thriller called Jail Bait, and Bride of the Monster, a horror feature. Wood himself was apparently partial to wearing women's underwear under his Marine Corps uniform in the war. But what he'll forever be remembered for is Plan 9.
Johnny Mains is a writer and editor — his current project is Dead Funny: Encore, an anthology of horror stories written by comedians such as Rufus Hound and Isy Suttie, co-edited with Robin Ince — and he genuinely loves the movie.
"Hand on heart I do not think that it's awful, otherwise I would never have watched it so many times," he says. "You may think I'm flogging a dead horse, and believe me, I've spent a large portion of my life watching films of a woeful nature but Plan 9 is a perfect example of make do and mend. Work with what you have and make the very best out of it."
Wood was a master of that. When Lugosi died before filming started, Wood decided to just shoehorn the footage he already had stored from another project of Lugosi looking creepy into Plan 9, even though it didn't at all fit.
Kim Newman again: "It's perhaps unfair to pick on a movie which was put together with the few resources that Wood had. People tend to watch it today out of context, they don't see it as part of the scene of the other movies of the period."
Mains agrees: "What comes over isn't directorial competence, but exuberance in abundance, enthusiasm and I would take that any day over a film that's technically brilliant but lacks any soul."
After its debut in 1957, the title was changed (allegedly because two of the film's financiers, who were Baptist Ministers, objected to the name Grave Robbers from Outer Space) and after the planned distributor folded in 1958 it was 1959 before it actually went on general release.
It was the 1990s before Mains saw it for the first time, though he was already aware of its existence. The film opens with The Amazing Criswell, a stage psychic who was one of Wood's friends, drafted in to do the narration, intoning: "Greetings my friends. We are all interested in the future, For that is where you and I are going to spend the rest of our lives". A 19-year-old Mains was hooked.
"Even though the film sold itself on being the worst film of all time, I thought that surely a film could never be that bad," he says. "I watched it – and from the moment Criswell came on I was captivated. And now as a 40-year-old man, I can safely say that it's one of my all-time favourite films and I've watched it more times than it's healthy to have." How many times? "Maybe 200 viewings in 21 years?"
While Newman might not be quite so evangelical as Mains, he does have respect for Wood, who he says grew up on movies and wanted to make them with a passion. "He loved the process of making films," he says. "He was maybe one of the first film fans who graduated to making his own movies.
"The thing with Wood is he never set out to make a cult movie. He just wanted to make a movie, but he didn't have the resources. There are far worse films. Look at something like Moulin Rouge, which had the budget and the big actors, and the film on the screen was actually the film they set out to make. Top Gun had everything going for it, and it was appalling. The worst thing you can say about a film is that it's boring, and Plan 9 is a fairly entertaining movie."
If Ed Wood and Plan 9 From Out of Space have taught us anything, it's that bags of enthusiasm and a cheerfully slapdash attitude can produce a result that will still be being talked about 60 years later. These days, people have more film resources on their mobile phones than Wood could rustle up in 1957.
"So as long as you have passion and enthusiasm and a half decent script, more and more people are wanting to show us their vision. It can be both a good and bad thing and it'll be interesting to see who is coined the next Ed Wood," muses Mains.
For Newman, who has sat through more bad films than possibly anyone on Earth, that's not necessarily a good thing. "Anyone with an iPhone can make a film," he agrees. "But they can't make me watch it."
Who knows? If a film's bad enough, it might just end up being a timeless classic.
Join our commenting forum
Join thought-provoking conversations, follow other Independent readers and see their replies