Ingrid Bergman centenary: Why the Casablanca star's extraordinary career continues to shine on
On the centenary of her birth, the captivating Swedish actress is rediscovered in two insightful documentaries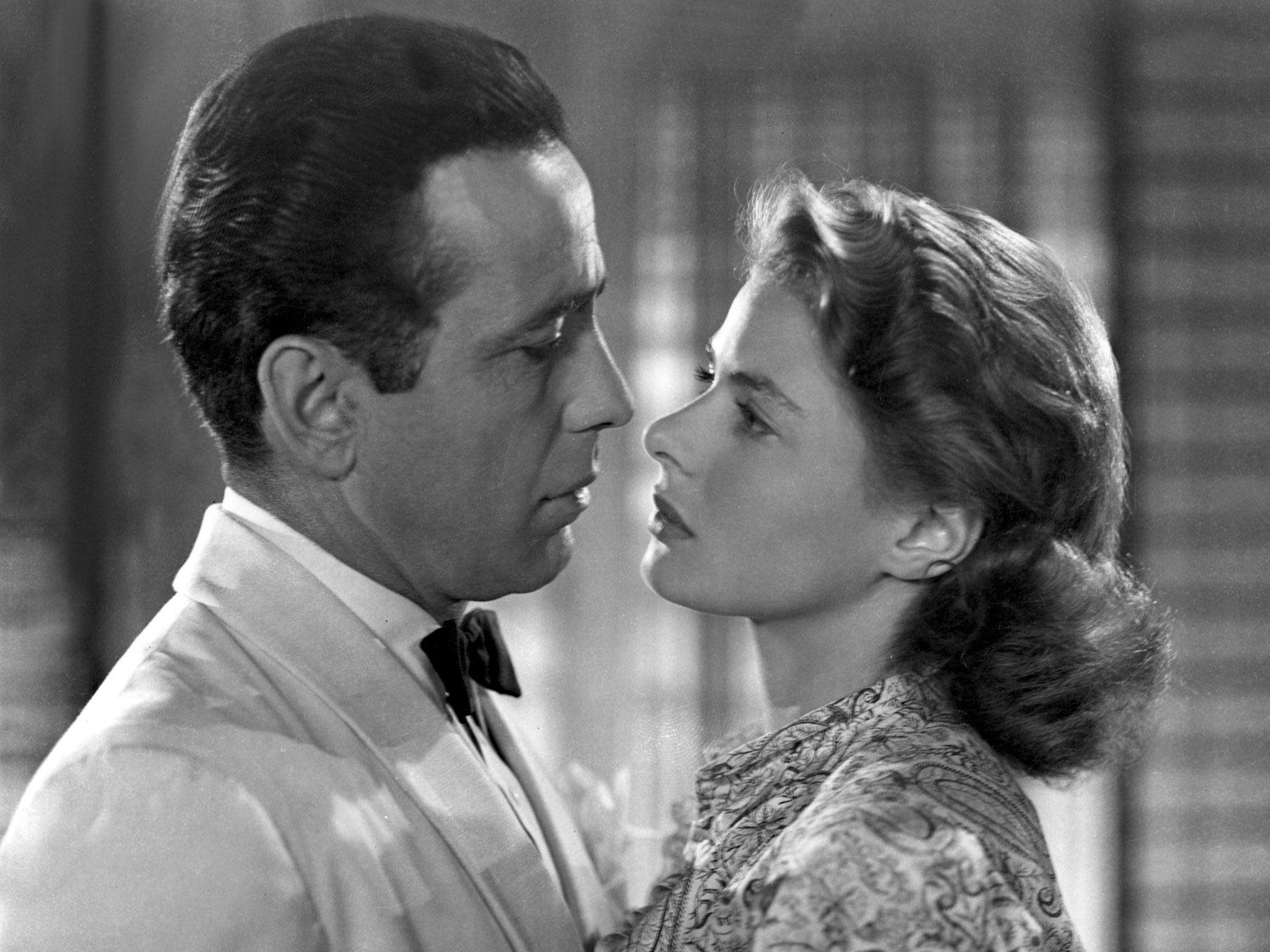 This summer marks 100 years since the birth of Ingrid Bergman, one of the greatest stars of both Hollywood and European cinema. Her centenary is being marked with various events.
There are two new documentaries about her as well as an Ingrid Bergman Tribute show organised by her daughter Isabella Rossellini that is based on her autobiography and her correspondence with Roberto Rossellini. This will be performed in the five key cities in Ingrid Bergman's life: Stockholm, Rome, Paris, London and New York, and will feature Isabella Rossellini as well as Jeremy Irons and Fanny Ardant. Meanwhile, Bergman has just been announced as the face of this year's official Cannes poster.
It was the Gone with the Wind producer, David O. Selznick, who first spotted what made Bergman so special – and the quality about her that later enraptured directors from Alfred Hitchcock to Rossellini. Selznick had lured her over to Hollywood to star in the 1939 English-language remake of her Swedish success Intermezzo (1936).
At first, as Selznick's biographer, David Thomson, notes, the US producer felt that he had made a terrible mistake. Bergman was too tall. Her name was too Germanic. She wasn't interested in having a Greta Garbo-like Hollywood makeover that would give her a new glamour; she was ready to head back home to Sweden rather than allow the studio bosses to mould her image. Suddenly, Selznick realised that this was just the point. The actress was "natural".
That was what made her so different from almost every other star of the period, hiding behind make-up and heavy lighting. Read press reports about Bergman and this unaffected quality shines through. She was beautiful but didn't appear interested in her own looks. The gossip columnists write with amazement that "Ingrid dislikes tinted nails – and she hates buying hats." They were startled by the blithe way the actress, plumper than most of her contemporaries, admitted an "overwhelming weakness for eating anything and everything."
The Swedish director Stig Björkman has made a new film about the actress, Ingrid Bergman – In Her Own Words, which will have its world premiere in Cannes in May before going on release in Sweden on 28 August – the day before Bergman's centenary (the 29 August was also the day she died, aged 67, in 1982).
The documentary promises to give us an unusually intimate insight into Bergman's life and career. The project had its origins in a meeting between Björkman and Isabella Rossellini at the Berlin Festival. They were at a dinner – and without any prompting, Rossellini turned to Björkman and said, "Shall we make a film about mama?"
"Of course, when Isabella suggested this, I thought it would be a nice idea," the director recalls. He was given full access to the Ingrid Bergman archive, which is kept at the Wesleyan University in Connecticut. This turned out to be a treasure trove. Bergman had kept diaries and written letters from her earliest childhood. She also made home movies and took countless photos.
Ingrid's father, Justus Samuel Bergman, who died when she was 13, was an artist and photographer. An only child, Ingrid was one of his favourite subjects. He borrowed a film camera to shoot footage of her. To his amazement, Björkman discovered short silent films of "little Ingrid when she was 3, 5, 8 and 10 years old."
Access unlimited streaming of movies and TV shows with Amazon Prime Video
Sign up now for a 30-day free trial
Sign up
Access unlimited streaming of movies and TV shows with Amazon Prime Video
Sign up now for a 30-day free trial
Sign up
Bergman's early diaries are ingenuous and even a little childish. "It is very nice reading. In the beginning, it is all about her schoolmates and boys she falls in love with." The actress also saved her old school essays, including a piece from when she was 14 on "how I would raise a daughter if I had one."
During her early days in Hollywood, Bergman writes with girlish enthusiasm about the famous people she is meeting and carefully follows reviews of her own work. The young Swedish actress Alicia Vikander, likened by Björkman to a modern-day Bergman, is the film's narrator, reading Bergman diary entries and letters. The director also interviews some of Bergman's former colleagues.
Another documentary, Francesco Patierno's Bergman and Magnani: The War of the Volcanoes, looks at the turbulent circumstances in which the Swedish star left Hollywood to work with (and eventually marry) Roberto Rossellini in Italy. The actress was tired of playing in films she considered superficial and had come to regard Hollywood as a golden cage. "If you need a Swedish actress who speaks English very well, who has not forgotten her German, who is not very understandable in French and who in Italian knows Ti Amo, I am ready to come and make a film with you," she wrote to Rossellini.
They ended up making six films together – but their relationship ended her marriage to Dr Peter Lindstrom and provoked a huge controversy. Bergman was vilified because of behaviour which the studio bosses decided was scandalous. In the wake of the events, Congress was presented with a bill which would ban actors and actresses "guilty of immorality and lewdness" (that's to say Bergman) from the screens of America. She was described as a "home-wrecker" and "a crusader against marriage".
All of a sudden, the Casablanca star found herself a persona non grata. Stromboli (1950), the first film she made with Rossellini, was a big international hit, but remained unseen across large parts of the US. Memphis banned it, Boston's Catholics were told to go nowhere near it and Houston housewives organised their own boycott.
Best films to watch in 2015
Show all 10
True to form, Bergman refused to be cowed by the criticism. She simply declared that her private life was nobody's business but her own. Bergman's partnership with Rossellini didn't just cause consternation in Hollywood – it also precipitated the end of the relationship between Rossellini and the fiery, doggedly loyal Italian actress Anna Magnani. As the documentary reveals, Magnani had expected to star in Stromboli, but lost the part to Bergman. The Vatican newspaper accused the Swedish actress of hurting the feelings of the country, while fans of Magnani (the country's biggest, best-loved movie star) turned against her.
Although Bergman was later "forgiven" in symbolic fashion when she won her second Oscar for Anastasia in 1956, her relationship with Hollywood never recovered. When she went to New York to pick up a prize from the New York film critics, she was interviewed at the airport and asked if she regretted anything in her life. No, she declared, nothing at all.
Bergman is arguably the one actress who thrived in the Hollywood system in the 1940s, but was equally at home in the much freer, more naturalistic world of European cinema a decade later. She had a knack of doing the opposite of what anyone expected. Early in her career, when she was offered the part of the demure heroine in Victor Fleming's version of Dr Jekyll and Mr Hyde (1941), she refused it and insisted on playing the prostitute instead.
A younger generation may not know her name, but many would recognise her instantly from her most famous role opposite Humphrey Bogart's Rick in Casablanca. "Here's looking at you kid!" Rick says to her in one of the many lines in the movie that passed into popular folklore. Throughout her centenary year, that's what film lovers will be doing all over again as they celebrate one of the most remarkable careers in movie history.
'Ingrid Bergman – In her Own Words' receives its premiere at the 68th Cannes Film Festival, 13-27 May (www.festival-cannes.com)
Join our commenting forum
Join thought-provoking conversations, follow other Independent readers and see their replies