Inside 'Son of Saul', the Holocaust drama that was this year's most shocking Oscar winner
It was also last weekend's most deserved victor. Kaleem Aftab talks to its uniquely qualified star and director
Kaleem Aftab
Sunday 06 March 2016 17:27 Comments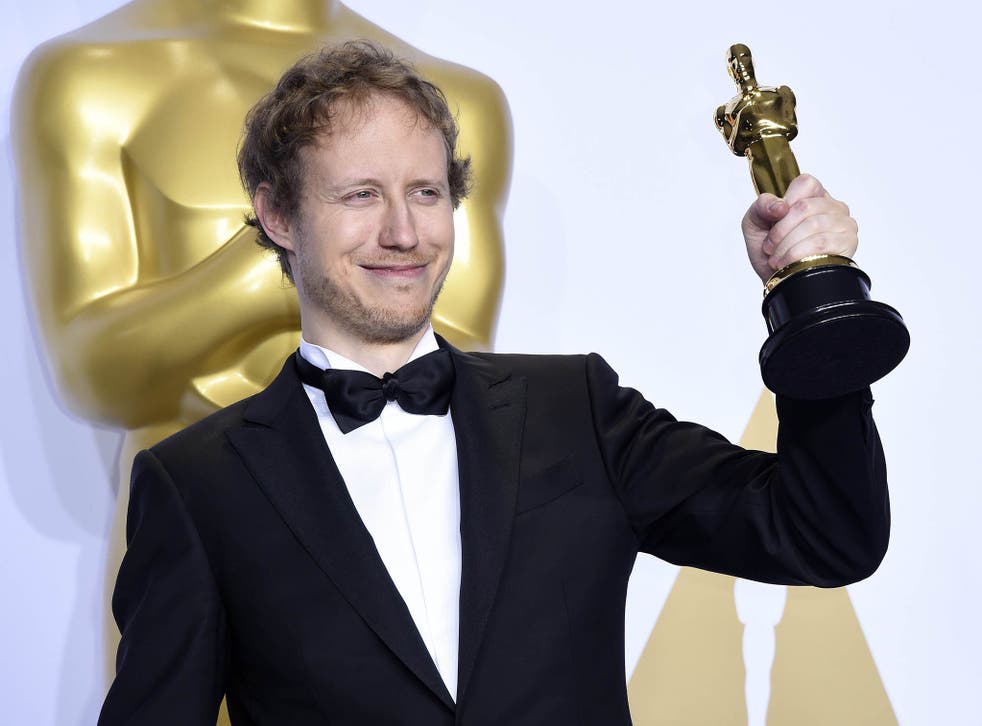 At last Sunday's Oscars, on a night when Spotlight upset the odds to win Best Picture, another film's victory was a foregone conclusion: in the best Foreign Language Film category, the triumph of László Nemes' haunting Holocaust drama Son of Saul had seemed inevitable ever since last May, when it debuted at the Cannes Film Festival, winning the Grand Prix du Jury.
But while the grave subject of the film may make it archetypal awards season fare, it would be wrong to dismiss Nemes' debut as Oscar bait.
Unlike many Holocaust dramas, it is not merely reverential, but a shocking tour-de-force, fantastically shot on 35mm by Mátyás Erdély, whose camera barely strays from the face of Géza Röhrig, delivering a mesmerising, near wordless turn as Saul, a member of the Sonderkommando, the group of mostly Jewish prisoners who assisted with the Final Solution.
Nemes delivers one of the most realistic depictions of a concentration camp ever committed to celluloid; as the audience is given glimpses of the horrors going on as Saul goes about his day, the industrial sound of machines chugging away provides a foreboding soundtrack to the horror. Life is Beautiful, this is not.
It is all the more powerful for focusing on one of the least talked about, but most horrific aspects of the camps.
The Sonderkommando lead their fellow inmates to the gas chambers, taking jewellery from the corpses and burning the bodies.
On the day we meet Saul Ausländer, he witnesses a boy being killed and his moral compass points him to confront the authorities, not with guns, but a small act of defiance.
Saul decides that he must give the dead boy a traditional Jewish burial, where the corpse is watched over by a shomer, or watchman, before the body is quickly buried in the ground to the recital of scriptures and psalms, and the ceremony is finished off with a reading of the Kaddish prayer, conducted by a Rabbi.
This is a story about trying to do the right thing and following your conscience, no matter what the circumstances.
Access unlimited streaming of movies and TV shows with Amazon Prime Video Sign up now for a 30-day free trial
Sign up
Röhrig is a non-professional actor, and Saul was a role he was uniquely qualified for: since 2001, he has been a shomer at New York's Plaza Jewish Community Chapel.
Nemes met him on a trip to America, at the apartment of a mutual friend. "I felt that it was destiny that this movie fell into my hands," says Röhrig. "A professional actor cannot afford to give back a role, because he is building a career. I am not a professional actor. But, if I knew someone else, who in my mind could do a better job as Saul, I would have stepped back. I wasn't worried about letting the director down. I actually felt, that it's me."
Indeed, Röhrig was initially offered a role as a friend of Saul. Deciding the part was not for him, he quit the production, only to be called back again after two weeks by the director, when they couldn't agree a fee with the original actor cast for the part.
In this period, Röhrig read Gid'on Graif's book, We Wept Without Tears: Testimonies From the Jewish Sonderkommando from Auschwitz, first published in Hebrew in 1999. "I kind of learnt it by heart," he says.
Upon Röhrig's return to the Hungarian set from New York, he was asked to do some improvisation. "They said tell me a day of yours, your routine. I described a day of mine, a 12 hour shift from 6am, all of a sudden I noticed that everyone was crying, that afternoon, they offered me the role. They kind of knew – I made a living with this subject matter."
The shoot was a tough one for Röhrig, but toughest of all for the extras, as he reveals to me. "Oftentimes, we worked over time, the people who were naked and playing the corpses, most of them were homeless," he says.
"There were hundreds of homeless, it was August, the sun was coming down, it was as hot as it can be, there were plenty of mosquitoes and these people have to lie on each other motionless, for a dollar a day. Nothing."
Films to watch in 2016

Show all 30
Paying homeless people a dollar a day – is that true, I ask Nemes and the film's co-writer Clara Royer? "Who said that?" they respond in unison. Röhrig, I reply. "Oops," says László. "We didn't end up with a lot of homeless people," he continues. "We had special trained people for the corpses and things like that, not homeless people. There were a few homeless people [among the extras]. In Hungary, if you want to make a film, you have to give money – it's not for free."
For his part, Röhrig claims the homeless extras' experience was a positive one. "So it was extremely moving to me and others, so still today, I had messages from some of these homeless, old ladies, 'Géza, congratulations, I can't wait to see the movie.' And they are on the computer of the homeless shelter, and waiting in line, and they go on the Facebook, the page of the movie, so when I say it's a team effort, I really mean it," he says.
It wasn't just his profession that pointed to him being a perfect Saul; Röhrig's extraordinary life story has been orientated by the history of the Holocaust.
Born in Hungary in 1967, he was orphaned at the age of 4. He spent eight years in an orphanage before being adopted by a Jewish family. "My [adoptive] grandfather was in a Budapest ghetto. He had a car accident in the 1940s before the occupation – he lost one of his legs.
"So, when the Nazis came, they left him there: what are they going to do with a one legged man? He lost his first wife, his sibling, and his parents. I had a close relationship with him. Even though I wasn't there, I know that my name was his last word, he said Géza when he died. That always stays with me. Somehow, it felt more like a previous life of mine."
In high school, Röhrig refused to join the youth section of the communist party in Hungary. When he applied for university, he was told that he couldn't be accepted, unless he was a member of the youth section, and so decided to move to Poland and study in Krakow.
At first he resisted going to Auschwitz, which is about 40 minutes away. In 1986, just before he had to return to Budapest, he finally went.
"It was still in Soviet hands, it was largely untouched, it wasn't the tourist attraction at the time," he says. "It was a snowy, December day. I ended up spending a month there." Röhrig has written two books on the Holocaust, as well as a poetry collection featuring fictional portrayals of victims organised by their tattoo numbers. "So László, when he thought of me playing the role, he knew that I had an intense relationship with the subject."
Now 48, Röhrig has four children with his second wife. While filming he tried to live as much in 1945 as possible, even demanding music be turned off; and as a practicing Jew, he refused to work on Saturdays.
He was happy that he didn't have too much dialogue in the film, he says, because, "one of the things that I don't like about myself is my voice. When I speak, even now, in my mind, this is not a good voice."
It's true that his vocal chords operate at a high octave, but it's his screen presence and dedication to the cause that make the biggest impression."I went to bed with this movie, I woke up with this movie. I lost a lot of weight," he says. "I was by myself, without my family. The single purpose of mine during these 40 days was this movie."
'Son of Saul' is released on 29 April
Register for free to continue reading
Registration is a free and easy way to support our truly independent journalism
By registering, you will also enjoy limited access to Premium articles, exclusive newsletters, commenting, and virtual events with our leading journalists
Already have an account? sign in
Join our new commenting forum
Join thought-provoking conversations, follow other Independent readers and see their replies