International Women's Day: 20 women in Hollywood making a difference from behind the camera
Directors, screenwriters, producers, and editors; the women creating incredible work behind-the-scenes on Hollywood's greatest movies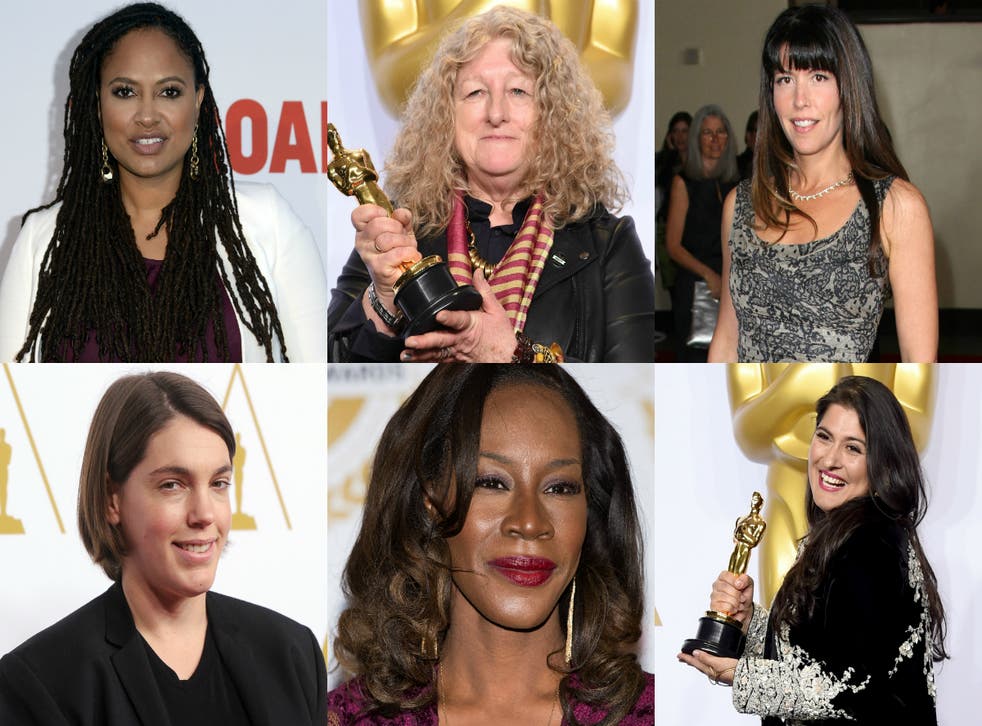 The fight for gender equality will always seem to inevitably fall in front of the camera, so starkly visible amongst its onscreen heroines and celebrity actors. But, to bring those iconic female characters to screen and create those spectacular roles for our Jennifer Lawrences and Lupita Nyong'os, there is a desperate need for diversity behind the camera as well.
That's how to really combat the same old stories forever being told and retold in Hollywood movies; there are hundreds of voices and visions being shut out from filmmaking due to the same old biases and archaic structures. New approaches to the camera, to the written word, to sets and stunts; yet women largely make up only 15-19% of behind-the-scenes roles.
It's time to recognise the extraordinary work of women behind Hollywood's cameras; and, though this list is only a tiny portion of those contributions, these women's creative achievements are certainly worth the celebration.
Ava DuVernay - Director/ Marketer/ Distributor
DuVernay's multi-talented creative force is fast making her one of Hollywood's biggest names, thanks to her rich visualisation of the 1965 Selma to Montgomery voting rights marches in Selma, her searing documentation of the racial inequality embedded into the prison system in the Oscar-nominated The 13th, and her television adaptation of Natalie Baszile's Queen Sugar; plus, her latest is just about to hit cinemas - Disney's epic fantasy A Wrinkle in Time.
Sharmeen Obaid-Chinoy - Producer/ Director
Sharmeen made history in 2016 as the only Pakistani to win two Academy Awards; she was also the only woman of colour to win that year. Her powerful, moving documentary on honour killing, A Girl in the River: The Price of Forgiveness, even sparked political change. "The Pakistani Prime Minister has said that he will change the law on honour killing after watching this film," she stated during her acceptance speech. "That is the power of film."
That year, a loophole was repealed that allowed the perpetrators of honour killings to avoid punishment by seeking forgiveness for the crime from another family member, and thus be legally pardoned.
Maryann Brandon & Mary Jo Markey - Editors
The female team who edited Star Wars: The Force Awakens helped bring to life one of the world's most beloved franchises: from the thrills of seeing the Millenium Falcon burst into action, to the terrors of Kylo Ren's powers or the mysteries of Rey's dream sequence. The blockbuster pair were also responsible for editing Abrams' other films: Mission: Impossible III, Super 8, Star Trek, and Star Trek: Into Darkness. They're also set to work on Star Wars: Episode IX.
Maryse Alberti - Cinematographer
Maryse Alberti knows how to make a fight look good; she's lensed both Darren Aronofsky's The Wrestler and Ryan Coogler's Creed. She's a major player in a field particularly devoid of women, who make up less than 4% of the membership of the American Society of Cinematographers.
Jenny Beavan - Costume Designer
The world fell in love with Mad Max: Fury Road's Jenny Beavan at 2016's Oscars, as she picked up her gong for Best Costume Design. Though her self-deprecating attitude and bedazzled biker jacket were both charming and refreshing on their own terms, Beavan boasts an incredible body of work which previously saw her win an Oscar for 1987's A Room with a View. This year, her stunning work will be seen in both Disney's Christopher Robin and The Nutcracker and the Four Realms.
Marielle Heller - Director
Heller's already made a splash in Hollywood with her debut feature, The Diary of a Teenage Girl. Adapted by Heller herself from Phoebe Gloeckner's diaristic graphic novel, the frankness of Minnie (Bel Powley)'s sexual awakening amongst the backdrop of '70s San Francisco is a refreshingly honest, non-judgemental portrait of feminine-driven sexuality in a system which seeks to suppress it. Her next project Can You Ever Forgive Me?, which stars both Melissa McCarthy and Richard E. Grant, is set for release this year.
Judy Becker - Production Designer
She captured the pulsating nerve at the heart of the '70s in American Hustle, and the dreamlike romance of Carol. She created the backdrop to the burning love of Brokeback Mountain, the acute pain of Shame, and the ambitions of Joy. Becker's Oscar-nominated work has put her in high demand amongst some of Hollywood's finest directors, particularly in her frequent collaborations with David O. Russell.
Bell is surely stuntwork's most recognisable face, thanks to her string of acting roles in Quentin Tarantino's Death Proof, Django Unchained, and The Hateful Eight. However, she'll forever best be remembered as Uma Thurman's stunt double in the Kill Bill movies; though her heavy slate has seen her work on the likes of Iron Man 3, Alias, and Xena: Warrior Princess.
Nina Yang Bongiovi - Producer
With Bongiovi onboard as producer, Ryan Coogler's 2013 flick Fruitvale Station, documenting the last day of Oscar Grant III before he was shot by police, has now catapulted both its director and star Michael B. Jordan to the big leagues. Alongside production partner Forest Whitaker, she also produced the critically acclaimed Dope; and looks to strike gold once more with documentary Richard Pryor: Is It Something I Said?
Victoria Alonso - Producer/ Visual Effects
If you want proof it's Marvel's visual effects team that are keeping the studio on top of their game, just look to Victoria Alonso. Having served as visual effects producer on the likes of Ridley Scott's Kingdom of Heaven, she became Marvel's visual effects chief for its Phase I movies, before a promotion to the Executive Vice President of Physical Production to the studio. She's a lifelong advocate for the promotion of women in the visual effects industry; something her position will now surely inspire in future generations.
Kelly Marcel - Screenwriter
Marcel's daunting task of adapting the steamy blockbuster novel Fifty Shades of Grey clearly paid off; her name is now attached to a certified blockbuster and the fastest-selling R-rated title of all time. However, Marcel actually started out her career doing uncredited re-writes for Nicholas Winding Refn's ultraviolent 2009 biopic Bronson. Now how's that for range?
Patty Jenkins - Director
Having helped Charlize Theron win her Academy Award for Monster, Jenkins is now striding into cinematic history; she's directing Wonder Woman's solo film, bringing to screen one of DC's most iconic properties after 76 years left trapped within the page. Having previously departed from Marvel's Thor: The Dark Wold, Jenkins will now be the first female director to take on a major project for the DC universe.
Rachel Portman - Composer
Portman is the go-to soundtrack for your tragic, yearning romances; she's penned the music for the likes of Chocolat, The Cider House Rules, One Day, The Duchess, and Never Let Me Go. She was the first female composer to win an Academy Awards, for Emma in 1996; in 2010, she was appointed with an OBE for her contributions to British film.
Amma Asante - Director
Asante has crafted some of the most beautiful, lush love stories put to film in the past couple of years: between Belle's tale inspired by the portrait of mixed race aristocratic Dido Elizabeth Belle, or last year's A United Kingdom. Starring David Oyelowo and Rosamund Pike, Asante captured the interracial romance between Prince Seretse Khama and Ruth Williams. Their love sparked international outrage, though Khama overcame his troubles to lead Botswana's independence movement.
Katie Dippold - Screenwriter
One of the brightest voices of the current comedy scene, Dippold graduated as a writer for Parks and Recreation and MADtv to pen the hit The Heat, alongside co-writing last year's Ghostbusters reboot with Paul Feig. This year, she's behind the mother-daughter comedy Snatched, starring Amy Schumer and Goldie Hawn.
Niki Caro - Director
Having first shot to fame for the Oscar-nominated Whale Rider back in 2002, Caro last year releasedThe Zookeeper's Wife. Starring Jessica Chastain, it recounts the story of Warsaw Zoo's keepers, Antonina and Jan Zabinski, who helped to save hundreds during the Nazi invasion of Poland by hiding them within their zoo's cages. She now boards Disney's highly-anticipated live-action take on Mulan.
Francine Maisler - Casting Director
Though Oscars night always leaves us inevitably fawning over the performances of its winners, it's always important to remember the skills of a great casting director in herding the perfect actor into the perfect role. Maisler helped Leonardo DiCaprio to his Oscar for The Revenant, Lupita Nyong'o to hers for 12 Years a Slave; she was also behind landing Emily Blunt and Lin-Manuel Miranda their roles in Disney's Mary Poppins Returns, as well as pairing Ryan Gosling with Harrison Ford in Blade Runner 2049.
Jennifer Yuh Nelson - Director
Originally a storyboard artist, Yuh has achieved a whole host of honours with her debut feature Kung Fu Panda 2. She's the first woman to solely directed an animated feature from a major Hollywood studio, the second woman nominated for an Academy Award for Best Animated Feature, and her film is the most financially successful to be directed by a woman. She's directed her first live-action film with sci-fi thriller The Darkest Minds, out this year.
Ellison has risen to the position of one of Hollywood's super-producers in the space of just 10 short years; founding Annapurna Pictures, she's produced the likes of Zero Dark Thirty, Joy, True Grit, Her, Foxcatcher, and American Hustle. Her dedication and passion landed her in TIME's list of the 100 Most Influential People in the World in 2014. Last year, Ellison acted as producer on Paul Thomas Anderson's Phantom Thread, Kathryn Bigelow's Detroit, and Alexander Payne's Downsizing.
Register for free to continue reading
Registration is a free and easy way to support our truly independent journalism
By registering, you will also enjoy limited access to Premium articles, exclusive newsletters, commenting, and virtual events with our leading journalists
Already have an account? sign in
Register for free to continue reading
Registration is a free and easy way to support our truly independent journalism
By registering, you will also enjoy limited access to Premium articles, exclusive newsletters, commenting, and virtual events with our leading journalists
Already have an account? sign in