Robert Pattinson interview: Twilight actor on new film Maps to the Stars and having money for the first time
'I self-obsess a lot. When I'm doing interviews I'm always waiting for some stupid remark to come out'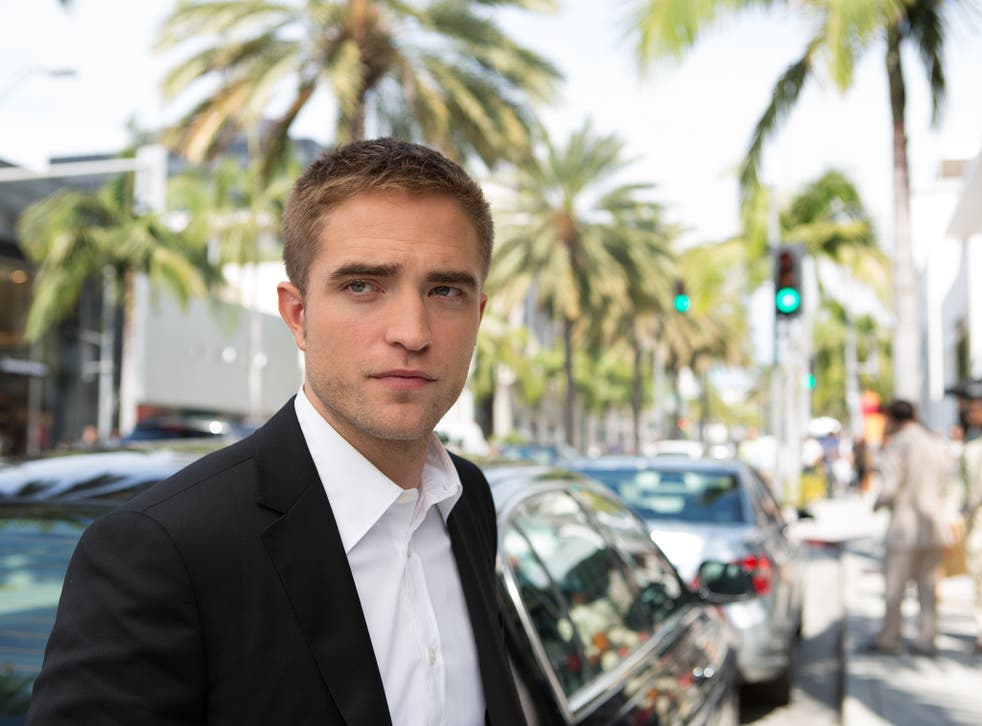 'Maps to the Stars' is the title of the new David Cronenberg film starring Robert Pattinson.
It refers to the Hollywood cartography that informs tourists where to find the homes of their favourite actors. Anyone buying one of these plans will be tremendously disappointed if they are looking for the home of Britain's most famous vampire. Last year the actor decided to sell his mansion in Griffith Park, near the famous Hollywood sign in central Los Angeles, saying he was too young to be tied to such a lavish property and instead wanted to lay low and live life to his needs rather than his means.
"The house was so amazing," he says of the abode that he sold for $6.37m. "I wasn't really thinking when I got it. I was just living in LA and had been living in and out of hotels, and you have money for the first time."
When he says money, he means a mind-boggling amount, for anyone, not just a young British actor. He reportedly received $20m for the final part of Twilight, the saga that made him a global name, and made his private life fodder for public consumption. Pattinson reveals that the selling of the house is part of a general disassociation with Hollywood. "If you are the kind of person who needs to be pushed into doing something, then Hollywood is not the right place, so I think I might be done with Los Angeles. I've just realised that in the past few weeks."
We meet on the day of the Toronto Film Festival premiere of Maps to the Stars and there is a yearning for Barnes, West London, where he grew up. His dad imported vintage cars from America, and his mother worked for a modelling agency, a profession Pattinson entered just before he hit his teens. "I think I need to spend more time in London, or just move around a bit more. I've been in LA for six or seven years or something and it's weird. The more you stay there, especially as an actor, the more you think you need to be there, that you'll be missing out on something by leaving, but you are not really. It's a fun city, though, but you are permanently on holiday there. I feel like I've been on holiday there since I was 22."
It seems the 28-year-old has had enough of the focus being on his romantic life rather than his career. His relationship with fellow Twilight star Kristen Stewart dominated headlines before a very public split after she was caught cheating on him by a paparazzo's lens, and now there's endless speculation that he's going out with every girl who happens to be in the same room as him. The fascination with his love life must be frustrating because, since the Twilight franchise ended, not many column inches have been expended on the impressive résumé he has been building.
In addition to working with Cronenberg twice, he gave one of his best performances as a left-for-dead armed robber in David Michôd's Australian outback thriller The Rover and he's just finished playing TE Lawrence for Werner Herzog in Queen of the Desert and photographer Dennis Stock for Anton Corbijn . On the horizon is an adaptation of David Grann's book The Lost City of Z, to be directed by James Gray.
The impressive list has come about because the actor has been seeking out auteurs: "In the last two years, I've just done stuff just for the director and not really thought that much about the script," he says. "Now I'm swinging it back a little bit, trying to get a medium between the two"
He's clearly thankful to the Canadian director Cronenberg for taking a chance on him, especially when people wondered if all he had to offer was a blank stare into the eyes of his co-stars. "After working with Cronenberg it just opened stuff up. People sort of approach you in a different way. I think also when it got into Cannes as well. Now I've done a few other things and it kind of works on a bit of a roll, working with auteur-y guys."
There is an odd link between Cosmopolis and Maps to the Stars, in that in Cosmopolis he played a financial hotshot who went around New York in his limo for pretty much the whole movie, whereas in Maps he plays a limo driver who wants to be a screenwriter. Pattinson quips, "It's a bit weird. It's like Cosmopolis was the audition for this: 'Well he fits into a limo, why look for someone else?'"
Access unlimited streaming of movies and TV shows with Amazon Prime Video Sign up now for a 30-day free trial
Sign up
Maps to the Stars is about the odd characters that populate Hollywood. Pattinson has an affair with a personal assistant (Mia Wasikowska) and then memorably has sex on the back seat of a car with her boss, Havana – Julianne Moore won the best actress gong at Cannes for her portrayal of an actress whose best days are behind her. It's a Hollywood full of oddball characters that Pattinson knows all too well; "I've met characters that are pretty similar to those depicted. Everyone is saying that the film's so biting, but I think it's sympathetic to a host of characters. Women like Havana, in reality people would despise her, they don't have any friends for a reason, but I don't think anyone comes out of the movie hating her and I think that's testament to Julianne's performance. It's interesting and that's why people are interested in the subject, it's a bunch of weirdos who spend a lot of time self-obsessing and talk about it afterwards."
The 28-year-old says he's not exactly in a position to talk: "I self-obsess a lot. When I'm doing interviews I'm always waiting for some stupid remark to come out." When he first entered the room, his opening gambit to me was, "I'm so bad at doing press junkets". As he said this he had a glint in his eye that gave the impression he thinks much of it is a charade. "I try to avoid getting into any subject where I'm locked into something. It's not like I'm a politician or something. I used to be so dumb in interviews, I used to try and make jokes all the time and everyone is thinking, 'this guy is a moron, he's just been saying dumb stuff for years and years'."
Herzog is a director he has long admired and he jumped at the change to appear in his Gertrude Bell biography Queen of the Desert, starring Nicole Kidman as the British archaeologist who helped draw the border between Iraq and Jordan at the turn of the 19th century. Pattinson has subsequently found out from his dad that he's related to the traveller.
In the film he plays TE Lawrence. "It's sort of close to the real guy, it's certainly not [the film] Lawrence of Arabia-like," he says. "At the same time the guy was really small and I'm not physically kind of right for the part, but I think I have quite a good little handle of who he is. After I got cast I started researching and there are certain things you can't do as I'm just not physically the same so I had to invent it a little bit, and it's a small part as well. The film's about Gertrude Bell, it's really not about making Lawrence of Arabia."
And doing smaller role suits him just fine: "It's quite nice doing small parts. Then the film isn't totally reliant on what I do in it, so I get to work with who I want to work with and it's not my fault if it doesn't make any money."
'Maps to the Stars' is out now
Register for free to continue reading
Registration is a free and easy way to support our truly independent journalism
By registering, you will also enjoy limited access to Premium articles, exclusive newsletters, commenting, and virtual events with our leading journalists
Already have an account? sign in
Register for free to continue reading
Registration is a free and easy way to support our truly independent journalism
By registering, you will also enjoy limited access to Premium articles, exclusive newsletters, commenting, and virtual events with our leading journalists
Already have an account? sign in
Join our new commenting forum
Join thought-provoking conversations, follow other Independent readers and see their replies