Isabelle Huppert interview: 'My characters are total foreigners to me'
The Elle actress talks to Kaleem Aftab about taking the opposite view of 'misogynistic' director Paul Verhoeven and gracing the London stage for the first time in two decades in Phaedra(s)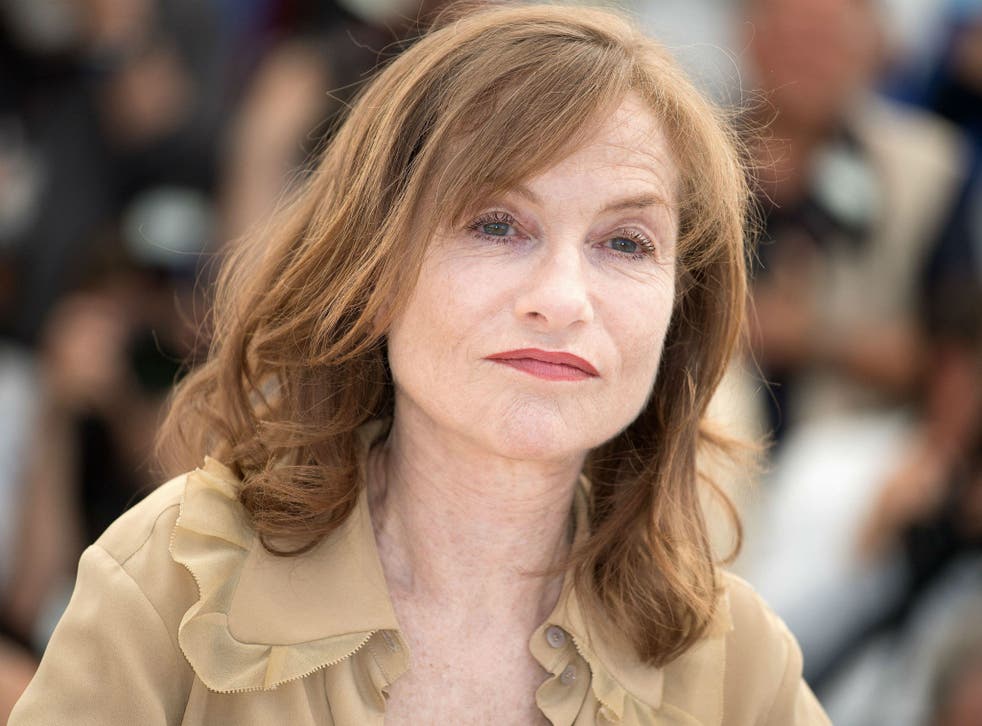 There is little in the way of false modesty from Isabelle Huppert. It's the day after the screening of Elle at the Cannes Film Festival and the Paul Verhoeven thriller has received rave reviews. It's a sensational film adaptation of the novel Oh by Philippe Djian and sees Huppert plays a rape victim who turns the tables on her rapist. The actress is in nearly every scene of the movie and comments, "That's why I was never bored watching it last night."
It's hard to argue with the sentiment, because anyone who has seen many of her 100-plus roles, since her debut in 1971, will attest that she's usually beguiling.
The magic of Huppert is that she seems to do so much by doing so little. Verhoeven raved, "She's the best actress I've worked with. I just followed her instinct and let her do what she wanted."
At the age of 63, the Paris-born star is having a vintage year. So it's our luck that she seems to be everywhere over the next month. There is a cinematic retrospective of her work taking place in London at the Cine Lumiere and the Barbican with accompanying screen talks by the actress, and in June the Barbican Theatre is putting on Phaedra(s), Huppert's latest theatrical performance.
It will be the first time in two decades that Huppert has graced the London stage. The play, directed by Polish auteur Krzysztof Warlikowski, has just had a two-month run in Paris; it is performed in French, so one can expect it to be a spectacle from the first night. Of course, Huppert thinks she'll be great.
"I could do it in English, but that is not the agenda," she chimes about the radical reconstruction of the Greek myth. "It's not exactly Phaedra, it's several different Phaedras, including Sarah Kane's Phaedre's Love and there are excerpts from the book Elizabeth Costello by JM Coetzee, as well as the text from Euripides."
One imagines that even if the text was by a five-year-old, Huppert would bring something unique to the performance. She's been at the top of her game for four decades. She won a Bafta as Most Promising Newcomer for her turn as the virginal Beatrice in The Lacemaker in 1977.
There is no other actress who could make Paul Verhoeven appear like a pussycat. The Dutch director has been described as a misogynist on countless occasions. After all, he's famous for getting Sharon Stone to cross her legs in Basic Instinct and leaving nothing to the imagination in Showgirls; yet put Huppert in the picture and all of a sudden he makes a film that can only be described as classy, even one being referred to at Cannes as a "rape comedy".
"You have all this talk of Verhoeven as a misogynist, but to me he's the opposite," says Huppert. "Ever since I discovered his first film, I saw Turkish Delight, the film was also mistaken at the time. It was taken as a semi-porno film and was released in a porno video and it only got one good review and that was in Charlie Hebdo, who said it was a masterpiece and he was a good director. So there has always been this blurred vision of him as a director."
Huppert has recently become a cinema owner. "I'm going to digress because my son programmes a cinema I bought in Paris. It's in the Rue Christine, and was called Action Christine and we've renamed it Cinema Christine 21."
Recently, Huppert has been a lot more open about her family. She recently appeared on the cover of a magazine with Lolita Chammah, one of three children she has had with her husband of 34 years Ronald Chammah, a producer she met on the set of a 1980 Claude Chabrol movie. "She's a good actress," Huppert says of her daughter. "I'll play her mother soon. I have a supporting role in a film she is making in Luxembourg. The movie talks a lot about involuntary transmission between parents and children."
The bonds that tie a mother and daughter are also something that takes place on screen, as well as off for the actress. In another of her great roles this year, Huppert plays a woman who discovers there is life after separation in Things to Come, directed by Mia Hansen-Love. The French director once played Huppert's daughter in Olivier Assayas's 2000 drama Sentimental Destines.
"And now she becomes my mother," chirps Huppert. Explaining, "A director is always a bit of a mother to an actress. You can be young and have an old soul, or old and be a young spirit." The latter is a category that Huppert seems to fit perfectly.
"As an actress, I felt like during the film she has the power and she directed me a lot, maybe more than other directors on other occasions. She had this vision of this character being very open, and very light and instinctively, maybe my deep nature, would be to go for something darker, a little harsher."
The films to know about at Cannes 2016

Show all 14

Indeed, there is a certain sang-froid that Huppert instills in her characters. They get their strength from the fact that nothing seems to phase them, they are able to overcome the worst horrors. It's what made her so magnificent in Michael Haneke's The Piano Teacher, a film that Elle has echoes of in its opening scene. The norm is that as soon as you see Huppert onscreen, you have the idea that her character will overcome all obstacles.
"Well, it's normal that you think that," says Huppert, when I ask her if she references her past roles when making contemporary films. "But for me, as an actress there is no link to what I've done previously. Because it's me, you make the connection. People seem to think that you have connections with the roles you play, but the more I think about it, the more I realise I have nothing to do with those characters, those people are total foreigners to me."
'Phaedra(s)' is at the Barbican in London from 9 to 18 June; Stephen Frears interviews Isabelle Huppert at Cine Lumiere in London on 11 June; A Huppert Screentalk takes place at the Barbican Cinema on 12 June; and 'Things to Come' opens Film 4 Summer Screen on 4 August at Somerset House in London
Join our new commenting forum
Join thought-provoking conversations, follow other Independent readers and see their replies