Jack O'Connell interview: Skins actor shoots to Hollywood alongside Angelina Jolie
Derbyshire lad now working with the Coen brothers in LA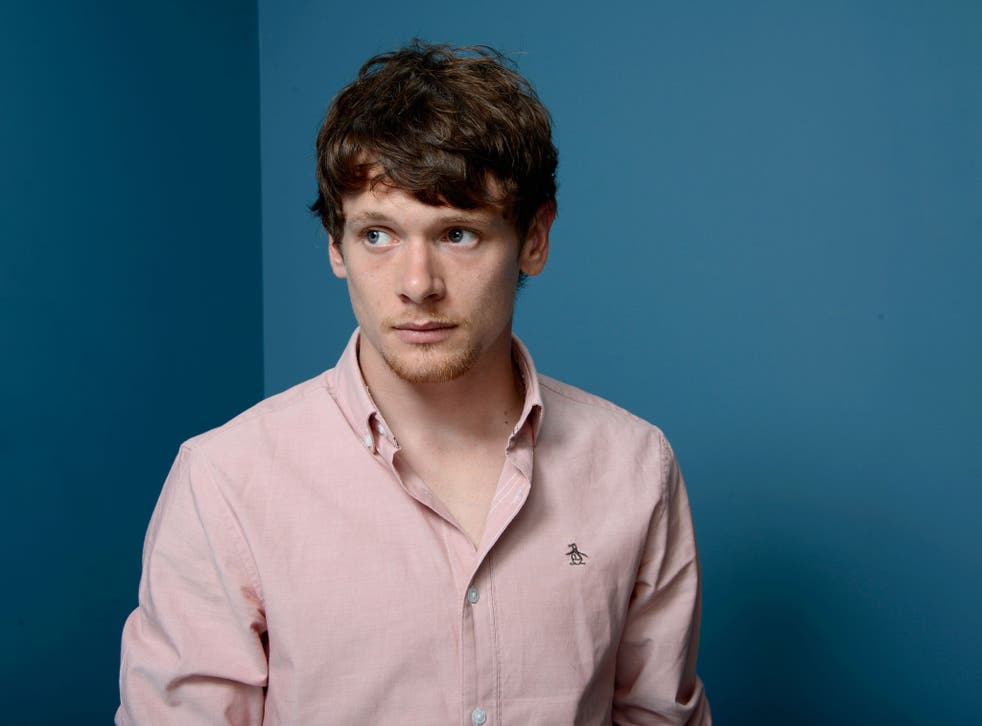 He started in a TV teen drama, but Jack O'Connell is now working with Angelina Jolie and the Coen brothers
Starred Up is the perfect description of what David Mackenzie's prison drama has done to the career of Jack O'Connell.
A graduate of the hit Channel 4 drama Skins, the Derby native has just finished shooting his first Hollywood leading man role, playing Louis Zamperini, an Olympic runner who was taken prisoner by Japanese forces during the Second World War.
The film, Unbroken, is co-written by the Coen brothers and directed by Angelina Jolie.
Starred Up is actually prison slang for prematurely moving an aggressive young criminal from a juvenile institution and into prison because they are uncontrollable. It's the fate that befalls O'Connell's character Eric in a superior prison drama that breaks many genre rules.
As part of the attempts to rehabilitate Eric, he is sent to a discussion group run by Oliver (Rupert Friend), a volunteer who believes that he can help inmates through non-violent discussion groups. Oliver is partly based on the experiences of the film's debut screenwriter, Jonathan Asser.
The 23-year-old reflects on how he played Eric: "I talked a lot with previous convicts. And Jonathan was on set the whole time. He had contacts from before when he was working, trying to rehabilitate through the medium of therapy and discussion. Mere discussion."
O'Connell adds, "There were a couple of lads who have since been released, since the script has been put together so we were able to talk to them. They gave us priceless information. I think the main detail that I found through my conversation was that anyone who is particularly violent or proven in that sense doesn't have to vocalise it. There isn't any uncertainty about them."
The actor speaks slowly with a broad Derbyshire accent. He sounds almost punch drunk at times. He has no obvious airs and graces and is remarkably polite. This impression I got from meeting with him was reinforced during the recent Berlin Film Festival when seeing him at a press conference for '71, for which O'Connell gives another acclaimed performance as a British soldier caught up in a riot during The Troubles. He asked the fellow members of the film team if they would mind him answering a question that was aimed at the team of actors.
Yet life for O'Connell could easily have been more like those of the on-screen characters he is depicting than the one that sees him hobnobbing at festivals and working with Jolie. "What is a bit concerning is that I find Eric a character that is very easy to relate to," he tells me. "I just think growing up where I grew up, me and Eric are only accents apart. I think through my own experiences as well, I've been quite lucky from time to time not to be behind bars myself. Fortunately that is all behind me now, but I have a general understanding of what sort of attitude these people who are genuinely violent have."
Access unlimited streaming of movies and TV shows with Amazon Prime Video Sign up now for a 30-day free trial
Sign up
O'Connell doesn't go into details of exactly what that past entailed. He is not proud of his past and doesn't want to glamourise it. Yet he feels the "run-ins" and life experience have helped him to play Eric and give him qualities that a lot of directors have found useful. His first job was playing a National Front supporter in Shane Meadows' This Is England.
With Skins, he came to prominence playing drug-dealing womaniser James Cook, a part he recently reprised in a trio of one-off episodes. In the film Eden Lake, he plays a thug terrorising a couple on a romantic break. "Thankfully, I have other experiences now that have set me in good stead," adds O'Connell. "Eric is my most front-of-centre character; it's his story and is told through his narrative. My past experiences mean that I'm not approaching it naïvely, that would be dangerous, I think, but I'm pretty certain that with the lessons I've learned before now, I have a better understanding of what is requisite in order to play a lead role."
David Mackenzie, the director, says it wasn't O'Connell's previous performances that got him the role: "I hadn't even seen Skins before. I just saw his casting tape and thought, that guy is amazing. He's street but he has star quality, too. I met him and we did a little sort of casting workshop together and almost immediately that cemented the bond. On set he was very instinctive."
What O'Connell finds more challenging is roles in films such as the First World War drama Private Peaceful, in which his character's sensitivity to his brother leads to his execution, or playing Bobby Charlton in the retelling of the Busby Babes air disaster United. "I guess playing Charlie Peaceful was harder because that is a bigger study and to try and delve into someone else's mannerisms, there is a lot more bravery in that than playing another delinquent. I would definitely like to move on from that."
He's happy with the direction his career is heading in now: "The idea now is that more doors are open to me, before it was a case of availability. I wasn't being offered a great deal of roles outside of this bracket and because beggars can't be choosers, but thankfully now I don't have to beg anymore. I'm able to choose more. The idea now is to make conscious decisions and show a range, because they are more the attributes of the actors that I respect."
Looking back there are many occasions when his career could have taken a different path. He landed one big job that was to film in America, but he couldn't take on the role because of visa issues. As a child he imagined that he would be a footballer - he's a big fan of his hometown team Derby County. His father was a bombardier and he also considered joining the army:"Not because I was a murderous freak, but because I didn't have any other options."
O'Connell remains based in Derby: "It's home to me." He tried to move to London, staying in Hounslow, which he didn't find too dissimilar to home. He even tries to convince me that the curries are better in the Midlands than in the nearby Mecca of Southall, but his argument falls flat when he adds, without any apparent hint of irony, "Even Asda do nice curries in Derby."
About growing up, he adds, "I find the education I got from living in Derby and being streetwise and knowing the people that I know, the lessons that I had to learn growing up have set me in good stead for this kind of working life. I feel equipped. I definitely haven't lived the sheltered upbringing and when I'm on set I have a real conviction that I deserve to be there. I love going home and I'll continue to do that. It's becoming different now because the publicity has sort of expanded a bit now. The roles that I get now are a bit more global so I'm interested to see how that materialises."
That global interest is only going to expand when Jolie's directorial effort Unknown is released later in the year. O'Connell calls the global superstar an "actor's director". For him, the film is the next step up the ladder. "I play this Second World War veteran, Louis Zamperini, an Italian immigrant. It's a lot of work but I have youth on my side and I'm in the prime of my life."
'Starred Up' open on 21 March and 'Unbroken' open in December
Join our new commenting forum
Join thought-provoking conversations, follow other Independent readers and see their replies