Jake Gyllenhaal in Southpaw: How actor transformed himself with 2,000 press-ups a day
Jake Gyllenhaal certainly looks the part in new boxing film 'Southpaw'. He tells Gill Pringle about his 2,000 press-ups-a-day training regime, and co-stars 50 Cent and Rachel McAdams explain why they are in awe of their leading man
Gill Pringle
Sunday 26 July 2015 13:24 Comments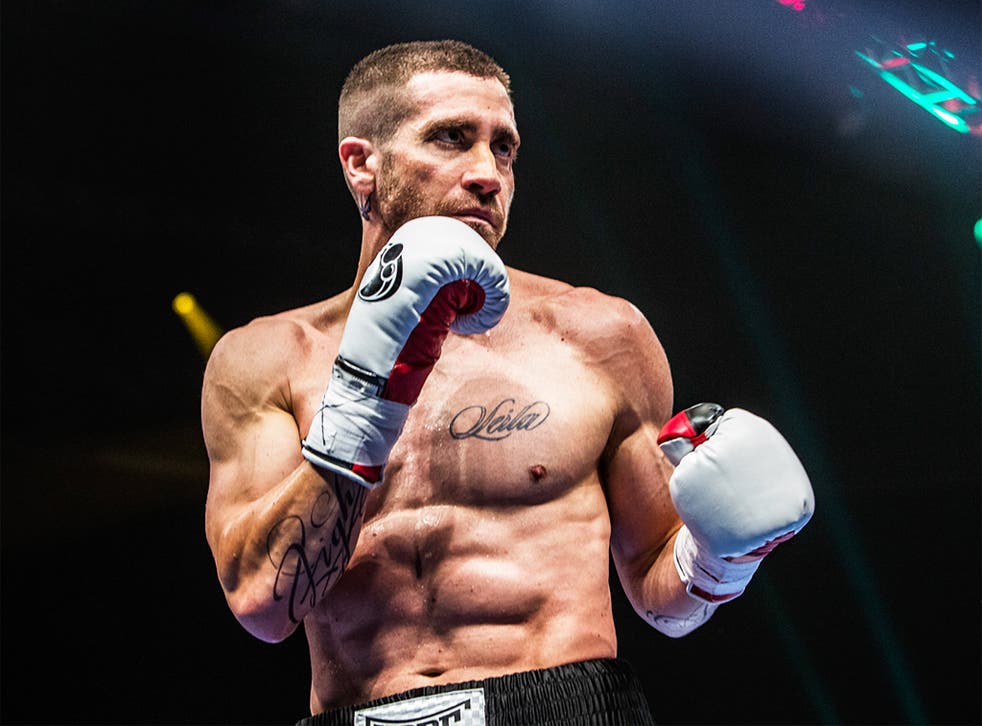 Jake Gyllenhaal slept for 14 hours straight when he wrapped Southpaw. Possibly the most gruelling role of an award-winning, shape-shifting film career, he underwent a punishing regimen to transform himself into a champion boxer.
"It was 5am in New York City when we wrapped," recalls Gyllenhaal, looking tired at the very memory of it. "We'd shot way into the night and I still had my prosthetics on. Usually they are carefully removed, but this time I literally ripped them off, like Arnold Schwarzenegger tearing his face off in Total Recall. I then went home and fell asleep for 14 hours, the first time I've done that since I was 16 years old."
The film was originally conceived as a vehicle for rapper Eminem, echoing the story of his own downward spiral, close relationship with his daughter and ultimate redemption.When Eminem dropped out, Gyllenhaal nimbly stepped into the ring to make a breath-taking performance that even his rapper co-star Curtis "50 Cent" Jackson doesn't believe Eminem could emulate. "I showed the film to Eminem and he was like, 'Jake, man! What the f**k!'," reveals 50 Cent when we meet on the same day that he filed for bankruptcy protection, effectively halting a dispute about a sex tape.
Seemingly unruffled by his new lowly financial status, 50 Cent is kitted out in customary bling: diamond-encrusted watch the size of a saucer, three-piece suit, silk tie and 24-carat gold ring. A savvy boxing promoter, with 12 fighters signed to his roster, including junior middleweight contender James Kirkland and lightweight contender Yuriorkis Gamboa, he has Floyd Mayweather Jnr on speed-dial.
The son of a drug-dealing mother, murdered when he was eight years old, 50 Cent was raised by his grandparents and began boxing in his tough Queens neighbourhood when he was 11. As legend has it, he even competed in the Junior Olympics, although that is up for debate. Certainly, it is unconfirmed by the man himself, who prefers to shrug it off with a sly smile. "But then when you get hit so hard, you start thinking about a career change. You go, 'I could do construction!' I could do other things.
"To be honest with you, I was chasing my instant gratification at that point. There were people who represented financial freedom from a perspective that didn't have any requirements," he says, referring to his dark days as a juvenile drug dealer. "It was easy for me to see myself fitting into having those nice things. My mom had made those choices prior to me and I already had a connection to those people and I kind of fell into it."
Surviving a shooting in 2000, when he was struck by nine bullets, 50 Cent is no stranger to the redemption theme at the heart of Antoine Fuqua's Southpaw, which stars Gyllenhaal as fallen light-heavyweight champion Billy Hope, Rachel McAdams as Hope's wife and 50 Cent as the boxer's fair-weather friend and manager. Hard to impress, 50 Cent couldn't help but be knocked out by Gyllenhaal's endurance and skill-set. It's a performance that follows in the footsteps of Robert De Niro's Raging Bull, Sylvester Stallone's Rocky and Christian Bale's Fighter, in setting a new benchmark for boxing films. Audiences have seen Gyllenhaal, 34, transform before, dropping 30 pounds to play Louis Bloom in Nightcrawler and committing to five months with the Los Angeles police department for the gritty police drama End of Watch.
"Therefore, I decided to train twice a day so it would give me an advantage, and it would seem like 10 months of training. It's difficult for me to use words like hard or miserable when I'm talking about a movie where really I feel grateful for the opportunity."
Having worked with many Britons during his career, most notably on British playwright Nick Payne's recent Broadway run of Constellations with Ruth Wilson, he is wary of appearing too precious. "I love working with Brits because of their incredible work ethic and emphasis on craft, but also their sense of humour about the absurdity of what we all do. The stage is my favourite place to be, and Ruth is a brilliant actress and a great friend."
Access unlimited streaming of movies and TV shows with Amazon Prime Video Sign up now for a 30-day free trial
Sign up
The son of thespian parents, and with his sister Maggie an equally successful actress, Gyllenhaal could easily have gone the easy-payday blockbuster route, but instead continues to surprise with chameleon-like performances, from Jarhead's angry US Marine sniper to his Oscar-nominated gay cowboy in Brokeback Mountain and and upcoming role as a mountaineer in Everest.
His screen wife, Rachel McAdams, witnessed Gyllenhaal's Southpaw transformation first-hand . "I guess I wasn't entirely surprised, based on his work in his past, I figured he would get there," she says. "But to actually see the transformation up close was really awe-inspiring. When I first signed on to the movie, he had just started his training and had long hair in a ponytail and a bushy beard and didn't even look like a boxer. But three months later, to have completely changed and to be so convincing – not just the physical transformation but to become that character in every single way so that it was just part of his DNA; it was in his cells – was phenomenal to watch."
McAdams recalls accompanying her leading man to the 2014 Miguel Cotto and Sergio Martinez fight at Madison Square Garden, an infamous bout that ended in the 10th round because of Martinez's extensive injuries. "It was a little traumatic, but I really gained a lot of respect for the sport. I used to think of it as something quite brutal but, getting inside of it, you realise how exacting and quite graceful it is. The level of skill involved is beyond anything I could ever have imagined."
But she was far more traumatised when Gyllenhaal later took a bloody punch for real on the set of Southpaw. "I was a little squeamish and it was brutal at times, but I had to put that aside because…his wife, Maureen, [has] seen this for 20 years and she is always in the front row, never averting her eyes.
"But when Jake got clocked once, all of us in the front row, 52 people, literally gasped. I don't know if was on camera or not, but we were so all so out of character in that moment."
What exactly happened when the leading man was out for the count? "He just shook it off and carried on like it was nothing," recalls the Canadian actress, seen most recently in the acclaimed HBO TV series True Detective. "The most incredible thing is that he had no stunt double. He did it all himself."
As much as Southpaw is about the fight and the redemption, it is about a boxer's love for his child, something which came naturally to both Gyllenhaal and McAdams, despite the fact neither are parents in real life. Both fell in love with their screen daughter, portrayed by delightful 12-year-old actress Oona Laurence.
"I would do anything for a child, whether they're my family or I know them or not," says Gyllenhaal sincerely. "But I also feel like that in any relationship: the good and the bad, the struggle. The hatred and the love exists everywhere, even with parents and children – even more so. Particularly when a child is loved and healthy, they're allowed to express those feelings even more, and I just found love with Oona as soon as I met her. It was immediate. She is so extraordinarily talented and an amazing improviser. That sense of the child leading the way is what the movie is essentially about and I just tried to open my heart to it."
'Southpaw' opens tomorrow
Register for free to continue reading
Registration is a free and easy way to support our truly independent journalism
By registering, you will also enjoy limited access to Premium articles, exclusive newsletters, commenting, and virtual events with our leading journalists
Already have an account? sign in
Join our new commenting forum
Join thought-provoking conversations, follow other Independent readers and see their replies