James Franco interview: 'Pretentious? Moi?' We give the actor-director-producer-author the chance to answer his many critics
As someone once said: 'James Franco: acting, teaching, directing, writing, producing photography, soundtracks, editing –  is there anything you can do?'
Kaleem Aftab
Saturday 08 March 2014 01:00 Comments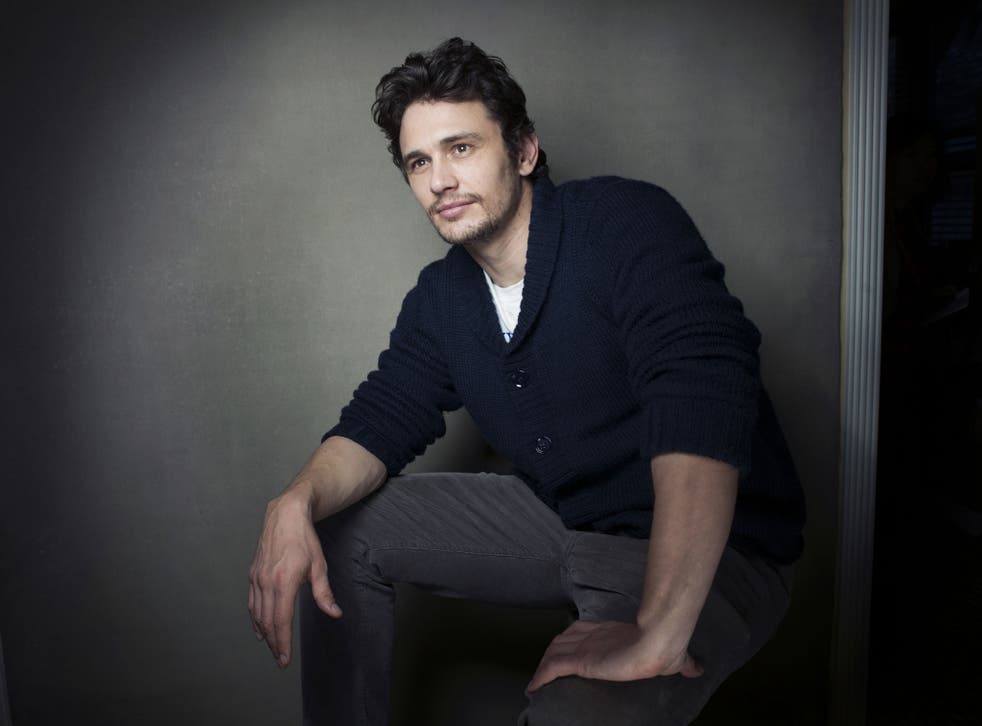 Hardly a week goes by without there seeming to be some sort of announcement of a project involving the omnipresent James Franco. The next string to his oversized bow will be his upcoming Broadway debut in Of Mice and Men. The 35-year-old is playing American dreamer George in a new adaptation of the Steinbeck classic, with Chris O'Dowd playing his mentally disabled companion Lennie.
Before Christmas, he had his author hat on with the release of his latest book, Actors Anonymous. Franco's first venture into publishing, his collection of short stories Palo Alto, has just been turned into a movie by Gia Coppola, the newest member of the film-making dynasty to join the family profession. Both books are collections of stories connected loosely by themes or recurring characters.
He also has a burgeoning list of credits as a director. His credo for going behind the camera seems to be to make films from novels deemed impossible to translate onto screen. His newest projects are adaptations of William Faulkner's As I Lay Dying and Cormac McCarthy's Child of God; films that debuted at Cannes and Venice. He's also just finished shooting a biopic on Charles Bukowski's teenage years. His dream remains to bring Faulkner's The Sound and the Fury to screen, in which he himself will play Benjy Compson.
"I see acting and directing as two positions that are trying to achieve the same end," he tells me in a deliberate, accentuated voice. "When you make a movie you are trying to tell a story or deliver material to an audience in a more or less narrative way. Usually. It's just that your responsibilities are different. So when I act in a film my main responsibilities are to my character and I collaborate with the director and other actors. When I direct, my responsibilities are a little wider and my interactions are with more people and departments."
When responding to my questions Franco takes his time. There is self-awareness in everything he does. This is most clear when looking at the number of times he has played himself in fictional films. In the daytime television soap General Hospital he played a multimedia artist called Franco. This came about because he was "collaborating with another artist called Carter. We were making a film together called Maladies in which I play a character that was formerly a soap opera star. I just thought it would be funny and interesting to actually be on a soap. Nobody would expect it."
Which would be true if he'd only done it once. But Carter had already made an installation film, Erased James Franco, in which the actor re-enacted every role he had played to date. In This is the End it was Franco who hosted the party on the night that the apocalypse arrived, killing off his celebrity buddies. That he was host reinforced his status as first amongst equals of actors from his generation.
The success and his omnipresence are not to everyone's taste though. He is something of a Marmite figure. The contempt is exemplified by Ian Belknap's show Bring Me the Head of James Franco that played in Chicago towards the end of last year. The one-man show sees Belknap gripe that, having achieved superstar status, Franco posits that he wants to tackle how celebrity affects culture, but ultimately he has nothing to say about it.
While it's true that upon occasion Franco can come across as smug and pretentious – let's not forget the awful job he did hosting the Academy Awards alongside Anne Hathaway – criticism of Franco for trying to make the most of his lot seems harsh. After all, the celebrity world is infinitely more interesting with characters who strive to be different. It's better than yet another vanilla poster-boy movie star getting column inches for drunken behaviour.
As for all the criticism Franco says, "I've learned to let it slide off my back." So much so that he let his friends publicly rebuke him on the one-off TV special The Comedy Central Roast of James Franco. His friend Seth Rogen, who, like Franco, got his big break starring in the short-lived cult TV series Freaks and Geeks, weighed in, "Franco you look like you are asleep. Did you just read a James Franco book? In all seriousness, he is a very hard-working actor. He once told me he worked for 36 hours straight, which I don't believe: the straight part, obviously." While actress Natasha Leggero quipped: "James Franco: acting teaching, directing, writing, producing, photography, soundtracks, editing – is there anything you can do?"
Access unlimited streaming of movies and TV shows with Amazon Prime Video Sign up now for a 30-day free trial
Sign up
The roast seemed to be Franco's way of saying he had heard and was above all the jibes aimed at him. He tells me: "I was a little scared. If you are going to sit there and have people make fun of you for two hours, it is hard for anybody. It wasn't as if there was anything I told anyone not to talk about. I'm open. I think I'm very proud; I'm very sure of certain things that I do, if people want to make fun of it, or take the piss out of it, that's fine. I know why I do certain things."
He is a man seemingly with an ability to make time stand still. That's the most plausible explanation for the fact that he's also a PhD student at Yale, and once taught a class on modifying poetry into short films at New York University, where he attended a film-making programme. He's also been on writing courses at Brooklyn College and Columbia University. It was his late father, Silicon Valley business owner Douglas Franco, who is said to have instilled the value of education in his son. His mother Betsy Lou is a writer and actress.
What is for sure is that Franco doesn't lack for confidence. I ask him if confidence is a trait that is needed to make it as a Hollywood star. "When I do Q and As, actors often ask me that: how can I make it? What I say now is that we live in an age that the technology is so much more available than it was 20 years ago, or 40 years ago, people like Martin Scorsese went to film school just so they could get their hands on a camera. They couldn't make things on their own. They didn't have the equipment. Nowadays you can make a movie on your phone, so one of the things that I tell people is go and do it."
Having dodged the confidence part of that question, I try another tack, asking if the need for attention is because he wants to be loved. Is that why he does the Gucci adverts? "I guess as much as anyone," he retorts, before qualifying the status in more general terms. The way he does this fits perfectly with the idea that he is using his own life and status to comment on society at large.
"I guess what you are touching on is that there are a lot of actors, and I guess this applies to other actors too, but maybe you can make a case for some of the reasons that they become actors is that they are dissatisfied with reality and they want to live in imaginary worlds, and with acting it has the additional benefit that there can come fame. So somebody like a James Dean [whom Franco played in a TV movie], who lost his mother at a young age, whose father didn't love him and sent him away at the age of eight, you could say, you know what he probably felt unloved, he probably had a deep need to be loved and there is something about acting in film that whether he is conscious of it or not, [he] thought, 'okay if I am successful and people love me as an actor that will fill the hole that was created by my lack of love in my upbringing'."
So why did Franco get into acting? "I was shy, that was part of it. It's like anything that people find, when you love your profession. I always loved film, but I was shy so I didn't pursue acting, even though I love film and love acting. Finally in my senior year at high school, I just did it. I acted in two plays and it's that moment – I'm not saying that I was the best actor at that moment – but you find something you connect with and people are maybe responding to what I'm doing or I feel like there is something here that I understand or I connect to."
For every Faulkner adaptation, or Steinbeck stage role, there's also a Pineapple Express, or Spider-Man in his toy box. His willingness to work on the edges of so-called high and low culture without seemingly separating the two is almost unique in a profession where actors get easily typecast as this or that actor.
"I think it's important because the mix of high and low speaks of our times," he says. "Speaking generally, there is kind of a new way that we read, it's breadth rather than depth, we get so much information now that I think it changes the way we read, not to say that one way is better than the other, it's just different. I feel like if I can mix what might be considered this high and low, or surface and depth, it is kind of a healthy mix or a way to make things vital. Whereas if it was just one or the other, it might jut feel superficial or too esoteric, but if I mix, and I'm just speaking generally, if I mix it creates great energy."
'Of Mice and Men' previews on 19 March and opens on 16 April on Broadway. 'Child of God', 'As I Lay Dying' and 'Palo Alto' will be out later in the year
Register for free to continue reading
Registration is a free and easy way to support our truly independent journalism
By registering, you will also enjoy limited access to Premium articles, exclusive newsletters, commenting, and virtual events with our leading journalists
Already have an account? sign in
Join our new commenting forum
Join thought-provoking conversations, follow other Independent readers and see their replies