Primatologist Jane Goodall on new documentary 'Jane': 'It shows everything. It shows chimps mating, it shows war and disease and sadness'
Academy Award-nominated director Brett Morgen's documentary film about Goodall's adventures tracking chimps in Africa contains previously unseen National Geographic footage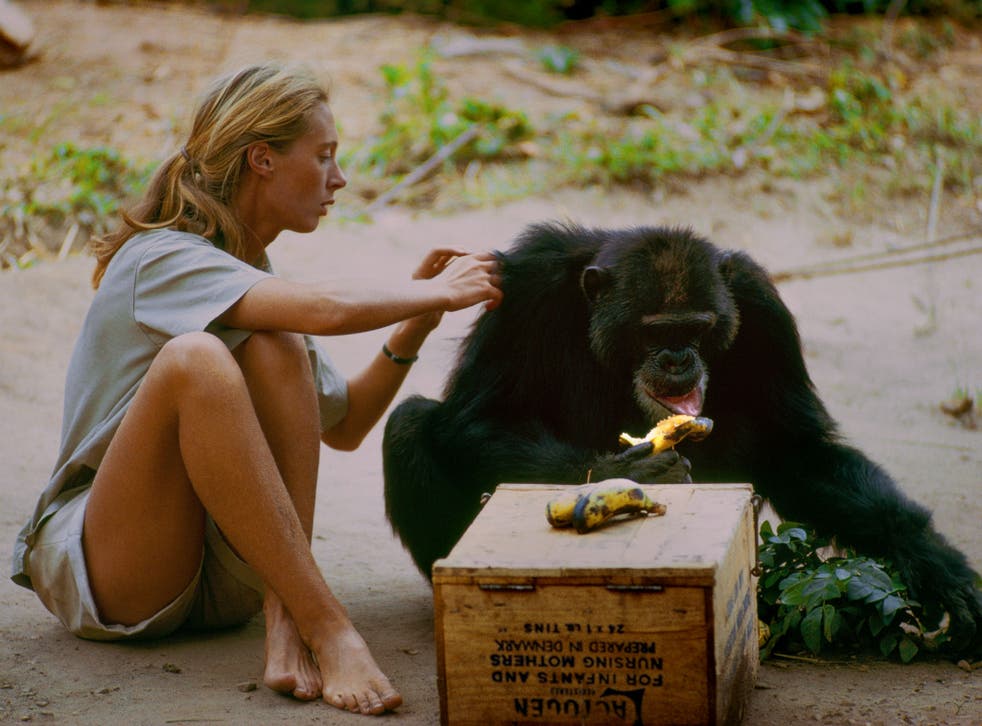 Primatologist Dr Jane Goodall gained fame for her adventures in Gombe, Tanzania, tracking chimpanzees for National Geographic magazine. She was the poster girl for the organisation and has been the focus of more than 40 films, so the 83-year-old was nonplussed and rather reluctant when a request came in for her to take part in Jane, a new documentary about her adventures in Africa being directed by Academy Award-nominee Brett Morgen.
"When I heard Geographic were making another documentary, I thought, come on!" she recalls. "I don't have the time."
The octogenarian spends 300 days a year travelling the globe fundraising for the Jane Goodall Institute that continues the work in Gombe that she started with National Geographic, or giving lectures and fulfilling her role as a UN messenger of peace.
Reluctantly agreeing to give Morgen a three-hour interview, she ended up spending three days chatting to him for the film. "There are people who interview you and are so stupid," she states, as I wondered where I was standing in her estimation. "I mean they don't know what to ask and then I don't want to talk to them. Brett knew what he was talking about."
The director built his stellar reputation as a documentarian with a particular penchant for recontextualising archive footage. His films include The Kid Stays in the Picture about the producer Robert Evans, Chicago 10 which looked back at eight anti-war protestors put on trial after the 1968 Democratic National Convention, and Cobain: Montage of Heck about the fast life and times of Nirvana singer Kurt Cobain.
Goodall says of the director: "Every time Brett sees me, he either cries or giggles. Everyone says that I have a very odd effect on him."
Goodall has that effect on everyone it seems. At 83 she is just as charming as she was when she walked into the Gombe for the first time aged 26 in 1960, notepad under her arm, oblivious to the fierce nature of the chimpanzees she had gone to live with and watch.
The documentary takes us on the journey that starts with the legend. The happy-go-lucky woman who dreamed of living with chimpanzees, so much so that she called celebrated paleoanthropologist Louis Leakey asking to talk to animals, and soon after they were running away from lions in Kenya. Three years later she was sent to Tanzania, with no scientific learning, just her intuition, confidence and curiosity.
But the beauty of this documentary is that Morgen was also given access to hours of unseen National Geographic footage. The director spent months fixing the sound on the footage and restoring the original colour. As he did so, he found stories that have been omitted from the Goodall legend.
Access unlimited streaming of movies and TV shows with Amazon Prime Video Sign up now for a 30-day free trial
Sign up
This is a film about Goodall's love for chimpanzees but also her romance, marriage and divorce to photographer Hugo van Lawick. He was employed by National Geographic to take photographs and videos of the work being conducted in Africa. A brilliant cinematographer, it's his images that make up this film, but with the camera never lying, Morgen also discovered that he also captured his love for his subject.
"It was a love affair with the work, with the chimps and then Hugo came along and it all worked out," says Goodall.
It could have been a difficult moment for Goodall to let someone into her space, as she says: "I've always loved being alone."
She was as taken with the photographer as he was by her. It was the working relationship at first: "The irritating part was that the Geographic had given Hugo a list of what they she should cover, you got to have Jane washing her hair, Jane walking along the lake, and they wanted to have me swimming in the lake, and I said 'no', we are not going to do that. There are quite enough legs and shorts without needing to see me in a swimming costume."
The couple would have a son together, Hugo Eric Louis, and we see in the film how Goodall tries to handle the demands of her career and motherhood. When Hugo was school-age, she sent him to live with her own influential and inspiring mother, whilst she carried on her work in the Gombe.
"The point was that when he first went to England he wasn't at boarding school," says Goodall. "He was with mum, so it was like an extended family and, OK, I was away in the term time, but we had every holiday together, either I went to the UK, or he came to Africa. So the rest of the time he was with mum, and it was almost like an extension of myself."
Her marriage to the Dutch nobleman Van Lawick ended in divorce in 1974. The documentary shows how the demands of their respective jobs, and the arrival of success created tension in their marriage. But looking back, Goodall says: "It was perfect that he came along, because it was his footage that took the story of Jane and the chimps through the homes of America and to the world. It was something very important in this journey and for him too, because it pushed him up into fame as well."
The film also shows some of the less glowing moments that took place during her research. The chimpanzees had a tribal war that ran for several years. She also fed the animals bananas and they started to contract diseases. It's this honesty about what happened in Gombe that Goodall believes makes the new documentary original, and different from the films that have previously been made about her.
"I think what it does is present the story in a less constrained way. It isn't worried about keeping this or that out of the film – it shows everything. It shows mating, it shows war and disease and sadness, it shows the banana feeding, which is criticised now, and yes I agree, we shouldn't be feeding bananas to chimps or any other animal, but back then the world was different. We didn't know about chimps maybe catching our diseases. We didn't think about anything except that these chimps have been running away for about a year and we can get close to them and how magic it is."
Although the film sticks to the story, it's not a biography in the sense that it doesn't describe how Goodall became Dr Jane Goodall PhD, DBE or provide details of her second husband or her life since he died in 1980. It's a film that is based solely around the archive footage.
When the interview is over, Goodall asks if we would like a photograph together. It's an odd request as this practice of taking selfies with interview subjects is usually scorned upon in the journalism world. But it seems that Dr. Goodall is practised at the power of the image and social media, knowing that the more she appears in the spotlight, the more attention her foundation will receive.
"The media are my friends," she says. "I want them on my side. When I first started I resented the media and I tried not to see journalists. I hated it. At the time National Geographic was funding the work, but when I was struggling to get money for all the various bits of research we were doing, that is when I realised that this image that had been created of Jane, this icon, by Geographic, that's useful, and I'll make use of it as much as I can."
'Jane' is in UK cinemas on 24 November and on National Geographic in 2018
Register for free to continue reading
Registration is a free and easy way to support our truly independent journalism
By registering, you will also enjoy limited access to Premium articles, exclusive newsletters, commenting, and virtual events with our leading journalists
Already have an account? sign in
Register for free to continue reading
Registration is a free and easy way to support our truly independent journalism
By registering, you will also enjoy limited access to Premium articles, exclusive newsletters, commenting, and virtual events with our leading journalists
Already have an account? sign in
Join our new commenting forum
Join thought-provoking conversations, follow other Independent readers and see their replies