The Independent's journalism is supported by our readers. When you purchase through links on our site, we may earn commission.
VHS tapes, bad hair and the spectacular rise and fall of the J-horror remake
Japanese horror remakes such as 'The Ring', 'Dark Water' and 'The Grudge' were once cinema's hottest property, with help from Naomi Watts, Kristen Bell and Sarah Michelle Gellar, but a flop new remake of 'The Grudge' suggests it won't rise again, says Adam White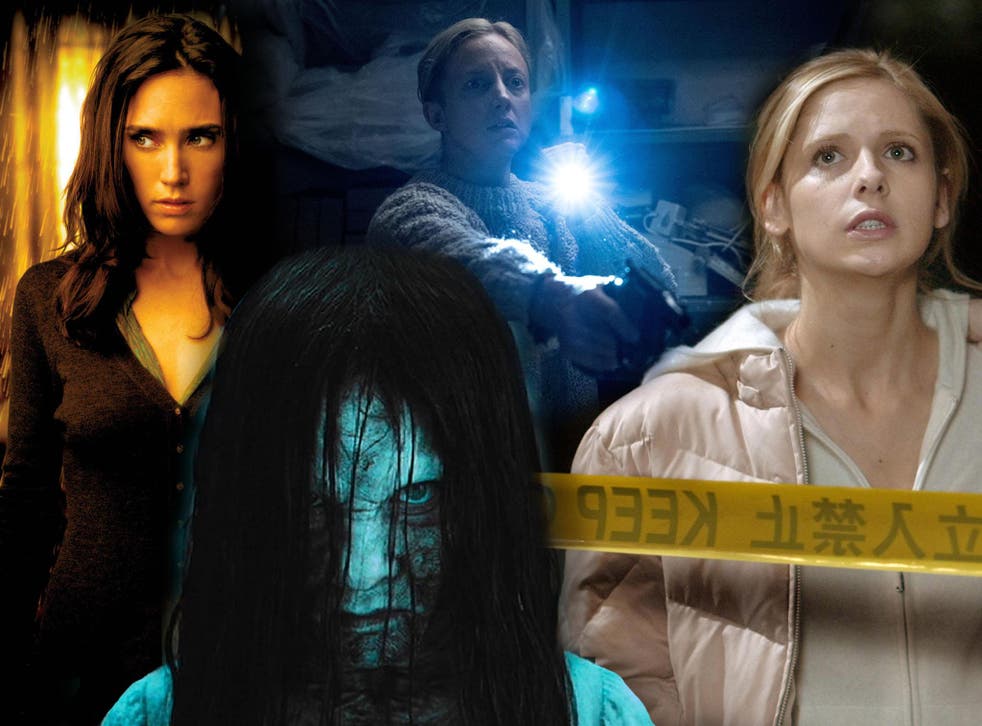 A pale-faced girl in a long dress and with very bad hair crawls like a crab out of a television set, or alternatively down the stairs. She is soggy and sounds like she has a bad throat, and there's sometimes a well or a water tower, cat sounds or creepy photographs, and often a bit of now-archaic technology.
Japanese horror movies at the turn of the millennium, dubbed "J-horror", endlessly cycled through a dozen or so of the same tropes. There were always slight differences here and there – swapping the terror of a cursed home for the terror of a cursed telephone, for example – but the tropes were consistent. They were also endlessly remade for western audiences. Anchored by American stars like Sarah Michelle Gellar and Kristen Bell, US remakes of J-horror staples came to dominate the horror genre in the mid-Noughties… until they suddenly didn't.
Plummeting box office and new horror trends may have sounded the genre's death knell, but, much like scraggly haired Samara insisting on climbing out of that well in The Ring, western J-horror remakes just won't stay dead. This month marks the release of The Grudge, a reimagining of the Gellar version, itself an English-language remake of the 2002 Japanese film. But compared to its US predecessor, a surprise smash in 2004, this one has tanked. In effect, its lack of success speaks to how far the sub-genre has fallen since the years of The Ring's Naomi Watts throwing a haunted VHS across the room.
That aforementioned film, a gloomy portrait of shrieks and horse death directed by Gore Verbinski, was the $250m-grossing geyser in which an abundance of J-horror remakes sprung forth. From there came Gellar's Grudge, Dark Water (with Jennifer Connelly), Pulse (with Bell) and One Missed Call (with Shannyn Sossamon). Much of the rest of Asia was plundered, too. There was China's The Eye (remade as a Jessica Alba vehicle), Thailand's Shutter (with Joshua Jackson) and South Korea's A Tale of Two Sisters and Addicted (remade, respectively, as The Uninvited, starring Elizabeth Banks, and Possession, with Gellar once again).
Strangely, it was a single man responsible for the majority of them. Development executive Roy Lee launched a cottage industry in the early 2000s selling the rights of Asian hits to US studios. He also found gaining the rights remarkably easy, telling Asian studios that they'd make far less money merely distributing their work internationally, as Americans historically never see subtitled movies. Selling the remake rights instead would be far more lucrative in the long term. American movie executives were also seduced by Lee's description of non-English horror movies as mere blueprints for international success, or case studies in what sells and what scares people.
37 horror films that are genuinely scary

Show all 37
It helped that so much of J-horror is driven by relatively simplistic plots. "We need films with rules," Lee told The New Yorker in 2003. "Rules and hooks, like a videotape that kills people."
Lee was also responsible for the decade's influx of remakes of non-horror Asian hits, too, including Martin Scorsese's The Departed (originally Hong Kong's Infernal Affairs), the Keanu Reeves/Sandra Bullock time-travelling romance The Lake House (based on South Korea's Il Mare), and even the Paul Walker snow-dog vehicle Eight Below (originally Japan's Antarctica).
Few of Lee's horror revivals were particularly good, instead existing as lesser carbon-copies of the subtitled films that came before them. The ones that did work, and even improve on their source material, felt like distinct visions regardless of their origins. Verbinski's grey-hued and nightmare-inducing The Ring and the rain-soaked and atmospheric Dark Water remain particular highlights. They were also lucky enough to be anchored by Watts and Connelly respectively, actors especially strong when playing haunted and broken. They knew to not merely let the spookiness carry the story, instead injecting very human pathos into extraordinary, terrifying circumstances.
They weren't enough to rescue the genre from oblivion, however. The horror genre has historically existed as a faster, bloodier microcosm of Hollywood culture: something innovative proves a surprise smash and its ideas are quickly photocopied elsewhere, whether in rapidly produced sequels or rival movies playing in the same thematic sandbox. They dominate for a period before tailing off, replaced by another, far trendier horror movie doing very different things.
Access unlimited streaming of movies and TV shows with Amazon Prime Video Sign up now for a 30-day free trial
Sign up
Rebooted J-horror arrived in the wake of the transatlantic success of Crouching Tiger, Hidden Dragon and the anime-inspired visuals of The Matrix, and just as the Scream cycle of teen slasher whodunits were beginning to run out of blood. It helped that J-horror also felt attuned to the cultural fears of the era. The "kids with knives" motif of Scream mirrored a society suddenly terrified of violent youngsters raised on Marilyn Manson and Natural Born Killers; classic J-horror was often about alienation, fear of technology and the vice-like grip of regret and grief. It's no coincidence that the internet was flourishing alongside these movies, along with the feeling that there were significant psychological drawbacks to handing yourself over to it.
If the internet is still just as punishing as it is pleasurable, why did these movies die out so rapidly? The answer is most likely in the horror sub-genre that felled it. The end of the J-horror boom coincided with the rise of "torture porn" – movies like Hostel, Saw and Wolf Creek, which delighted in graphic violence, moral abandonment and sadism. Born in the midst of the Iraq war, they symbolised a rejection of much of the foundations of the horror genre, instead swimming in chaos and misery rather than flickers of hope against evil. J-horror, with its greater subtleties and feelings of sleep-deprived isolation, was never as angry.
Torture porn led to an end-of-decade boom in found-footage horror, something like the Paranormal Activity franchise angling the technological paranoia of J-horror through a Blair Witch-inspired lens. They also cost significantly less to make – helpful at a time when many studios were questioning whether horror had had its day at the box office. In the wake of profitable found-footage movies, the genre was dominated by a return to old-fashioned haunted-house spookiness, in the form of The Conjuring, Insidious and Annabelle. From there emerged "elevated horror", a polarising term for horror movies like Get Out, The Witch, Midsommar and Hereditary, that play with sociopolitical relevance or arthouse ambiguity.
Trailer for the new revival of The Grudge
As for J-horror's demise, there was also the Scary Movie problem – the lucrative horror-spoof franchise that helped morph many of the traditions of the genre into unintentionally silly clichés. "Cindy, the TV's leaking," a line delivered in Scary Movie 3 by Regina Hall in response to an attack by Samara, has had a far greater online legacy than the movie it was satirising. "Another little white girl done fell down a well," she remarks of the long-haired villain minutes earlier. "Fifty black people got they ass beat by police today, but the whole world gotta stop for one little whitey down a hole."
Despite feeling so baked into the mid-2000s, J-horror occasionally rears its head in the Hollywood of today, even if few show up to experience it again. The new Grudge, which awkwardly features far more Asian representation than the Gellar version despite being set in suburban Pennsylvania rather than Tokyo, has been a flop. Audiences polled after selected US screenings also gave it an "F" score – making it the first conventional horror film to poll as low since 2012's The Devil Inside. It follows the equally dismal release of 2017's Rings, a go-nowhere revival of The Ring starring Leonard from The Big Bang Theory.
There may be a silver lining to it all, however. Just as the rise in music streaming has led to an explosion of non-English pop acts into the mainstream, there's a feeling that western audiences have finally woken up to the fact that foreign art can stand on its own. Where once hand-holding was interpreted as a necessity, in the form of a recognisable blonde from your favourite TV series or dialogue entirely in English, today something like Bong Joon-ho's dark comedy Parasite can become a breakout US hit, with not a single American actor in sight. Why pay for a sub-par US reimagining, when the real deal is right there?
The Grudge is out in UK cinemas on Friday
Register for free to continue reading
Registration is a free and easy way to support our truly independent journalism
By registering, you will also enjoy limited access to Premium articles, exclusive newsletters, commenting, and virtual events with our leading journalists
Already have an account? sign in
Register for free to continue reading
Registration is a free and easy way to support our truly independent journalism
By registering, you will also enjoy limited access to Premium articles, exclusive newsletters, commenting, and virtual events with our leading journalists
Already have an account? sign in
Join our new commenting forum
Join thought-provoking conversations, follow other Independent readers and see their replies