Jared Leto in Dallas Buyers Club: Why can't we cast trans people in trans roles?
When will TV and film start opening the door to transgender actors, asks Paris Lees
Paris Lees
Sunday 02 February 2014 01:00 Comments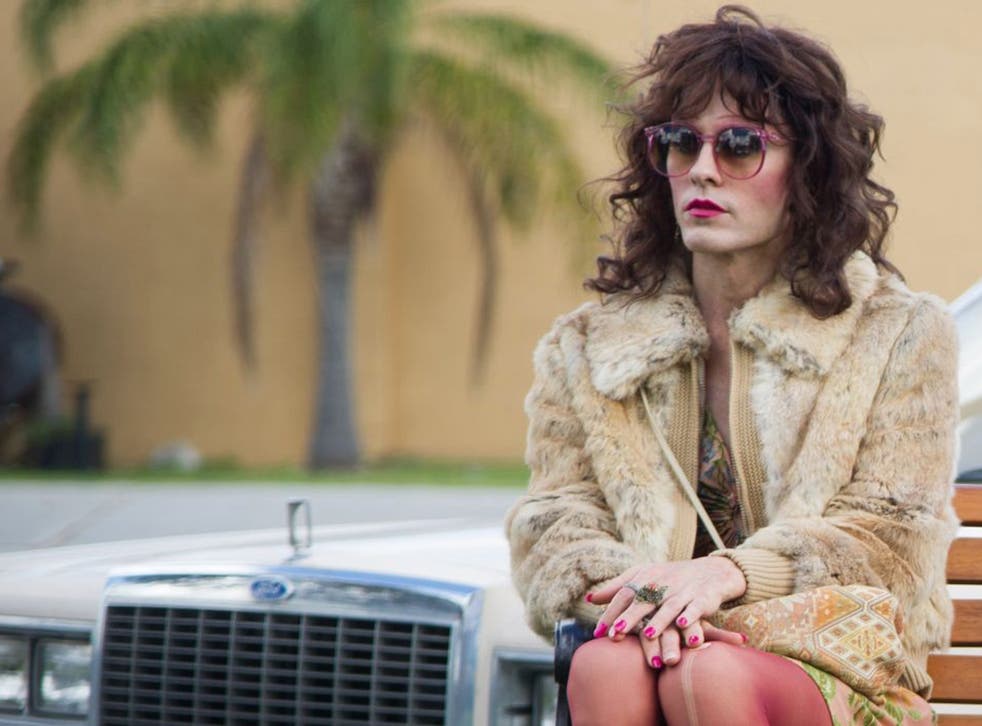 Are you one of the millions of Corrie fans still mourning Hayley Cropper? The lovely Julie Hesmondhalgh, the woman who played the much-loved café owner – notable for being the first transgender character in a British soap opera – says the role would go to a transgender actor if it were cast today. I wish this were true.
Across the Atlantic, male actor Jared Leto recently picked up a Golden Globe, and is favourite for an Oscar, for his performance as a trans woman in Aids drama Dallas Buyers Club. Set in the mid 1980s, the film tells the true story of a straight Texas electrician, Ron Woodroof, who, after contracting HIV, helped transport pioneering anti-Aids drugs into the US in defiance of the medical establishment. Leto's character, Rayon, is his partner in righteous crime.
However Leto's awards success has not been without controversy. His Globes acceptance speech was roundly condemned online after he referred to his character Rayon as a "beautiful creature"; one website responded with the headline: "The Golden Globes gave Jared Leto an award for playing a trans woman because Hollywood is awful". To make matters worse, Leto has spent much of the publicity trail cracking jokes about cross-dressing – which is odd, tasteless you might say, considering he plays a deeply troubled trans woman and not a panto dame.
So if I'm honest, as a trans woman, I watched Dallas Buyers Club expecting to be offended. I wasn't. It's great and you should probably see it. And it's wonderful to have a trans person's story in a film that is being enjoyed by millions of people worldwide. Is it depressing to see another male actor playing a trans woman? A little. Is he any good? Yes. He had me in tears.
But is it an Oscar-worthy performance? No. As a transgender campaigner I've met a great many trans people. I can't speak for all of us, but I know a fair few and probably more than you do. And Rayon isn't quite like anyone I've ever met.
"They'd look good on me," she sighs, staring at a barmaid's cleavage. Later someone points a gun at her crotch and jokes about giving her "that sex change" she's "always wanted". So Rayon clearly sees herself as female and wishes to be female bodied. Why, then, does she remain silent as everyone, even her friends, refers to her as "he"? I'm sure trans women in Texas in the 1980s did face such rudeness, but would they really have accepted it without comment? Rayon never blinks. Apart from trans people, who will pick up on this? Most viewers will have never knowingly met a transgender person. Also, while Woodroof was a real person, Rayon is a fictional character, introduced to highlight Ron's "homophobia". I expect the producers brainstormed the most extreme sort of gay they could imagine and settled on "a tranny" – because everyone hates those, right? Rayon isn't a person, she's a function.
Hollywood does occasionally produce trans characters of depth. Who would argue that the Oscar-winning Hilary Swank was anything less than brilliant as murdered trans man Brandon Teena in Boys Don't Cry (1999)? Contrast this, though, with Felicity Huffman's approximation of a trans woman in Transamerica (2005). The producers worked closely with trans consultants, yet still ended up with an unlikely scene in which Huffman pees standing up, Mrs Doubtfire-style. I don't know any trans women who would do that and if I'd been on set I'd have told them so. But I could be wrong. I haven't been to the loo with all trans women.
For truly accurate portrayals of trans people, cast trans actors, I say. Not everyone in the trans community agrees though – some say that casting "regular" actors is a positive step, which acknowledges that many trans people "blend in". Many trans people do blend in. But wouldn't it be better for those trans people to blend in themselves? On screen? If you're one of the 1.5 million Brits who, like me, spent much of 2013 glued to online streaming service Netflix, you probably already know about prison comedy-drama Orange Is the New Black. The show boasts an abundance of racially diverse female characters and my favourite is prison hairdresser Sophia. Played by Laverne Cox. Sophia is transgender and so is Laverne. She's perfect, but not just because she's trans. She can act too. And the more audiences see Laverne and other trans actors – Harmony Santana and Jamie Clayton, for example – the less impressed they'll be with transgender pretenders such as Leto.
Friends in casting tell me their first choice is to cast trans people in trans roles nowadays. What a shame we don't have more established trans actors, or at least none on which Hollywood would gamble a big-budget film's success. Until we encourage acting talent from diverse sources, that seems unlikely to change any time soon. So yes, watch Dallas Buyers Club and by all means enjoy it, but, when Leto's on screen, keep an eyebrow raised.
'Dallas Buyers Club' is released on Friday
Register for free to continue reading
Registration is a free and easy way to support our truly independent journalism
By registering, you will also enjoy limited access to Premium articles, exclusive newsletters, commenting, and virtual events with our leading journalists
Already have an account? sign in
Register for free to continue reading
Registration is a free and easy way to support our truly independent journalism
By registering, you will also enjoy limited access to Premium articles, exclusive newsletters, commenting, and virtual events with our leading journalists
Already have an account? sign in
Join our new commenting forum
Join thought-provoking conversations, follow other Independent readers and see their replies