Interview
Jason Schwartzman: 'My uncle Francis Ford Coppola thinks Marvel films are despicable, but I'd be happy to act in one'
Exclusive: The star of 'Rushmore' and 'Bored to Death' on Francis Ford Coppola and Martin Scorsese's controversial comments about superhero movies, his new animated Christmas film 'Klaus', and why he's definitely never felt like a privileged coaster. By Kevin E G Perry
Wednesday 13 November 2019 08:35
comments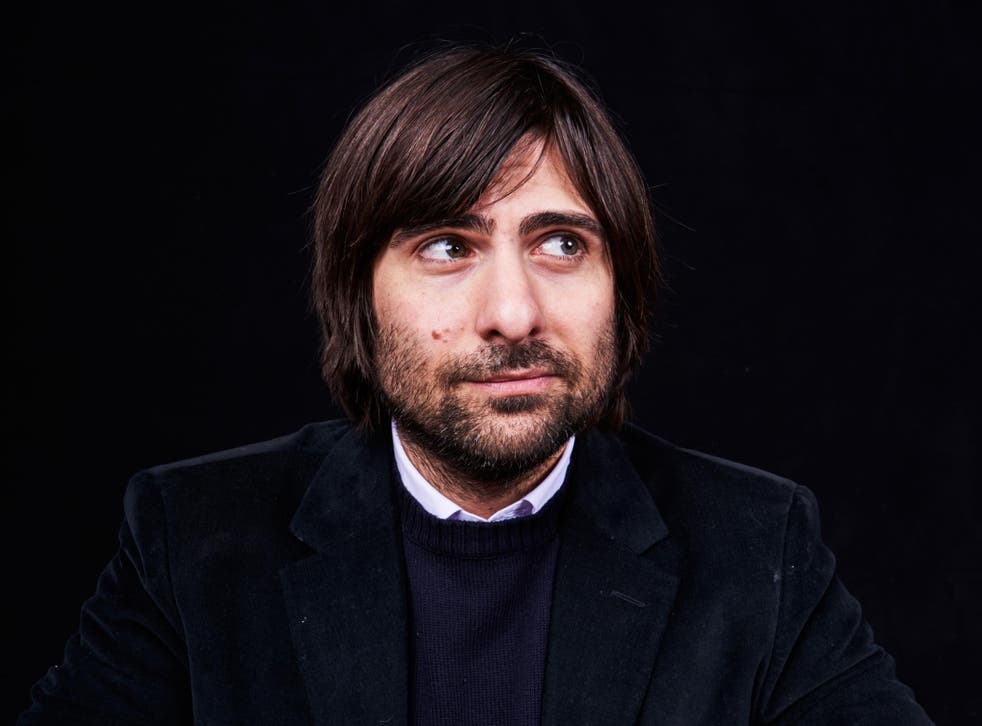 Jason Schwartzman is a sharp and witty presence onscreen, yet somehow our interview begins with pure old-fashioned slapstick. In a hotel room at the Four Seasons in Beverly Hills, he is attempting to turn off the television but only succeeds in pushing the volume louder and louder. "GAME TIME," an announcer booms. "No, it's not game time," Schwartzman mutters back, still scrabbling around the set to silence the racket. The remote control has vanished, as remote controls are wont to do. Eventually, he gives up and yanks out the plug. "Pulled the power!" he grins triumphantly. "It'll probably be a pain in the ass to set that up again, but I had to kill it somehow."
Now that the recalcitrant device has been dealt with he takes a seat, dapper in a navy blue suit and tie with a pale pink shirt. His hair is slicked back above a neat moustache, as if he might be about to audition to play Clark Gable. A bundle of nervous energy, he still looks younger than his 39 years, but less boyish than he did in his floppy-haired youth. "I'm not cute like you," Seth Rogen's character lamented to Schwartzman in Funny People a decade ago, "I don't look like Jackson Browne."
We're here to talk about his new animated film Klaus, an alternative origin story for Father Christmas that was written and directed by Sergio Pablos, the Spanish animator who created the Despicable Me franchise (and thus bears some of the responsibility for unleashing Minions into the world). Schwartzman voices Jesper, a trainee postman who is sent to the Arctic town of Smeerensburg as punishment for his perpetual indolence. It may be a family Christmas movie but there are contemporary political allusions if you care to look for them. Before Jesper teams up with the toy-maker Klaus to start delivering presents, Smeerensburg is divided into two constantly warring factions, a familiar state of affairs whichever side of the Atlantic you're on.
Schwartzman is often drawn to characters who are lost and searching for purpose, such as the environmental activist who hires existential detectives to investigate his own life in David O Russell's I Heart Huckabees (2004) or the heartbroken writer traversing India with his brothers in The Darjeeling Limited (2007). Jesper is another in that lineage. "He's definitely searching for something," says Schwartzman, "But he's also a character who's very spoiled. He's gone through life doing as little work as possible. Those kids were always the most frustrating people in high school, at least for me. They were so smart and they had it all figured out, and I wanted vengeance. I wanted them to pay the price. Do you know what I mean? I was like, someday you're going to get f***ed."
30 times things went wrong on film and TV sets

Show all 30
Jesper's initial idleness is attributed to the fact that he is descended from power: his father is the head postman. Schwartzman himself comes from a family of film royalty. His mother Talia is the sister of Francis Ford Coppola and is famous in her own right for playing Connie Corleone (the only daughter of Marlon Brando's Vito Corleone) in The Godfather trilogy, and Adrian in the Rocky films. Nicolas Cage and Sofia Coppola are among his cousins. Yet Schwartzman recoils when I suggest that he might identify with a character whose privilege allowed him to coast through life. "No, I've definitely never felt like that," he says. "I don't think I ever felt bold enough to think that way. I didn't think that I was going to get to be a part of movies, truly."
His first love was music. From the age of 14 he drummed in the band Phantom Planet, most famous for their song "California", which provided the theme tune for the teen drama series The OC. He's since released solo music under the name Coconut Records, but he concedes that there was a family precedent for this too. "I found some old photographs of my grandparents and their parents recently and it's remarkable to look at them because they're all playing music," he says. "It does make you go: Huh? Why is that guy, who I never met, interested in the same things as me? It makes you wonder about family and nature vs nurture."
Uncle Francis recently made headlines by joining Martin Scorsese in arguing that the ubiquitous Marvel superhero franchise isn't true cinema. "I don't know that anyone gets anything out of seeing the same movie over and over again," said Coppola. "Martin was kind when he said it's not cinema. He didn't say it's despicable, which I just say it is."
Schwartzman says he hadn't been aware of Coppola's comments. He hasn't kept up to date with the Marvel films – although he wouldn't say no to donning a superhero costume himself. "Yeah," he shrugs with a chuckle when I ask if he could see himself in a Marvel film, "Yeah, sure." His take on the wider debate is a diplomatic one: "It's an interesting question because those things are so big, they're almost more than the movies. What I can say is that I like it any time people can all be together and enjoy something in the same space. Growing up here in LA, I'd go and see movies every Saturday and Sunday with my family, and I loved it. I like that collective experience, so I don't know about the: 'Is it cinema or not cinema?' question, but I like it any time people can get into something together."
Schwartzman's own start in film came when he was 17 and he was invited to audition for the lead role in Wes Anderson's semi-autobiographical coming-of-age story Rushmore (1998). Winning that part began a collaboration with Anderson that has stretched over the past 21 years and has seen him appear in the aforementioned The Darjeeling Limited as well as Fantastic Mr Fox (2009), Moonrise Kingdom (2012), The Grand Budapest Hotel (2014) and Isle of Dogs (2018). He will return in Anderson's next film, The French Dispatch, due to be released next year.
"He's my mentor," says Schwartzman of the director. "His love for movies has never changed, it's only grown. It's so deep that you realise it's not even a love, it's just who he is. It's his handwriting. He has an ability to just follow a feeling. Sometimes when you do a film you're told: 'This is this movie and this is exactly what it's about,' but sometimes, like with The Darjeeling Limited, it was just: 'It's three brothers, a train, in India.' That was it! To follow that and to watch him, to study under him, was a beautiful experience."
As well as his film work, Schwartzman is also one of the writers and creators of the television series Mozart in the Jungle and next year he'll join the cast of Fargo. Perhaps his best-loved television role was playing a fictionalised version of Brooklyn author Jonathan Ames in the HBO series Bored to Death. The series, which also starred Ted Danson and Zach Galifianakis, ran for three seasons between 2009 and 2011 before it was abruptly cancelled. Ever since, there have been rumours in Hollywood that Ames is working on resurrecting the characters for a Bored to Death film, and Schwartzman says he's hopeful it may still happen. "Yeah, we're trying to put it together," he says. "That show was the best experience and to do it you'd have to get all those people together again. It's a real family. Jonathan is a wonderful person. I love him so deeply. I had read his books before I met him, and when I did I remember thinking: 'Please be in my life.' We're now super close. He actually married my wife and I. He's been working on something and to his credit he doesn't ever want to do something until it feels right, and I respect that."
The Ames character, who begins moonlighting as a private detective while struggling to write his second novel, is another classic Schwartzman searcher. He may still not have found what he's looking for, but whether he's hunting for the meaning of life or helping Klaus spread Christmas cheer, it's always worth watching him try.
Klaus is in select cinemas now and launches on Netflix on Friday 15 November
Join our new commenting forum
Join thought-provoking conversations, follow other Independent readers and see their replies