Jeff Bridges interview: 'Trump's inspired me to take action'
The actor, who stars in the upcoming 'Bad Times at the El Royale', discusses his career and activism with Alexandra Pollard
Wednesday 10 October 2018 08:31 BST
Comments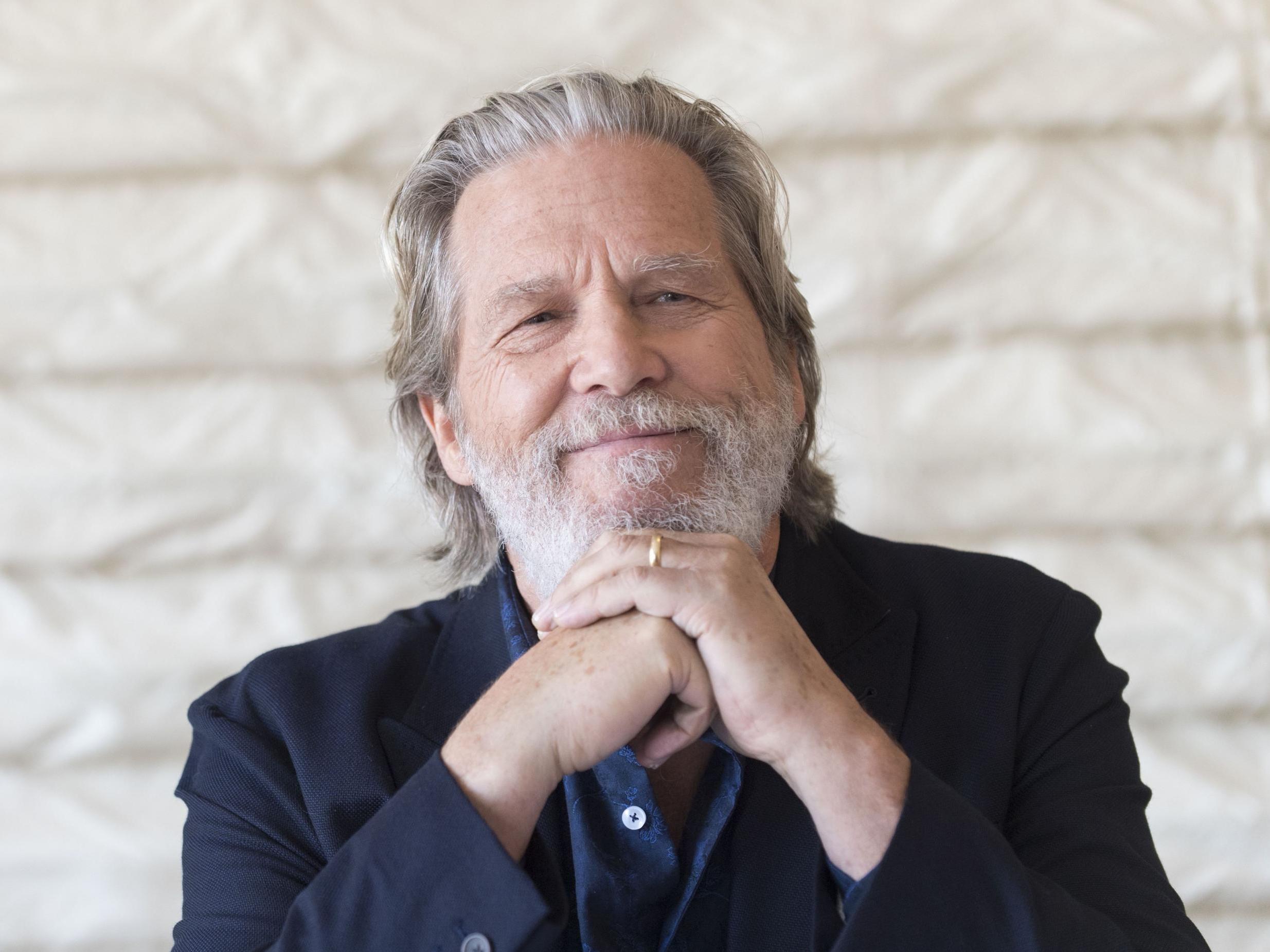 "You gotta kind of… drag me to the party," says Jeff Bridges. "I usually try not to work." If it wasn't for the 73 films, six Academy Award nominations, co-authored book and three albums he has under his belt, I'd be tempted to believe him. In fact, he's so disarmingly nonchalant that you might think he's never had to lift a finger in his life.
As it is, since his acting career began in 1970, Bridges has scarcely had a year off. Technically, he's been working since he was six months old – his parents were actors Lloyd and Dorothy Bridges, and he grew up on film sets, starring as Jane Greer's baby son in 1951's The Company She Keeps – but his real debut came in race-relations drama Halls of Anger (1970), followed a year later by an Oscar-nominated performance in The Last Picture Show.
From there, the roles kept coming. He played a palaeontologist alongside Jessica Lange in the 1976 box-office smash King Kong, a computer programmer in 1982's Tron, and a humanoid alien in John Carpenter's 1984 sci-fi romance Starman, bringing his gruff charisma and innate gravity to each one.
"This is not a place for a priest": Jeff Bridges and Jon Hamm star in Bad Times at the El Royale
Then came The Fabulous Baker Boys (1989), a starring role as the slovenly slacker "The Dude" in the Coen brothers' 1998 sleeper hit The Big Lebowski, and in 2009, a long-awaited Oscar for his subtly devastating turn as a washed-up country singer in Crazy Heart.
But as he has gradually become one of the most revered actors of his generation, the 68-year-old from LA has remained as constitutionally unfazed as his beloved Dude, effortlessly navigating that impossible tightrope between fame and celebrity (the former has come by sheer force of talent; he is uninterested in the latter). Where many of his peers fell prey to scandal or overexposure, Bridges – who has been married to Susan Geston, with whom he has three children, since 1977 – ambled successfully from project to project, with those same qualities that set him apart in 1970.
Today, he is as equable and unaffected as his reputation suggests. Few of his answers end up where they seem to be heading – they are freewheeling word-association exercises, littered with references he hopes, in vain, that I'll understand. "Do you know who Bucky Fuller is?" "Have you heard of a woman named Karen Armstrong?" "Do you know what a koan is?" Every time the answer is no, he says – not with condescension, but an earnest enthusiasm for learning – "You might google it to find out more about it."
This zest for knowledge – for a greater understanding of humanity in all its manifestations – is Bridges's secret weapon. As Dakota Johnson, who co-stars in his latest film Bad Times at the El Royale, puts it: "He is really interested in people." It's why he's so unfailingly brilliant at portraying them.
In Bad Times at the El Royale, Drew Goddard's wonderful, head-spinning crime thriller, Bridges plays Father Daniel Flynn. Flynn is one piece of a shapeshifting puzzle of characters – including Dakota Johnson's foul-mouthed hippy, Jon Hamm's narcissistic vacuum salesman, and Cynthia Erivo's unassuming but defiant backing singer – all of whom have come to stay at a novelty hotel straddling the border between Nevada and California.
Bridges is insistent that I not give away the plot – "I like to be totally surprised when I'm seeing a movie" – but I will say that it's not the weekend retreat most of the characters had in mind.
Access unlimited streaming of movies and TV shows with Amazon Prime Video
Sign up now for a 30-day free trial
Sign up
Access unlimited streaming of movies and TV shows with Amazon Prime Video
Sign up now for a 30-day free trial
Sign up
"When I take on a role, firstly I look inside myself," says Bridges in his breezy California drawl, "and think what hues of myself, my own personality, I might use, and kick those that don't work to the curb. Then I start to look at my friends and people I know."
When he did that, the first person that came to mind was a chaplain at his coast guard boot camp (it's hard to imagine, but Bridges lived a strictly regimented military life for eight years). "A fella named Don Harris," he recalls. "He was a wonderful guy, turned me on to all sorts of things, rock and roll music… He lent me some civilian clothes and took me to see Jefferson Airplane – this is like, 1968 or something. He was a wonderful influence in my life."
And which facets of his own personality did he use? "Well, all the words seem so corny and kind of fall short, but I'm a spiritually bent guy, I think," he says. "[But] my particular brand is, I guess, more Buddhist than Christian."
Bad Times at the El Royale - Official Trailer
He believes he's similar to the Dude in that way. "I was sat next to a fella at a dinner party who happened to be a Zen master," he recalls, "and he leaned over and said, 'Do you realise in many Buddhist circles, the Dude is considered a Zen master?' The movie's all about bringing Buddhist thoughts to the present day. The Dude abides? That's very Buddhist thinking."
When The Big Lebowski first came out, it bombed at the box office, and was met with lukewarm reviews – but it has since become a bona fide cult classic. Hardly a day goes by, says Bridges, when he isn't being asked to sign a bowling ball or recite one of the film's many iconic lines. He doesn't mind one bit. Asked if it would bother him if the first sentence of his obituary referred to him as the Dude, he once said: "Oh, no, that would be great. God, it's a wonderful film."
Still, Bridges is incapable of limiting himself to one role – or even one religion. "I think all the religions have something to give us," he says. "I have gone through periods where I was really into Christianity quite a bit."
There's more to Father Daniel Flynn than a dog collar, though. Or indeed less – as you'll know if you've seen the trailer. By the halfway point, it's hard to believe a word that any of the characters utter. But in a rare truthful moment, Flynn reveals that he is suffering from Alzheimer's. "I wake up some days," he tells Darlene, "and I can't remember who I am."
Bridges researched the disease ahead of taking on the role. What surprised him the most, he says, was the violence of it. "Think how frustrating it must be," he says. "I don't know how old you are, but I'm noticing at my age, I have memory loss. You're asking your brain to come up with a word, and it's just flipping you the finger. So to magnify that 100 times gives you a slight idea, but it's a different thing. It's not like just being forgetful."
Best films on Netflix
Show all 28
Bridges, truth be told, does seem rather forgetful – usually because he's got ahead of himself and veered eagerly off topic. "Why am I talking about that? What was the question you just asked? I got off track..." he says at one point. At another, "What was your question? I had something on the tip of my tongue. Maybe it'll pop up again."
I wonder (apropos of nothing...) how he stops his mind drifting when he's acting; how he manages to stay so steadfastly in the moment. "Does my mind drift to... how does that go again?" I repeat the question. "Ahh, it's not drifting out of character too much, you just don't want to be seen to become a habit. It sounds so corny, but how you start a scene is very important, and for me it's very important to get back to zero, to that empty place where the performance can be as fresh as possible."
He's figured out a number of strange techniques for doing this. "A lot of times I'll purposely confuse myself," he says, "whether it's spinning around, humming a funny tune, just fooling myself a little bit. Acting is fooling yourself to a large extent."
The fear of making a mistake, he says, can be paralysing to an actor. "So you should do something odd, whether it's a somersault or, you know, something that puts you in a certain space to receive what's coming down."
I imagine, though, that it would have been a little jarring to have done a somersault before shooting some of Bad Times at the El Royale's darker, more violent scenes – and there are plenty of them. "If movies are about telling the truth and showing society back to itself," Bridges once pondered, "how do you do that without making people, in turn, imitate that truth?" Did he have to think carefully about the film's use of guns? Particularly given his passionate involvement with the gun-control movement.
"I hope that there wasn't gratuitous..." He thinks for a moment. "You've got to show that violence in order to show the whole picture," he eventually decides, "to tell this story in the most powerful way. Nature – and life – has a violent side to it, you know?"
There have been a few times, recently, when Bridges has been confronted with this in his own life. Earlier this year, his house in California was wiped out by debris flow from a mudslide that killed 21 people, caused by a series of wild fires the previous month. "I had a first-hand experience of climate change," he says. "It brings it home. It makes the whole situation stand out." He became even more convinced that we need to "get busy and turn this thing around".
Recently, he co-produced and narrated the documentary Living in the Future's Past, which reflects on the environmental challenges the world is facing. He hopes it will become part of school curricula. "I love the Earth," he says, "and I want to make it a beautiful place, not only for myself but for my kids, my grandkids, you know, the future.
"I saw it as an opportunity," he continues, "to make a difference, to head towards the image of the world that I wanna create. You've got Trump, and you've got a lot of the politicians who want to take us in another way, and that's inspired me to take action.
"That's the upside of Trump. My personal battle with myself would be cynicism, throwing up my hands – 'What good could the individual do?' But when you see what other individuals are doing, you don't wanna head that way. You better get to work."
When he finished working on the film, he felt more optimistic about where humanity is heading. This is where Bucky Fuller comes in. Have I heard of him? "He's an inventor, scientist, philosopher," explains Bridges when the answer is, again, no.
"His most famous invention is the geodesic dome. He noticed that with the big oil tankers in the ocean, it took too much energy to have a rudder big enough to turn the ship. So they came up with the brilliant, simple solution of adding a little tiny rudder, called a trim tab, onto the big rudder. The little rudder turns the big rudder; the big rudder turns the ship! This is a metaphor, for the way individuals affect society."
With both his choice of roles – through which he holds humanity up to the light and examines all the colours that shine through – and his political and social activism, Bridges hopes he can help make the world's big rudder turn a little more smoothly, and for a little longer.
"I like to think of myself as a trim tab," he says. "We're all these little rudders. We're all individuals. But we're connected – and we can turn the ship, you know?"
Bad Times at the El Royale is released in UK cinemas on 12 October
Join our commenting forum
Join thought-provoking conversations, follow other Independent readers and see their replies