Jeff Goldblum interview: 'I'm on the threshold of doing something better'
The Independent ​sat down with the 'Thor: Ragnarok' actor to discuss Taika Waititi, Marvel and the delights of a personal and professional renaissance at 65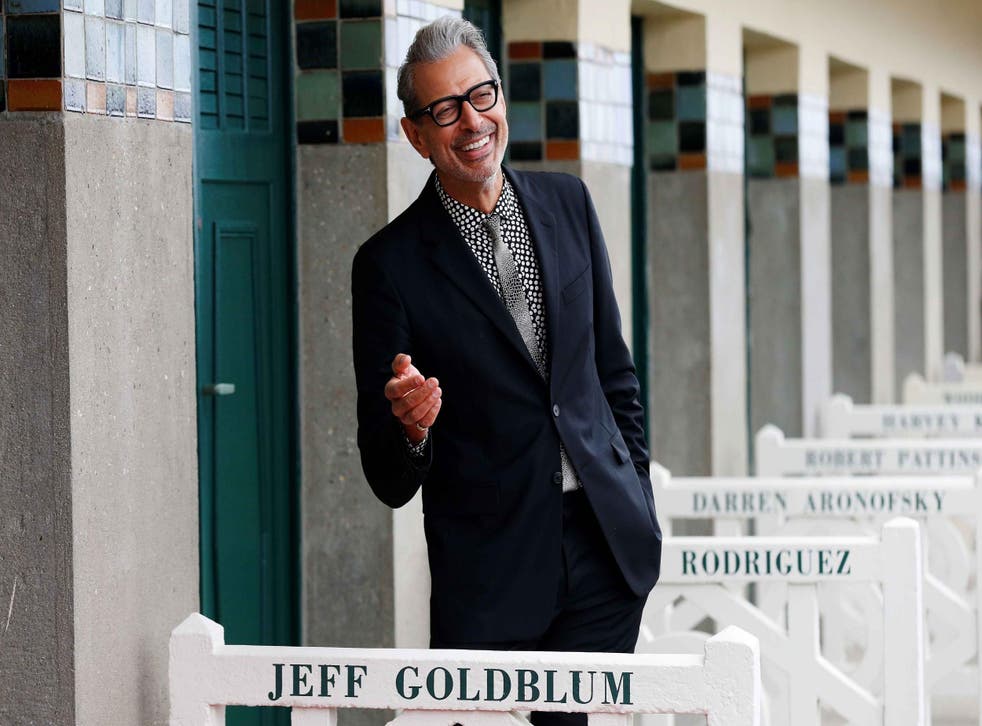 "Wow, you're tall."
Jeff Goldblum, standing 6ft 4in, greets me (6ft 3in) at the door of a London hotel room. "Are your family just as tall?" he asks. I tell him my two brothers are both taller, standing 6ft 5in.
"Taller than you! That's incredible. What do they do?"
One was in a band, the other studies animation. "Amazing. Your parents must be very proud. Did you know I'm in a jazz band?"
I did.
"If you come to Los Angeles, will you come and see us? At Rockwell – just remember 'Sam Rockwell.' I'll give you a doctor's note, telling them you need to get the West Coast air."
How can I say no?
"Make sure to find me, will you?"
So starts my interview with Jeff Goldblum. Actors don't often ask questions at junkets, preferring to move swiftly onto being questioned. But that's not Jeff Goldblum. Instead, the 65-year-old keeps them coming, asking about everything from family to my acting abilities. Cynics may say that he's diverting attention away from himself and merely being charming for a positive write-up. To me, Goldblum just seems downright charming – perhaps I've been duped?
Perched forward on a white chair and wearing a denim jacket/turtleneck combo, Goldblum's promoting Thor: Ragnarok, the most recent Marvel blockbuster to reach cinemas. Directed by Taika Waititi, the wildly fun picture sees Goldblum play the devilishly hilarious Grandmaster, the tyrannical ruler of the planet Sakaar and an all-out pleasure seeker. The role seems very Jeff Goldblum.
"I don't know how much was me," the actor says. "But, Taika Waititi, he's an improviser. He said 'If you want to, I have a notion that we'll improvise a lot. And it'll be a character who will make use of several of the things you do. It won't be comic-book-y. Your character is theatrical'."
Sure enough, when they were on set in Australia, Goldblum was able to improvise, often offering 10 completely differing takes on a single scene. "I would go, 'why don't I say this?' Taika would say, 'dance like I am'. Then I would [Goldblum starts dancing in his chair] until we got kicked off set. We fooled around a lot. I was very anxious to see which version made the final cut. I liked what they used. They took out the bad stuff and made me look OK. Then at the end... did you stay until the end credits?" I did, the scene's great. "That was a kind of improvised thing we did."
Of course, Goldblum has worked on many big-budget pictures before, including Jurassic Park, Independence Day and both their respective sequels. For Ragnarok, everything seems to have been a little looser, the final project having – at times – more in common with an indie movie than $180m blockbuster.
"You can't imagine the team it takes to make these big epic productions," he says. "And add the element of having someone like Taika coming along. It's this free actor workshop. They build in extra time to redo some scenes if need be. On some other things, [Goldblum puts on a stern voice] 'this is your moment and we have to do it now'. It's a little more burdensome here and there. Although, I've been quite lucky to work with Mr Spielberg and Jack Bellicec. They know how to loosen things up, so it's big and it's free."
Being on the set of Ragnarok certainly sounds like a lot of fun, I say. "Do you act?" Goldblum asks. I don't. The closest I've been is directing a small production at school, donkey's years ago. "For the stage?" A stage version of Moulin Rogue. "Like a stage version of the movie?" Exactly that. It wasn't very good. Goldblum starts singing: "La di dah di da, here's my audition for you, so I can be in your next production. I think we'd make a good teeeeeeeeam."
Goldblum certainly doesn't need any more work at the moment. Last year, he reprised his role from Independence Day for the sequel Resurgence. Next year, the actor will once again play Dr Ian Malcolm, this time alongside Chris Pratt in Jurassic World: Fallen Kingdom. Later that same year, Goldblum will voice a canine in Wes Anderson's Isle of Dogs ("Just look at that trailer, he's a brilliant artist," he says of the director). The question, then, is why are we having a Goldblumaissance now?
"It's just about pestering people," jokes Goldblum. "Don't worry everyone, it'll be over soon enough!" The tone shifts to one that's slightly more serious. "There's coming and going, and that includes me. But, I'm sitting up and taking nourishment at this point with much delight. I don't know why I'm so lucky. I'm more grateful, predominantly, than any other colour I can think of. I'm lucky that I've stayed continually active. That's a pretty good trick in itself."
Goldblum studied acting under Sandy Meisner, whose pupils include Steve McQueen, Naomi Watts, Sandra Bullock, and another Jeff (Bridges). Meisner told Goldblum something very early on that stuck with the actor throughout his life: 'It takes 20 years to even call yourself an actor, and then a lifetime to keep getting better'.
"Maybe that has something to do with it," Goldblum continues. "I do aim to... to have a chance to get better. I'm on the threshold of doing something better. I'm enjoying acting, certainly enjoying it more than ever. Maybe babies are lucky. That's what my wife says. We had one a couple of years ago, then one six months ago."
Married twice before, Goldblum never had children before wedding Canadian Olympic gymnast Emilie Livingston. Their first son, Charlie Ocean, was born mid-2015, a year before Resurgence reached cinemas. The pair then had another boy, River Joe, in April earlier this year. "I feel full of vim, vigour, and vitamin A… if that's the right vitamin," he says.
One thing I wonder, after becoming a father and having been an actor for well over 20 years, is whether Goldblum still sees himself as a movie star? "I wouldn't say I am a movie star," he answers. "But, I'll tell you what, it gives me a real thrill when…" He pauses. "I flew here yesterday, and that card you fill out on the aeroplane. I'll be darned when they ask 'what's your first name? Last name? Given name? Where were you born? What's your profession?' I still get a thrill out of just writing 'actor'… Isn't that crazy?"
27 films to look out for in the first half of 2018

Show all 27
Goldblum shares a quick story about wanting nothing more than to be an actor since being 10 years old. "I just wanted to do it the best way," he says. "My father was a doctor. Everyone I knew in Pittsburgh was similar. I was embarrassed to tell anybody until I left for New York. Nobody knew it, because, you know, it was this romantic idea."
Now that he's achieved that dream, does he feel fulfilled? "Fulfilment means you bring an ability to be satisfied, to be fulfilled in any circumstance. You don't wait for the outer confluence of circumstances to go, 'oh, now your fulfilled, I've got the car I wanted, I'm on a date with the right girl'. The talent I aspire to is, no matter what cards present themselves, you're able to find something that you're able to call fulfilment." A moment of reflection. "What do you think of that answer?" I quite like it. "You do?" Very much.
Perhaps then, one should ask which path Goldblum would have gone down if acting hadn't worked out. "I like to play the piano, and having a weekly gig," he says. A rock star or a movie star, I say. "I don't know if I would have been a rock star. I like jazz. I taught acting for a couple of years. I like the classroom, by gum! I like the activity and the challenge of trying to transmit something, awaken that in someone else. That's a fun and worthy thing. My sister teaches, she's a painter, and she makes things all the time. That's a great thing to do."
Someone working for Disney waves around frantically behind Goldblum, signalling that our interview has come to an end. As I begin to leave, I profess that Jurassic Park was one of my favourite movies growing up. The actor begins singing the film's theme song. I ask if he would play a jazz version when I arrive in LA? He begins scatting along to the song. It's all very Jeff Goldblum.
'Thor: Ragnarok' is in cinemas now
Join our new commenting forum
Join thought-provoking conversations, follow other Independent readers and see their replies