Jessica Alba interview: From Hollywood superwoman to household product CEO
How Jessica Alba cleaned up
Gill Pringle
Friday 07 March 2014 09:00 Comments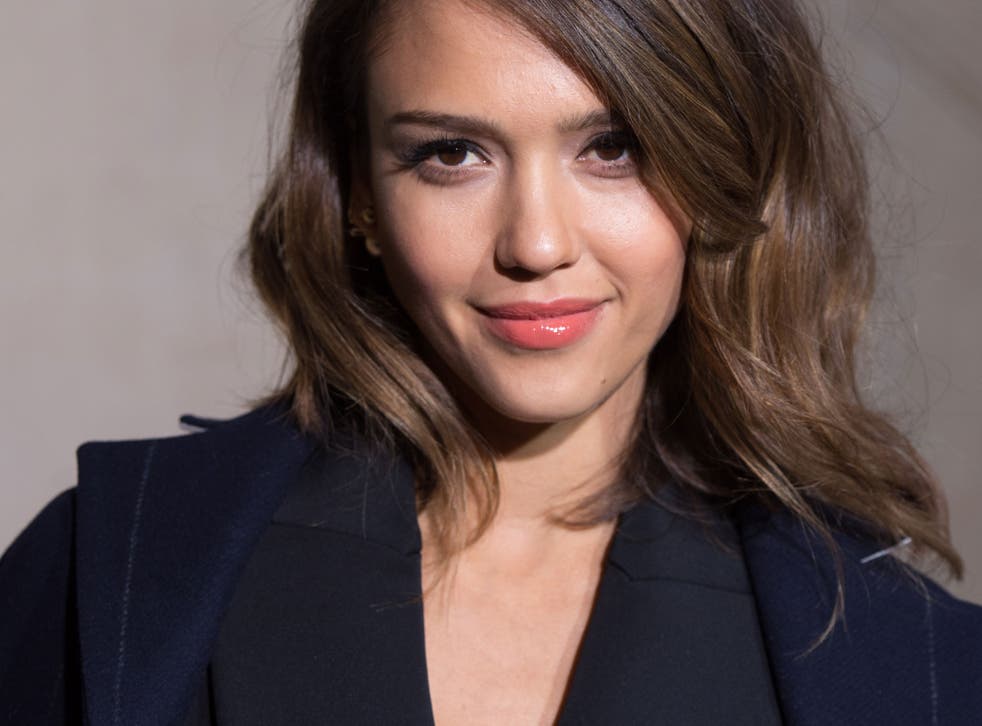 "I can't tell you how great it is to get away with a girlfriend for four days shopping in Paris. Now that's what I call a vacation," laughs married mum-of-two Jessica Alba, who recently sat front and centre at H&M's show at Paris Fashion week.
You might not guess it but Alba, 32, is probably one of the busiest women in Hollywood today, which is why her recent kid-free trip felt like such a delicious indulgence.
Noticeably absent from the screen for the past year, she returns as the voice of an extra-terrestrial villain in animated kids' movie Escape From Planet Earth. And with a further six films lined up during the course of the year, it's not even movie-making that preoccupies this glamorous mum but more her role as boss of a burgeoning business empire employing 100 staff.
She has also blossomed as an advocate for a number of issues including gay rights and global education and, when we speak, she's just putting the finishing lines on a speech she will deliver in New York to fellow female CEOs. Then its back on the plane to Los Angeles to catch up with her family and check into her office at the Santa Monica HQ of The Honest Company, which she launched two years ago.
"We do detergents, household cleaning products, personal care products, diapers and wipes; all non-toxic and hypo-allergenic," says Alba, who herself suffered from childhood asthma.
"It's a game-changer in the family product business. I'm the president and founder and it's grown quicker than we ever imagined. I'm really proud of it. I spend more time at my office now than on the movie set," explains the actress who famously embarked on her enterprise after her eldest daughter, Honor, almost ate her diaper.
She sees no reason why she can't have it all and, thus far, seems to have pulled off a perfect balancing act, returning to the screen in romantic comedy How to Make Love Like an Englishman with Pierce Brosnan, period drama Dear Eleanor and comedies Stretch and Barely Lethal.
Reprising her role as dancer Nancy Callahan in Sin City: A Dame to Kill For , the sequel to Robert Rodriguez and Frank Miller's hard-boiled 2005 cult classic is perhaps her most hotly anticipated role. Rodriguez has been instrumental throughout Alba's career, first auditioning her when she was 17 and going on to cast her not only in Sin City but Machete Kills and Spy Kids: All The Time in the World in 4D.
Sin City 2: A Dame To Kill in pictures

Show all 5
The daughter of an Air Force father and homemaker mother, she was 11 years old when she won an acting competition and was signed by an agent, winning a handful of commercials and TV roles. At 21, she starred as a genetically-engineered soldier on James Cameron's short-lived TV series Dark Angel, which led to her breakout role in Honey, her sexy dance moves sealing her reputation as both sex symbol and action star, then cast in superhero franchise Fantastic Four.
Access unlimited streaming of movies and TV shows with Amazon Prime Video Sign up now for a 30-day free trial
Sign up
Making her animated film debut today with Escape From Planet Earth alongside Sarah Jessica Parker, its something of an understatement when she says: "I never get to do movies that my kids can see. This is really the first one."
The film, she says, has prompted much discussion at home over the existence of life on other planets. "I think it would be weird to say that we know for sure that's there's absolutely none on any other universe. But I'm not sitting here waiting to be abducted by aliens any day soon."
Animation, she insists, is liberating and she views her scheming character in Escape From Planet Earth as less villain and more a strong female. "Especially in entertainment geared toward young people, the women are much stronger than they used to be. There's not really the damsel in distress anymore. I think the stereotype still possibly lives in different genre pictures but, in entertainment for the younger generation, they're used to women being equal and being strong. I think if you don't portray that, it would be kind of weird."
Despite her many provocative scantily clad roles, her no-nudity clause affords her the protection of body doubles and digital trickery.
That being said, she draws the line at her children checking out the rest of her catalogue. "A lot of my films are rated 'R' so there's no way my children will be watching them, not for a very long time. It's not appropriate," says the actress who confesses how, at five years old, she would sneak downstairs and hide behind the couch while her parents watched horror movies like Friday the 13th and Pet Sematary. "I felt like I didn't sleep for my entire childhood. I was freaked out."
Seven months pregnant when she wed businessman Cash Warren, 35, six years ago, the couple are now parents to daughters Honor, almost six, and Haven, almost three years old.
"It couldn't have worked out better actually," she says. "I used to work, basically, 11-and-a-half-months-a-year on location. And now I have an office job."
Not that she's about to quit the film industry. "But I am a lot pickier. Some of my roles only involve three or four days shooting although I'm just gearing up to begin a horror movie, The Veil, which will take a month but its all in California so my kids can come and see me at lunch and I get to see them on my days off.
"Hollywood is a weirdly child-friendly environment because you can bring your kids to the set and they hang out in your trailer whereas a normal business environment is more difficult so I created a kid-friendly zone at my own company with a playground area and nursing room. When you're working at a start-up you spend a lot of time at work - often more time at work than with your family."
Alba is last to claim credit for doing it all by herself. "My sister-in-law's little sister helps us with the kids, and my mom and dad and Cash's family all live nearby and they really help out."
Still boasting one of the sexiest bodies in the business, she shares her current fitness secret: "I'm doing hot power yoga. Its a really fast-paced yoga class with weights to hip-hop music in a steam room. I also take dance classes but if I do any kind of running I use a treadmill because I have bad knees."
'Escape from Planet Earth' is out now
Register for free to continue reading
Registration is a free and easy way to support our truly independent journalism
By registering, you will also enjoy limited access to Premium articles, exclusive newsletters, commenting, and virtual events with our leading journalists
Already have an account? sign in
Join our new commenting forum
Join thought-provoking conversations, follow other Independent readers and see their replies