Jim Broadbent on King Lear, playing against type, and why he still loves 'Moulin Rouge!'
On set with the veteran British actor for the filming of a new TV version of Shakespeare's tragedy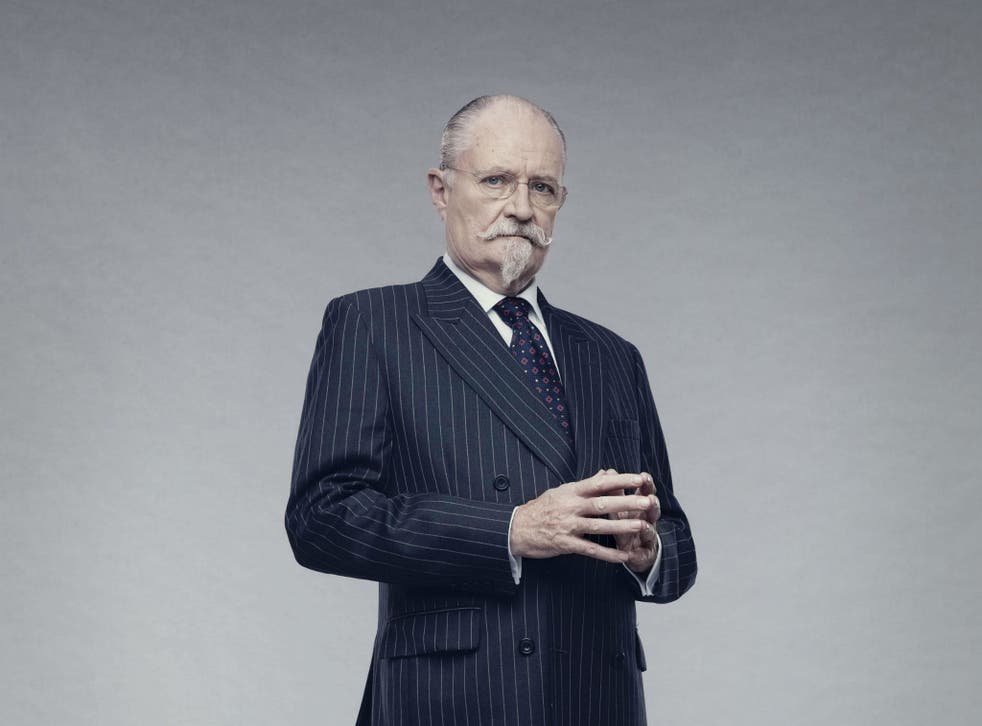 Jim Broadbent has got out his mobile phone and is showing me a picture of his face with his eyes gouged out.
It looks as brutal as one would imagine and Broadbent seems pretty pleased with the results, if not the two hours of make-up he had to sit through to achieve it.
"There is a prosthetic piece over my eyes, so I can actually open my eyes and look out," he says in amazement. "Most of the time it's bandaged up."
We are on the set of a new BBC production of King Lear at Hatfield House on the day they are shooting the pivotal scene in which the elder daughters of the senile royal reveal their true selves. In a stellar cast, Broadbent plays Gloucester, loyal to Anthony Hopkins' Lear, with Emma Thompson, Emily Watson and Florence Pugh playing Lear's warring daughters Goneril, Regan and Cordelia.
The acclaimed former National Theatre head Richard Eyre is directing. It's not the first time they've worked together: he was also at the helm for the 2001 film Iris, for which Jim Broadbent won the Best Actor in a Supporting Role Oscar for his turn as John Bayley, Iris Murdoch's frustrated partner, who must look after her when she is overcome by dementia.
This is a dark and gloomy version Lear, set in the modern world, but coming in at under two hours. Eyre called Broadbent and asked him if he'd like to play Gloucester alongside Hopkins. He didn't have to think about the answer.
"I've done a fair bit of Shakespeare but not a lot," says Broadbent. "It was nice to do Shakespeare with people you know and like, especially when you don't have to do it night after night."
"I saw him as an old-fashioned character in a modern piece. We had brief discussions of the sort of man he was." Think a pinstripe suited politician – although Broadbent refuses to reveal which specific individuals he modelled his Gloucester on.
The 69-year-old also appreciated the fact that, with such an experienced cast, everyone turned up on day one of rehearsals knowing the lines. "I swore that I would never turn up to rehearsals not knowing the lines," he says ruefully.
Access unlimited streaming of movies and TV shows with Amazon Prime Video Sign up now for a 30-day free trial
Sign up
This commitment goes back to 1976. Four years out of a London drama school, Broadbent had given himself a decade-long deadline to make a career out of acting. He managed to secure an agent and a surer footing when he landed a part in Illuminatus! alongside Bill Nighy, in what he remembers to be a 12-hour production by maverick theatre director Ken Campbell (most reports put it at a slightly more sprightly nine hours).
"Campbell loved putting actors on stage and having other people get kicks out of it," recalls Broadbent when we meet again at the Berlin film festival. "In one rehearsal, a guy who had not learnt his lines said, 'Don't worry Ken, it will be all right on the night,' and Ken responded, 'I don't care about the night, I want to have fun now!'
"I got the idea from Ken that it is a game and we will have the best game if you know your lines."
Broadbent would go on to play Arthur the Cosmic Grocer in Campbell's 24-hour theatre marathon The Warp, and I wonder if he is still bit of a rebel underneath, despite a later career that has seem him play a lot of genteel, pleasant characters. He replies: "I'm by nature a conservative (with a small 'c') in a way, but I like to take risks in the work. I do get stimulated by people who are out there a bit more than I am."
On stage he's also worked with Mike Leigh, who put him in Life is Sweet in 1990. By then he had appeared in Terry Gilliam classics Time Bandits and Brazil and the Americans began to take notice after his turn in The Crying Game in 1992. Woody Allen came calling, offering a role in Bullets over Broadway, which he refers to as a "game changer".
I ask if he's been following #MeToo and the accusations against Woody Allen. "I was working with Mia Farrow [on Widows' Peak] when I got the Woody Allen job and I checked it out with her. She said, 'Congratulations, he's a great director, just don't have babies by him.'
"She had just come straight out of court to Ireland where we were filming, exiting the plane with the court transcripts [from the 1993 custody trial] under her arm."
Between 1999 and 2002 he had a purple patch. "Topsy Turvy, Moulin Rouge!, Iris and Gangs of New York... I had quite a run there."
I remind him that Moulin Rouge! was considered a flop at the time: "It annoyed me that it didn't get the recognition it deserved. It was badly timed. It was an odd one for Cannes and it came out at the beginning of the year so that by the time the Oscars came around it had to be relaunched. Then the next year Chicago, which was a very dull musical, got lots of awards, nothing like the vision of Moulin Rouge!."
History has been a better judge. He mentions the Secret Cinema production of Moulin Rouge! and says that he is curious to know what it was like. "It's good that Moulin Rouge! has had that longevity."
More recently he's been wowing audiences with his turns as Samuel Gruber in the Paddington films. "I'm picky and wait for things that I enjoy doing," he says. "Paddington is a delight to do. Director Paul King is a lovely guy to work with. I like working with jolly people."
Next up we will see him in Lance Daly's Irish Western Black 47 set during the Great Famine of 1847. It's a revenge drama in which Broadbent plays Lord Kilmichael, who is at the top of the evil tree.
"Lance was a bit worried that I was too associated with nice guys, pleasant guys and Stephen Rea who persuaded him to send me the script said, 'He's not that pleasant.'"
But, as is Broadbent's style, he doesn't play him as pantomime villain. "He thinks he's the guy who has got it right, that he's the wise one and clever one. He's certain about his position in the world," he explains. "I hope he comes across as misguided and wrong and not heartless and lacking in empathy. He's not evil in that way."
'King Lear' is on BBC 2, 28 May
Register for free to continue reading
Registration is a free and easy way to support our truly independent journalism
By registering, you will also enjoy limited access to Premium articles, exclusive newsletters, commenting, and virtual events with our leading journalists
Already have an account? sign in
Register for free to continue reading
Registration is a free and easy way to support our truly independent journalism
By registering, you will also enjoy limited access to Premium articles, exclusive newsletters, commenting, and virtual events with our leading journalists
Already have an account? sign in
Join our new commenting forum
Join thought-provoking conversations, follow other Independent readers and see their replies