Joel Edgerton interview: 'If you can't fake some sense of enjoyment, go f*** yourself'
The Australian actor had quite a lot on his mind - just not his new films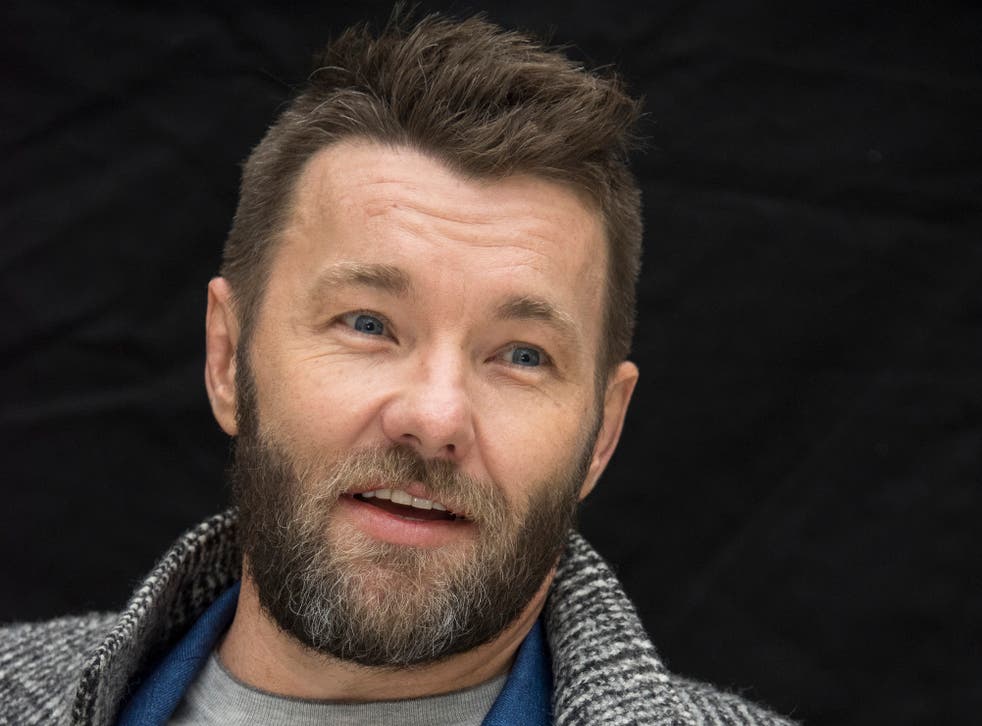 "Jaaaaaaaaaaaacob!" a voice bellows from inside a London hotel room. I enter and greet the summoning source: film star Joel Edgerton - hands buried in the pockets of his trendy coat, a mischievous grin on his face.
The Australian actor is in town to discuss Red Sparrow, a spy thriller - based on the Jason Matthews novel - in which he plays Nate Nash, a CIA agent who finds himself the target of a Russian ballerina-turned-spy (Jennifer Lawrence). Then there's action-comedy Gringo starring an all-star ensemble comprised of David Oyelowo, Charlize Theron, Sharlto Copley and Thandie Newton. It's directed by his brother, Nash.
However, both films are far from Edgerton's mind. Rather than promote the projects, he launches into a spontaneous, unstructured meta-monologue on the process of promoting his films delivered at a breakneck speed that makes you thankful for dictaphones. The ensuing conversation makes for a refreshing departure, bolstered by Edgerton's determination to highlight the ridiculousness of junkets and everything that comes with them.
"Imagine trying to describe being an actor to some future generation or alien race," he ponders before doing just that: '"I pretend to be other people, someone films it and then a year later, I spend a bunch of time talking about how I managed to play another person - but really I'm bragging about myself. Oh yeah, and I get paid for it... and my hands are as soft as a baby's arse.'"
He continues, refusing to let his train of thought be broken while simultaneously encouraging interruption. He enjoys being interviewed if the person sitting opposite him is interesting, Edgerton tells me, a glint of wit manifesting in his eye as I shift in my seat and attempt to steer talk toward his films.
Edgerton's career is the very definition of slow-burn, a small appearance in the Star Wars prequels (he played Owen Lars in Episodes II and III) and key role in Australian TV drama The Secret Life of Us paving the way for higher-profile performances in films including Warrior (2011), Zero Dark Thirty (2012) and Baz Luhrmann's The Great Gatsby (2013).
How does he reflect upon his career to date?
"The vanity aspect in me likes to think that people will look back on my work - well, anyone who cares to look back at it - and go 'Wow, there's some really good and socially resonant movies there.' But I think a real actor ego in me likes to think that people can look back and see a lot of diversity in choice but also of characters."
He's not wrong: hardened criminal Baz in Animal Kingdom (2010), Richard Loving - one-half of the interracial couple at the heart of 2016 drama Loving - and an Egyptian pharaoh in Exodus: Gods and Kings (2014) are three such examples. He even played an Orc in David Ayer's recent Netflix film Bright. Edgerton ascertains he committed to each of these roles for specific reasons and has no time for those who fail to muster enthusiasm for promoting any film they star in.
"Here's the thing: no matter what's in your head about how tough it is, your life is not tough. If you're an actor, you're lucky. If you're getting paid to be an actor, you're lucky. If you're doing well enough that they want you on a junket, you must be doing pretty well so don't complain about that.
Access unlimited streaming of movies and TV shows with Amazon Prime Video Sign up now for a 30-day free trial
Sign up
He adds: "If for some reason you did a movie, you had a reason to do that movie - whether it's creative interest, the people you worked with, or just the money they throw in your bank account. Either way, you chose to do it [and] you're already winning. If you can't fake some sense of enjoyment or appreciation, then go fuck yourself."
His burrowed frow relents, seriousness melding into joviality.
"I tell you what though - no matter what slot you get, if you're interviewing Will Smith, it doesn't matter; he just gives it all. More than any actor I've ever met, he just gives good to everybody. He turns it on and it's natural and well-meaning. I guess Hugh Jackman is the same because I know him personally and know there's not a moment he doesn't listen and tune into who he's with."
A grimace. "But then I look at those ones with Ben Affleck - "Hello darkness my old friend" - and it just reminds me: whatever you do, don't switch off."
I remind Edgerton that Affleck was promoting Batman v Superman after all - surely not even a veteran could fake joy over appearing in that film? While Edgerton's filmography appears to be safe from such blemishes, he assures me it hasn't always been easy.
"I think Jane Got a Gun was one," he admits. "For a start, the film didn't come out for two years after everything and it was plagued by so many problems in between, like day one of the shoot when the director quit and someone else came on board [Gavin O'Connor took over from Lynne Ramsay when she failed to turn up on set]. It seemed everyone was interested in talking about everything that went wrong. Every interview felt to me like I was ragging on somebody and complaining about the way it went down and faking relative enthusiasm for stuff I knew felt like a let down throughout the process. Then no one would believe me when I was being genuinely enthusiastic by certain aspects of it.
"It just felt like the movie was buried," he elaborates. "I think Harvey [Weinstein] had done something with The Hateful Eight that hadn't gone as well as he wanted. If Quentin Tarantino can't make any money, what's a problematic western going to do? That wasn't so fun."
He ranks 2015's indie hit The Gift - his solo directorial debut - as the most fun he's had while promoting a film.
"I was nervous because junkets are all so infused with that nervous energy when you try to read the person opposite you. I got very good at reading the lie."
The psychological thriller stars Jason Bateman and Rebecca Hall as a couple intimidated by a person from their past named Gordo, a role Edgerton played. I tell him The Gift is my favourite film of his.
"Your favourite one I've directed?" No - that he's starred in.
"My big ego is trying to believe you. I don't think it's my greatest performance but I definitely think it's the film I'm most proud of. Of all the movies I've ever been in, it's one of the most critically well-received. [Although] I have a love-hate relationship with critics and tend to not read critical reviews. I won't read any review of Red Sparrow; I'll look at Rotten Tomatoes scores and see the writing on the wall and imagine what's in them. But I don't need to read them. I don't need to either pat myself on the back or kick the dirt or anything in between. It's all individual - people's opinions - and I have my own relationship with the result of the movie.
"But with The Gift, it was a different thing and I felt proud that it had all been worth it and I'd somehow made the right decisions along the way."
He's open to revisiting Gordo, stating: "There are definitely other people in that high school year who probably need revenge." But not before he directs his next film which he describes as being in the same terrain ("a long-drawn revenge story") but altogether much "darker."
What Edgerton does desire, however, is playing characters that allow him to change energetically - something he tells me is a present characteristic in actors that bewitched him growing up.
"I don't necessarily mean people who stick on a fake nose, but those who completely change their entire personality and energetically shift," he explains. "Philip Seymour Hoffman did that for me - look at the difference to his character in Boogie Nights to the difference to his character in Punch Drunk Love: the most awkward, anxious, sweet, desperately in love character to the most self-righteous, arrogant, malevolent, dangerous person. Even his basketball scenes in Along Came Polly. Sadly they're compiled because he's gone but if you look at a highlight reel of him, it's fucking breathtaking. That's what inspired me."
It's here where we're told to wrap things up. 20 minutes doesn't feel like nearly enough time, I complain to no sympathy from my subject.
Actors you think have won Oscars but haven't

Show all 14
"The empathetic part of me feels sorry for anyone who has a five-minute interview. Because I've sat next to actors who are very thoughtful or just hungover who gets asked a question and they're like, 'Hmmm, yeah, yeah' - they think about it, they say four things and then the person's wrenched out of the room. So I try to talk very quickly in five-minute interviews because I want to give a lot. If it's your first, 10th, 40th or last interview of the day, it's such a gamble. It might be good to be the last interview of the day. I could be like 'Woohoo, I'm going to tell you all my secrets.'"
In Edgerton's words, he's "one of the undulating ones."
"You have me at partial-manic-zone. I mean, the fact I yelled out your name at the start..." His eyes widen. "The best ones are manic ones."
Red Sparrow and Gringo are in cinemas now
Register for free to continue reading
Registration is a free and easy way to support our truly independent journalism
By registering, you will also enjoy limited access to Premium articles, exclusive newsletters, commenting, and virtual events with our leading journalists
Already have an account? sign in
Register for free to continue reading
Registration is a free and easy way to support our truly independent journalism
By registering, you will also enjoy limited access to Premium articles, exclusive newsletters, commenting, and virtual events with our leading journalists
Already have an account? sign in
Join our new commenting forum
Join thought-provoking conversations, follow other Independent readers and see their replies