John Travolta interview: Star talks new film The Forger and dealing with the loss of his son
Death is a prominent cloud over all the characters in The Forger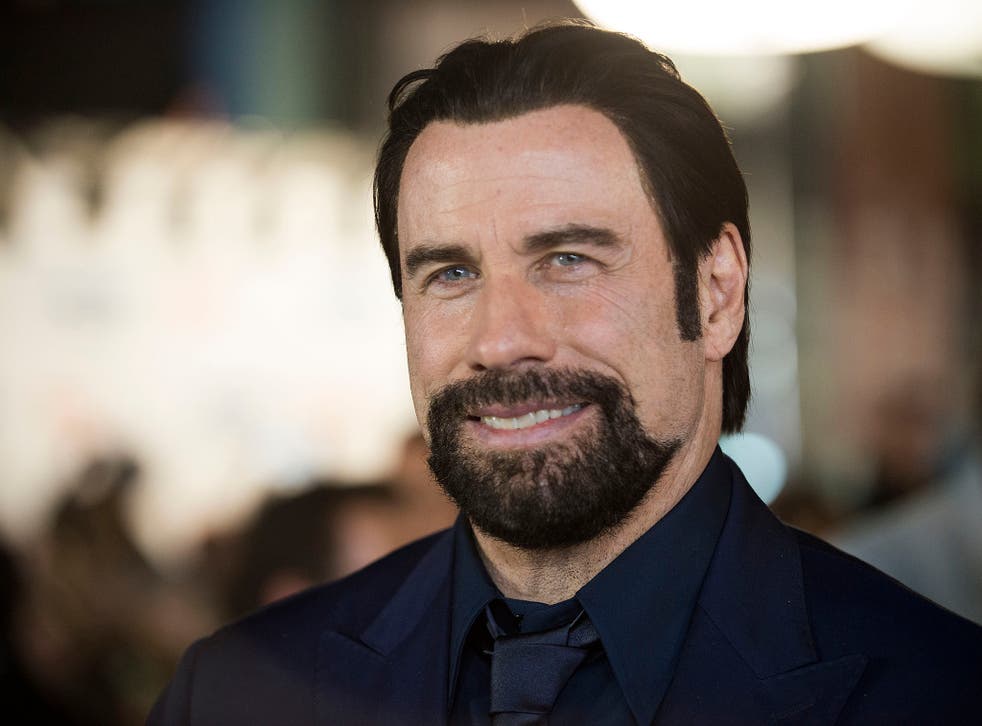 It's easy to see why John Travolta would want to star in The Forger.
He plays the Dickensian-titled Ray Cutter, an art thief who does a deal with the devil to get released from jail so that he can spend time with his son Will, who has stage-four cancer. In return for some precious time with his son, Cutter has to paint a Monet that will be used in a heist. It's Travolta's misfortune that he knows all too well what it's like to lose a son. In 2009, his 16-year-old autistic son Jett Travolta died from a seizure during a family holiday in the Bahamas.
Jett's death made Travolta question everything in his life, including whether he wanted to act. Ultimately he decided the answer was "yes". But other projects, including his biography, got shelved. "After my son passed, I was not in the mood for sharing my life," says the 60-year-old. "It was a good book, but I just decided to stop."
Since Jett died he has had another son, Benjamin, with his wife of 23 years, Kelly Preston. They also have teenage daughter Ella Bleu.
Death is a prominent cloud over all the characters in The Forger, but speaking to me on the day of the film's premiere at the Toronto Film Festival, Travolta says it's a reality that he's been dealing with since his own childhood.
"Well, you're talking about a kid who's thought about life and death since he was five years old. I watched this Fellini movie when I was five called La Strada and I said to my father: 'Why did Giulietta Masina die?' and he said: "She died of a broken heart'. [I said:] 'You can die of a broken heart?' He said: 'Yes, you can be so sad that you can die of a broken heart'. [I said:] 'Without being ill?' [He said:] 'Yes!' It changed my whole life. I never wanted to break anyone's heart, for sure! But it made me consider that. Most kids were considering other things, I was considering Giulietta Masina in a Fellini film."
Growing up in New Jersey, the youngest of six children was considering entertainment from almost the moment he was born. His mother was an actress and singer and his father a semi-professional American footballer-turned-tyre salesman. His elder siblings all acted, so he was just joining the family business when he started singing and dancing on stage. "My mother was an acting teacher," he chirps. "She taught more of the existentialist style, which was that acting is believing that you're in the moment with the other actor, and I like that. I'm more comfortable portraying what I'm feeling at the moment and not knowing what I'm going to do next. My process today is identical."
The technique clearly works. In the mid-Seventies he landed roles in the theatre tour of Grease and on the TV show Welcome Back, Kotter, as well as having a hit single, "Let Her In" reach No 10 on the Billboard chart in July 1976. Then he hit the jackpot, getting nominated for an Oscar aged 24 for his brilliant turn as dancer Tony Manero in Saturday Night Fever in 1977, and appearing as Danny Zuko in box-office smash Grease in 1978. He was the biggest star on the planet.
When I speak to his 17-year-old co-star Tye Sheridan about whether he fully appreciated the status of Travolta when they came to act together, the upcoming star says, "Well I hadn't seen Saturday Night Fever or Pulp Fiction, but I knew him because of Grease."
Travolta says of the enduring popularity of Grease: "Well my films have an interesting continuous effect. Grease for some reason never went away. Do you know that to this day, every year, the Hollywood Bowl charges $275 a ticket to sit in an audience with a 38-year-old film to sing along with it? I've never heard of anything like that in my life. So there is some magic to that particular film. There's other films like The Wizard of Oz and Gone with the Wind that don't end either, but this has a continuous new audience, as opposed to, "oh, that's an old movie". No one looks at that as an old movie. It just keeps on living. That's how I view it, as a gift to the public and myself as an ongoing thing."
Access unlimited streaming of movies and TV shows with Amazon Prime Video Sign up now for a 30-day free trial
Sign up
Yet there was a huge chunk of the 1980s where many people thought that his two dancing hits from the 1970s would be all that he would be remembered for. He had a string of duds, including Perfect alongside Jamie Lee Curtis, and turned down leading roles in American Gigolo and An Officer and a Gentleman. By 1989 his career had reached such a low that he had taken to acting with television stars and babies. Miraculously. Look Who's Talking, a lightweight comedy with a talking baby, became his biggest hit since Grease. Yet any talk of a comeback was soon dismissed by anyone who watched the sequel.
It was Quentin Tarantino who resuscitated his career with Pulp Fiction. Travolta received his second Academy Award nomination playing hitman Vincent Vega. Tarantino played with the fond memories that audiences had of Travolta in Grease and Saturday Night Fever by getting him to dance with Uma Thurman. It was perfect casting and the actor remains full of praise for Tarantino: "Quentin Tarantino takes his time because he's setting you up for a powerful switch somewhere, so when you're lulled into a moment of quietness, time is going quickly because you don't know what's coming next. That's his style. Bergman used to take time, but it always seemed to pay off. If he was moving slowly past the clock or something, it had a metaphoric thing that meant something at the end of the film."
The changing pace of film-making is something that Travolta is not so fond of. "In the old days, you didn't do a movie three times a year; you did a movie once every year and a half or every three years. You had a lot of time between films. I remember taking violin lessons, painting lessons, French lessons, you know, to fill my time. Otherwise you get in trouble. But the memories of all the films are wonderful."
It's why he enjoyed making The Forger so much. He got to indulge in painting. "I went to Hong Kong, and I studied with a famous instructor there, and then in the US with another gentleman. I had studied watercolour years ago because I loved Hopper, Edward Hopper, and my grandfather was a painter, and my brother paints. I took it up as well. But I really wanted to understand what a forger might feel he has to do to duplicate that."
He proves his adeptness by calling over a bodyguard who is holding his phone and pulling up a picture of a forgery he attempted on set. It's pretty impressive. "I framed it and put it up in my house."
In the film, everything about his character's life is a forgery. He says he can relate to this because: "As an actor, you're pretending you're other people. You're actually hired to do it. And how well you do it is how well you research the characters. There it's important. In your own life, I think you have to be very truthful to yourself, for sure. Then I think you have to estimate how truthful you can be to others. I'm not a person who believes in the blunt truth. I think it's bullshit. If you care about someone you can tell them the truth that is caring towards them. You don't have to ruin them with the truth, even if you could. Why? What's the purpose of that? Lying and the truth is an interpretive thing. What would you call it? A variable? You have a child, but you don't tell them the truths about certain things. You don't tell Grandma certain truths because maybe it's not necessary."
There are some who have publicly questioned the actor's handle on the truths. There were two male masseurs who have claimed they had had sexual relations with Travolta but had their cases thrown out of court. And he is currently embroiled in a legal dispute with a pilot who worked for Travolta's aircraft company who claims to have had intimate relations with the actor. Travolta told The Daily Beast, when denying the claims: "This is every celebrity's Achilles heel. It's just about people wanting money."
The other area of Travolta's life that fascinates is his affiliation to Scientology. He was born Roman Catholic but converted to Scientology in 1975 after he was given the L Ron Hubbard book Dianetics while filming the movie The Devil's Rain. Travolta attempted to block an exposé documentary on Scientology being aired on the BBC. Earlier this year, when speaking at the Theatre Royal Drury Lane in a public on-stage conversation, he said that his religion helped him cope with the death of his son: "I will forever be grateful to Scientology for supporting me for two years solid, I mean Monday through Sunday. They didn't take a day off, working through the different angles of the techniques to get through grief and loss, and to make me finally feel I could get through a day."
Religion remains a grey area of his life. It contributed to what many believe is Travolta's career nadir and one of the worst films of all time, 2000's Battlefield Earth, based on another book by Scientology founder Hubbard. Some thought it might break Travolta's career, but as he keeps on proving, no matter what the hardship, the dancing superstar manages to find a way back.
'The Forger' is released next year
Register for free to continue reading
Registration is a free and easy way to support our truly independent journalism
By registering, you will also enjoy limited access to Premium articles, exclusive newsletters, commenting, and virtual events with our leading journalists
Already have an account? sign in
Register for free to continue reading
Registration is a free and easy way to support our truly independent journalism
By registering, you will also enjoy limited access to Premium articles, exclusive newsletters, commenting, and virtual events with our leading journalists
Already have an account? sign in
Join our new commenting forum
Join thought-provoking conversations, follow other Independent readers and see their replies