Jon Hamm interview: 'I'm the same goofy little kid from St Louis, Missouri'
Playing the smooth-talking advertising exec Don Draper in Mad Men catapulted Jon Hamm into the stratosphere. He talks to James Mottram about being typecast as the brooding silent type, losing his mother aged 10, swearing on morning radio, and his new film 'The Negotiator'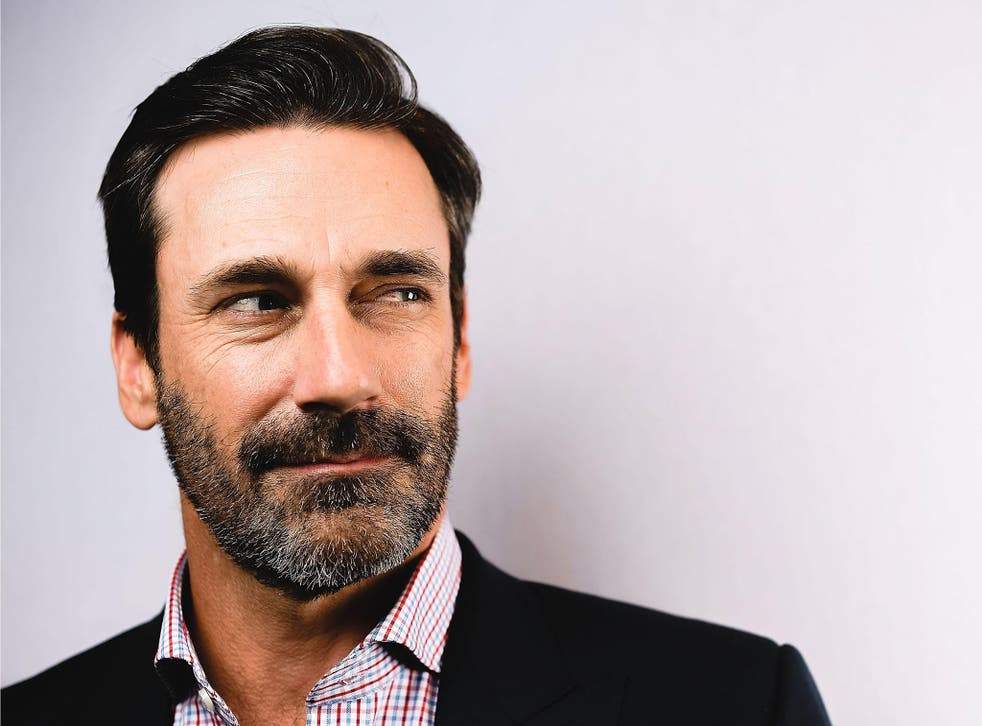 It's been three years since Jon Hamm sunk his last Old Fashioned on Mad Men. Since then he's been doing just about everything he can to make us realise there's more to him than the smooth-talking advertising exec Don Draper. Over here, we've seen him in Black Mirror and Matt Berry's surreal thesp sitcom Toast of London, playing himself. Over the pond he's appeared on Saturday Night Live and Unbreakable Kimmy Schmidt, as the unhinged Reverend Richard Wayne Gary Wayne.
"That's the best part of being an actor, honestly," he explains. "If you wanted to do the same thing over and over again, you should probably go work in a factory of some sort. The good part of what we do is to get the opportunity – if we're lucky – to do different things." Indeed, from playing a Queen-loving bank robber in Edgar Wright's Baby Driver to a hologram-reincarnated dead husband in the sci-fi indie Marjorie Prime, Hamm has been doing anything but conveyor-belt acting of late.
Easier said than done of course; a role like Don Draper sticks like mud. "The way this business works is the thing you get famous for is the thing everybody points at and says, 'OK, you're going to do that for the rest of your life,'" he sighs. "I got known as Don Draper, so everybody wanted to cast me as this brooding, strong silent type, which is fine… except that's my day job, that's what I do all the time." Thankfully, spots on SNL and the Tina Fey-created Kimmy have shown us Hamm with a bit of cheese.
If anything, this comedic detour has been a sharp move for the 47-year-old actor, who spent seven seasons playing Draper – a role that rescued a career from obscurity to win him an Emmy and two Golden Globes. Yet the aura of Draper hangs around the sharply-dressed, impeccably-groomed Hamm. Take his latest film, The Negotiator, a return to the "day job", as he puts it. "It's an old style Sidney Lumet political thriller," he adds. "I'm very proud of it."
When the film was released in America – to "really nice notices" – it was under the title Beirut; now it's been given a slightly more generic-sounding moniker, although Hamm believes it's the sort of film that might have some traction here "because the film business in the UK isn't driven so much by the franchise element". Indeed, it's refreshingly different to the superhero-driven extravaganzas "which seem to be the tenor of most large-scale movies now".
As Mason Skiles, a former US diplomat on the slide, the comparisons to Don Draper are manifold: a world-weary alcoholic, steeped in personal trauma, with self-destructive tendencies. Like Draper, he also talks for a living. But while the ad man sold dreams, Skiles is brought in to negotiate the release of a kidnapped former colleague in Lebanon. "Mason's gift," says Hamm, "is that he's able to talk to people not in a backhanded or sneaky way but by basically saying, 'You have something I want and I have something you want.'"
Pairing him up with Rosamund Pike (whom he met several years ago through Edgar Wright), The Negotiator has already been dubbed Hamm's best big-screen outing yet – even more compelling than his FBI agent in Ben Affleck's thriller The Town. US trade paper Variety compared his part to the Oscar-nominated "fixer" George Clooney played in 2007's Michael Clayton, which was written and directed by Tony Gilroy, who also penned The Negotiator. It deserves to find an audience.
Jon Hamm in The Negotiator

Show all 7
While Hamm can play damaged men so well, his own Missouri upbringing surely gave him the blueprint. His parents divorced when he was young, and his mother died of abdominal cancer when he was 10. "My childhood wasn't the greatest. I lost my Mom at a very young age. I have lovely memories of certain things, but I'm not much of a looker-backer." Shortly after he left home to attend the University of Texas, his father – who managed a trucking company – also passed away.
Even when he took a chance in Hollywood, relocating in 1995 with a car and $150 in his pocket, he was on the margins. Working as a waiter, he found acting roles almost impossible to come by. "I would literally fill out my tax return and go, 'Wow, that is not a lot of money I made this year – I made $2000! I wonder how I ate?'" In the end, Hamm constructed a five-year plan: if he still wasn't working as an actor by the time he passed his 30th birthday, he'd quit.
Access unlimited streaming of movies and TV shows with Amazon Prime Video Sign up now for a 30-day free trial
Sign up
"I just didn't want to be that guy who was constantly chasing something that probably wasn't going to happen," he says. Had he decided on what he'd do if he failed? "I didn't really have a fallback position. But I had at that point taught [acting, at his Missouri high school] for a year… I thought, 'I could do that.' I had a perfectly lovely time doing that." In the end, he made it – just – winning a bit part (as 'Young Pilot No 2') in Clint Eastwood's astronaut adventure Space Cowboys in 2000.
While Mad Men catapulted him into the stratosphere, it hasn't been totally smooth sailing. There was a spell in rehab in 2015, around the time he split from his girlfriend, actress-writer-director Jennifer Westfeldt, after 18 years together (they worked together on Kissing Jessica Stein and Friends With Kids, both of which Westfeldt wrote). Did fame change him? "In my mind, I'm literally the same person I was since I've been cognisant as a human being, which is a goofy little kid from St. Louis, Missouri."
Even now, Hamm is not afraid to talk about the difficult aspects of a life on show. "I don't love going out in public. It's increasingly more a chore because of the entitlement people feel towards your personal life. Everybody is essentially carrying a video camera and a recorder around with them at all times and everyone is a paparazzi. You go out to dinner and people are surreptitiously taking your photo and it becomes a thing and it's a drag."
Now living near Griffith Park in Los Angeles, Hamm isn't about to bemoan his lot, given his past troubles. This autumn, he's starring in Bad Times at the El Royale, a new thriller from Drew Godard, who wrote The Martian, Cloverfield and World War Z. "I have high hopes for it," says Hamm, who co-stars with Jeff Bridges, Cynthia Erivo, Dakota Johnson and Chris Hemsworth in a tale of strangers colliding at a rundown motel. "The stuff I've seen, it looks so cool. Fingers crossed on that one. It was a blast to make."
Even more intriguing is Good Omens, a forthcoming BBC adaptation of the Terry Pratchett-Neil Gaiman apocalyptic fantasy novel. Hamm plays the Archangel Gabriel, alongside David Tennant. He remembers doing a BBC radio show with Tennant and Daniel Radcliffe. "I was like, 'Wow, we have Don Draper, Harry Potter and Doctor Who in the same room! That's a pretty good get for a morning show!' Then I think I said the word 'Shit!' on morning radio. People are eating their morning porridge and I cursed!" Somewhere, Don Draper is smiling…
'The Negotiator' opens in cinemas on 10 August. 'Bad Times at the El Royale' is released on 12 October
Join our new commenting forum
Join thought-provoking conversations, follow other Independent readers and see their replies