Josh Hartnett: 'I'm nervous about Trump. There are a lot of people who feel disenfranchised'
The 'Penny Dreadful' actor discusses his reason for shunning blockbusters, the problem with Trump's presidency bid and his unlikely love for a certain BBC baking competition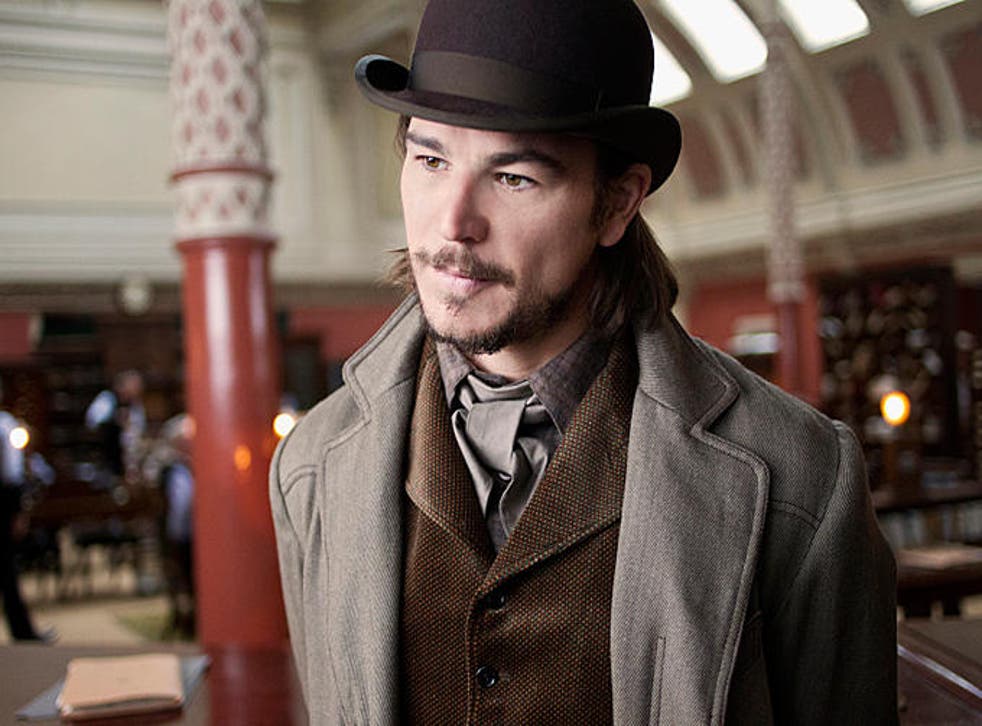 The American actor Josh Hartnett and I are meeting for our interview in what must rank as one of the most ridiculously opulent suites in London.
Occupying a large chunk of the top floor of an upscale Soho hotel, the suite contains more rooms than most people's houses. It features such lavish accoutrements as a pair of carved wooden leopards flanking the sofa (no, me neither). Just to prove quite how splendiferous it is, the suite also boasts a huge shower with a waterproof chair in the middle, lest the process of washing yourself standing up becomes too tiring.
Hartnett confesses that he is not staying overnight here and that he has never in his whole life been in a suite quite so grandiose. "Clearly," he smiles as we take a seat on the laughably spacious patio overlooking the West End, "I'm in the wrong job!"
Although he possesses impossibly chiselled matinee idol good looks, the 37-year-old actor is very far from the cliche of a Hollywood leading man. He is brainy rather than beefcake, more concerned with subtlety than six-packs. His career path indicates a performer more interested in intelligence and indie flicks than box-office and blockbusters.
Hartnett, who hails from St Paul, Minnesota, first came to our attention starring in such major-league movies as Pearl Harbor, Black Hawk Down, 40 Days and 40 Nights and Sin City.
But then, in a move that surprised many within the industry, Hartnett turned his back on big budget movies in favour of more thought-provoking pictures. These include Resurrecting the Champ, a punchy movie about a down-and-out boxing pro (Samuel L Jackson), and Lucky Number Slevin, Paul McGuigan's stylish, offbeat crime drama, which won Hartnett the Best Actor award at the Milan International Film Festival in 2006.
Now Hartnett is once again catching the eye in another unconventional piece. He stars as Ethan Chandler, a troubled sharpshooter turned monster-hunter in Penny Dreadful, the third series of which continues on Sky Atlantic at 10pm on Tuesday and is available for catch-up on NOW TV.
Executive-produced by Sam Mendes (Spectre) and written by John Logan (Skyfall), this drama is a dark and disturbing mash-up of many of Victorian literature's most scary monsters, including Frankenstein's Creature, Count Dracula and Dr Jekyll and Mr Hyde. It emerges that Ethan has a dark side as well; when there is a full moon, he metamorphoses into a werewolf.
Dressed down in a dark blue V-neck jumper over a white T-shirt teamed with black jeans, Hartnett exhibits that same maverick approach today. In a fashion quite unheard of amongst most Hollywood stars, he is humorous and – wait for it – self-deprecating.
Access unlimited streaming of movies and TV shows with Amazon Prime Video Sign up now for a 30-day free trial
Sign up
I congratulate Hartnett, who has a young daughter with his English partner, the actress Tamsin Egerton (St Trinian's), for having the courage to step off the Hollywood blockbuster conveyor belt. But, he replies, "It was selfish as well because it's been so artistically rewarding. I feel like I've had a very interesting career." However, casting me a wry grin, he adds "I don't get to stay in this suite!
"It was a conscious decision that I made a long time ago to do as much experimental work as possible. It's always difficult to get a film together that has the potential both to be innovative and have any box office [success] whatsoever.
"For instance, my next film is called Valley of the Gods. It's made by the Polish director Lech Majewski. John Malkovich, Charlotte Rampling and I are going to do this film and it really has no script at all. Is it going to be nerve-wracking? No, it's going to be very exciting."
He adds that "I'm always drawn to things that are going to be an experience and make me think in a different way. I don't feel any pressure to make Valley of the Gods a box office phenomenon. But that's the problem with the way I've approached making films – at least as far as my agents have been concerned!"
So do Hartnett's agents constantly bang their heads against a wall and say, "what are you doing? Why are you running away from piles of blockbuster money to make low-budget arthouse pictures instead?" "No," the actor laughs. "I've actually changed agents, and my new agents knew what they were getting into!"
Hartnett goes on to admit that having a child recently has made him reassess his attitude to work. "One thing about having a kid is that it makes you think about your financial situation more than you've ever done before.
"I thought that might impede my better judgment about making artistic decisions, but in fact, I'm still making the same decisions – I'm just doing more than I've done in the past. Everything becomes more practical when you're a parent. It's a fantastic motivator. It gives you purpose. There is definitely less navel-gazing going on in my world now."
Not content with giving the usual prepackaged answers that you receive in interviews with some Hollywood stars, Hartnett is more than willing to tackle subjects away from his work.
As a man who has been based in New York for the past 20 years, for instance, he knows all about Donald Trump. He confesses, "I'm nervous about Trump. The top five stories in the New York Times online recently have been about Trump. He gets an inordinate amount of attention.
"If we had something like the BBC in the US, we wouldn't have all those news corporations beholden to their shareholders. Therefore, they would have less fear of losing viewers because of a lack of entertainment. If we didn't have that system in place, then a guy like Trump wouldn't stand a chance because you would actually have to listen to what he has to say."
Hartnett adds that "Trump is very entertaining – and that's the problem. It can be news if you want it to be, but it shouldn't be. It is just entertainment. But the system doesn't account for this reality TV-inspired fervour."
The actor goes on to try and explain why Trump has gained such traction with the American electorate. "There's a lot of fear. There are a lot of people who feel disenfranchised and don't feel they have a voice in our political system. I don't know if that's highly symptomatic of the American political system – some of that discordant feeling is going on here with Jeremy Corbyn and an acknowledgement that maybe the parties weren't necessarily in line with some of the people voting for them."
So what will happen in the US Presidential election? "It's all up in the air and all very scary. I'm assuming that whoever takes on Trump – probably Hillary Clinton – will win the presidency. Then we can look back at this and laugh. And if it goes the other way..." I assure Hartnett that should that happen, he is always welcome here.
The actor already has an affinity with Britons. He says that "what I appreciate about Great Britain is that I can be told to eff off and not even know I'm being told to eff off. At least that way you can pretend that everybody likes you."
Hartnett is especially fond of London. "My girlfriend is English and my child is here. I love London – I think it is fantastic. I've lived in New York for 20 years, and I think of London as the sister city to New York, but it's more comfortable and more villagey here. London is very liveable and there is so much going on here."
That doesn't mean to say that Hartnett does not miss certain aspects of his native country. For example, he was deeply moved by the recent death of his fellow Minnesotan, Prince. "I met him a couple of times, and he was great. Growing up in the Twin Cities in the 1980s, you couldn't not be a fan of his or aware of his influence.
"I love Prince's music. He was a real innovator. He was also avery courageous guy in the way he took on his detractors and the music business. That's a sign for me of a real artist. The most exciting part of being a fan of someone is when they take risks."
Hartnett may well be staying on this side of the Atlantic for a while longer. Penny Dreadful is shot in Dublin, and the two series so far have proved a major cult hit. People have particularly enjoyed seeing the way in which Logan has reinvented so many iconic characters from Victorian Gothic literature.
"Those characters are part of the cultural vernacular," the actor reflects. "We like to riff on things we think we know about. You start with an idea, and then twist it. These characters have stood the test of time, and we thought we understood them. Then suddenly we see a show like this which reimagines them and we get a jolt of excitement."
Hartnett says that he would be loath to bid farewell to Penny Dreadful now. "There are loads of new places to take Ethan. I'd be sad to kiss him goodbye. Of course, I wouldn't kiss him on a full moon – I'd wave at him from a distance!"
Hartnett proceeds to reveal that he's not been working all the time lately. He has somehow found the time to binge-watch an entire series of The Great British Bake Off. "I loved it!" he exclaims. "Most reality TV is firmly rooted in the idea of 'let's create a lot of drama'.
"What I love about The Great British Bake Off is that it's just about baking. It's sweet by nature, so the competitors are also sweet. Would it work in the US? I don't know if it would have the same appeal as we don't have that afternoon tea culture. That's an English thing."
Sadly our time is up, and Hartnett must go. So is he now off to watch another series of The Great British Bake Off?
"No," he deadpans. "I've got to do a couple more interviews, and then I'm going to sit in the chair in that shower and think 'Wow!'"
Penny Dreadful continues on Sky Atlantic at 10pm on Tuesday. It is also available for catch-up on NOW TV.
Join our new commenting forum
Join thought-provoking conversations, follow other Independent readers and see their replies