Judd Apatow on his new Netflix series Love, the Oscars' comedy problem, and those sexism charges
Is Judd Apatow a romantic or a conservative? Jane Mulkerrins searches for answers
Jane Mulkerrins
Sunday 31 January 2016 17:59 Comments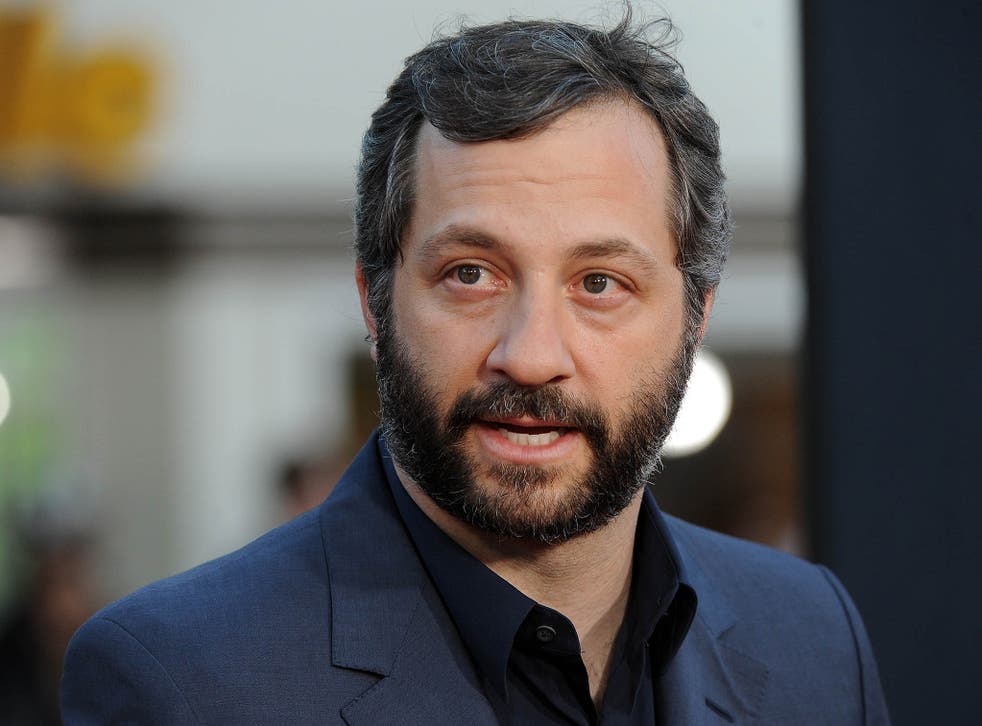 "Almost everything good that's happened in my life is as the result of being bad with women," says Judd Apatow. The Hollywood comedy powerhouse is, I suspect, being a little disingenuous.
After all, he's been married for almost 19 years to the actress Leslie Mann. So, he must have been pretty successful with at least one, I posit. "That's all you need," he grins.
Truth or not, romantic complications have been core to Apatow's work, from his early cult television show Freaks and Geeks to film hits like Knocked Up, This is 40, and last year's Trainwreck, and HBO's Girls, which he executive produces and writes alongside creator Lena Dunham. When we meet in Los Angeles, Apatow is about to join Dunham in the writers' room to begin crafting the sixth and final season, to be broadcast in early 2017. 'There's a natural ending for the show, as the characters near the end of their twenties. But I have no interest in ending it,' he admits, brow furrowed. 'Not having my world be filled with calls from Lena, that's incredibly sad to think about.'
But most pressing is his the launch of his new small-screen project, simply called Love, which brings matters of the heart to the fore: beginning next month on Netflix, it follows two newly-single thirtysomethings, Gus (Paul Rust) and Mickey (Gillian Jacobs), as they negotiate the choppy waters of the dating world in the hipster enclave of East Los Angeles, while getting to know one another.
Love is "less autobiographical" than some previous projects, Apatow says, "but I have been in situations that are not completely different to this, in terms of being a people pleaser, like Paul's character, and wanting to do the right thing, but being very angry underneath". In the first five (of 10) episodes, it seems a gentler and less provocative proposition than Girls, though Apatow promises me it will get gratifyingly dark and weird.
The initial premise for the show was, he says: "What if Knocked Up was a TV series?" In traditional romcom style, that film ended at the point that its two leads finally became a couple. "[But] what if you could show the next day, and the next day, and how that relationship played out?" he wondered.
"When you are in a relationship, for the first year, you are kind of hiding who you are … then slowly, the other person figures it out – and they are really not happy about it, for the most part. And then, you have to decide if you want to heal, or grow, or listen to their complaints.
"I feel like every stage of that is really interesting," says Apatow, who is also, he confesses, "a self-help junkie". "I think one of the reasons why my movies are so long is because I feel that you need more time to explore characters and all of their ups and downs," he says. "So, the idea of doing a show with Netflix is like doing a five-hour movie, which is my dream."
Growing up in Long Island, New York, the young Apatow's initial dream was to be a stand-up comedian, and as a teenager he scored a weekend job washing dishes at the Long Island East Side Comedy Club. Aged 15, he began interviewing successful and emerging comics, including Howard Stern, Steve Allen, John Candy, and Jerry Seinfeld, about their craft.
Access unlimited streaming of movies and TV shows with Amazon Prime Video Sign up now for a 30-day free trial
Sign up
"I would call their publicist and not give them the one important detail: that it was a high-school radio station," he laughs. "And then I would go along with my little portable tape recorder and interview them." Some of those early conversations, as well as many more recent ones, with the likes of Louis C K, Jimmy Fallon, and Miranda July, are collected in Apatow's forthcoming book, Sick in the Head.
What did he learn from those youthful interviews? "The main thing was that it takes a long time. When you're young, you want to be successful right away," he notes. "But people told me: it takes ten years as a stand-up comedian to find your voice. That changed my clock. So, at 17, I thought, well, okay, I'll make it when I'm 27."
He started performing stand-up of his own, then moved to LA to study screenwriting, but dropped out in his second year, and moved into an apartment with Adam Sandler, whom he'd met at the Improv, a Hollywood stand-up venue. "I worked for HBO for free for a year or two, and then eventually I made $200 a week while I did stand-up at night," he recalls. "So, I understand that phase in your life where you're trying to do the thing you want to do, and not have to work too many hours at the thing you hate."
Oscars: 21 great films that never won Best Picture

Show all 23
Indeed, though now only a couple of years shy of his fifties, Apatow says he feels on the same wavelength as the millennial characters of – and team behind – Girls. "The only tension I've ever had with Lena was when I took her to see The Who and she started texting in the middle and I almost lost my mind," he recalls.
Meanwhile he has long championed up-and-coming talent in Hollywood, from Seth Rogen to Dunham and, most recently, Trainwreck writer-star Amy Schumer. A few days before we meet, the Oscar nominations are announced, with Trainwreck and especially Schumer notable absentees from the list, despite the film's critical acclaim. Apatow attempts to sound sanguine but can't entirely hide his frustration.
"I think when comedy is done well, it feels effortless … [whereas] they seem to nominate things that seem like a lot of work. Like, wow, how did they get the bear to do that? [And] People tend to see more overwrought performances as being more valuable and having more complexity," he concludes. "But what Amy did is as difficult as it gets." The next person set for Apatow-endorsed stardom? Dunham's Girls co-star Andrew Rannells, with whom he is in the early stages of a film project.
Not all of Apatow's collaborators have been wholly admiring of him, however. Film-maker Mike White, who co-wrote Freaks and Geeks, has confessed to being "disenchanted" by Apatow's later films, "objecting to the treatment of women and gay men", while Katherine Heigl, star of Knocked Up, famously admitted that she herself found the film "a little sexist".
Indeed, the treatment of women in his films is something that has been picked up on by critics, right up to and including last year's Trainwreck. Many objected to the title, which referred to Amy Schumer's hedonistic journalist protagonist. Was that a just way to refer to a woman who enjoys a drink and a spot of casual sex?
"After The 40-Year-Old Virgin, I'm just like, what is it?" he says. "Girls. What's the show about? Girls. Trainwreck. What is she? She's a trainwreck." I bridle a little. "I think what we were trying to say was that she has certain defence mechanisms for dealing with the fact that she was very unhappy … I don't think that she loved drinking or one-night stands; I just think she was very immature."
Personally, I'm inclined to believe Apatow wouldn't last long at home were he a misogynist, living as he does with Mann and their two daughters, 13-year-old Iris, and 18-year-old Maude, all of whom have appeared in his films. "I'm basically living with three ages of the same woman," he quips.
But is he, as some have said, more broadly, a social conservative, creating stories in which people must end up married, or at least in long-term relationships, for them to be deemed successful and happy? "I don't root for people to end up alone," he laughs. "That's not my instinct. I don't think it is a conservative value to think that most people want to find love and happiness – I think that's just a human value."
In his defence, the money men should also shoulder some blame. "A lot of relationships end weirdly, or uncomfortably, but movies are built for a third act that creates some sort of resolution," he laments. "People worry that if a film doesn't end happily, then the box office won't be big enough. And that removes a lot of possible endings … and that's what's great about what is happening on cable, and on the streaming services; it does not have to end happily."
Meanwhile, he doesn't yet have even a beginning for his next film, he says – though there is one aspect of his work he can guarantee. "I will always be writing people that are a mess," he assures me. "People who have got their act together are not funny. We want to see them in life ... just not in movies."
'Love' launches on Netflix on 19 Feb. 'Girls' returns to Sky Atlantic on 21 Feb
Register for free to continue reading
Registration is a free and easy way to support our truly independent journalism
By registering, you will also enjoy limited access to Premium articles, exclusive newsletters, commenting, and virtual events with our leading journalists
Already have an account? sign in
Join our new commenting forum
Join thought-provoking conversations, follow other Independent readers and see their replies