Director Julia Ducournau on her cannibal film Raw: 'I asked my actor, what do you think in principle about shoving your hand up a cow's arse?'
The French film director's new horror film stars Garance Marillier as a 16-year-old vegetarian who gets a taste for human flesh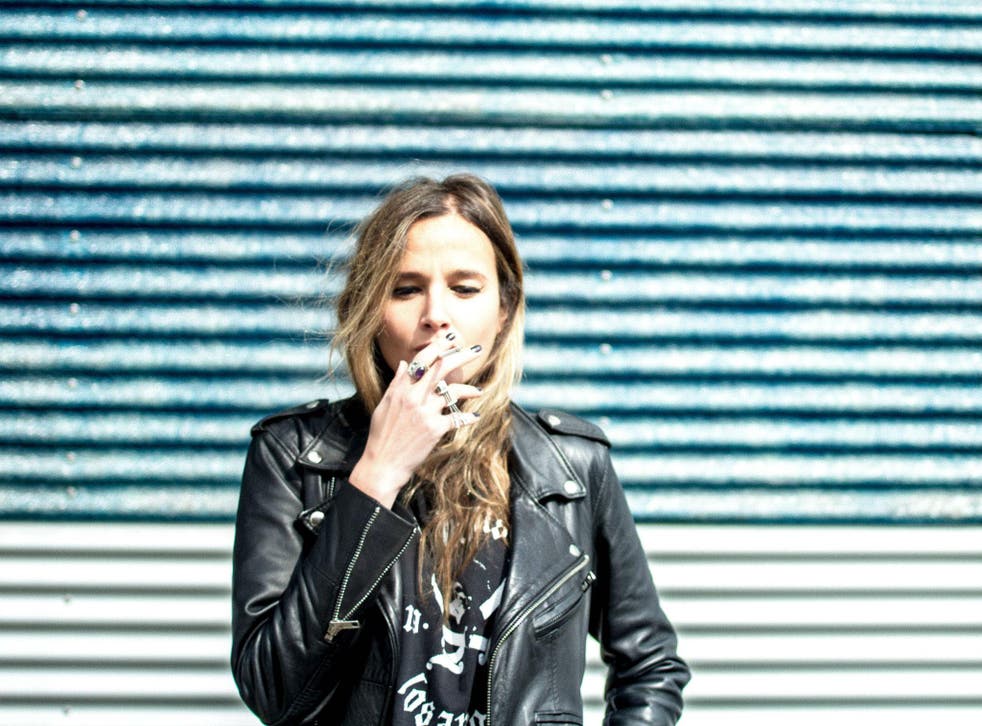 Julia Ducournau is the new scream queen. When Raw screened at midnight at the Toronto film festival an ambulance was called to the cinema after spectators fainted. But what makes Ducournau different from previous scream queens is that the 33-year-old Parisian is not the damsel in distress, but the writer and director of the year's coolest movie.
Raw sees 16-year-old vegetarian Justine (Garance Marillier) eat meat for the first time in her life during fresher's week at vet school. Then she gets a taste for human flesh. But to simply think of Raw as a cannibal movie would ignore the fat on the bone. Beyond the hazing, gory veterinary lessons and the macabre is a movie about sisterhood, womanhood and how society gazes at the female form.
"Cannibalism is really interesting because it goes with my body obsessions," says Ducournau.
And when she says body obsessions, Ducournau explains that this is not about how fabulous she looks, or her diet: "For me when you talk about the body, you talk about much more than the body – you talk about the human condition. So for me the film questions the human condition, it's about mortality, about how do we represent death."
Her goal with the film was to make audiences have a physical reaction: "Then you have shared something with your neighbour in the cinema."
And she has succeeded in taken us on a rollercoaster ride. At the end of the film I looked at the woman sitting next to me, shrugged my shoulders and let out a nervous laugh as way of apologising for all my squealing and cringing.
So does Ducournau have a beef with vegetarians? Is she one? Has she lapsed? Her response is one that shows the calculated manner of her storytelling, one that places a heavy emphasis on cause and effect.
"When I read reactions stating that this is a vegetarian movie, I get very confused," she says. "Her being vegetarian is just a storytelling tool. If you're going to have a character become a cannibal, it's good to have her be the complete reverse of that at the start of the story. It's so funny because if I wanted to make a film about vegetarians than I would have made a whole other movie."
She chose cannibalism because, she said: "I wanted to make a movie about a character who would be relatable and likeable and who in the middle of the movie would do an act that is usually qualified as inhuman. My challenge was to make the audience feel empathy for her, and more than this, to make them understand her, feel for her and in social anthropology there are three taboos of humanity: murder, incest and cannibalism."
Her parents are doctors. The action of her film takes place in a vet school, where it's animals rather than humans being treated. In preparation for the movie she went to classes and watched vivisections and saw how students are taught to handle animals and learn about their anatomy. When it came to shooting scenes, she put the actors in real life situations, horses being put to sleep and on one occasion we get to see Justine put her arm into a cow's posterior.
Access unlimited streaming of movies and TV shows with Amazon Prime Video Sign up now for a 30-day free trial
Sign up
"I just tempted my actor to do it!" says the director. "At first I asked her, what do you think in principle about shoving your hand up a cow's arse? She was a bit scared to start of with, but I would say in the end she actually enjoyed it. Of course it was all done under the supervision of the vets and the other students."
Now I'm cowing in the interview as much as I was during the film. Isn't this all a bit extreme? "No," comes the reply. "For me, for example, it's way more extreme to ask someone to be naked in a lake in winter. That is really extreme for me. It's not comfortable. For the actor, this is a bit gross momentarily, but nothing was at stake here. She said that she was happy that she did it as now she knows how it feels."
Of course mixing real moments with a fiction has its dangers. There is no second take, and if something goes wrong the shot is lost. But thankfully for the director no one passed out while the camera was rolling.
It's also unusual to see hazing in a French film. The brutal rituals usually appear in American fraternity movies. She says that in France such practices do exist: "But they are illegal. The organisers can go to jail and that is why you never hear about it."
It's not something that happened to her but she was interested in the power dynamic: "Some people have power, and some people don't. I thought about Lord of the Flies a lot to convey the idea of blind establishments that make you want to fit in no matter what. I knew that and that instantly my audience would rebel against that because no one wants to be part of this ritual. Instinctively we go against this and I knew it would create empathy."
Everywhere in the movie, there are questions being asked of our prejudices and perceptions. Justine's roommate is gay and the film breaks many gender stereotypes. These can be as simple as seeing sisters play video games together with no men in sight: "It's just that we are not used to this being the way they are represented, which is a big shame, which is why I wrote the characters this way."
The problems she unpicks are universal and it's why Raw has travelled so well: "Honestly, if these were problems that happened only in France, the job would be done. Unfortunately it's worldwide and it's been like this since the beginning of humanity. I think there is something to do against this, and that's why in the end... I can't reveal what happens in the end to your readers – I didn't want to tick boxes about building your own identity. It's a movie about escaping determinism."
Her next movie will be about a serial killer: I'm already scared.
'Raw' is out 7 April
Register for free to continue reading
Registration is a free and easy way to support our truly independent journalism
By registering, you will also enjoy limited access to Premium articles, exclusive newsletters, commenting, and virtual events with our leading journalists
Already have an account? sign in
Register for free to continue reading
Registration is a free and easy way to support our truly independent journalism
By registering, you will also enjoy limited access to Premium articles, exclusive newsletters, commenting, and virtual events with our leading journalists
Already have an account? sign in
Join our new commenting forum
Join thought-provoking conversations, follow other Independent readers and see their replies