Julie Andrews interview: The Sound of Music and Mary Poppins icon on her late husband and losing her singing voice
The 80-year-old actress talks gender and the formidable P L Travers at the New York Botanical Garden
David Usborne
Monday 19 October 2015 23:06 Comments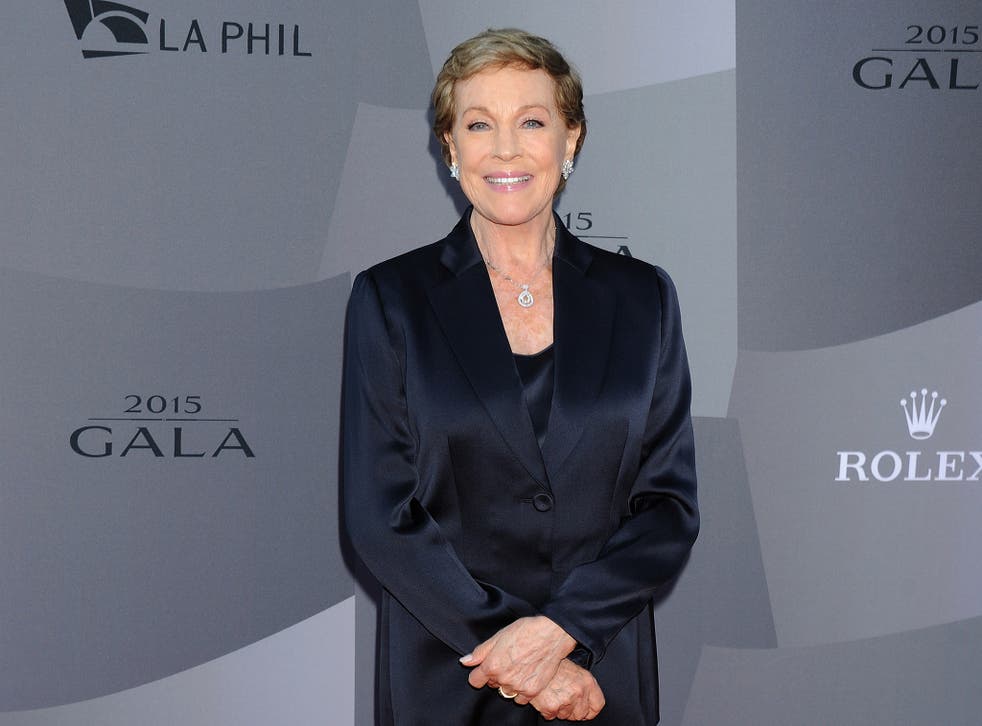 The instructions came at the last moment. Ms Andrews would not be discussing her age or Mary Poppins. Fair enough; there are other subjects to broach with a star of her standing and longevity. But yes, longevity. The day we meet she has just turned 80. And that very morning she'd been on television in New York giving her blessing to a new Mary Poppins film. "It's time," she said.
Ushered by handlers into a room in an old mill inside the New York Botanical Garden where she was waiting, this reporter was thus briefly floored. Maybe just coming face to face with Julie Andrews did it. As Sigourney Weaver suggests later during the same evening, Ms Andrews has that effect on people: "She is someone who even if you don't know her, you kind of grew up with her, so you sort of do."
Ms Andrews, who after the death of her husband, the director Blake Edwards, moved five years ago from Los Angeles to the Hamptons on Long Island, was at the gardens to be honoured for her love of roses. Ms Weaver, in case you are wondering, was there as a member of the Botanical Garden board and avid promoter of everything they offer. Up in the Bronx, they are visited less than they should be.
So it seemed opening with a gardening question was the only option. Andrews, you won't be surprised to learn, has an extraordinarily mellifluous way of speaking. She still sounds more English than the English and is meticulously polite and self-deprecating. "I can't claim to be a very knowledgeable botanist, but I love what I see and what I have." She makes special mention of trees.
Her interest in roses has not been made up for the evening. Institutions like the Gardens will do almost anything to snag a celebrity like Julie Andrews to anchor an evening such as this, the main purpose of which is raising money. When she stands to speak during the gala dinner later, she reveals that she is working on a second autobiography, spanning her arrival in Hollywood in 1963 to star as Ms Poppins to her appearing in Victor, Victoria on Broadway in 1993. As part of her research she found a passage in her diary from 1963 precisely about roses. She read us an excerpt. It was several minutes long.
"Almost every morning when I go to the studio to work," she wrote back then, "I discover a fresh rose in the bud vase on my dressing table… one living and vital thing in a dusty arena of powder and tissue and matches and greasepaint." As her make-up man begins "shaping and shadowing my face into some sense of general prettiness, I have time to marvel at these lovely flowers and to ponder about them."
The dinner tables are silent. Andrews is putting on a carefully rehearsed performance that recalls her talent both as an actress and a writer. (She was on TV that morning to promote the latest in the series of Very Fairy Princess children's books she writes with her daughter, Emma, who is also helping with the memoir.) The diary entry – written 50 years ago – ends with Andrews suggesting she would like to be reincarnated as a rose, but unsure what kind of rose she'd like to be.
"What about those pale pink blooms that are softest, gentlest colour? Well they are just pink and I am reminded of ladies who have the vapours… complain and ultimately are left with no one to mourn them or really care." She settles on "an average garden rose, a common honest flower that in bud may look vaguely peachy-primrose. As its lifespan begins and the sun gently warms, opening it generously and fully to a stretching and vibrant existence one is dazzled by its infinite subtleties... It has nothing to hide and it seems to say 'Savour me, smell me, feel me, pluck me, I am here to give you pleasure, enjoy.'"
The last line is delivered with complete insouciance, as if the sexual overtones had escaped her completely. But in our interview we talk gender, if not quite sex, and eventually Mary Poppins.
Access unlimited streaming of movies and TV shows with Amazon Prime Video Sign up now for a 30-day free trial
Sign up
We get to the former via Victor, Victoria, directed and written by Blake Edwards first for the screen and then Broadway. It was while on Broadway that she began to have trouble with her voice that led her to undergo disastrous throat surgery in 1997, which took her singing voice away (we get to that too). Andrews concurs: the film and musical broke important ice on the topic of gender-switching and transitioning. The musical tells of a broke soprano enlisting a gay actor to help her get work performing as a man pretending to be a woman.
"And that makes me so happy, because the whole movie was about love and loving people," she says. "It's all thanks to my wonderful husband." She pauses. "I'll tell you an interesting thing, though. It was first written in Germany by a man whose name was Reinhold Schünzel, who also wrote the German version of Some Like it Hot. If you think about it, they have very similar themes. But in the German version, in the days that it was written, there was no way to bring forward all the gender themes that Blake then took and adapted and it was his idea to make it that way."
Not out of bounds in our conversation was the issue of her voice. Though you think it might have been. So, the question comes that everyone asks. How is her singing voice today, all these years after the operation that went wrong?
"Well it's pretty nonexistent because I had an operation as you know and it took its toll on my chords, and I don't think I'll ever have that voice again," she offers. "It's nothing that is going to grow back. Unless some kind of miracle stuff is found."
She said she put aside her resentment – she eventually settled with the New York surgeons for an undisclosed sum – after a conversation with her daughter. "Emma, I miss it so," she told her. "And I do, there is no doubt about it. And she said, 'Mum, you have just found a new way of using your voice. Through the books.'"
Live action remakes of animated films

Show all 9
All this is to say, that fans expecting her to reprise the singing concert she gave at the O2 Arena in London in 2010, will probably be disappointed. It seemed tactful not to raise the mostly scathing reviews she drew for it at the time. "It is horrifyingly obvious that, despite knowing the notes to sing, Andrews most resolutely cannot sing almost anything," Vincent Graff wrote in the Daily Mail after she was done. But it is doubtful Andrews has forgotten. "For me it was great, I loved it," she recalls. "I was back home and singing for my home country, but it was a huge arena. But I did love that evening for myself."
As for Poppins, it was in fact her creator, P L Travers, we ended up talking about. Has she seen the film Saving Mr Banks, starring Emma Thompson as the writer and Tom Hanks as Walt Disney, and was Travers really as formidable as the film portrayed her?
"Yes. Tough! And the movie does not pull any punches." She recalls Travers calling her the day after she had given birth to Emma and then demanding they meet for tea. "This voice said, 'Hello, this is P L Travers. Is this Julie?' I said, 'Yes.' She said, 'Well, talk to me.' I said 'I just had a baby yesterday Ms Travers,' and she said, 'Well, you are going to be doing Mary Poppins, right?' And she said 'Well, of course you are far too pretty, but you have got the nose for it.'"
And what had she made of the film once it was released? "I don't think she ever approved totally of the movie," Andrews replies, before releasing what for her seemed like a slightly sly smile. "But she probably cried all the way to the bank, if you know what I mean." Which presumably would be roughly her reaction today, were she still alive, to the news that Disney is planning to raid its vaults to make not just one but possible several new Poppins films. She wrote seven Poppins books.
As for Ms Andrews's age, she doesn't look it.
Register for free to continue reading
Registration is a free and easy way to support our truly independent journalism
By registering, you will also enjoy limited access to Premium articles, exclusive newsletters, commenting, and virtual events with our leading journalists
Already have an account? sign in
Join our new commenting forum
Join thought-provoking conversations, follow other Independent readers and see their replies