Julie Walters : 'There will be another working-class acting revolution'
Ahead of her return in 'Indian Summers', the national treasure talks politics, fame and ageing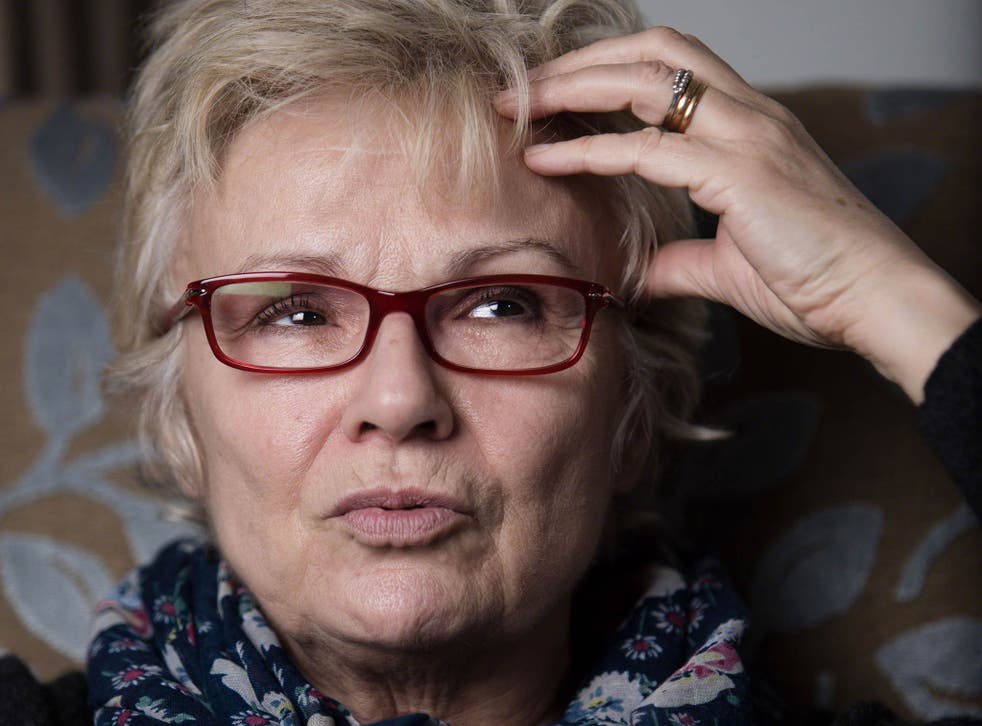 From her stripy velvet armchair in the library of a chic London hotel, Julie Walters is inspecting her black sheepskin boots.
"Everything's got mud on it, honestly! I go to the Baftas, I look down at my dress; mud! It's everywhere!"
How very Walters, that casual mention of Britain's most prestigious film awards, which have been such a staple of her life (she was nominated again this year for her role as an acerbic landlady in Brooklyn).
We were discussing her longest-running role, that of a real-life farmer's wife – her husband, Grant Roffey, turns a profit from rearing and butchering cattle – but stomping the fields and bottle-feeding lambs before heading off to glittering parties is all in a day's work for Walters.
To her adoring public, she is up there with the Denches and Mirrens of her industry, even if Buckingham Palace has yet to dish up the goods.
"The other day, a woman went, 'Well of course, she's a Dame!' And I went, 'NO, I'm not!' And she said, 'I know you don't like to ...' 'No, really I'm not!' And she said, 'Well, I expect you've turned it down'.
And she would not accept it! I had to be one in the end," she chortles amid protestations that she's "not bothered" and doesn't see herself "that sort of material really; whatever that material is".
Despite it all – the awards, the fame, the love – there is still more than a touch of the firebrand who started her career at Liverpool's revolutionary Everyman theatre before she burst on to our screens in Willy Russell's Educating Rita and Alan Bleasdale's Boys from the Blackstuff.
Indeed, the "R" word is a constant during our meeting. She thinks the middle-class grip on the acting world will trigger "another revolution" like the one that catapulted her career, back when "you'd hear middle-class actors trying to sound working class because it was cool, because it was cool to be left wing".
Access unlimited streaming of movies and TV shows with Amazon Prime Video Sign up now for a 30-day free trial
Sign up
"Working-class drama comes out of people being unhappy and angry with the unfairness of life," she adds "and I think that will come again."
At 66, she hasn't lost any of the anti-Tory zeal that helped her pick up her husband in a posh west London bar, 31 years ago. As the infamous story goes, she yelled, "I bet nobody here votes Labour!" Roffey, an AA patrolman, did.
He came back to hers on the pretext of fixing her broken washing machine – and the rest is family history. Today, she manages jibes at Margaret Thatcher, David Cameron, and even the Labour Party, on the grounds of how badly it fought the last election.
Jeremy Corbyn is a "decent man" but, she fears, unlikely to survive. "I don't think he's the man for the job, if I'm honest," she adds ruefully.
Watching Walters talk, is like watching a montage of her own edited highlights. She's feisty, ground-breaking Rita, one minute; and any number of Victoria Wood's comic sidekicks the next.
What you don't get, though, is Walters, the chat-show sofa performing monkey, another role at which she is expert; a memorable recent appearance on The Graham Norton Show saw her copping a feel of the shrapnel lodged in rapper 50 Cent's tongue.
For those performances, she needs the literal fizz from a glass of something bubbly and alcoholic, the only time she drinks these days.
For the record, she finds such shows "demanding". Does she feel herself being wound up like a toy? "Yes, they do that. 'Is there a funny story about …?' 'No'. Life isn't just funny. I've done so many of them; I'm jaded with stories; I can't keep telling the same ones, so I find them a bit challenging."
Musicians and Actors on Growing Old Disgracefully

Show all 5
Still, she can't help herself; those stories keep on coming. With the slightest of nudges, she flits from the menopause – "My daughter once said to me in a restaurant, 'Oh Mum, you've got sweat on your moustache!' Pass me a sharp implement!" – to her horror of cosmetic surgery, with a tale of meeting a celebrity on an American breakfast show.
"Oh God, the face lift! Jesus. It was like a mask. There wasn't a sign of anything. You think, 'Is she feeling anything? Is there anybody behind this?'."
And then there's her dislike of being constantly recognised: at her favourite branch of Wagamama, which she frequents after seeing her acupuncturist, she sits with her back to the rest of the room. Which works fine until a waitress wants a selfie.
She recounts another time when she was stopped by a girl of about 20, who wanted a selfie while Walters was walking up a steep hill, laden with shopping. "I was sweating, and she said, 'Can I have my picture taken?' And I was like, 'Funnily enough, no. Sorry. Bye'.
And I went off up the hill. I felt bad about that after. I should have said, 'Well, you carry my bags up to the top of the hill and put them in my car, and I'll cool down and we can have our picture taken. How about that?' But I don't think she'd have gone for it!"
She is most poignant when talking about her grandmother, upon whom she based her favourite character, the ancient tea lady Mrs Overall, from Victoria Wood's spoof soap Acorn Antiques.
She enjoyed "working out the conundrum" of this slightly scary, disorientated Irishwoman, who'd joined her mother in Birmingham after suffering a series of strokes.
"We found her really entertaining; this person who didn't know who she was or where she was a lot of the time. She'd give us £5 out of her savings; more than a week's wages in the early Fifties for some people.
And my mother would go, 'Whaaaaaat!!!!! GIVE ME THAT BACK!!!!!' I was fascinated by old people. Now I am the age of those parts, I see them and think, 'Oh my God! There I am! I don't need to act any more'." She mimes reading a script. "'An Old Woman'. You think, 'Oh, I don't need to do that! I am old!'"
She must know how popular a Wood-Walters' reunion would be: they first met in 1978 at the Bush Theatre doing one of Wood's early sketches, called "Sex". I'd put money on it happening, but Walters won't be drawn. "Oh, I don't know. I don't know. I'm trying to get hold of her today. Who's to say! We stay in touch, but ..."
Walters' latest screen outing sees her back in 1930s' India for Series 2 of Channel 4's Raj epic Indian Summers.
She reprises the role of manipulative hostess Cynthia, who has left Britain and her working-class roots to run the Royal Simla Club.
She loves Cynthia's "Machiavellian" scheming and their shared working-class background. "I didn't know people like that were out there; I thought only the upper classes ruled the Indians," she says.
Plus, with the series filmed in Penang, the part has given her the opportunity for some "gap year" travelling. She's done Cambodia, Vietnam, and Malaysia, but would like to make it to India.
I wonder if the constant stream of heritage pieces, like Indian Summers, which reviewers dubbed the new Downton Abbey, aren't contributing to a lack of variety on our screens, but Walters is persuasive. "We need more contemporary dramas, probably, but there's nothing wrong with remembering especially pieces of history like that. It's part of who we are today, and part of our relationship with India today."
Another thing that drew Walters to playing Cynthia was that it wasn't a part determined by age. "It's about her, as opposed to someone in an old people's home – God, I get offered a lot of those, and I'd play a good one, but ... you know!"
For her, it symbolises how much the industry has changed. "That there are the likes of Helen Mirren and Judi Dench and Maggie Smith, all still up there; that's different from when I was growing up when it was only people in their twenties and thirties who had anything."
Plenty of time left yet for that DBE, then!
'Indian Summers' returns to Channel 4 on Sunday 13 March at 9pm
Join our new commenting forum
Join thought-provoking conversations, follow other Independent readers and see their replies