state of the arts
Zack Snyder's Justice League was the tipping point where fan passion turned into bullying
When the hashtag campaign 'Release the Snyder Cut' prompted a big-budget return to the director's original vision, it was hailed as a fan victory, but the abuse aimed at female executives means we can do without a rerun, says Louis Chilton
Saturday 03 April 2021 07:51 BST
Comments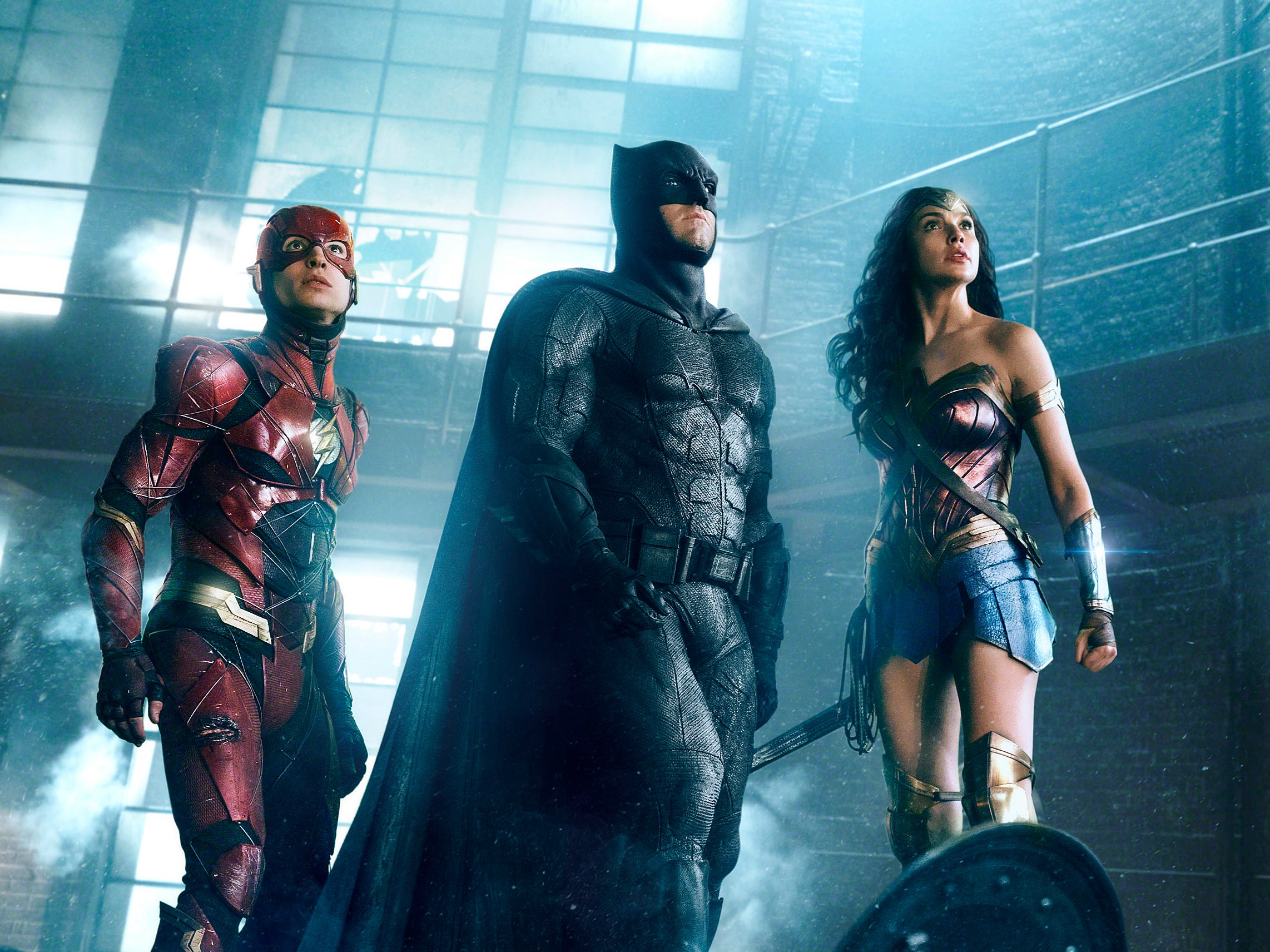 This was supposed to be the end of it. It was an act of appeasement, capitulation to the singular demand of online dogmatists: "Release the Snyder Cut." The cut in question refers to Zack Snyder's Justice League, a lengthy and expensive re-edit of the reviled 2017 superhero film Justice League. And the story of its release – how it was willed into being by a legion of DC Comics fans – is one of the stranger cinematic fairytales in recent memory.
Billed as DC's answer to The Avengers, Justice League was an ensemble piece, bringing together Superman (Henry Cavill), Batman (Ben Affleck), Wonder Woman (Gal Gadot) and others for one extravagant thriller. Snyder, the idiosyncratic filmmaker behind Man of Steel and Batman v Superman, was attached to direct. When the film was already in its post-production phase, however, Snyder quit the project following the death of his teenage daughter. Directorial duties were handed over to Joss Whedon, who had already been working on the film's script amid a creative struggle between Snyder and the studio. Whedon's arrival brought reshoots, and a change of tone – an attempt to graft some of the quippy repartee of Buffy the Vampire Slayer, which Whedon created, and Avengers Assemble, which he wrote and directed, onto Synder's darker, more po-faced material. The eventual result pleased almost no one; Justice League was widely regarded as a dud, both critically and commercially. Thus was "Release the Snyder Cut" born. 
Over the next few years, fans kept petitioning for the Snyder Cut's release – on social media, via fundraising campaigns and even in real-life publicity stunts, such as the hiring of a billboard in Times Square. For them, this was a populist issue. They were fighting the proverbial good fight, against the censorious Warner Bros megalith. Various reports at the time suggested that the cut didn't even exist – or was in a state of such technical incompletion that "releasing" it wasn't a realistic option. Snyder himself rewarded his followers' faith when he shared a photograph of film canisters in December 2019, with the caption: "Is it real? Does it exist? Of course it does." 
Last May, HBO Max, WarnerMedia's proprietary streaming service, finally announced that it would be financing the "Snyder Cut" – a four-hour reworking of the film orchestrated by Snyder himself, complete with new scenes and a radically darker aesthetic. The Snyder Cut wasn't being "released" so much as laboriously and expensively manifested – an undertaking that reportedly cost $70m, and hoisted Zack Snyder's Justice League into the pantheon of the most expensive movies ever made.
The resultant film seemed to be what many fans had been hoping for, and critics were certainly warmer on it than on Whedon's original, if not unanimously so: The Independent's Clarisse Loughrey described the film as an "exhausting four-hour behemoth that doesn't particularly serve anyone outside of the minority that demanded its existence".
There was, however, a sense among many viewers, even those outside the Snyder Cut fandom, that a wrong has been righted. This is partly to do with the recent allegations of abuse levelled against Whedon, including by actor Ray Fisher, whose claims concern his time on Justice League. Fisher alleged that Whedon's behaviour on set was "gross, abusive, unprofessional and completely unacceptable" (a subsequent internal investigation by WarnerMedia ended with the claim that "remedial action" had been taken). Snyder's cut gave Fisher's Cyborg – the film's most prominent Black character – significantly more screen time. 
What's more, data show the investment may have been a prudent one, driving a substantial spike in downloads of the HBO Max app. In the UK, the film debuted on Sky Cinema and streaming service Now TV, which bought the rights at what is presumed to be considerable cost. Per data collected by Samba TV, the film was watched by 954,000 households in the UK within the first week of its debut.
But Warner Bros is also discovering the downside of appeasement: that it doesn't work. Within hours of the Snyder Cut hitting screens, two other hashtags began trending on Twitter: "#RestoretheSnyderVerse" and "ReleasetheAyerCut". The first refers to Snyder's cancelled Justice League sequels, which Snyder had bewilderingly teased in his new re-edit (making subtle reference to Lois Lane's pregnancy and setting up the Thanos-like sequel villain Darkseid). The "Ayer Cut" refers to a director's cut of 2016's reviled supervillain flick Suicide Squad. David Ayer, the filmmaker known for crime films such as End of Watch and the execrable Will Smith vehicle Bright, has thrown his support behind the idea of a new cut, citing studio interference in the original. Speaking to Variety recently, WarnerMedia Studio CEO Ann Sarnoff shut down the suggestion that either proposal was being entertained. Sarnoff referred to Zack Snyder's Justice League as the "completion of his trilogy" and said the company "want different voices in the mix".
In the same interview, Sarnoff addressed the "reprehensible" behaviour of some fans, which included threats made to Warner Bros executives and critics who were perceived as obstructing the Snyder Cut's release. Back in 2018, former DC Entertainment president Diane Nelson even deleted her Twitter account following an influx of abuse from #ReleasetheSnyderCut advocates. Even the most rudimentary study of the #RestoreTheSnyderVerse hashtag on Twitter throws up Sarnoff's name countless times, often attached to vitriol and abuse. It's hard not to connect the sheer volume and intensity of hostility to her gender; the comprehensive majority of SnyderVerse diehards are young men. 
Relative to the total number of Justice League viewers (some 1.8 US million households watched it during the first weekend, and more internationally) or the public at large, the number of people who care about Zack Snyder's unproduced sequels is meagre. It is a fringe fandom that has, with the release of the Snyder Cut, exerted an oversized influence on multimillion dollar decision-making – but they've done so, in part, through inexcusable tactics. It's been framed as David vs Goliath, a victory for the little guy. This is true, I suppose, though David's already back for round two – and if he doesn't clean up his act, everyone'll end up rooting for Goliath.
Join our commenting forum
Join thought-provoking conversations, follow other Independent readers and see their replies