Kenneth Branagh defends Disney Cinderella live action remake: 'I don't find myself so exercised by a desperation to be new'
With his new adaptation of the fairytale, Kenneth Branagh's unlikely conversion into a major Hollywood player is complete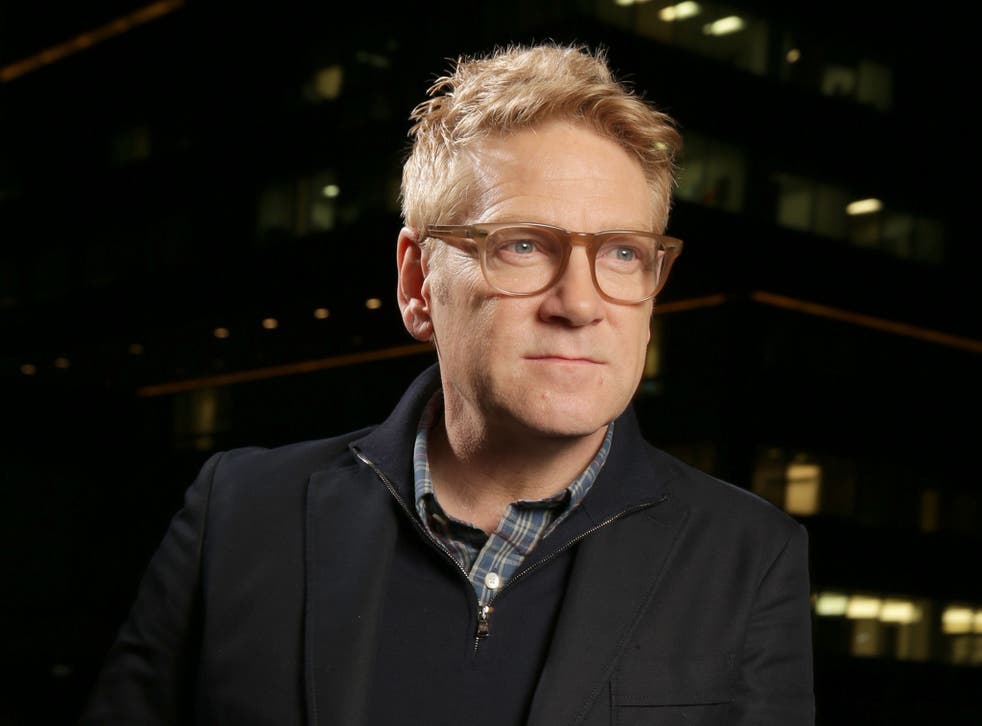 Kenneth Branagh is recalling his first professional gig – as an extra on 1981's Oscar-winning Chariots of Fire. It was £10 a day for two days' work at Eton College. "The first assistant director came on the megaphone and said, 'Hello boys, I don't know if anyone is interested but we have some lines to offer' and I swear to God, I thought I was going to die – the trampling was so instant!" He grins. "It was an interesting lesson in showbiz."
Nor would it be the last in a 34-year career that has shrewdly straddled art and commerce. He's brought Shakespeare to the masses both as actor and director. He's been nominated for five Oscars – most recently for My Week With Marilyn, playing Sir Laurence Olivier, the actor whose career he has closely shadowed. And of late, he's become an unlikely director of Hollywood blockbusters, such as the lavish Disney spectacle Cinderella, which opens here on Friday after smashing the US box office with a $70m opening weekend last week.
We meet in a Berlin hotel shortly after the film's world premiere, the 54-year-old Branagh sporting stubble and a scarf. "I feel as though I've been on a seven-year odyssey that has changed things for me," he says. In 2011, he shed the Hollywood perception of him as "the guy who does Shakespeare" to become the guy who can deliver a $449m grossing comic-book blockbuster, turning Chris Hemsworth into Marvel's hammer-wielding Nordic superhero Thor. "That [film] was a big risk," he notes.
Cinderella film stills

Show all 7
But it wasn't the first. Pre-Thor, in 2007, he signed on for the BBC series Wallander, based on Henning Mankell's bestselling Scandicrime books, playing the eponymous, melancholic, rumpled Swedish detective. "The part required nakedness – you're looking the way you look, a bit older – and the performance required naturalism and intimacy and vulnerability – as little acting as you could possibly get away with." Calling the role "a breakthrough" for him as an actor, it won him two Baftas.
Some would argue that, in the early Noughties, Branagh had begun to coast. His directorial efforts – adaptations of Love's Labour's Lost and As You Like It, his First World War take on The Magic Flute and a remake of Sleuth – had met with critical indifference, while his most memorable acting appearance of the decade was a cameo in Harry Potter and the Chamber of Secrets.
Yet now, Branagh is re-invigorated; and a testament to that is his 2012 knighthood. "It wasn't and isn't about being called a 'Sir', which I do not encourage people to do, and nor do they," he says. "But that recognition was very meaningful for me."
On stage, he's planning a return to the West End in the autumn, directing The Winter's Tale, in which he'll also star, and Romeo and Juliet, while in Hollywood his studio stock will be sky-high after Cinderella, which stars Downton Abbey's Lily James in the title role, Cate Blanchett as the wicked stepmother and old flame Helena Bonham Carter as the fairy godmother.
In an era of revisionist fairytales such as Frozen and Maleficent, it might be a surprise to find that Branagh's take on the story of Cinders and her glass slipper is determinedly traditionalist. "I don't find myself so exercised by a desperation to be new," he says, pointing out that when you mix a fresh cast with costumes and production design by, respectively, triple Oscar-winners Sandy Powell and Dante Ferretti, "all of these things create a new energy".
And while the Charles Perrault fairytale has already been immortalised on screen by Disney's own 1950 animated feature, taking it on held no fear for Branagh, given his experience in re-interpreting Shakespeare. "I choose to be inspired by things that have been done well in the past," he says. "So, I don't worry about being compared, because I think that does paralyse you."
Access unlimited streaming of movies and TV shows with Amazon Prime Video Sign up now for a 30-day free trial
Sign up
What impresses about his Cinderella is its willingness to mix the dark with the light. In the first act, both of Cinderella's parents (Ben Chaplin, Hayley Atwell) die on-screen in drawn-out scenes. "The responsibility of introducing loss on that profound level to children made me understand why fairytales perhaps should not be dismissed [as trite]," he says. "They become ways in which we manage these very difficult life issues when we're involved in talking to our children."
Branagh, married to art director Lindsay Brunnock, has no kids of his own: "There's no mystery," he once said, "it just simply hasn't happened". Were fairytales a part of his childhood? Did his parents read to him a lot? "No, to be honest," he says. "We didn't really have books in the house. We were perfectly intelligent people but … I remember the first book I bought, when I was about 11 … Dad said, 'What have you got that for? What are libraries for?'."
Afraid that this might give the wrong impression, Branagh adds that he "worshipped" his father, William, a joiner, and regrets that he "never inherited any of his practical skills". Born in Belfast, the middle child of three, Branagh junior was aged nine when his family relocated to Reading to escape the Troubles.
His first bit of acting was to exchange the Irish accent for an English one so as to fit in at school; then, after performing in a school play, a teacher encouraged him to consider going pro. "That was a revolutionary thought," he admits. From the age of 16 to 18, he haunted libraries and second-hand bookshops, devouring anything he could find about the world of theatre. His parents were "confused", he admits. "This was a world of such strangeness, they really didn't understand. My dad, for the first 15 years of my career, on every visit he made to a play or a film set, would find the oldest person on set and say, 'Do you think my son has a future?'."
That's putting it mildly. At 25, after studying at Rada, Branagh set up his own theatre company, Renaissance, and just three years later, in 1989, kicked off his film-directing career with a bombastic adaptation of Henry V. "Seemed crazy then, seems crazy now," he remarks, but it won him a Bafta for Best Director and two Oscar nominations, for Best Actor and Best Director. That same year, he married Emma Thompson, establishing them as the British arts' No 1 power couple, and he published his autobiography, Beginning.
However, Branagh's perceived hubris inspired a brutal media backlash, much of it directed at his 1994 film Mary Shelley's Frankenstein, in which he co-starred with Robert De Niro. "There seemed to be a certain relish, a certain glee … in the high-profile disaster it appeared to be," sighs Branagh. "Nobody died. But it was personally very wounding." It didn't help that Branagh was having an affair with his co-star Helena Bonham Carter; he divorced Thompson in 1995 and spent five years with "Heli", as he affectionately calls her now.
As "Ken & Em" dissolved, so did his status as British film's golden boy. But all these experiences taught him to accept constructive criticism. "I'm very pleased to have got to a place in my life where I feel that, rather than just resentment or hurt." He pauses. "I don't know if that's about getting older and wiser."
'Cinderella' opens on 27 March
5 key Branagh-directed films
'Henry V' (1989)
Branagh made his feature film directorial debut with Shakespeare's stirring royal history play. He cast himself as the youthful King Harry in the footsteps of Larry (Olivier) and engaged in bloody combat against the French, giving a most rousing version of that St Crispin's Day speech: "We few, we happy few, we band of brothers ..."
'Peter's Friends' (1992)
He lightened up for this comedy about a group of Cambridge University friends who gather on New Year's Eve at Peter's (Stephen Fry) large country house 10 years after graduating – to hear him reveal a hocking secret.
'Mary Shelley's Frankenstein' (1994)
An unfairly-derided big budget flop, Branagh's adaptation of the classic gothic novel also saw him enjoy his career hot-totty moment as the titular scientist, seen sweaty and stripped to the waist. Robert De Niro was equally buff as The Monster.
'Hamlet' (1996)
One of six Shakespeare film adaptations that Branagh has directed, this saw him play the "sweet prince" of Denmark in a fresh and original production in which terrific rapid editing combined with clever staging – Hamlet's "To be, or not to be ..." soliloquy is delivered to a mirror, thus reflecting the character's indecision.
'Thor' (2011)
For many, Branagh was a surprising choice to steer a blockbuster superhero action movie, but this story's origins in Norse mythology (albeit by way of Marvel Comics) perhaps explains the attraction. He made a terrific job of directing Chris Hemsworth as the reckless Thor, a god who is cast out of the heavens, and brought out the story's fish-out-of-water comedy.
By Veronica Lee
Join our new commenting forum
Join thought-provoking conversations, follow other Independent readers and see their replies