Kristen Stewart interview: Twilight star talks new film Clouds of Sils Maria, tattoos and the dark side of celebrity
Stewart is made of much firmer stuff than during her fragile Twliight days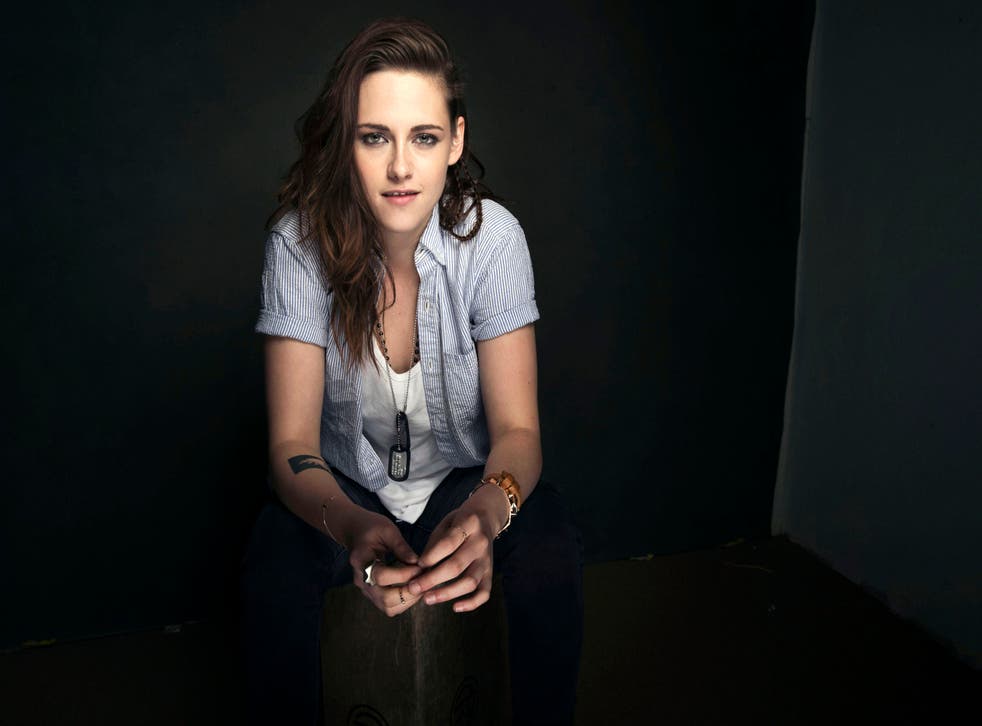 Twilight made Kristen Stewart one of the most recognisable people on the planet.
It helped that life also mirrored art; as the onscreen relationship between Bella Swan and Edward Cullen developed so too did that of Stewart and her British co-star Robert Pattinson. They even got abbreviated nicknames – the ultimate celebrity status symbol – and the internet was alive with talk of K-Stew and R-Pattz. What would happen when Twilight ended, fans wondered. The answer was a very public break-up, seemingly precipitated by Stewart being photographed kissing Rupert Sanders, her British director on Snow White and the Huntsman.
Given this context, Stewart's performance in Clouds of Sils Maria takes on added meaning. The French-set drama deconstructs the media's reaction to celebrity. Stewart plays Val, American assistant to a superstar actress Maria Enders, played by Juliette Binoche. Enders is at a career crossroads, bored of making the occasional Hollywood blockbuster and with European art-house hits few and far between she is faced with the conundrum of whether to accept a part in the revival of the play that made her famous. The twist is that this time round she has been asked to play the mother and not the starlet. To add a further layer to the fact-versus-fiction underbelly, the film's director Olivier Assayas wrote Rendez-vous, the 1985 film that launched Binoche. The key scenes of Sils Maria are numerous discussions between Maria and Val, about life, love and art.
"Oh dude!" says Stewart (Americanisms such as "dude" and "it's like" litter the 24-year-old's speech). "This part is so perfectly timed and coincidental, it's so perfectly cast. Olivier didn't write it with me in mind, but as soon as he and his producer Charles [Gillibert] were considering casting this part – I had worked with Charles on On the Road – they sent me the script and it was, like, 'God, this is perfect'. It's just so much more relevant for me to say these words. It's not why the movie was made, but it was really fun to say in a film, out of the context of an interview, that it is so ridiculously scary, weird, super-surreal and odd that people are obsessed with voraciously consuming bulls**t."
Part of this bulls**t, says Stewart, is the public image that the media gave to her. "Initially, and I'm not saying anyone's public image of me is wrong, that would be a silly thing for me to say, but I was deemed very ungrateful [for my success], like I didn't care." At this point, Stewart gets very animated, her tiny frame growing as she raises her voice. "Do not think I didn't care, it was because I was nervous and freaking out that everyone was staring at me all the time."
I've chatted to Stewart twice before, the first time on the set of Adventureland when she was 17, just before Twilight changed her life, and another when helping out on an interview she was doing with Stephenie Meyer in 2012. The second time she struck me as incredibly fragile, both times she was nervous. She is now made of firmer stuff, her whole demeanour far more confident.
"I totally have changed, just in the way that I can deal. It's not like they weren't right or weren't wrong, it's just that I wasn't conveying myself as easily. I was just so overwhelmed. Now I'm a little older and more experienced, it is easier to talk to the media about this stuff, but initially it was kind of impossible. If you are put on this spot you can't think, it was just like an excessive and ridiculous version of that, and it blew up in my face. It's just hilarious this perception that I don't care, because when that was happening I was like, 'Oh my God, no one cares about me. Like help!'"
She has had assistants in the past and says that fame can cause actors to become over-reliant on them: "Actors become super-isolated. Again, I'm not complaining about it, it's just that you have a very unique perspective on things because people don't talk to you, they feel like they are not allowed to come up to you and say 'hi'. So suddenly you're incredibly lonely and people hire friends to have and what happens is the lines get blurred between co-workers and friends."
The line can sometimes get blurred between character and real life, too. While filming Clouds... Stewart decided to have fake tattoos to give a hint of Val's past. When the film finished she exchanged one for a real tattoo. "It's part of Guernica, a Picasso painting that I saw when I was 18 in Madrid and it floored me. It was the first time I've ever responded to a piece of art like that. It's a sort of dismal depiction with this little shred of light – if you just turn the light back on everything will be fine. I like the imagery, the combination of the eye, the sun and the people as a light bulb as if they are making a movie. Literally, it's just perfect for me. I love the memory and the idea: keep going, keep the f**king light on."
Stewart is adamant that she takes on roles out of personal desire and not just to create product. In addition to Sils Maria, she has played Marylou in On the Road, Joan Jett in The Runaways, and a stripper who takes in an older client (opposite James Gandolfini in one of his final performances) in Welcome to the Rileys. Her next film, Camp X-Ray, sees her play an American private alongside A Separation star Peyman Moaadi, who plays an innocent man sent to Guantanamo Bay. There is also Still Alice, an adaptation of Lisa Genova's novel about Alzheimer's disease. Back on more mainstream ground, she will soon reunite with her Adventureland co-star Jesse Eisenberg in stoner comedy American Ultra.
As if that was not enough, she has just made her first foray into directing. "I've recently directed this music video [Sage + The Saints' "Take Me to the South"] with my friend [David Ethan Shapiro]. It's something that I did in four days, a fun story that pertains to her song. But I'm not trying to show anyone anything, yet it will get attention it probably would never normally get."
Getting attention is something that Stewart has done ever since she appeared in David Fincher's Panic Room aged 12. "I am really lucky. My mum and dad work on film crews. So I grew up on film sets and the family friends would always be the directors that my mum was working with, or whatever." Aged 13, she appeared in a film, Speak. "My parents had the coolest job in the world. I wanted to be a crew member but at that age the only job you can do is be an actor... So then I became really serious about it."
'Clouds of Sils Maria' plays at the Toronto Film Festival and will be released next year
Register for free to continue reading
Registration is a free and easy way to support our truly independent journalism
By registering, you will also enjoy limited access to Premium articles, exclusive newsletters, commenting, and virtual events with our leading journalists
Already have an account? sign in
Register for free to continue reading
Registration is a free and easy way to support our truly independent journalism
By registering, you will also enjoy limited access to Premium articles, exclusive newsletters, commenting, and virtual events with our leading journalists
Already have an account? sign in
Join our new commenting forum
Join thought-provoking conversations, follow other Independent readers and see their replies