La Famille Bélier is being touted as this year's Amelie - so why are many in the deaf community outraged by it?
The new film, which opened across France tonight, tells the story of a deaf-mute farming family and has been sold to 85 countries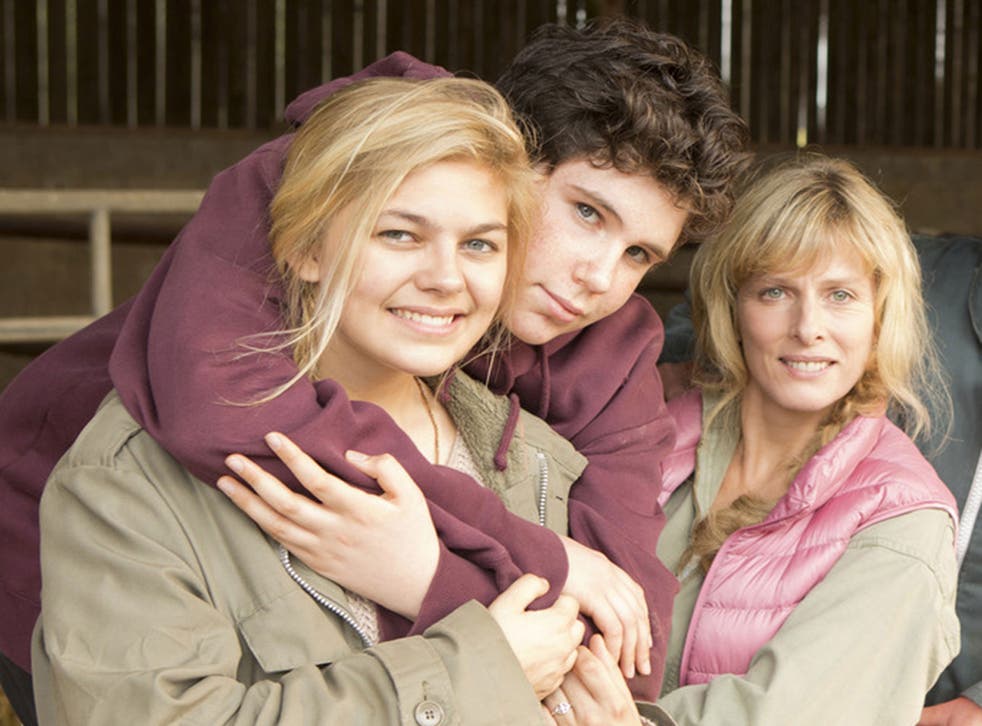 If any country is in desperate need of a feel-good film this Christmas, it is an angry, struggling France. If any cinema industry is in need of a box-office office triumph after a flat 2013-14, it is the French cinema industry.
The advance buzz for La Famille Bélier, which opened across France tonight, has been extraordinary. "Here is a film that makes you laugh, makes you think and occasionally makes you cry," said the newspaper, Le Parisien.
Even before it opened, based on advance viewings and test screenings in the provinces, the movie was predicted to be the next big French hit, following in the steps of The Artist (2011), Intouchables (2011) and Amélie (2001). On the basis of the trailer alone, the film has been sold to 85 countries. A Hollywood remake is planned.
The film tells the story of a deaf-and-mute farming family with a 17-year-old daughter who can not only hear and speak but sing, beautifully. Paula Bélier's decision to leave home to become a professional singer is a sweet calamity for her parents. Their daughter is their mouth and ears. They want her to succeed but cannot comprehend her talent.
Advance acclaim for the film has, however, fallen on deaf ears in one constituency in France: the five million French people who have hearing difficulties and the 500,000 who cannot hear at all. Some – but not all – activists for the deaf are angry that two well-known actors with perfect hearing were cast to play Paula's parents who are Deaf Sign Language users. They also complain that the deaf characters are the main source of comedy in the film.
Karin Viard (who plays Paula's mother, Gigi Bélier) and François Damiens (her father, Rodolphe Bélier) were given a crash course in sign language. The results to those fluent in signing are said to be absurd, as if James Bond were to say "shaken not stirred" in a deep Russian accent.
"The actors sign like pigs," said Emmanuelle Laborit, a deaf French actress, who is director of the International Visual Theatre. "It is as if they were foreigners who can't speak French properly. Would we allow actors to black up to play a black character?"
Several senior figures in the French deaf community have decided to boycott the film. Hélène Champroux, who campaigns for French sub-titles in French cinemas, was disturbed by what she saw at an advance showing. "All the deaf characters are over the top. The hearing characters are more normal. Why is that?" she asked.
Other deaf people disagree, vehemently. They say that the comical body language of the actors accurately conveys the way that people with impaired hearing sometimes have to exaggerate their movements to be understood.
Access unlimited streaming of movies and TV shows with Amazon Prime Video Sign up now for a 30-day free trial
Sign up
Viguen Shirvanian, a deaf cinema critic, says: "I found François Damiens especially to be astonishingly believable in his gestures. There is nothing shocking in casting non-deaf actors. Did anyone complain when François Cluzet played a paraplegic in Intouchables?"
Karin Viard is a popular comedy actress in France and often plays nervous, in-your-face characters. Her portrait of Paula's mother Gigi – an aggressive, funny, emotional woman with a heart of gold – is a typical Viard performance.
She makes no apology to her deaf critics. "Deaf people don't go in for politeness and diplomacy," she says. "They are like energetic clowns, who use their bodies to express themselves. Just like me."
Both Viard and the Belgian actor François Damiens have won high praise for their performances from hearing critics and filmgoers. So has Louane Emera, the 18-year-old newcomer who plays Paula Bélier.
The film's director, Eric Lartigau, had great difficulty in finding a young French actress who could also sing. A friend advised him to look at tapes of The Voice, the French version of the television talent show also seen on UK screens.
He stumbled on Emera, from a large working-class family in norhern France, who was eliminated in the 2013 semi-final. Lartigau went to see her the following day and told her that she was starring in his next film. She accepted enthusiastically.
The other star of La Famille Bélier does not even appear in the film – Michel Sardou, an ageing, middle-of-the-road French crooner who is scarcely known outside the Francophone world. The music teacher who recognises Paula's talent (played by Eric Elmosnino) is an unconditional Sardou fan.
He tells his doubting class: "Michel Sardou is to French song what Mozart was to classical music." All the numbers sung by Paula – in a raw but beautiful voice – are Sardou classics. The most moving – "Je Vole" (I am flying) – is about a young person leaving home and moving on, just like Paula Bélier.
Whatever British cinemagoers make of the film next year, they will reach for their hankies in their thousands when Emera as Paula is asked by her deaf, bearded dad to find some way to convey to him her love of singing.
She sings "Je Vole" into his mouth while he hugs her so that he can feel something of the rhythm of her voice through the contact between their bodies.
French filmgoers are perverse. Films that are flagged as blockbusters often flop; some of the great successes of recent years, such as Amélie, received little advance hype.
La Famille Bélier, like many French comic films, lacks subtlety and polish. All the same, as Shakespeare says – "You've seen how it can rain while the sun shines?" – laughter and tears are an irresistible double act.
Register for free to continue reading
Registration is a free and easy way to support our truly independent journalism
By registering, you will also enjoy limited access to Premium articles, exclusive newsletters, commenting, and virtual events with our leading journalists
Already have an account? sign in
Register for free to continue reading
Registration is a free and easy way to support our truly independent journalism
By registering, you will also enjoy limited access to Premium articles, exclusive newsletters, commenting, and virtual events with our leading journalists
Already have an account? sign in
Join our new commenting forum
Join thought-provoking conversations, follow other Independent readers and see their replies