La Haine at 25: The prophetic French classic whose message fell on deaf ears
In the eyes of its director, Mathieu Kassovitz, we should all have moved on by now. Clarisse Loughrey explores why we haven't
Tuesday 02 June 2020 19:37 Comments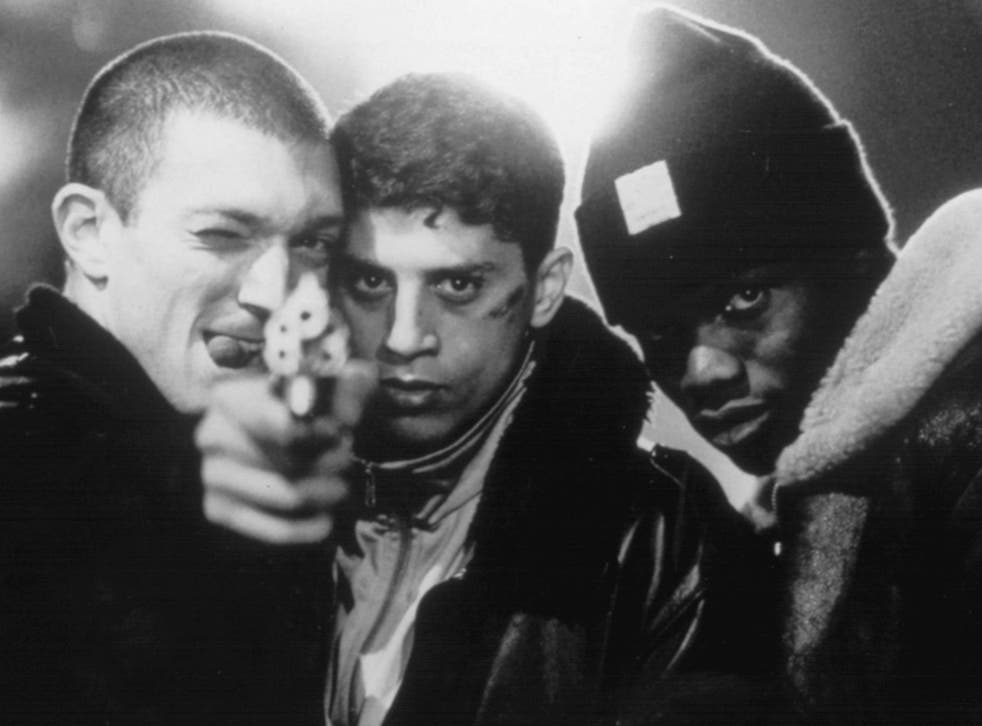 Mathieu Kassovitz has grown resentful of the film that made him – 1995's lean, fierce La Haine. A story of three friends living under the spiked boot of inequality, it's continued to find an audience both in France and across the globe. "But that's not because the movie is good," the director claimed in 2017. "It's because politicians are f***ing idiots. Listen, listen, if politicians were good, nobody would remember La Haine."
Kassovitz is too hard on himself. Even in a utopia, La Haine would remain a remarkable piece of filmmaking. It's an angry work, but one that anchors its choler in humanity and humour. Shot in black and white, it draws from the formalism of the past, yet presents its ambitious camera moves and visual poeticism with a playful wink – it has the style and the attitude of true rebellion. Pre-pandemic, the BFI had plans to re-release the film in cinemas to celebrate its 25th anniversary.
On release, it received rave reviews – The Independent said it "chucks a Molotov cocktail through the sedate window-front of modern French cinema" and Time Out called it "a vital, scalding piece of work". Its premiere at the 1995 Cannes Film Festival saw the 28-year-old director awarded with the Best Director prize and feted as the next big sensation. It was a box office hit in France, while newspapers ran breathless editorials on police brutality and poverty. The prime minister, Alain Juppe, screened the film for his cabinet. Kassovitz's lament, however, is to do with the fact La Haine seems barely to have aged at all, remaining at the centre of the debate around French culture and identity.
The film opens with documentary footage pulled from past protests, specifically those following the 1993 killing of Makome M'Bowole, a teenager from Zaire, and that of 22-year-old Malik Oussekine in 1986, both at the hands of the police. Kassovitz began writing his script on the day of M'Bowole's death – he'd been shot at point-blank range while handcuffed to a radiator in custody. It was officially ruled as an accidental death. But since 1981, the police have been responsible for over 300 of these so-called "accidental deaths". They're brushed off as "bavures" or "slip-ups".
In that sense, La Haine was prophetic. The footage shown could just have easily come from the protests that erupted weeks after the film's release, provoked by new austerity measures. Or it could have been taken in 2005, when the deaths of two teenagers – electrocuted in a power substation while hiding from the police – sparked widespread violence. Around 9,000 vehicles were set alight, hundreds of buildings destroyed, and 125 police officers wounded. As the film makes clear, France is trapped in a cycle of its own making.
The country's immigrant population doubled in the decades after the Second World War, reaching 3.4 million in 1975, as cheap labour was sourced from former colonies in order to fuel rapid economic growth. France saw the new arrivals only as a short-term investment, so housed them in cheap, cheerless, Brutalist units dumped out in the middle of the countryside. They were expected to leave once their usefulness ran out. They didn't, of course – this was their home. These vast blocks of housing, known as "les banlieues", were left without investment and infrastructure. Many became consumed by poverty.
La Haine follows three men from "les banlieues" over the span of roughly 20 hours, with the time tracked through a series of intertitles. It's counting down to catastrophe. After a night of riots sparked by the beating of a young "beur" (French slang for a second-generation north African) named Abdel, Vinz (Vincent Cassel) stumbles across a policeman's handgun. His friends, Said (Said Taghmaoui) and Hubert (Hubert Koundé), are mortified when he reveals his plans to use it against the cops if Abdel dies in hospital. Kassovitz has described his leads as "the good, the bad, and the naive": Hubert dreams of escape, Vinz desires only vengeance and Saïd does his best to stay ignorant – the film opens and closes on his eyes, shut tight.
Kassovitz's focus is on class, not race, but the differences between these men are still crucial: Said is also a beur, Vinz is eastern European-Jewish, and Hubert is Afro-French. Vinz's provocative nature might itself betray a certain level of privilege. He's the only one who actually took part in the riots, but his neighbour still blames Said. It's Said who's targeted when things kick off at the hospital and it's he, alongside Hubert, who ends up in custody while Vinz manages to slink away. Officers brutalise the two men, while they posture like Dirty Harry in front of a nervous young recruit.
For the most part, however, all three are bound together as products of the "malaise of the ghetto" – as they're so dismissively called by the owner of the art gallery they sneak into. The incident takes place in Paris, an hour-long train ride away from their banlieue, where Said is looking to cash in on a drug deal. Every moment they spend in the city, they're treated as outsiders. While Kassovitz shoots the bare concrete of the banlieues with a kind of bleak-humoured familiarity, Paris is captured in a blind panic. The men scurry through the darkness, rendered as a shadowy maze of doorways and dead ends. All their misadventures amount to is a series of denials; they're kicked out of the gallery, fail to secure the money, and miss their train home.
Access unlimited streaming of movies and TV shows with Amazon Prime Video Sign up now for a 30-day free trial
Sign up
Instead of tackling inequality, France has decided simply to hide it from view. The banlieues are buried in the outskirts of cities so that, for the rest of the country, they exist only as headlines or political talking points. In one scene, a pair of journalists attempt to question the men about the riots without leaving their car. A woman leans precariously out of a window, wielding her microphone like a knife, but she never dares to actually step foot in their neighbourhood. "We are not Thoiry," Hubert snaps at them, referencing the famous French safari park. He can see his humanity being ripped away from him – his identity, too.
This is a nation that upholds its own culture with a kind of religious fervour, expecting all those who land on its shores to abandon their pasts and their values in favour of total assimilation. Take, for example, its long and shameful history of legislating against veils and burqas. Vinz, Said and Hubert are constantly watched over by the poets Arthur Rimbaud and Charles Baudelaire, painted in Orwellian style on the sides of their housing blocks. But there's a terrible truth at the centre of all this: to abandon those parts of their identity that are still their own, to a country that values nothing about them, would render them completely invisible.
Instead, these men seek resistance through the appropriation of American, frequently black American, culture. They have an affinity for hip-hop, break-dancing, and sportswear brands like Nike and Reebok. Vinz acts out De Niro's Taxi Driver monologue in the mirror. La Haine's most famous sequence sees the camera hop out of a bedroom window and glide over the banlieue itself, both as an angel and an ominous portent. It features a cameo by DJ Cut Killer, who plays a mash-up of NTM's "Nique la Police" ("F**k the Police") and Edith Piaf's "Non, Je ne regrette rien". Kassovitz adopts the same approach. His use of black and white, combined with such experimental camera work, evokes the greatest of French exports – the New Wave films of the Fifties and Sixties, by figures such as Jean-Luc Godard and Agnès Varda. Meanwhile, he borrows a zoom effect made famous by Hitchcock's Vertigo and sets his film over the course of a single day, inviting comparisons to Spike Lee's Do the Right Thing. The characters of La Haine don't feel French, so they must try to carve out their own identities as best as they can.
France centres itself around the ideals of "liberté, egalité, fraternité" (liberty, equality, and fraternity), yet restricts which citizens can live under its banner. Despite the film becoming a minor sensation on release, Kassovitz's message fell on deaf ears. The same problems persist today, now poisoned by the rise of Islamophobia.
But what Kassovitz can take pride in is that his film, the first to bring the banlieue to the French mainstream, has since opened the door to a whole new wave of filmmakers, eager to take up the baton. Céline Sciamma's Girlhood (2014), Zaïda Ghorab-Volta's Jeunesse dorée (2001), Houda Benyamina's Divines (2016), and Ladj Ly's Oscar-nominated Les Misérables (2019) have framed the banlieue as places of hope, despair, rage and resolution.
In La Haine, Hubert paints a pessimistic view of the world: "Have you ever heard the one about a man falling from a skyscraper? As he passes each floor, he thinks, so far, so good; so far, so good. But it isn't in how you fall, it's how you land." There's still time to find the parachute.
Register for free to continue reading
Registration is a free and easy way to support our truly independent journalism
By registering, you will also enjoy limited access to Premium articles, exclusive newsletters, commenting, and virtual events with our leading journalists
Already have an account? sign in
Join our new commenting forum
Join thought-provoking conversations, follow other Independent readers and see their replies