Lake Bell interview: The Man Up actress explains how she juggles acting, writing, directing, producing and directing
'I'm pretty good at stuff, and I'd like to continue to be pretty good'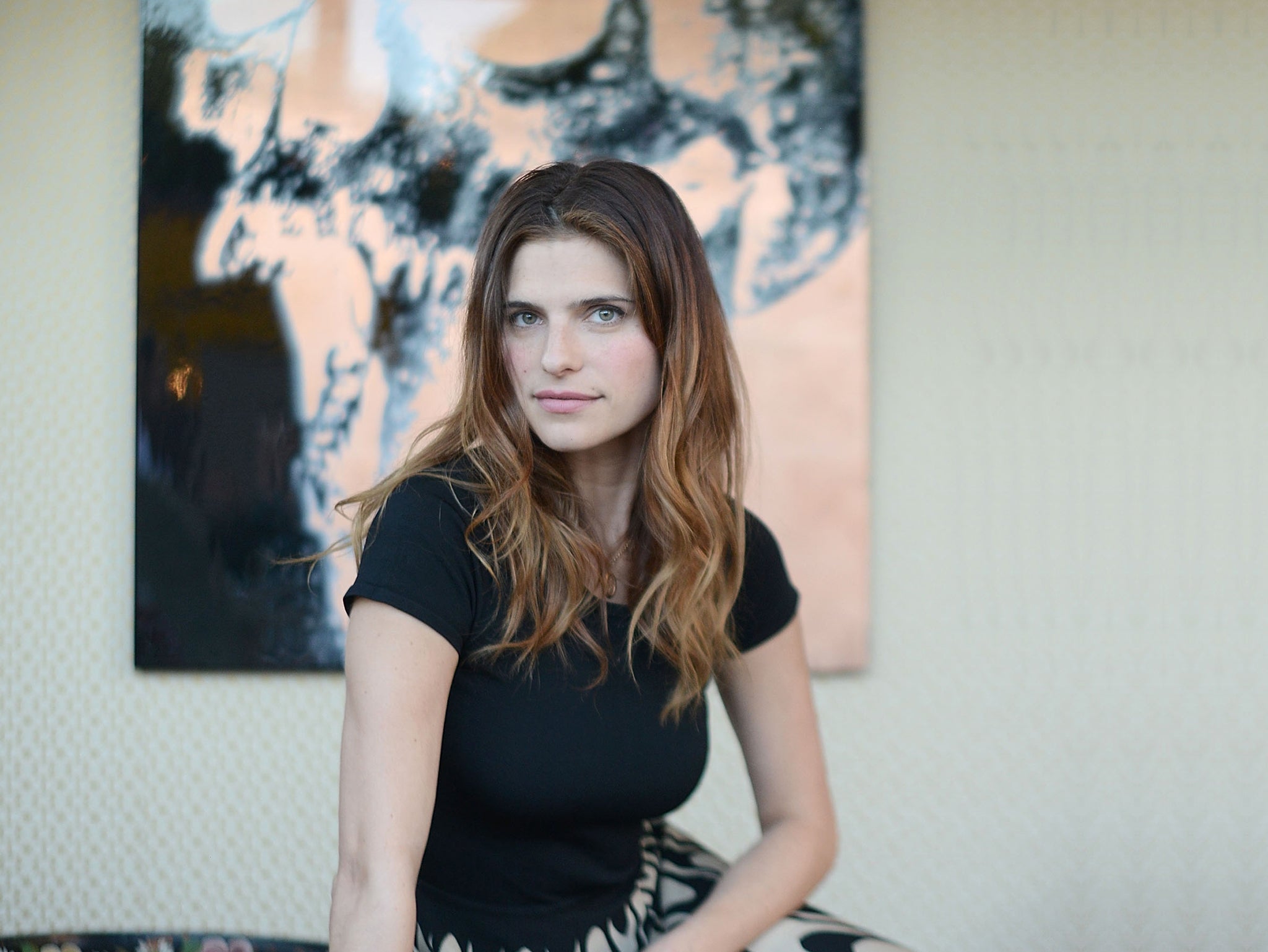 February, 2014. It's a cold, blustery morning on Kilburn High Road, north-west London, with grim-faced pedestrians staring at the pavement as rain begins to fall. Romance and comedy are probably the last things on anyone's minds. Or, for that matter, dancing and tequila – it is, after all, only 10am, and us uptight Brits like to wait at least until lunchtime.
But duck through the darkened doorway into Mexican cantina Love and Liquor, one of the locations where new British romcom Man Up is being filmed, and, by the magic of movies, a paradigm shift occurs. Soaked in neon, buoyed by Duran Duran's "The Reflex" and fizzing with pheromones, Nancy, played by New York actress Lake Bell, is deep into a chaotic blind date with Jack, portrayed by Simon Pegg.
This being a romcom, it's complicated. Nancy, you see, is pretending to be Jessica, the (considerably younger) woman she earlier happened to sit opposite to on a train ride into Waterloo. Finding herself under the station's famous clock and suddenly face-to-face with Jack, she impetuously stole Jessica's date, for once deciding to put herself out there. Only now the truth is out there too, and the scenario is further skewed by the arrival of Jack's soon-to-be ex-wife, Hilary (Olivia Williams), and her new beau, Ed (Stephen Campbell Moore). Fractious greetings over, Jack excuses himself to go to the toilet.
"He's a very emotional man," Hilary informs Nancy.
"So you two had an affair, right?" she replies.
Hilary clenches. "We fell in love."
"But you had an affair?"
Ed cuts in. "The marriage was over, anyway."
"But you had an affair?"
Hilary and Ed nod meekly in unison.
"Yup, he sure is 'emotional'," Nancy concludes as Jack returns.
Getting through a couple of setups that morning, initially adhering to the script and then encouraged by director Ben Palmer (The Inbetweeners Movie) to improvise – the "loosey goosey" takes, as Bell calls them – it is immediately apparent that Bell's comic timing is faultless. Not easy when you're a New York gal plying an English accent.
"I just exist within the accent so I don't have to think about it," says Bell, impeccably, when she breaks for lunch and wanders over. "I use it when I go out with friends or to the flower market or to Sainsbury's. I went to drama school in England [at Rose Bruford College of Theatre and Performance in Sidcup, Kent] so it's like a second home for me."
Bell's previous in England is not the full story. With abilities akin to Meryl Streep's in the accents stakes, the 36-year-old demonstrated her talents in 2013 comedy drama In a World..., playing a voice coach who attempts to impact the movie trailer voiceover profession that's for so long been dominated by gravel-throated men. It was a showcase role, and after 11 years of working in TV (ER, Boston Legal, How to Make It in America) and essaying thankless girlfriend/wife/best friend roles in movies such as What Happens In Vegas, Pride & Glory and It's Complicated, she at last got to lead the way and make Hollywood sit bolt upright. It says much about the patriarchal studio system that the only way Bell could land such a role was to write, direct and produce it herself.
"In A World... changed my life a thousand per cent," she grins. "I feel thankful that something I believed in so much – I love dialect, so I dedicated five years of my life to making a film about it – yielded such rewards. It led to Man Up, as well as No Escape, which comes out later this year… two movies where I am the female lead. And I'm also involved now in movie pre-production, production and as a director."
Bell gravitated towards lead female roles playing Jon Hamm's neighbour and love interest in last year's likeable triumph-of-the-underdog baseball movie Million Dollar Arm. She was chosen for Man Up over a roster of UK talent; as Simon Pegg points out, Big Talk Productions "wanted to find someone surprising, fresh and exciting". Luckily for them, the suddenly in-demand actress felt that these were all adjectives that could be equally applied to Man Up's savvy, heartfelt script.
"I think the key to a great romcom is to not fight against the genre," she explains. "The trend more recently has been to apologise, or be snarky, so it's an anti-romcom." Out comes that wide smile. "Just lean in and embrace the fact it's a love story and it's funny and it's light. It can still be uber-smart and deal with zeitgeist issues."
Access unlimited streaming of movies and TV shows with Amazon Prime Video
Sign up now for a 30-day free trial
Sign up
Access unlimited streaming of movies and TV shows with Amazon Prime Video
Sign up now for a 30-day free trial
Sign up
In June 2013, Bell married tattoo artist Scott Campbell, whom she met when he played himself in an episode of How to Make It in America. They now have a baby girl named Nova. But the concept of going on a less-than successful blind date was not unknown to her...
"I've only been on one," she shudders. "There were no sparks. I remember him being very slick. And then you start to judge the person who has set you up: 'Do I look like someone who needs to be with someone slick?' But I think it's good. At a certain point in your life, saying 'yes' is better than anything else, whether it's going to a party, or a pottery-making class, or a steak dinner with some random dude."
Best films to watch in 2015
Show all 10
May 2015. Outfitted smart-casual in a cream linen jacket and high-waisted, olive-green trousers, Bell settles into an armchair at the Corinthia London hotel. She has a cold and her flight from JFK was delayed by the departure of Air Force One, no less, but she looks relaxed and switched-on, luminous. It is two weeks since she viewed Man Up at the Tribeca Film Festival and she's delighted with the finished film.
"It played so well!" she beams. "It's very much a British film but there is the residue of an American spirit; [screenwriter] Tess Morris is a romcom aficionado, so there's something familiar without feeling dated. It's very current."
So winning is Bell's multifaceted turn as Nancy, it will surely cement her fledgling leading lady status, while her range should be established in No Escape, playing a mother whose family who is caught in the middle of a coup in South-east Asia. Perhaps then she can join the short list of actresses whose name can get a movie made?
"I see both sides because I'm also a director," she sighs. "If you're trying to cast your movie and there are seven girls who are really interesting and new and right, you can't put them in your movie because you can't find financing. In the industry, they say 'Who's meaningful?' It's sad. Like, everyone's meaningful! But in terms of foreign value, things like that… The good roles only go to certain girls. It's easier to cast men, because there are so many guys who are bankable."
Talking of casting men, Bell has opted for Oscar-winner Jeff Bridges to star in her sophomore movie as director, The Emperor's Children. Currently in the process of "solidifying our financing", she describes the screenwriter Noah Baumbach [While We're Young, Frances Ha] script of Claire Messud's bestselling novel thus: "It's a very New York story. I grew up on the Upper East Side of Manhattan and it takes place in a pre-9/11 New York, where there is this allowance for frivolity about your interpersonal relationships. It's a story about the web of this man's life, his family and friends. He basically has an affair with his daughter's best friend."
If juggling acting, writing, directing, producing and parenting leaves her at all frazzled, she hides it well. It is a joy to "express myself in all arenas", she attests, and all of the hats can be assuredly worn at once. "I'm forever writing, forever looking for something to direct or produce, and always on the hunt for a great role," she smiles. "And my daughter has provided such an amazing exercise in prioritising what I really care about. You push yourself harder and become more creative because you're forced to funnel your creativity into allocated times." She pauses and sips her coffee. "A really successful woman in my industry said to me, 'You better get comfortable with not being able to be perfect at anything.' That haunted me, and then I realised being perfect is a tall order and I've never claimed to be perfect at anything. I'm pretty good at stuff, and I'd like to continue to be pretty good!"
'Man Up' is released on 29 May
Join our commenting forum
Join thought-provoking conversations, follow other Independent readers and see their replies