Let's do it: How sex in cinema is getting physical
Why should it be fine to show murder but not an act of love? Nicholas Barber applauds a new wave of sexual frankness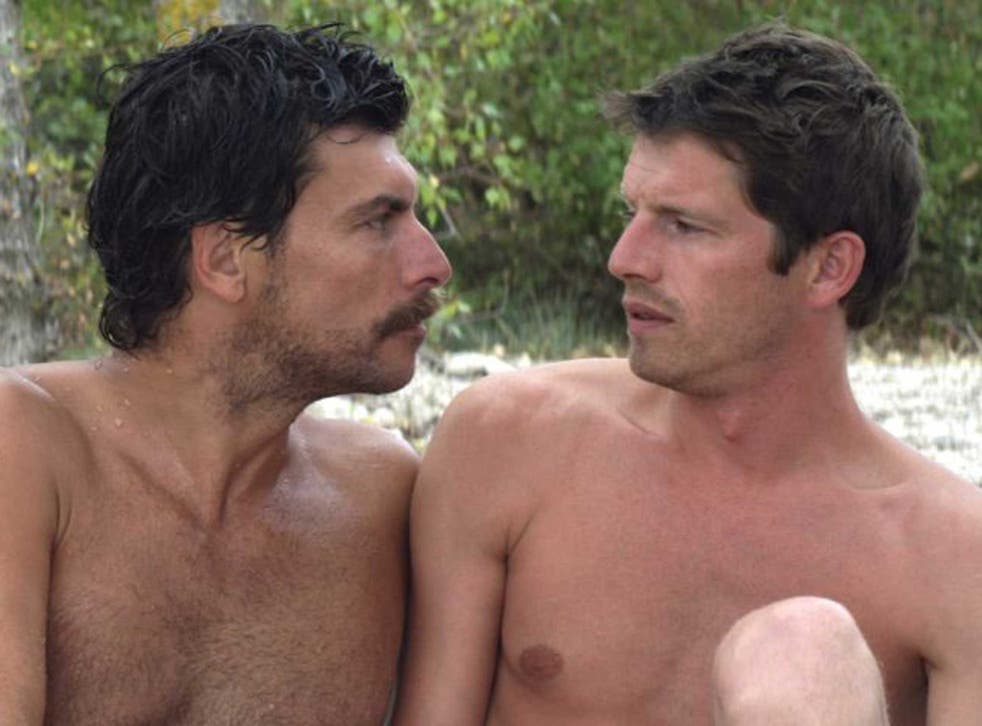 On the phone from Paris, Christophe Paou is recounting his favourite response to his latest film, Stranger by the Lake. "A friend of mine told me that her aunt went to see it with two friends," says the actor, "and they were all 75. They really enjoyed it." Given that Paou looks as if he could play James Bond's French cousin, and given that he spends much of Stranger by the Lake stark naked, the grande dames' enjoyment is understandable.
Alain Guiraudie's unsettling romantic thriller is set entirely at a gay cruising spot, an idyllic retreat where men swim in the lake, sunbathe on the shore, and stroll into the woods for sex with strangers. "For me, the sex was like a stunt,'" recalls Paou of his no-holds-barred scenes. "Suddenly you have to take your motorbike and you have to jump over a 30-metre canyon. But it was okay. The sex was an important part of the story, so we had to cross the line. And, actually, the swimming was more difficult."
The good news for Paou's friend's aunt is that Stranger by the Lake seems to be part of a new wave of sexually candid cinema. Lars von Trier's two-volume erotic rumination, Nymphomaniac, is released on Saturday, the day after Stranger by the Lake: both feature hardcore sex scenes, while employing body doubles from the porn industry to stand in (so to speak) for the close-ups. Last year, a number of other films made graphic bedroom action central to their scenarios, from I Want Your Love, a tale of gay men in San Francisco which featured unsimulated sex between the stars themselves, to Blue is the Warmest Colour, the Palme d'Or winner whose extended sequences of lesbian love-making felt no less intimate for the use of fake genitalia. There was also a Chilean drama, Gloria, which left little to the imagination when its fiftysomething heroine picked up men at singles' evenings, and Ulrich Seidl's Paradise: Love, which unflinchingly chronicled a middle-aged woman's sex tourism in Kenya.
"Graphic sex is no longer off-limits in cinema culture," says Droo Padhiar, head of publicity at Peccadillo Pictures, the distributors of I Want Your Love and Stranger by the Lake, "as long as it's coupled with major festival wins, critical acclaim, and a wide marketing reach. There used to be a fear in the industry that no one would come out for these films. But when cinemas are willing to show films with a high sexual content, it gives audiences the green light."
It's been more than a decade since there were anywhere near as many movie cameras in the bedroom (or the woods). And back then, inevitably, Lars von Trier was also involved. After he included penetration shots in The Idiots in 1998, the French followed suit with Romance in 1999 and Baise-moi in 2000. In 2004, it was the Brits' turn: Michael Winterbottom's 9 Songs, which traced a couple's relationship through their carnal interaction, was condemned/celebrated by the red-top press as the "Muckiest Film Ever".
Cambridge academic Martin Crowley dealt with Romance, Baise-moi and other cause célèbres in his book, The New Pornographies: Explicit Sex in Recent French Fiction and Film. However, he believes that the new wave of screen sex is more daring. "One of the things that is quite striking about the French films which came out in the mid-1990s and the decade after," says Crowley, "is that they were very heterosexual and very heteronormative. Even when there was a reference to eroticism as a form of liberation and truth-telling, it was all very straight and conventional. But explicit depictions of same-sex sex on screen are relatively new, and they do have a sense of welcome transgression. Gloria has some sort of politics attached to it, too. It's quite affirming to show post-middle-age bodies as having pleasure and having a right to pleasure."
Such transgressive politics definitely play a part in Stranger by the Lake. "Alain [Guiraudie, the film's gay writer-director] wrote that story because it's his life," says Paou. "He is telling audiences that there are people out there living this love story, living this sex story. He's showing people that it does exist, it's there – and it looks like this."
Put like that, it seems only natural that independent film-makers should want to incorporate some full-frontal rudeness in their work. Indeed, considering that sex is a pretty significant preoccupation for society in general, and considering that pornography can be accessed by anyone with a Wi-Fi connection, the surprise is not that there is so much sex in today's art-house cinema. It's that there's so little. On-screen disembowellings are commonplace, after all. Shouldn't we be perturbed that Hollywood is so ready to show human bodies being penetrated by a knife or an axe, but not by anything more pleasurable?
It's a question that exercises the Erotic Film Society, a British organisation devoted to the critical championing of cinematic sex. "Sex has been integral to cinema for a hundred years," says the society's president, Julian Marsh. "But there are dozens of horror-film festivals in the UK every year, and, as far as I know, there are no erotic film festivals. Most people only know the pornography they see on the internet. They don't know that such a thing as quality adult films even exists."
Maybe Guiraudie, Von Trier and their peers can change that. And with Sam Taylor-Johnson's film of Fifty Shades of Grey due out this time next year, perhaps some more mainstream directors will dip their toes in the same sexually frank waters. Already, several of Hollywood's younger stars have indicated that they'd be willing to join them.
James Franco recently directed Interior. Leather Bar., a film which envisages and discusses the 40 minutes of gay-orgy scenes which were cut from an Al Pacino/William Friedkin cop thriller, Cruising, in 1980. "If we're all adults," Franco told one journalist in December, "and we all know we're watching pornography – at least a huge portion of the population is – then why are we prohibiting it from our narrative films?" A month earlier, the American actress Evan Rachel Wood grumbled on Twitter that an oral-sex scene had been censored in her latest film, Charlie Countryman, "but the scenes of people being murdered by having their heads blown off remained intact and unaltered". Meanwhile, her co-star in that film, Shia LaBeouf, also crops up in Nymphomaniac – and recently talked of sending Von Trier shots of his penis as part of the audition process.
At this rate, who knows what Paou's friend's aunt can look forward to? And if Spielberg revolutionised the military-combat sequence in Saving Private Ryan, what might be capable of if he made love, not war?
'Stranger by the Lake' is out on Friday 21/02. 'Nymphomaniac' Volumes I and II are released on Saturday 22/02.
X-factor moments
five classic movie sex scenes ...
'Don't Look Now'
A centrepiece of Nic Roeg's classic 1973 horror film is the scene in which Julie Christie and Donald Sutherland's grieving parents make love. A beautiful expression of tenderness, less beautifully it has also inspired much salacious speculation of the did-they-actually-do-it variety over the years.
'Out of Sight'
Steven Soderbergh's 1997 Elmore Leonard adaptation burns off the star chemistry of lead pairing George Clooney and Jennifer Lopez. Their hotel hook-up, bolstered by David Holmes's sultry, jazzy score, and brilliant editing, is simply a white-hot moment.
'Y tu Mama T'Ambien'
Alfonso Cuaron's 2001 tale of a love triangle between two teenage best friends and an older woman is an awfully erotic adventure from start to finish – but best of all is its joyously unfettered climax when the inevitable happens and the three detriangulate, shall we say.
'Brokeback Mountain'
Brief and fully clothed, the first, tent-based encounter between Heath Ledger and Jake Gyllenhaal's repressed cattle hands in Ang Lee's masterful and epic romantic tragedy nevertheless makes an unforgettable impact, as an expression of desire suddenly untrammelled.
'Shortbus'
The joy – but also silliness – of sex is nowhere more apparent than in John Cameron Mitchell's 2006 let-it-all-hang-out comedy-drama about a bunch of New Yorkers' intricate love lives. And the most memorable encounter? The threesome in which one man sings "The Star Spangled Banner" into a place where the sun don't shine.
Join our new commenting forum
Join thought-provoking conversations, follow other Independent readers and see their replies