Liam Neeson: What you need to know about the controversial Taken star amid ongoing race row
The Oscar-nominated actor, who reinvented himself as an action hero in the Noughties, has made several problematic remarks this decade. Alexandra Pollard looks back over his career and wonders whether his fearless pensioner shtick will continue to be received so warmly
Wednesday 06 February 2019 11:52 Comments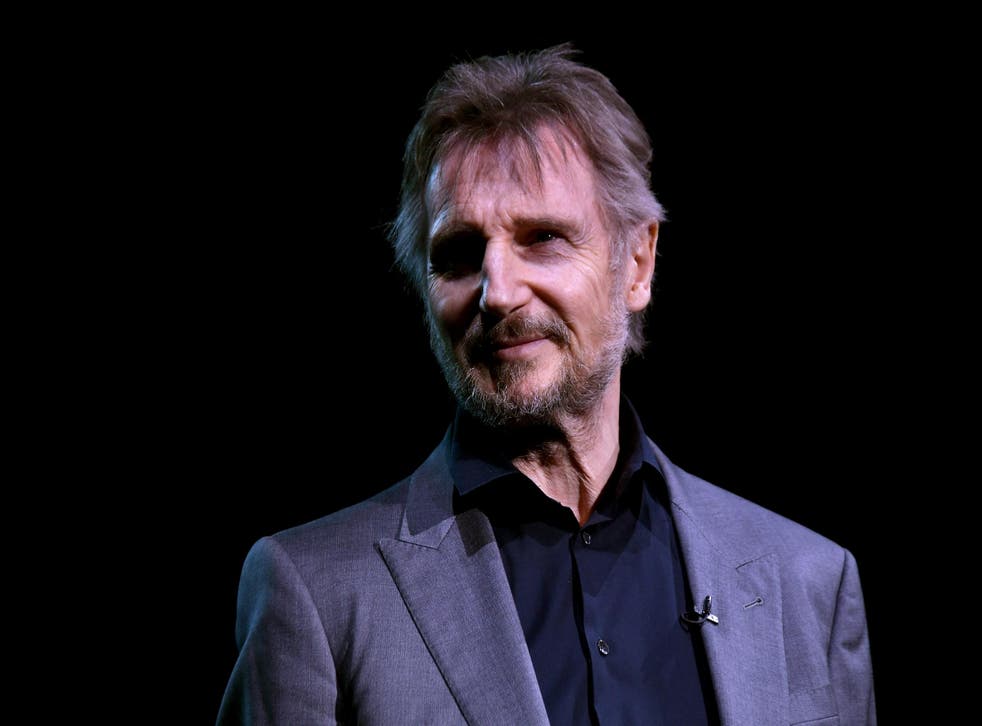 When Liam Neeson's name began trending on Twitter yesterday afternoon, you might have assumed the 66-year-old Oscar-nominee-turned-action-star had announced another instalment of his beloved Taken film series. But the reality was far more unsettling.
In an interview with The Independent, to promote his new film Cold Pursuit, the actor revealed that his fascination with violent revenge far precedes 2009's Taken. After learning of the rape of a close female friend many decades ago, and discovering that the rapist was a black man, Neeson "went up and down areas with a cosh, hoping I'd be approached by somebody. I'm ashamed to say that, and I did it for maybe a week – hoping some [Neeson gestures air quotes with his fingers] "black bastard" would come out of a pub and have a go at me about something, you know? So that I could kill him." The revelation has, unsurprisingly, caused deep shock and hurt.
Neeson went on to attempt to contextualise his attitude, referencing his early experiences with the Troubles in Northern Ireland. "I had acquaintances who were very caught up in the Troubles, and I understand that need for revenge, but it just leads to more revenge, to more killing and more killing, and Northern Ireland's proof of that."
:: Read the original, exclusive interview that started a global conversation
Born William John Neeson in Country Antrim, Northern Ireland, the son of a school caretaker and a cook, Neeson grew up in a "very working class" family. Though the Troubles – a complex, decades-long conflict over British rule of the country – began when he was a young teen, it was while studying physics and computer science at Queen's University Belfast that he was first confronted with the reality of it. After the Bloody Sunday killings of 1972, he arrived to lectures only to be surrounded by hundreds of students protesting against the atrocity. "I had been totally unaware of the events the day before," he later recalled to Irish Central, "totally unaware of the students' strike, and almost totally unaware of the larger grim struggle that was going on in Ireland. It was an experience that shook me deeply, in complicated ways. But the message I took then was, 'Boy, you've got to wake up. Get moving. You've got to get going.' It came to me maybe with more of a short, sharp shock than it does to most."
He didn't leave the country immediately: after leaving university, he returned to his hometown, where he worked as a Guinness delivery driver, and a forklift operator, before joining a theatre troupe in Dublin. There, while playing Lennie in Of Mice and Men, he caught the eye of director John Boorman, who cast him alongside Helen Mirren in the 1984 film Excalibur. Neeson and Mirren began dating, and lived together in London for four years, where she helped him land a string of American films.
Liam Neeson: 'I walked the streets with a cosh, hoping I'd be approached by a 'black b**tard' so that I could kill him'
It was Steven Spielberg's 1992 Holocaust drama Schindler's List, though, that put Neeson on the map, earning him an Academy Award nomination for his role as Oskar Schindler. Several more acclaimed parts soon followed, in films such as Husbands and Wives (1992) and Michael Collins (1996).
During that time, having split from Mirren, Neeson married fellow actor Natasha Richardson, and they had two children together. But his role as a grieving widower in Richard Curtis's Love Actually (2003) would grimly foreshadow the tragic turn his own life was soon to take. In 2008, Richardson had a skiing accident while on holiday in Canada. "I spoke to her and she said, 'Oh darling, I've taken a tumble in the snow,'" Neeson later recalled. "That's how she described it." Hours later, his wife fell into a coma and died. Grief, he said, "hits you. It's like a wave. You just get this profound feeling of instability. You feel like a three-legged table. Just suddenly you just – the Earth isn't stable anymore. And then it passes and becomes more infrequent, but I still get it sometimes."
Liam Neeson through the years

Show all 23
To cope with Richardson's death, Neeson forced himself to stay busy. "I'm not good without work," he said. "I just didn't want to – especially for my boys – seem to be wallowing in sadness or depression." Instead, he threw himself back into his career, which a year earlier had taken a sudden, unexpected turn in the form of revenge thriller Taken. The film, and Neeson's oft-quoted "I will find you" telephone scene, transformed him into a bankable action star.
"That certainly was a shock," he said of the film's success, but he took the mantle and ran with it at full speed. In the following years, he either played a gruff assassin or a gruff everyman with killer reflexes, appearing in a string of high-octane blockbusters: The A-Team (2010), The Grey (2011), Unknown (2011), Taken 2 (2012), Non-Stop (2014), Run All Night (2015), Taken 3 (2015), and The Commuter (2018).
Access unlimited streaming of movies and TV shows with Amazon Prime Video Sign up now for a 30-day free trial
Sign up
He's made 40 films this decade, but has also made several problematic remarks. When the #MeToo movement kicked off in 2017, he showed more sympathy towards the accused than the accusers. "There is a bit of a witch hunt happening," he told RTE. "There's some people, famous people, being suddenly accused of touching some girl's knee or something and suddenly they're being dropped from their programme." Wading into the accusations that Dustin Hoffman had touched a fellow actor's breasts, pulled up her costume and repeatedly touched her inappropriately, Neeson opined, "When you're doing a play and you're with your 'family', other actors, you do silly things. And it becomes kind of superstitious. If you don't do it every night, you think it's gonna jinx the show. I'm not saying I've done similar things – apparently he touched a girl's breast, but it's childhood stuff."
And despite his celebrated role in Steve McQueen's Widows last year, which was noted for its positive portrayal of a mixed-race marriage – "Here I am, in bed with Liam Neeson, and he's not my slave owner, I'm not a prostitute, we simply are a couple in love," said co-star Viola Davis – Neeson is no stranger to controversial comments about race. "We all racial profile," he told The Guardian while promoting 2014's Non-Stop. "It's a horrible thing to admit to, but we all do it. I know I do. And I'm used to it because I'm a child of Northern Ireland, and from 1970 onwards, I'd be travelling on my own, hair down to here, single Irish guy, always pulled over."
When asked if he thinks he'd be a different person now if that hadn't happened, Neeson said, "No, I don't think it affected me. I understood it. It wasn't the Swedish grandmothers doing all this stuff."
Neeson emerged largely unscathed from those comments, but after his latest revelation, it remains to be seen whether his fearless pensioner shtick will continue to be received so warmly. "I'm going to be doing action movies until they bury me in the ground," he said in 2017. It might not be up to him anymore.
Support free-thinking journalism and attend Independent events
Register for free to continue reading
Registration is a free and easy way to support our truly independent journalism
By registering, you will also enjoy limited access to Premium articles, exclusive newsletters, commenting, and virtual events with our leading journalists
Already have an account? sign in
Join our new commenting forum
Join thought-provoking conversations, follow other Independent readers and see their replies