Life: Sci-fi film star Ariyon Bakare on identity politics, Samuel L Jackson's Get Out comments and getting ahead as a British black actor
The actor plays an astronaut opposite Ryan Reynolds, Rebecca Ferguson and Jake Gyllenhaal on an International Space Station who have just discovered the existence of life on Mars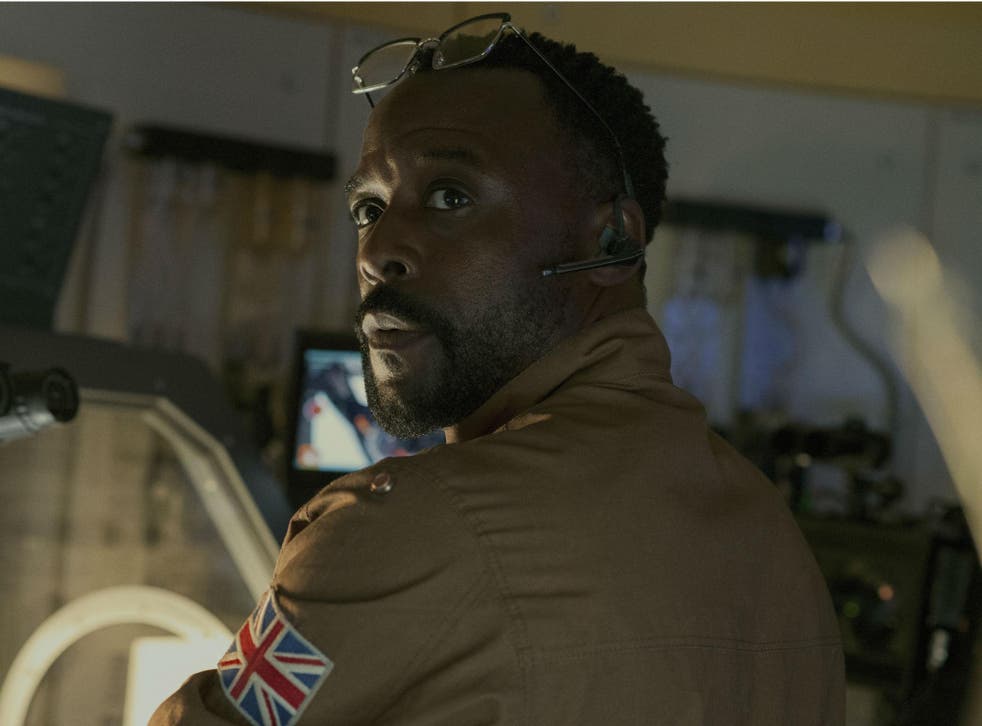 British actor Ariyon Bakare stars in the new sci-fi extravaganza Life opposite Ryan Reynolds, Rebecca Ferguson and Jake Gyllenhaal. They play astronauts on the International Space Station who have just discovered the existence of life on Mars. But before you can say David Bowie, the little critter is trying to kill them. What then unfolds is the scariest space opera since Aliens.
When the first trailer for Life launched last October, it was cut to make it look like Bakare was going to die, and social media lit up with comments about how the black dude is always dying first in movies.
It was a reaction that made the 45-year-old British actor sad. "That was pure identity politics," he says. "That was quite upsetting. I understand why people thought that, but I hoped that we could rise above it. We are a multicultural cast and this is 2017.
"The real reason it's upsetting to me is that we have the idea that the lowest strata of society is the black man, so we think it's the norm for a black man to be considered disposable," he states. "I'm hoping it's changing and it's changing. The general consensus at the moment is that everyone is politicising more."
And how black actors are treated in cinema is big news. Last year the British Film Institute's Black Star season just seemed to highlight how far Britain still needs to go to achieve diversity. There was also the #OscarsSoWhite campaign that led to the American Academy inviting a more diverse membership to join, a move that made it more than coincidence when Moonlight won the Oscar this year.
In the past month British Westworld star Thandie Newton has complained that the preponderance of period dramas in the UK has meant that she can't find roles on British television; and Samuel L Jackson as suggested that black British actors were being used so much in America only because they are cheaper to employ.
But for a long time Bakare resisted the urge to go to America. He was enjoying his career on stage and screen and hopeful that the British industry would accommodate his talents. However, he admits that in the end he had to go. "There is a ceiling when acting in England," he says. "It's changing and it could do with a lot of change. I'm not saying that it's just about identity politics either, but I was being offered a lot of the same roles."
And that is a question that is more than about race. A few years ago all the talk was about the British actors getting superhero roles, and so the question of British actors getting great work across the pond is much more complex than that put forward by Jackson when he posited that an African American may have given a more nuanced performance in the hit film Get Out, starring British actor Daniel Kaluuya.
That outburst from the Pulp Fiction star left Bakare feeling perturbed. "Acting is not about waiting for the perfect role to suit your history," he says. "What you need is good acting skills and with black British actors that is what happens. We do theatre, TV and films, as in my career."
Access unlimited streaming of movies and TV shows with Amazon Prime Video Sign up now for a 30-day free trial
Sign up
His big break came in 1998 when he starred in the TV mini-series A Respectable Trade. Set in 1787, it saw Bakare excel as a learned slave who catches the eye of a slave trader's well-bred wife. "I was one of the first black men to be in a period drama," he says.
Another period drama, Jonathan Strange & Mr Norrell, set around the Napoleonic Wars in an alternative 19th century England was also one his most difficult experiences on set. In the series starring Eddie Marsan and Bertie Carvel, Bakare plays Stephen Black, born on a slave ship, who is adopted and schooled by the slaver's family. As a man, the butler does a heinous bargain with a fantasy spirt that sees him become the servant of two masters.
"I lost my sister at the start of filming and then my step-mum six weeks later," says Bakare. "That was a painful time, helped by having a cast and director so sensitive to how I was feeling. Imagine you're filming something and in your private life you are burying someone and the world is disintegrating around you, and then Stephen the character your playing is disintegrating as well. That's not nice. But it helped the character that my face was full of pain and grief."
He has just completed shooting a part for the second series of Doctor Foster. His other credits include Doctors and Dancing on The Edge. Movie-wise, he had parts in Rogue One and The Dark Knight, so he finds it amusing now that the early buzz for Life has seen him being talked up as the overnight success. "I'm the overnight success that didn't happen last night," he says.
His father, an electrician, didn't want him to be an actor. But Bakare had more flamboyant ideas. He went to New York to pursue his dreams of becoming a dancer. But then he chatted to a professional he respected who was about to retire at the age of 26, and Bakare didn't like the maths: three years of training at school for a career lasting only three years. "Literally the next day I threw away my ballet shoes," he says.
Back in England he went to drama school in London and was soon found treading the boards. He starred alongside Jude Law for the Royal Shakespeare Company. Everything since then has been a progression he argues.
He speaks in a soothing voice that is perfect for telling bedtime stories. On the set of Life he stayed in character throughout the shoot, having spent months learning how to be immobile and what it's like to be an astronaut in space. A journey that is finally putting Bakare in amongst the stars.
'Life' is out now
Register for free to continue reading
Registration is a free and easy way to support our truly independent journalism
By registering, you will also enjoy limited access to Premium articles, exclusive newsletters, commenting, and virtual events with our leading journalists
Already have an account? sign in
Register for free to continue reading
Registration is a free and easy way to support our truly independent journalism
By registering, you will also enjoy limited access to Premium articles, exclusive newsletters, commenting, and virtual events with our leading journalists
Already have an account? sign in
Join our new commenting forum
Join thought-provoking conversations, follow other Independent readers and see their replies