Look out Lena Dunham, here comes mom! Laurie Simmons is set to direct a movie with a 'small role' for the creator of Girls
Simmons is also up for a top photography award for her pictures of life-size Japanese love dolls. Her daughter must be proud...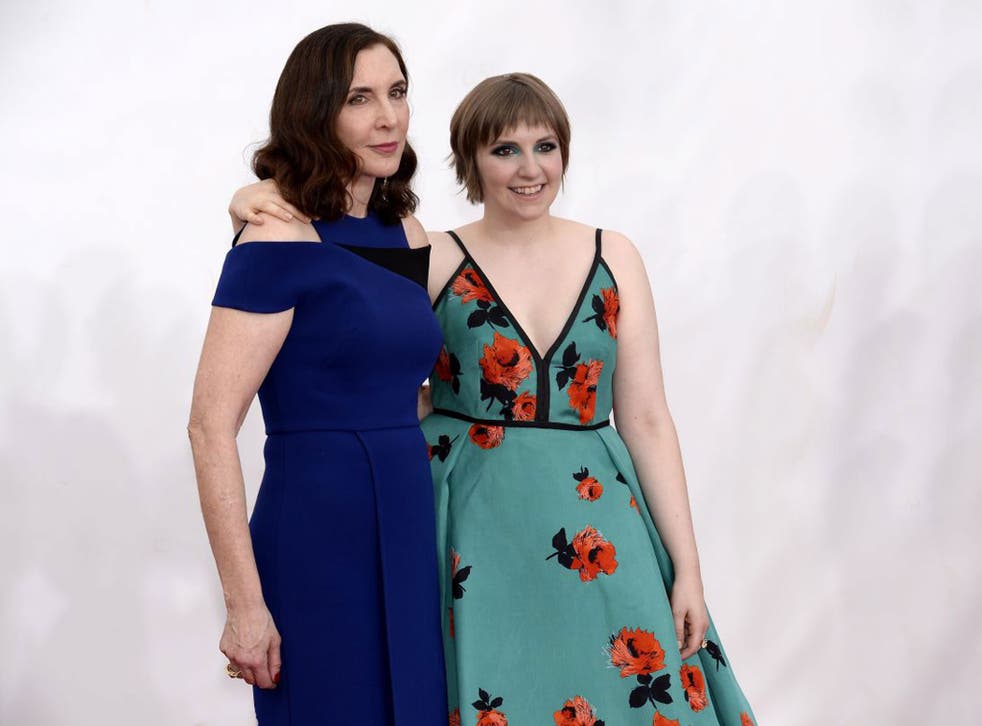 Creativity definitely runs in Girls star and creator Lena Dunham's family. Her mum, Laurie Simmons, has been nominated for the prestigious Prix Pictet photography award, along with 10 other leading photographers from all over the world, who are competing for the prize of £67,000. The winner will be announced on 21 May at London's Victoria & Albert Museum, followed by an exhibition of their work.
Apart from having had a guest appearance on Gossip Girl in 2011, New York-based Simmons, 65, also starred in her daughter Lena's feature film Tiny Furniture, filmed in 2009, playing her fictional mother. It was set inside Simmons' Tribeca apartment, which doubles as her studio. And this summer Simmons is directing a feature film, My Art, about an ageing woman artist, with a small role for Lena, which she will start shooting in August.
"I have little part for Lena in the film, which she seems excited about," says Simmons. "A very little part." But first Simmons is taking the limelight with her 2009-2011 series of photographs, The Love Doll, which she submitted to the prize, which this year is centred around the theme of consumption.
The Love Doll series features a lifesize latex sex doll from Japan and documents the ongoing days in the doll's life from the day she received the doll. The Love Doll/Day 27/Day 1 (New in Box. Head), 2010, consists of a doll's head in a cardboard box, surrounded by bubble wrap; The Love Doll/Day 20 (20 Pounds of Jewellery), 2010, sees the glamorous doll weighed down with costume jewellery, while sitting on a sofa; The Love Doll/Day 31 (Geisha), 2011, shows the doll sitting elegantly on the floor in a silk kimono. In The Love Doll/ Day 26 (Shoes), 2010, the doll is photographed crawling on the floor, surrounded by heaps of shoes, in an Imelda Marcos moment.
This project began after Simmons ordered a custom, high-end love doll from Japan and began to "tease out a personality" and "allowed her persona to emerge" in a series of staged shots. "I had been on two trips to Tokyo, first with Lena and then with my youngest daughter, Grace. I wanted to go to Japan my whole life, but I had no idea it was going to be an ongoing provider of inspiration."
It was on the second trip to Japan that Grace saw a poster for a love doll and they ended up at the showroom full of love dolls in "many shapes and sizes". "We realised it was a super high-end sex doll. But the thing that struck me was that it really was a life-size doll. It was beautifully crafted, unlike the sex dolls that they sell in the US, which have a crass appeal. This was like looking at a beautiful sculpture. For me, finding a life-size doll after working with small figurines was like a dream come true because it meant that I could work in human scale for the first time."
Simmons was immediately "fascinated" and "disturbed" by this life-size, life-like body that "could be bought and arrived packaged in a box, a woman/girl entering your home as a commodity ready to be used and fetishised. The love doll is originally produced to be a muted surrogate body, a substitute for a human being manufactured solely for pleasure and desire."

Since 1977, Simmons has staged scenes with dolls, ventriloquist dummies, figurines and sometimes people, for her camera to create photographs that reference domestic scenes. Her first works in 1976 were black-and-white interiors of doll's houses, but she would toss out the figurines. "One day on a whim, I picked up a female doll and put her in a kitchen situation in different poses," says Simmons. "I felt so embarrassed and thought 'I can't show these pictures to anybody,' as it seemed so connected to doll play; juvenile and not serious."
In 1979, she turned to cowboy figurines that she put on horseback in a style similar to television Westerns. Her Under the Sea series (1979-1980) consisted of figurines immersed in a fish tank to create diving scenes with goldfish, followed by her Tourism series (1983-1984), in which groups of dolls were shot visiting hotspots such as the Pyramids and Stonehenge.
The Love Doll series is her first attempt at using life-size dolls, which she keeps in a storeroom in her studio. She usually shot one scene a day with the Japanese latex doll: "I have people get them camera-ready – brush their hair and dress them. Frankly, I couldn't move them around on my own. They are not that light".
Apparently, her two daughters Lena and Grace who grew up with a mother who photographed toys, ventriloquist dummies and figurines, are used to it. "You get used to what your parents do. It doesn't seem really odd," says Simmons. She started to use ventriloquist dummies in her photographs after Lena was born in 1986. They can be seen in her Talking Objects series (1987-1989), which includes Girl Miami, Florida (1988), of a girl wearing a spotted dress while sitting on a chair. "The dummies were basically the size of a small child," says Simmons. "I'd leave Lena and go to a ventriloquist museum in Kentucky and look at dummies that were pretty much the same size as the child I had at home. It was really life mirroring art."
Simmons also photographed her parents, in mid-1970s, dressed up in costumes and dancing in pictures titled Sam and Dottie Dance. "A lot of artists turn their lens towards their parents as a way to understand who they are. It is like a growing process. I'm super sympathetic to that – I could understand Lena's desire to put me in Tiny Furniture because I'd done it myself with my parents."
There were 700 nominated photographers who submitted work dating from 2000 to the Prix Pictet prize, before the list was whittled down to 11 photographers by the jury.
"I was surprised at how well my series fits the theme of consumption because for me moving a love doll around the house and inventing a personality for her was as if she had fallen to earth and was discovering her environment. The pictures became so much about excess with the piles of shoes or candy and jewellery. It is about a character who has an overwhelming abundance of choices and about how these choices can be paralysing. How do you make a decision? When I went out to the cheap chain store to buy the love doll clothes, I thought about the crazy number of choices people are confronted with."
Now Simmons is making new work for her Kigurumi series, which she started in 2013. This time it is humans wearing doll's outfits and masks, and photographed in various settings, which will also be exhibited in a London show, Kigurumi and Dollers, later this month. "My characters are like living dolls: they move like dolls, they feel like dolls, but they can move on their own."
Prix Pictet, V&A, London SW7 (vam.ac.uk) 22 May to 14 June. The winner will be announced on 21 May (prixpictet.com)
Kigurumi and Dollers, Wilkinson Gallery, London E2 (wilkinsongallery.com) 21 May to 29 June
Join our new commenting forum
Join thought-provoking conversations, follow other Independent readers and see their replies