Lost in London: How Woody Harrelson's crazy night out inspired his directorial debut
The actor steps behind the camera in 'Lost in London',  a live film experiment about the worst night of his life, in which he also stars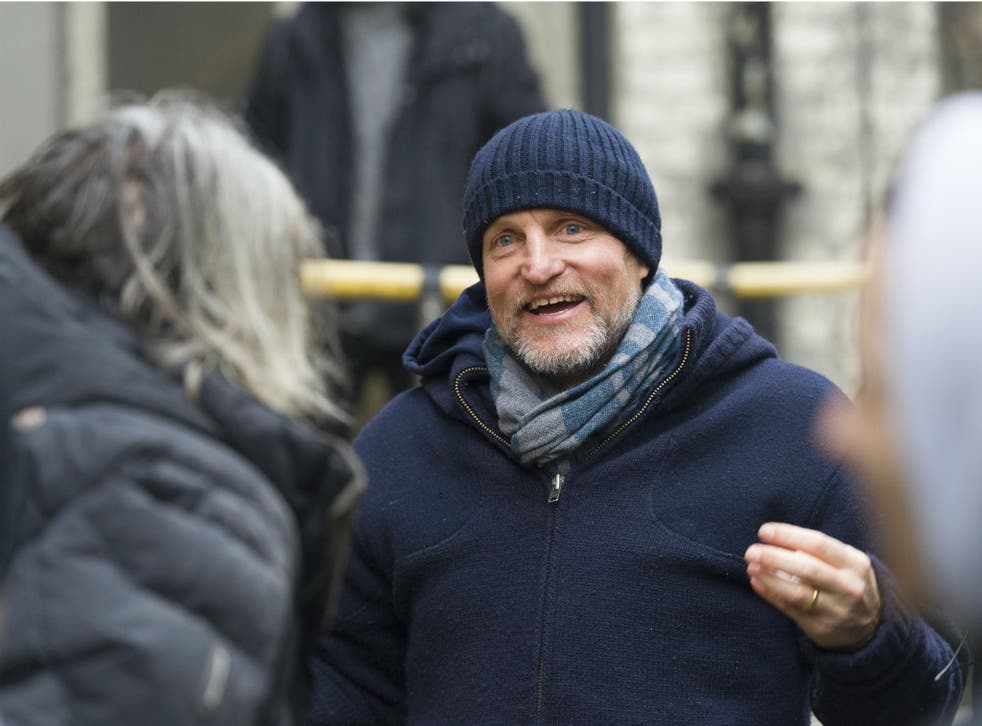 Lost in London is one of the bravest debut films you're likely to see this year, and it's not just because actor Woody Harrelson ventures behind the camera for the first time in a film about "the worst night of my life".
The real folly was his decision to incorporate a number of cinematic and broadcast innovations: shooting a movie in a single take with a solitary camera, real-time storytelling and live broadcasts, and rolled them into one extraordinary event in the early hours of 20 January.
As with the German hit Victoria, the film had to be shot in the middle of the night to limit the chance of a random act or an accident ruining the production. The film contained 24 locations, including a restaurant, a police cell and Waterloo Bridge, as well as more than 30 actors.
Harrelson plays himself. And he's kind of a schmuck in the movie. It's 7 June 2002 and the Cheers star is in London to appear alongside Twin Peaks star Kyle MacLachlan in On an Average Day. But he finds himself on the front page of the Sunday papers reportedly partaking in an orgy with three women, and lets the mother of his children, Laura, discover his infidelity when she picks up the paper. That's the start of a night that ends with him being arrested for damaging a taxi.
In real life, the investigation was dismissed after he paid the taxi driver £550 in damages. And he doesn't try to undermine his own culpability in his Lost In London.
"It's a very personal story and I definitely run the risk of having the audiences dislike me," states Harrelson.
But it's hard to dislike the actor even when he's showing his worst side, and that's because over three decades his performances have warmed our hearts.
At the best of times it's difficult enough to bear in mind that actors are not the characters they play. In Harrelson's case it was a task made all the more difficult because when he burst into our consciousness in the mid-80s when he starred in Cheers, the kind-hearted doofus barman he portrayed was also called Woody. He was instantly loveable and played the part for 200 episodes.
His bonhomie is a reputation that has stuck even though he's gone onto play so many iconic dark roles, including in Natural Born Killers, White Men Can't Jump, and The People vs Larry Flynt.
Access unlimited streaming of movies and TV shows with Amazon Prime Video Sign up now for a 30-day free trial
Sign up
So why did he want to revisit his own darkest hour? "I don't know," he responds. "It had a great impact on me. For a time, all I wanted to do was forget it. Then I started to think about it, and thought inside this kind of tragedy is definitely comedy and I also liked the redemptive nature of what went down. It's like an odd version of It's a Wonderful Life, someone who doesn't have a full appreciation for their life until they are about to lose what they have."
The proof of the redemption is that six years after the events depicted in the film, he married Laura, who he had met on the set of Cheers in 1987 after his short first marriage to Nancy Simon, ended.
What's ironic is that in the film Harrelson is so critical of the media for publishing a kiss-and-tell story, yet here he is, exploiting that very story for his own end. He lets out a huge laugh when I say that - a kind of maniacal cackle: "That's one way of looking at it."
Moving onto safer ground, I ask Harrelson about the dialogue, which has the rat-a-tat pacing and a series of put-downs that would make David Mamet proud. At one moment, Harrelson ventures to a nightclub where he bumps into his good friend Owen Wilson. In actual fact it was Leonardo DiCaprio he met on that fateful night, but he couldn't find a way of making that funny.
The scene with his best friend Wilson is wonderfully over-the-top and as they attack each other and their movies, there are hints at tabloid cover-ups by George Clooney, Lady Gaga and Daniel Day-Lewis.
"Well I do like Mamet, but I don't see it so much as Mamet. I'm inspired by a lot of playwrights and I'm not sure that it's up to the Mamet level of writing, but I think it's pretty good," he states. As for the gossip: "The tagline is that too much of this is true and it's probably best to keep what is true and what is not true, dangerous."
But ultimately this is a film that's as much about form as content. A great big experiment that was almost derailed before it began when an incident closed Waterloo Bridge hours before live filming commenced.
Now the film is being released more traditionally in theatres, and even without the 'live gimmick' it's well worth a watch. Looking back at the night and the changes he's now made, Harrelson says, "I felt like I was on a tightrope and was hoping it would all work out and it did. Not everything went perfectly well, but I'm pretty happy with it. If I had the ability to find other angles, or to edit it a little bit, I would change it, but as it is I'm quite proud of it. [For the upcoming release] everything visually is the same, but we've graded the image to make the picture better and made the sound better."
But the fact that Harrelson wanted his directorial debut to be so risky is of a certain playfulness and fearlessness. A sign of someone happy to put themselves above the parapet. "It might say something about my nature or my lack of discernment," he says. "Originally when I was writing it, I wasn't thinking of making it in this way, that it would be shot in real time, but once I realised that it all happened sequentially, it lends itself to the notion of shooting in real time."
He compares the experience of making the film to being on stage. "I just liked the idea of the convergence of theatre and film, which is what this is. I don't know what you'd call it, live cinema or theatrical something. It's cool to know that there was a live audience and it gave you a lot of adrenaline."
But he says he wouldn't do it again: "It was too stressful."
And why put yourself under such pressure, when his acting career continues to boom? He's become a blockbuster star, appearing in The Hunger Games, the upcoming Planet of the Apes movie, and currently he's back in London filming the forthcoming Han Solo movie.
As with all the recent galactic space adventures, the actors have been sworn to secrecy. He previously revealed that he's playing Garris Shrike, who is one of Han's mentors.
Yet part of the reason for the secrecy might be because nothing in the Star Wars films seems to be set in stone until after the reshoots have been completed. As the tales of changed endings and new scenes on Rogue One highlight, the stories are continually evolving over the course of production. "Today we were doing a lot of improvisation and were making things up," says Harrelson. "I enjoy doing that, it makes for a really good exercise."
Yet he's also quick to add that he's not just doing blockbusters, citing the forthcoming Martin McDonagh film, Three Billboards Outside Ebbing, Missouri, as something he's particularly excited about. "It's so brilliant," he enthuses.
For a man of 55, he's also in remarkably good health, which he puts down to his raw food diet and for partaking in football matches. Indeed, he says, one of the things he likes best about London is going to Regent's Park and joining in games with jumpers for goalposts.
'Lost in London' is on general release. Film times can be found at https://www.picturehouses.com/film/lost-in-london
Register for free to continue reading
Registration is a free and easy way to support our truly independent journalism
By registering, you will also enjoy limited access to Premium articles, exclusive newsletters, commenting, and virtual events with our leading journalists
Already have an account? sign in
Register for free to continue reading
Registration is a free and easy way to support our truly independent journalism
By registering, you will also enjoy limited access to Premium articles, exclusive newsletters, commenting, and virtual events with our leading journalists
Already have an account? sign in
Join our new commenting forum
Join thought-provoking conversations, follow other Independent readers and see their replies